Caramelized Tofu Recipe
One of my favorite tofu recipes, caramelized strips of tofu served over sautéed shredded brussels sprouts. It come together quickly and uses just one pan.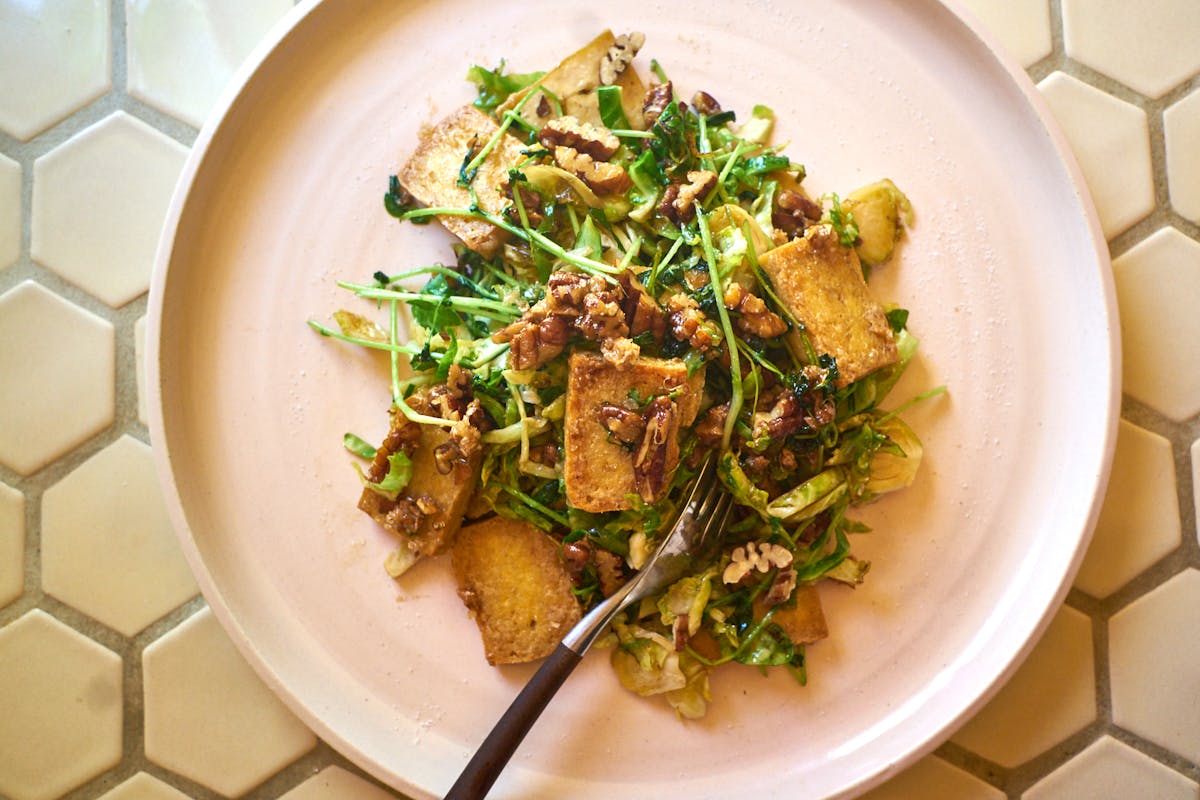 Ten years ago, after coming home from a weekend trip to Big Sur, I ended up throwing together one of my favorite tofu recipes ever - caramelized strips of tofu served over sautéed shredded brussels sprouts. Toasted pecans go into the pan as well and get oh-so lightly candied as they cook alongside the tofu and sprouts. I thought I'd post a slightly updated version today. Enjoy!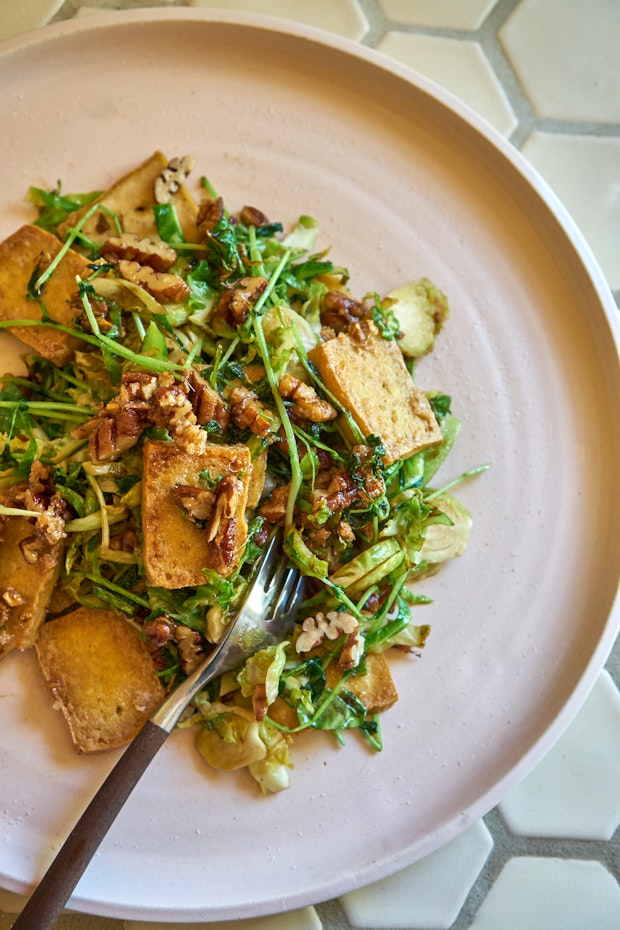 Here's how it came together: a quick survey of my kitchen revealed tofu and a cluster of brussels sprouts. There was also a vibrant bouquet of cilantro tucked into the refrigerator door begging to be used. I scanned the cupboards and pulled down a small bag of (already toasted!) pecans and the remnants of a once full bag of my favorite sugar. Garlic? Check. If you don't love cilantro, swap in a big fistful of pea shoots.
Just a few minutes of knife work and a some fast work with a hot pan separated me from my dinner. I cooked the tofu first, then finished with the brussels sprouts. It worked out nicely that only one pan was dirtied in the process.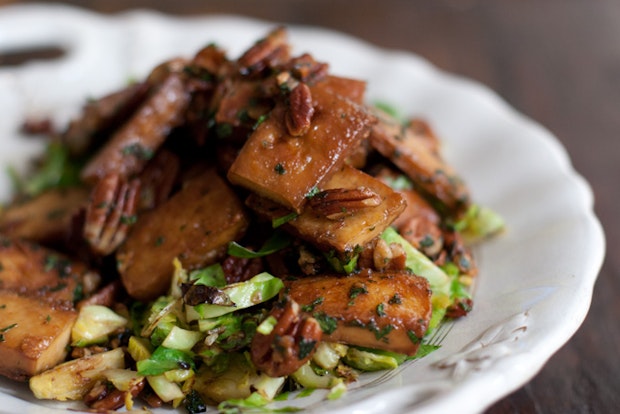 Variations
Some variations come to mind - throw in some nutty, chewy brown rice. You'll have a nicely balanced plate - vegetables, protein, and some complex carbohydrates from the rice. For those of you I failed to convert to fans with this brussels sprout recipe, spinach would be a nice alternative. With the pecans and the crusted sweetness, a few pinches of curry powder (or five-spice powder) would be delicious. There are now lots of great ideas in the comments (down below) as well.
More Tofu Recipes
Caramelized Tofu Recipe
Any extra-firm tofu will work here, but try to buy organic, non-GMO tofu. Also, if you don't love cilantro, feel free to swap in pea shoots, or even thinly sliced kale.
Ingredients
7 - 8

ounces

extra-firm tofu cut into thin 1-inch segments (see photo)

a couple pinches of fine-grain sea salt

a couple splashes of olive oil

2

medium cloves garlic, minced

1/3

cup

pecans, toasted and chopped

3

tablespoons

fine-grain natural cane sugar or brown sugar

1/4

cup

cilantro, chopped

1/2

lb.

brussels sprouts, washed and cut into 1/8-inch wide ribbons
Instructions
Cook the tofu strips in large hot skillet (or pot) with a bit of salt and a splash of oil. Saute until slightly golden, about 4 minutes. Add the garlic and pecans, and cook for another minute. Stir in sugar. Cook for another couple of minutes. Remove from heat and stir in cilantro. Scrape the tofu out onto a plate and set aside while you cook the brussels sprouts.

In the same pan (no need to wash), add a touch more oil, another pinch of salt, and dial the heat up to medium-high. When the pan is nice and hot stir in the shredded brussels sprouts. Cook for 2 - 3 minutes, stirring a couple times (but not too often) until you get some golden bits, and the rest of the sprouts are bright and delicious.
Related Recipes
More Recipes
Popular Ingredients