Fig Leaf Coconut Rice Recipe
This coconut rice is special thanks to a tip Claudia Schwartz (the lovely, charming proprietress of San Francisco's Bell'occhio) gave me. Simmering the rice grains with a single fig leaf gives the rice a wonderful, unexpected flavor and fragrance. Serve topped with toasted pepitas, dried figs, scallions, and pan-fried tofu.
Claudia Schwartz is the lovely, charming proprietress of Bell'occhio, one of the establishments that makes San Francisco special. I see Claudia nearly every Saturday morning, early, at the farmers' market. A few weeks back we had a chat about fig leaves. I had a few in my bag, and she told me she likes to simmer rice with a fig leaf on top. Brilliant. It was one of those things that had never occurred to me. Added to a pot of simmering grains, the fig leaf imparts a subtle flavor and perfume to the entire pot. The best way I can describe it - a bit green, and a bit nutty. But more like raw pepitas than walnuts. And coconut, but green coconut. There are some of those notes as well.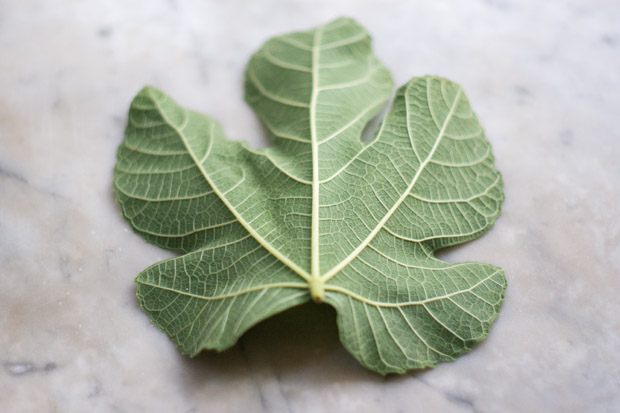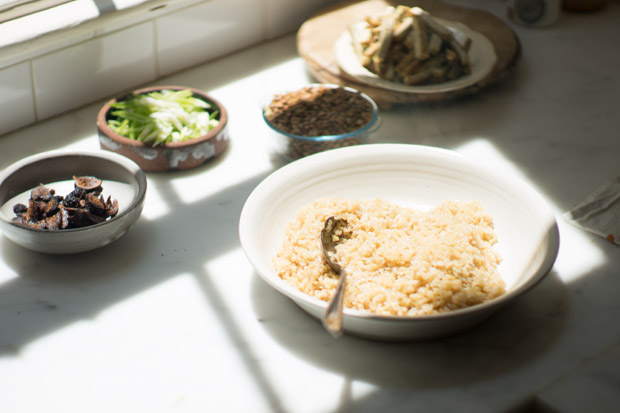 I considered making a pearl barley risotto deploying the fig leaf technique, but kept thinking about how nice it would be to do a coconut rice. There was something about making a creamy rice preparation that seemed right here, either way. We ended up enjoying the fig-leaf infused coconut rice for lunch topped with a handful of simple toppings pulled together as the rice was simmering - lots of shredded scallions to add some bright, greenness and counter the creaminess of the rice. There were toasted pepitas, dried figs, and pan-fried tofu sliced into matchsticks.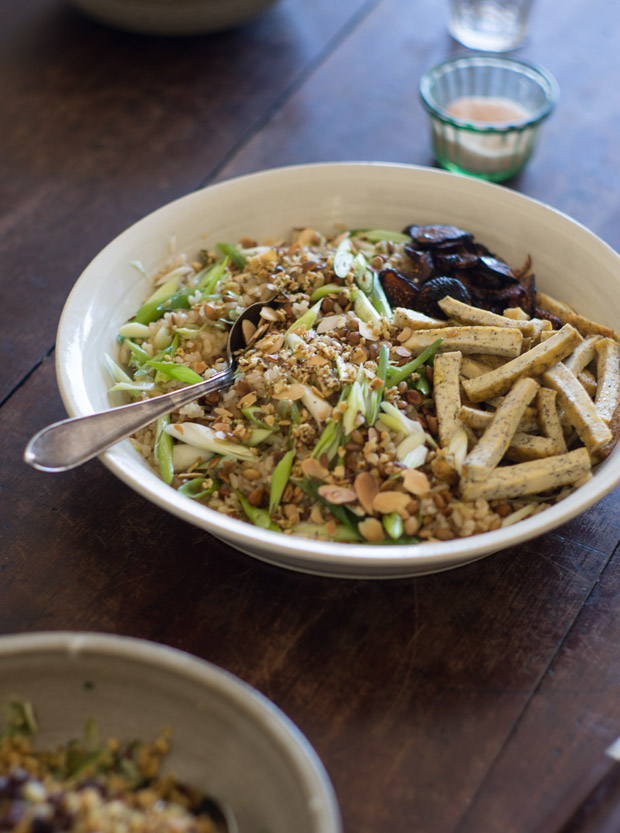 With the fig leaf, or without, I can imagine this rice being an incredible base for a whole host of preparations - coconut fried rice, futomaki, you could do a twist on arancini. Keep in mind, you want to seek out unsprayed fig leaves. And, in addition to rice, you can also simmer them in the cream you use to make ice cream or gelato. It is (also!) on my list to use them to infuse some vodka - for fig leaf vodka tonics this summer.
Thank you for the inspiration on so many fronts Claudia! xo -h
Lastly this, a bit of a p.s. - Sarah Lonsdale did a great profile on Claudia for Remodelista a couple of years back.
Fig Leaf Coconut Rice
2 cups uncooked brown rice
1 cup full-fat coconut milk
1 1/2 cups water
1 teaspoon fine grain sea salt
1 fresh fig leaf, unsprayed

to serve: lots and lots of shredded scallions, toasted pepitas, sliced dried figs, and pan-fried tofu
Start by rinsing the rice. You can do this by putting the rice in the thick-bottomed pan it is going to cook in. Fill the pot halfway with water, swish the rice around (the water will get cloudy), and pour out the cloudy water. Repeat a few times.
To the rinsed (and drained) rice add the coconut milk, water, and salt. Stir to combine. Place the pot over medium high heat and bring the liquid to a boil (uncovered). Stir once or twice to prevent the rice from scorching down at the bottom of the pot. Once the liquid comes to a boil reduce the heat to a low, low simmer, place the fig leaf on top of the simmering rice, and cover the pot tightly with a lid. Simmer until the grains are tender, the timing will differ based on your rice, but typically 45 minutes to an hour. Remove from heat, and allow to sit for ten minutes or so. Fluff with a fork, and your rice is ready to serve.
Serve topped with any or all of the following: lots and lots of shredded scallions, toasted pepitas, sliced dried figs, and pan-fried tofu.
Serves 4 to 6.
Prep time: 5 minutes - Cook time: 50 minutes