Silverdollar Socca Recipe
Tiny socca-inspired pancakes made with buttermilk or keffir - golden, tender, and cooked in cold-pressed spicy mustard oil. Flat out delicious.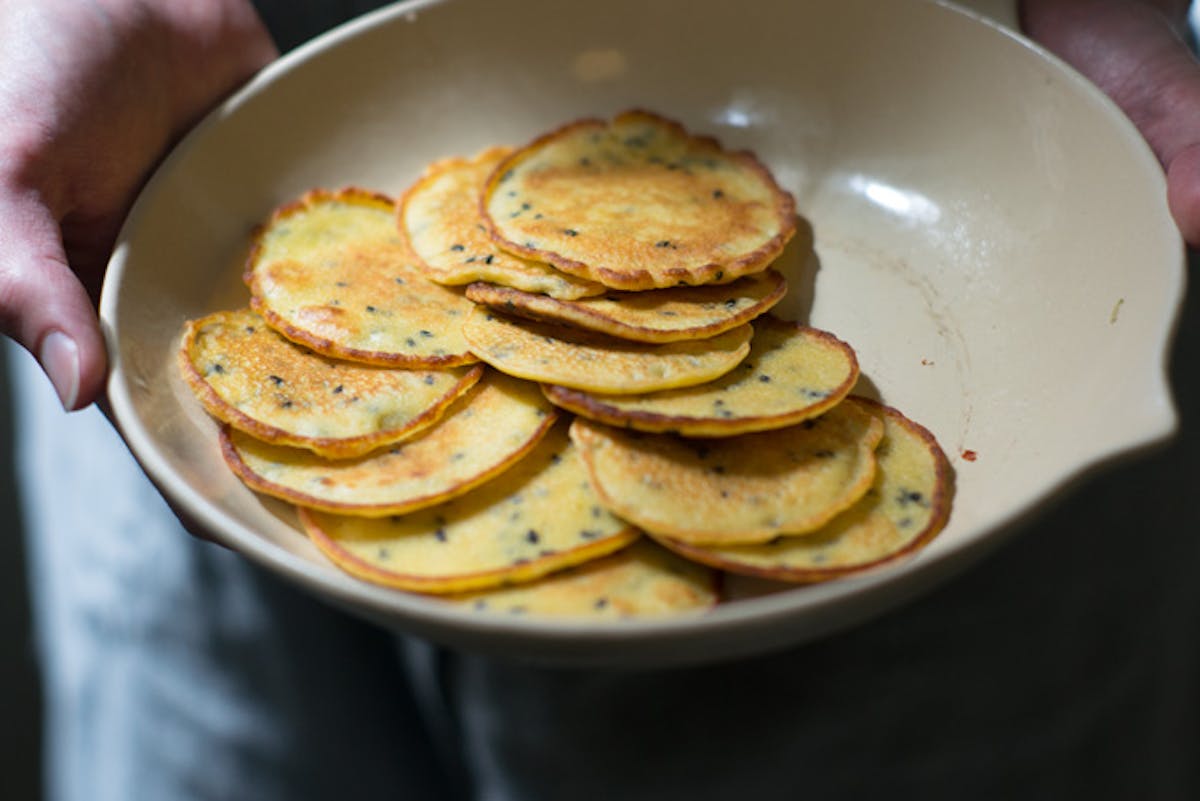 Happy Monday all. I thought I'd give you a glimpse of what things look like on this end right now. We did a shop update yesterday morning. Meaning, there has been a scramble behind the scenes - box building, pre-wrapping, description writing, shooting photos. There have also been some epic lunches, and a favorite preparation has emerged. The back story is this -- we took a couple stabs at making traditional socca, the unleavened chickpea flour crepes from Nice, with varying degrees of success over the past months. If we ever nail it, I'll post about it here. No dice as of yet. BUT, we started doing tiny socca-inspired pancakes - using whatever was in the refrigerator as the liquid in the batter - keffir, buttermilk, etc. The resulting silver dollars are golden, tender, and possibly the only thing I want to eat, ever. You can spice the batter however you like - this sesame and mustard was an instant favorite. Hot off the pan, they're completely addictive.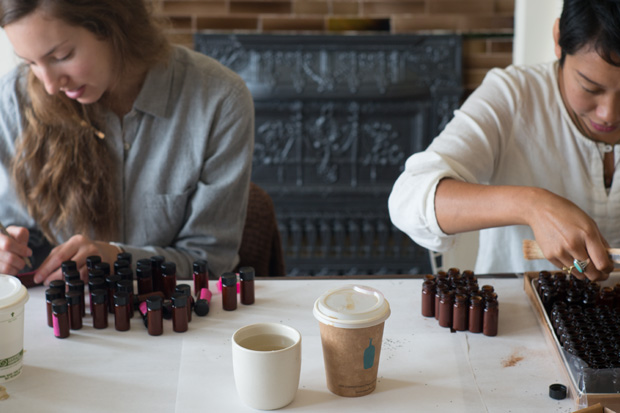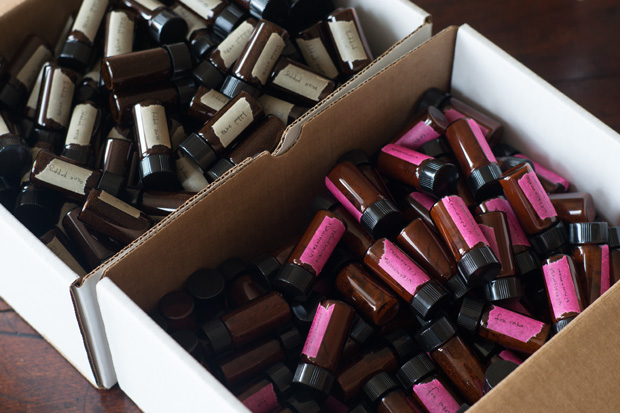 We spend a lot of time at this table. This was a spice morning.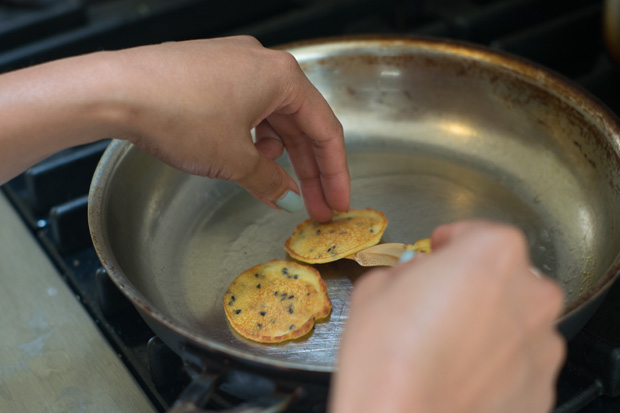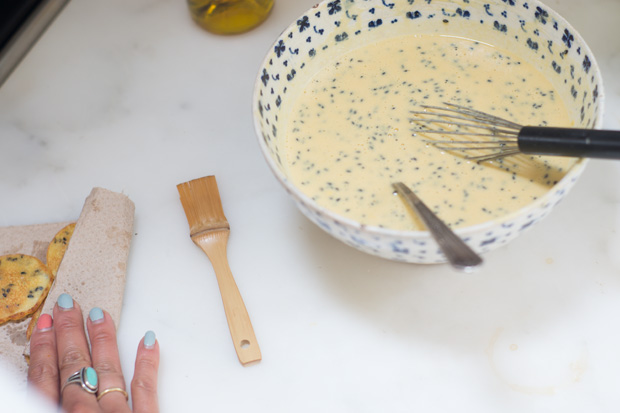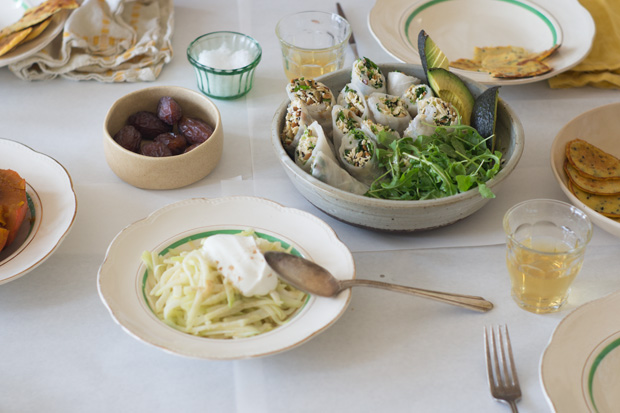 A couple things related to these little guys. You can make larger crepes/pancakes, they don't necesarily need to be silver dollar-sized. The batter should run the pan beautifully whatever size you like. One tip - Let the batter set and crisp up on the bottom a bit before attempting to flip - this helps prevent sticking particularly if you aren't using non-stick.
Silverdollar Socca
HS: You can use whatever cooking oil you prefer here, but our favorite for these is spicy (cold-pressed) mustard seed oil, if you can find it.
1 1/2 cup / 6 3/4 ounces chickpea flour
1 1/2 teaspoons fine sea salt
2 large eggs
1/2 cup / 120 ml water
1 cup / 240 ml buttermilk
1/4 cup / 60 ml extra virgin olive oil
2 tablespoons black sesame seeds
1 teaspoon yellow mustard seeds (optional)

cold-pressed mustard seed oil, extra-virgin coconut oil, or clarified butter, for frying
Combine the chickpea flour, salt, eggs, water, buttermilk, olive oil and sesame seeds in a large bowl. Whisk until the batter is smooth. You're after a batter that is on the thin side, similar to a crepe batter. Allow it to sit for at least 15 minutes, so the chickpea flour absorbs the buttermilk, resulting in a more tender pancake. Stir again.
Heat a small splash of oil in a large skillet over medium heat, just enough to coat the pan. Add spoonfuls of batter to the pan, one tablespoon at a time. The batter will spread a bit, so be mindful not to overcrowd. Cook for approximately 1-2 minutes per side or until lightly golden with crisped edges - you'll likely be able to get 4-5 pancakes going at once. Transfer from the pan to a paper towel, blotting gently. These are best enjoyed immediately, but you can also place on an oven-proof patter in a low-heat oven while cooking the remaining pancakes. Alternately, a quick reheat in the skillet just before serving if the pancake have gone cold, brings them right back to life.
Makes about 30 tiny pancakes.

Prep time: 20 minutes - Cook time: 5 minutes