Five Herb Pesto Recipe
A summer pesto made from a mix of coriander, basil, arugula, oregano, and chives, and links to a few other new recipes we've sprinkled around the QUITOKEETO shop site.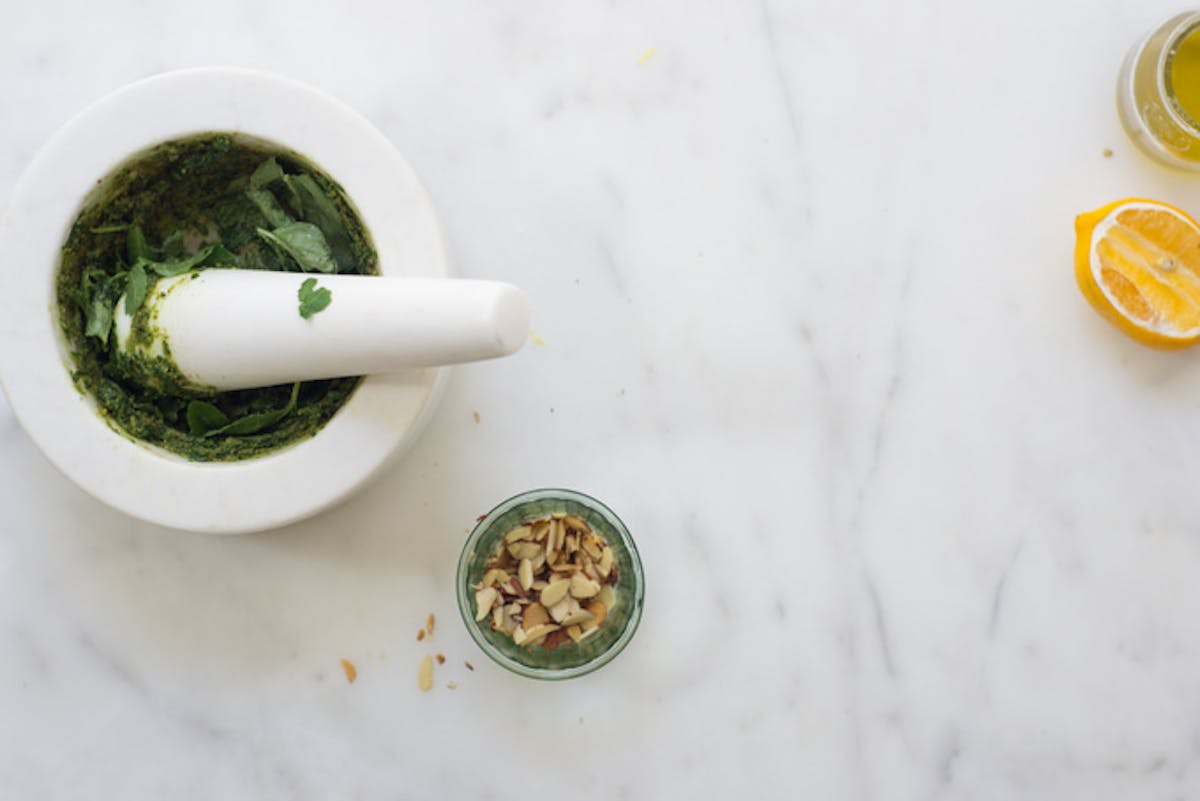 Last week we updated the collection at QUITOKEETO, for summer, and sprinkled some new recipes across the shop site as well. One of the recipes I did was this simple twist on a classic pesto. It starts with toasted coriander seeds smashed with garlic and salt, before you work in almonds and lots of lemon zest. I chose a mix of fresh basil, arugula, oregano, chives as the blend of herbs, and immediately noted how much I Iike the chives for their strength and fragrance. There's lots of grated Pecorino cheese, and a final thinning with good olive oil. Bright, summery, and a offbeat - it's all the things I love. It looks familiar, like a straight-ahead basil pesto, and then takes you a bit by surprise. Anyhow, it's easy, and I thought you might give it a try. And if not this one, perhaps one of the other recipes.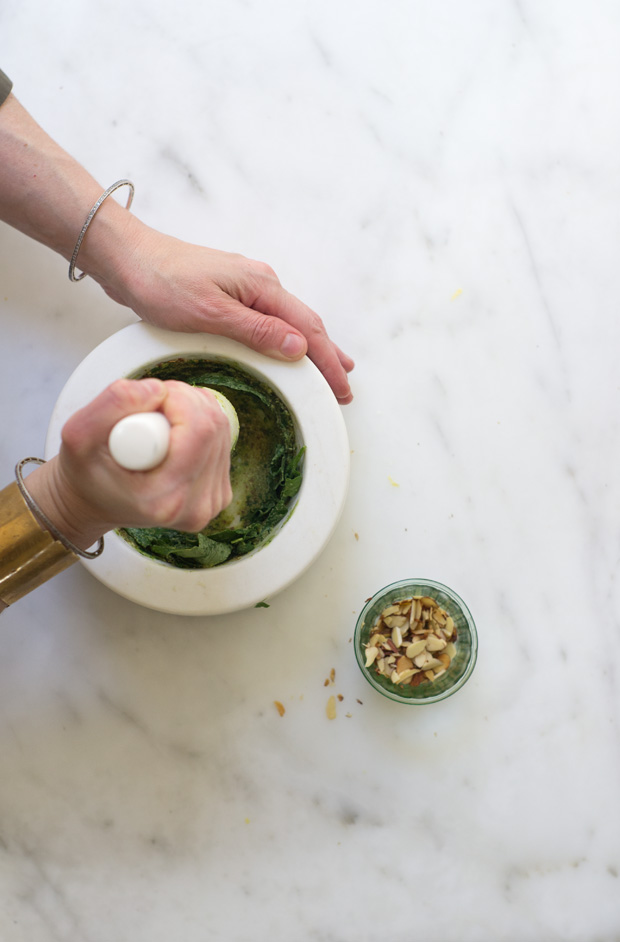 Other new recipes in the QK archive:
- Milk & Honeydew Granita
- Cultured Honeydew Butter (you can make it with honey as well!)
- Tomato Buttermilk Dressing
- White Peach Maple Soda
Welcome summer! -h
p.s. I'm sure a number of you will ask about the mortar & pestle. It sold out quickly, but we should be getting another 100 to list by next Monday (thank you Magnus!). An email will go out if you're on the QK mailing list. xo
Five Herb Pesto
1 1/2 teaspoons whole coriander seeds
1/4 teaspoon fine grain sea salt
1 large clove garlic, peeled
a handful sliced almonds, toasted (cooled)
zest of one lemon

50 medium basil leaves
a handful of arugula leaves
1/2 teaspoon fresh oregano leaves
1/4 cup minced chives
3/4 cup grated Pecorino cheese
~1/4 cup / 60 ml extra virgin olive oil
Toast the coriander seeds in a dry skillet until fragrant, and grind finely using a mortar and pestle. Add the salt and garlic and crush into a paste. Add the almonds and lemon zest and smash into a nut butter. Start working the basil in, a few leaves at a time, then the arugula, and oregano. Blend until consistent. Stir in the chives and cheese with a fork, before using the pestle to gradually work in the olive oil. Taste and adjust to your liking.
Makes about 2/3 cup.