Fresh Pea Salad Recipe
A pea salad jazzed up with spicy mint-date dressing and tossed with shredded romaine and toasted pumpkin seeds for crunch and texture. A tasty, off-beat, almost burner-free recipe.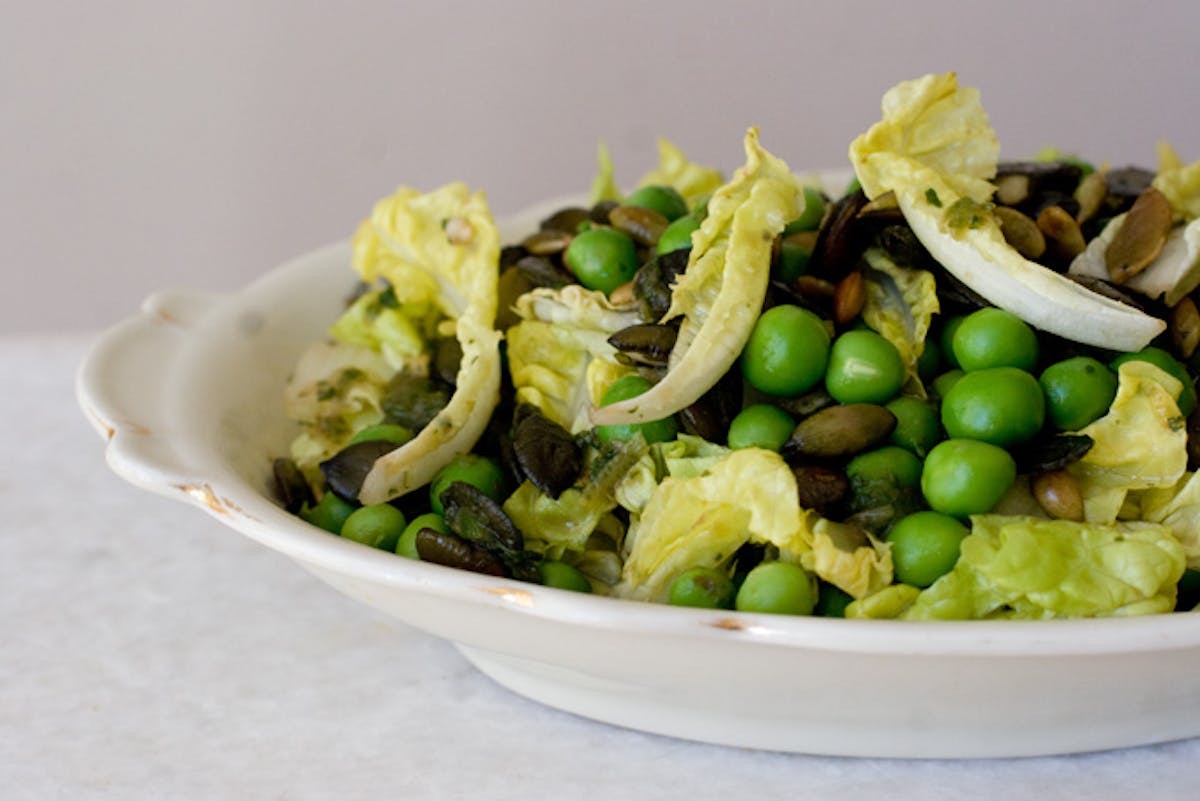 The truth is, I was all set to feature a recipe from the
Wagamama Cookbook
. I had the recipe all picked out. Then, in characteristicly random fashion, San Francisco decided to usher spring forth with an intense heat wave. That, of course, turns everything upside down in my world, because who wants to hang out in a 90 degree kitchen if you don't have to? The Wagamama recipe was on the intensive side, so that was out. On the other hand, it seemed a shame to go out to eat when my refrigerator was overflowing with the bulk of a
CSA box
a neighbor left with us, as well as all sorts of goodness from the Tuesday market. So, here's what I did...I jazzed up a pea salad with a spicy mint-date dressing and then tossed in some shredded romaine lettuce and a few toasted pumpkin seeds for added crunch and texture. Aside from a few minutes of burner time to blanch the peas it was a tasty, off-beat, burner-free recipe. Wayne showed up with some grilled tempeh and we made a nice meal of it.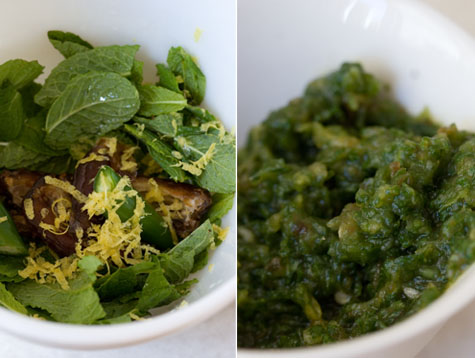 I love the minty, spicy, sweetness of this dressing. If you have any left-over you'll be able to use it on eggs, pasta, grains, and sandwiches. You can make this salad as-is, or build on the general concept. I can imagine adding a few cups of cooked
wheat berries
and having a great potluck salad on your hands. Or take it in an entirely different direction and toss in a pound of cooked ricotta raviolis. The one thing I would really encourage is here is sourcing good peas. This is the sort of salad that isn't quite the same when you use frozen peas. The farmers markets here have great peas this time of year, and if you don't mind splurging a bit you can often find pre-shelled peas.
Fresh Pea Salad Recipe
If you end up with a dressing that is too spicy for your tastes, tame it with a dollop (or two) of plain yogurt. If you know you are sensitive to spiciness you can always remove the seeds and veins in future versions. If you like a bit more kick, add more serrano chile a small piece at a time.
1 cup fresh mint leaves 2 dried dates, pitted 1/2 of a small serrano chile, stem removed a squeeze of fresh lemon juice and zest from that lemon 1 1/2 cups fresh peas 1 small head of romaine lettuce, cut into shreds 1/2 cup toasted pumpkin seeds fine grain sea salt
To make the mint-date dressing, puree the mint, dates, chiles and lemon juice and zest using a food processor or hand blender. Blend until uniform in texture. Thin it out by adding a tablespoon of water at a time until it is a consistency that you can drizzle (the photo up above is before I added 2-3 tablespoons of water to thin it out). Taste and adjust for lemon and spiciness. When you go to cook the peas, the key is not overcooking them. Fill a big bowl with ice water and set aside. Add some salt (as you would pasta water) and the peas. Bring six cups of water to a boil in a medium saucepan. You are just going to boil the peas for a very short time. Don't leave the stove. Somewhere between ten and twenty seconds.You want them just barely tender, so they still pop in your - mouth. Quickly drain and dunk the peas in the bowl of ice water. Just before serving gently toss the peas, lettuce, and pumpkin seeds with about half of the dressing and a couple pinches of salt. Taste and add more dressing if you like. Finish with a pinch or two of your favorite finishing salt.
Serves 2 - 4.