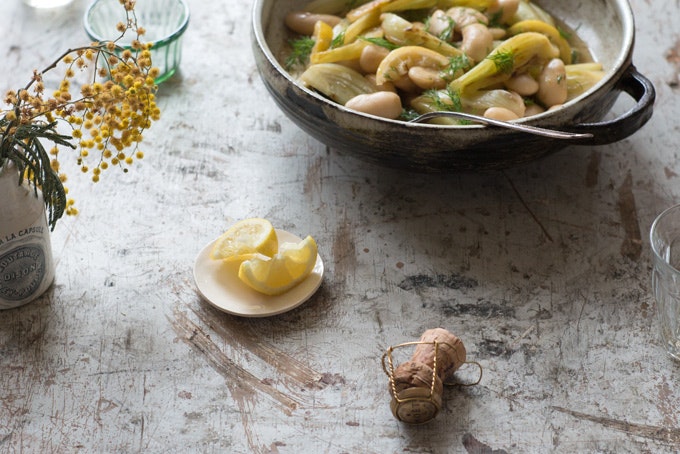 Giant Lemon Fennel Beans Recipe
Baby fennel, big white beans, sliced lemon, a honey-kissed in-pan white wine sauce, all finished with a shower of chopped dill. If any of you are in a side-dish rut, I'm going to lobby for trying this. It's fast, it's good, and as a base idea, it's flexible. You can make the beans as instructed below, or use the recipe as a jumping off point. Add a poached egg on top to make a complete one bowl meal. Or, add a few cups of water (or herby broth), season well, and you have a bright, substantial stew. If you make it in an oven-proof skillet, you can top it with feta, chopped olives, and breadcrumbs, and bake it into a crunchy-topped gratin.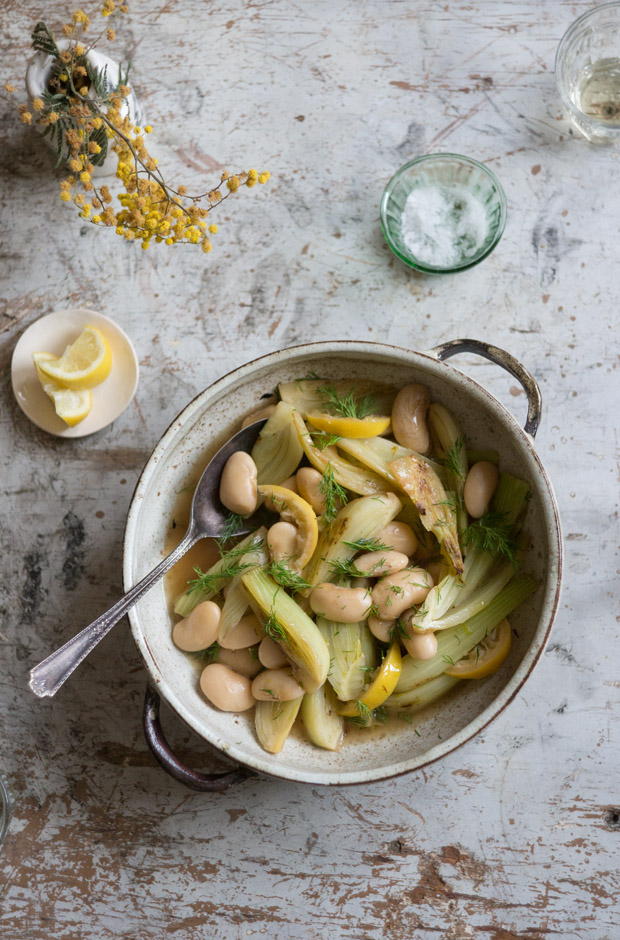 Let me know if you have other ideas of where to take this. The last time we did a collective brainstorm, for guacamole, I loved it. So many great variations I never would have thought of. I have a favorites list on-deck next. Lots of good reads to come! xo -h

Giant Lemon Fennel Beans
HS: Large corona beans, or gigante beans are my favorite here, but white cannellinis are also a great option.
4-5 small fennel bulbs
2 tablespoons extra-virgin olive oil, plus more for drizzling
1/4 teaspoon fine grain sea salt
1 1/2 tablespoons honey
Half a lemon, scrubbed and sliced or cut into wedges
1/4 cup dry white wine
2 cups cooked white beans (corona, cannellini, etc)
1/2 cup water (or reserved liquid from cooking the beans)
1/2 cup roughly chopped dill
To prep the fennel, remove each bulb's tough outermost layer. Trim each bulb's
base, and slice along the length into 1/2-inch thick wedges.
In a large skillet over medium-high heat, add the olive oil. When the oil starts to ripple and move away from the center of the pan, add the fennel. Scatter the wedges across the surface of the pan rather than gathering them into a clump, and let them sit without stirring until the sides touching the pan caramelize and brown a bit, roughly 2 minutes or so. Stir and cook for another 2 minutes or so, until the fennel has cooked through. Add the honey, lemon, salt, and wine to the pan, stirring to combine. Let the wine heat and reduce for a minute or so before adding the beans and water. Cook until the beans are warmed through, about 5 minutes.
These beans are good at just about any temp- hot, warm, or at room temperature. Serve topped with a big handful of chopped dill and a drizzle of your best olive oil.
Serves 4.
Prep time: 5 minutes - Cook time: 10 minutes