Ginger Jeweled Salad Recipe
A jewel-inspired holiday salad recipe - mixed leafy salad greens, wild rice, toasted hazelnuts, dried figs and pluots, tossed with a simple ginger juice vinaigrette that I spiked with just a hint of jalapeno.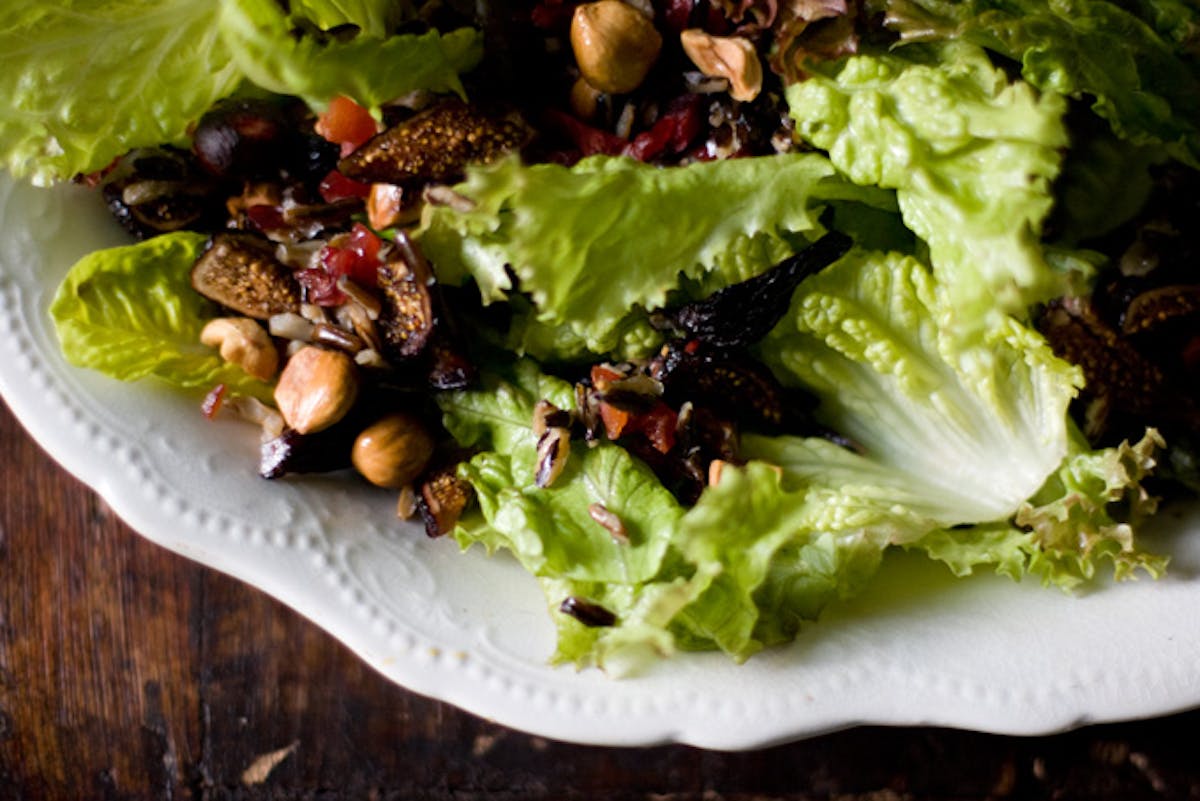 This is the time of year to add a bit of flash and color to your food. The skies are low-hanging and weepy. The days are short, getting shorter. In protest, each December, I arm myself with all manner of dried fruits, juicy citrus, and rosy pomegranates. They work beautifully in salads, including this jewel-inspired ensemble I made the other night. Mixed leafy salad greens, wild rice, toasted hazelnuts, dried figs and pluots are combined in a big bowl and then tossed with a simple ginger juice vinaigrette spiked with just a hint of jalapeno. It's festive with enough going on flavor-wise to keep people guessing.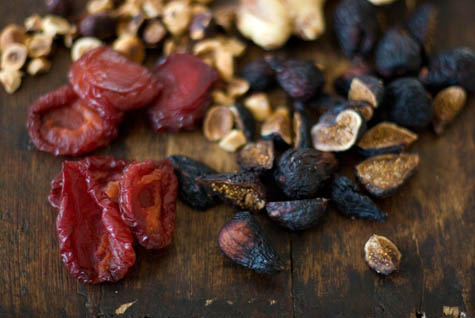 I've likely said this before, but I can't emphasize it enough - the key to amazing salad is seeking out the very best lettuce you can find. In this instance I did a mix of what looked best at the store. A blend of red romaine and little gem lettuces. I avoid bagged, pre-washed lettuce - it often smells off to me. I baby my lettuce all the way home, making sure other groceries don't smash or bruise it. To clean it, I tear the lettuce into manageable, bite-sized pieces, wash it gently in cold water, and then spin it dry. If I'm not using it immediately, I re-bag it with a clean (lightweight) dish towel and place it back in the crisper until I'm ready to toss the salad.
Ginger Jeweled Salad Recipe
Feel free to substitute other dried fruit if it is more convenient. Just try to imagine if it will pair nicely with ginger and go from there. I also do my best to seek out unsulphured dried fruit. As I mentioned before, in this instance I used a festive combination of leafy red romaine lettuce along with some little gem lettuce, but buy whatever lettuce looks the most vibrant at the store. Feel free to make the vinaigrette the day before, and if you don't have the time or inclination to cook up a pot of wild rice, you can now purchase pre-cooked rice in packets in many Whole Foods Markets, Trader Joes and the like - look in the rice shelves as well as the freezer section.
1 tablespoon fresh ginger juice, made by grating a 4-5-inch piece of ginger into a pile and then pressing it against a strainer to extract the ginger juice

2 tablespoons white wine or Champagne vinegar
fine grain sea salt
1/2 teaspoon jalapeno, very finely chopped
1/3 cup extra virgin olive oil

2/3 cup dried figs, stems trimmed, quartered
1/3 cup dried pluots, chopped
1/2 cup toasted hazelnuts, loosely chopped
1 1/3 cup cooked wild rice, room temperature
5 big handfuls of leafy salad greens (see headnotes), washed and dried
In a mason jar or medium bowl make the ginger vinaigrette by whisking together the ginger juice, vinegar, jalapeno, and a couple big pinches of salt. Slowly drizzle the olive oil into the jar whisking all the while. Stop when the dressing takes on a slightly creamy appearance. Taste and adjust the flavors if needed. Set aside.
Hold off dressing the salad until just before you are ready to serve it. This will help to keep the lettuce vibrant and lively. In a large bowl toss the figs, pluots, hazelnuts and wild rice with a generous splash of the dressing. Once they are nicely coated, add the lettuce, a bit more vinaigrette, and a pinch of salt. Gently toss until the lettuce is evenly coated. Taste and adjust if needed. The little bits of fruit and nuts tend to fall to the bottom of the bowl, so before serving scoop them back up from the bottom so you end up with plenty of rice and fruit on top.
Serves about 6.