Wild Seaweed Salad Recipe
Toasted wild nori alongside cilantro, tofu, and plenty of wild rice. The dressing for this salad isn't shy - assertive notes of sesame, ginger, cayenne pepper and soy sauce work their way into the wild rice and tofu. Lots of flavor.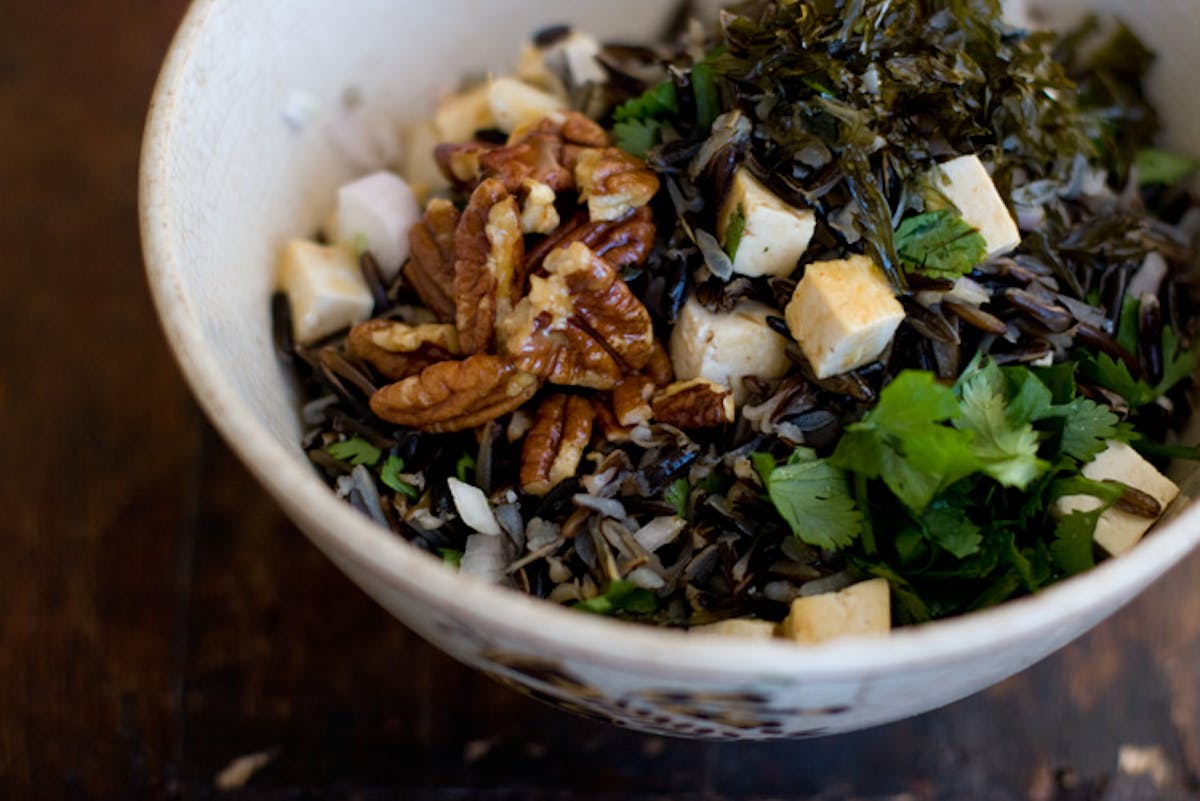 I keep a few types of dried seaweed in my pantry. There are long stretches of times I forget I have it, followed by weeks where I use it in meal after meal. Sometimes I toast and crumble it as a garnish or seasoning, other times I chop and add it to soups. This time around I took a good amount of toasted wild nori and used it alongside cilantro, tofu, and plenty of wild rice. I should mention, the dressing for this salad isn't shy - assertive notes of sesame, ginger, cayenne pepper and soy sauce work their way into the wild rice and tofu. It's uber-flavorful, and the kind of substantial all-in-one salad I like to bring to parties and potlucks (and eat any leftovers for lunch). I took this to our neighborhood holiday block-party.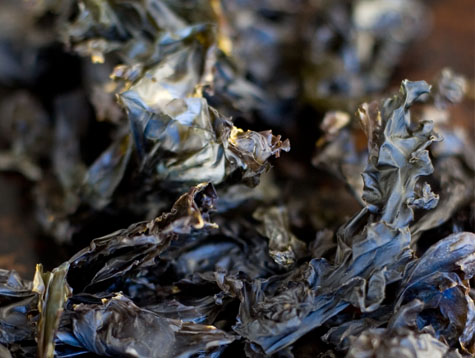 For those of you who don't use seaweed in your cooking much, give it a go. Not only is it interesting to explore the different flavors and textures across the spectrum, they are packed with minerals and anti-oxidents as well. Look for it at local farmer's markets (if you are coastal), I've seen a range at Whole Foods Markets, as well as other natural foods sources. You'll often find other ideas and recipes on the seaweed packages (and on corresponding websites). I most often use nori, wakame, and kombu - all quite mild flavored. I tend to stay clear of the ones that have a fishy flavor - i.e. hijiki is a bit strong for my tastes, and are some of the sea lettuces I've tried. I'm always trying to think of new ways to work seaweed into my cooking, so if you have any tried-and-true favorite ideas, please, by all means, respond in the comments.
Wild Seaweed Salad Recipe
I used wild nori here, but feel free to experiment with different types of seaweed - also, feel free to play with the amount of seaweed you use, I could certainly imagine using more in this particular salad.You can make certain components ahead of time - the dressing and tofu, and the rice.
1 cup of loosely packed (wild) nori seaweed
12 ounces extra-firm nigari tofu

Grated zest of 1 lemon
Fresh ginger, cut into a 1-inch cube, peeled, and grated
2 tablespoons honey
scant 1/2 teaspoon cayenne
3/4 teaspoon fine-grain sea salt
1 tablespoon freshly squeezed lemon juice
1/4 cup unseasoned brown-rice vinegar
1/3 cup shoyu sauce (wheat-free soy sauce)
2 tablespoons extra-virgin olive oil
2 tablespoons toasted sesame oil

2 medium shallots, finely chopped
2 cups pecans, toasted
1 cup loosely packed cilantro leaves/stems, chopped
6 cups cooked wild rice
Preheat your oven to 300F degrees. Toast the nori for 7-10 minutes, or until crisp. Let cool for a few minutes, crumble and set aside.
Drain the tofu, pat it dry, and cut it into rectangles roughly the size of your thumb (½ inch thick and 1 inch long). Cook the tofu in a dry nonstick (or well-seasoned) skillet over medium-high heat for a few minutes, until the pieces are browned on one side. Toss gently once or twice, then continue cooking for another minute or so, until the tofu is firm, golden, and bouncy. Leave the tofu like this, or cut into strips, or cubes (whatever you like). Set aside.
In the meantime, make the dressing by combining the zest, ginger, honey, cayenne, and salt in a food processor (or use a hand blender) and process until smooth. Add the lemon juice, rice vinegar, and shoyu, and pulse to combine. With the machine running (or by hand), drizzle in the oils. Set aside.
In a large bowl, just before serving toss the shallots, pecans, cilantro, crumbled seaweed, and wild rice with a generous amount of the dressing. Mix well and add the cooked tofu. Toss (gently) again, taste, add more dressing (and a bit of salt) if needed, and serve family-style.
Serves 10-12.