Green Curry Dumplings Recipe
Simple green curry dumplings made with caramelized leeks, green curry paste, and cooked mung beans. Everything is thinned with coconut milk and then mashed and smashed a bit.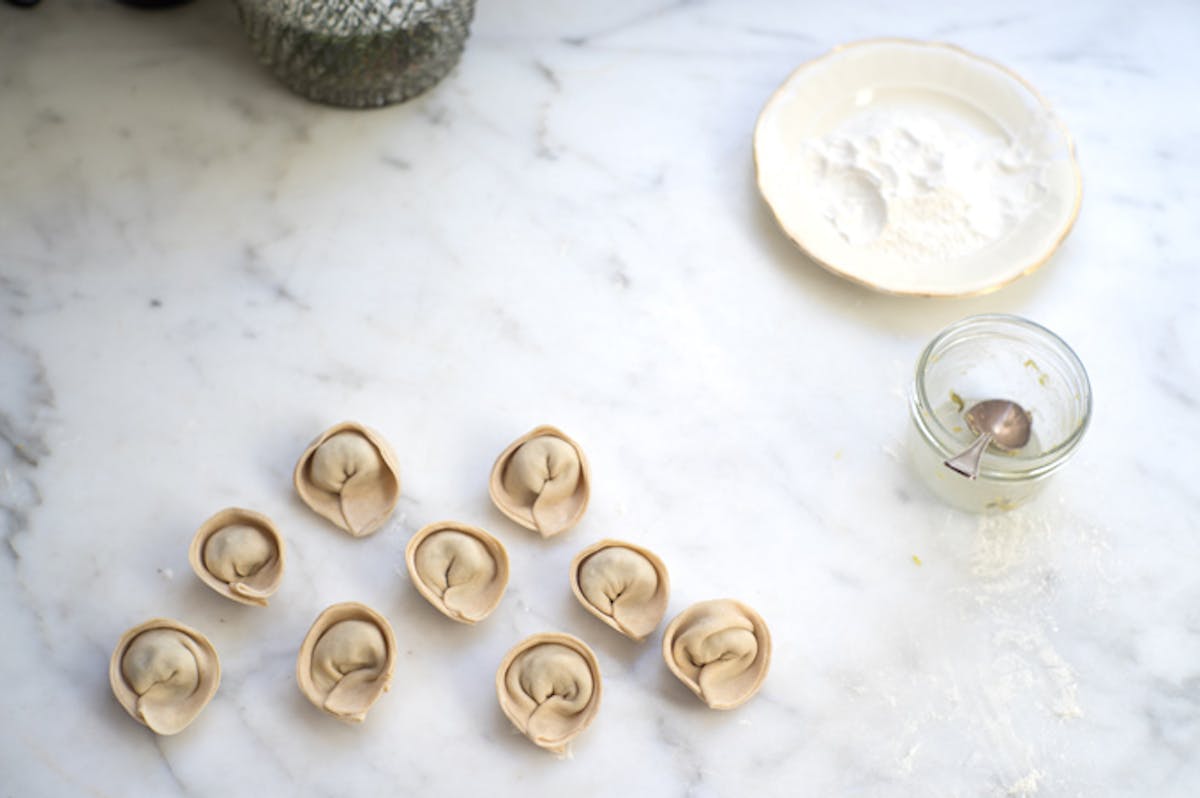 Big hugs. If you're up for a bit of a project, and you want to make something to lift the spirits, this is where you need to land. A few of you asked about these dumplings when I posted a snapshot of them to Instagram a couple of weeks back. They were a Friday night project after a busy week. Instead of going out, an evening of repetitive filling and folding sounded perfect. The filling was inspired strictly by the contents of the refrigerator, as a trip to the store would have defeated the entire purpose :) The filling: caramelized leeks, green curry paste, and cooked mung beans. Everything is thinned with coconut milk and then mashed and smashed a bit. I rolled out fresh dumpling wrappers (which we've talked about before), and decided on folding them into big hugs. Because really, who can resist a dumpling filled with green curry spiked deliciousness folded into big hugs?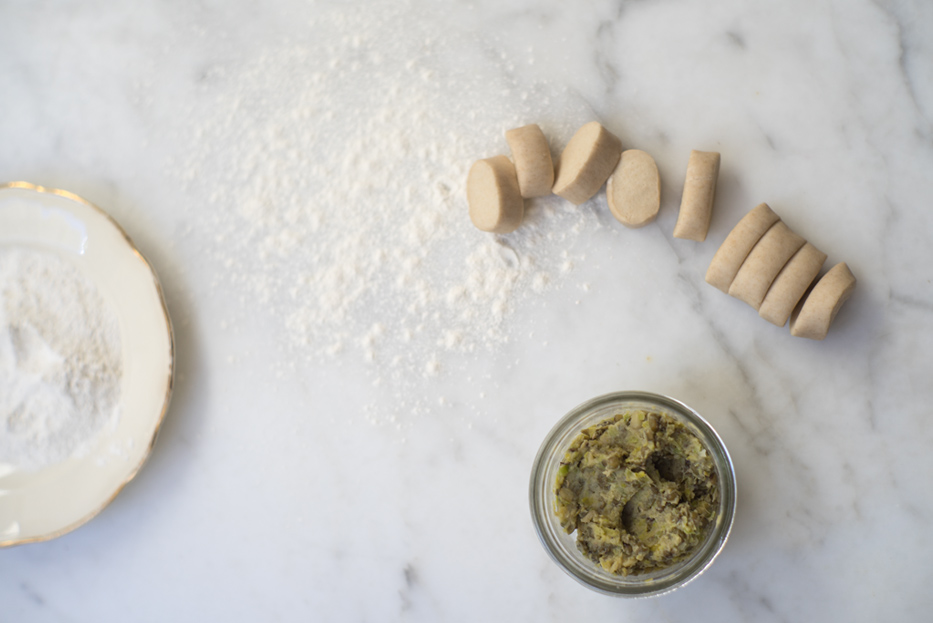 I ended up loving the filling, and even made a second batch to share with friends. The extras froze beautifully and are great for quick weeknight meals. You forget just how long they take to make. Laugh/cry. It's not actually that bad if you're using store-bought wrappers.
Also, as a side note, I made the wrappers with a blend of unbleached all-purpose flour combined with whole wheat pastry flour - 7 ounces apf + 3 ounces wwp. Turned out great.
Green Curry Dumplings
1 14-ounce can full fat coconut milk
2 cup leeks, finely chopped
1/4 teaspoon salt
1+ tablespoon green (Thai) curry paste
2 cups cooked mung beans
fresh lime or lemon juice

a few dozen round dumpling wrappers (either homemade or pre-made)
In a large skillet over medium heat add a dollop of the cream from the top of the coconut milk. Stir in the leeks and salt, and let them cook way down over 10-15 minutes or so. You want to let them get golden and caramelized. If the pan dries out too much, stir in a bit more of the coconut milk cream. Once the leeks are cooked, add the curry paste and cook a few minutes more. Stir in and smash the mung beans. Then add more coconut milk (4-5 tablespoons), or just keep going until the filling is quite moist. Add a generous squeeze of lime or lemon juice. Combine well, taste, and adjust the seasoning if needed. Transfer to a bowl or jar to cool. If I need to speed up this process, I'll place the bowl in the freezer, and stir every ten minutes or so until cool.
If you're ready to fill and shape your dumplings, either follow the instructions on the wrapper package, or fold them and seal them into your desired shape. To make big hugs, take a look at the photos up above, place a bit of filling in the center, fold the wrapper in half using a bit of water to create a seal if needed, and then pull the "arms" forward into a clasp. A more basic fold, like half moon is also perfectly fine - fold in half, and seal.
I cooked these dumplings a number of ways in the days that followed - steamed in a lined steamer for 7-10 minutes is great for this shape. I simmered them in flavorful broth until tender, along with a bunch of greens, and herbs - really good as well.
You can also pan-fry/steam them like you would gyoza, if, like me, you love the golden, crispy bottoms you get with this method. To do this, heat a tablespoon of (coconut) oil in a large skillet over medium-high heat. Arrange the dumplings in the pan, with some space between each (so they don't stick together). Pan-fry until the bottoms are golden, a few minutes. With a large lid in one hand, carefully and quickly add 1/3 cup / 80 ml water to the pan, immediately cover, and cook the dumplings for a few minutes, or until the water is nearly evaporated. Uncover and finish cooking until all the water is gone - another minute or so. Dial back the heat if the bottoms are getting too dark.
Makes about 2 cups of filling.
Prep time: 30 minutes - Cook time: 10 minutes