Baked Quinoa Patties
Great served hot or room-temperature, these quinoa patties are packed with herbs, kale and creamy feta cheese. Adult and kid-friendly, and perfect for lunches on the go.
Quinoa patties are portable, packed with protein, and adaptable. Even people who are on the fence about quinoa tend to love them, especially the ones you see here. This version is sesame-crusted and boosted with lots of herbs and kale. That said, you can play around with a wide range of accent ingredients and cooking techniques. I initially featured a skillet-cooked version in my book, Super Natural Cooking (2007), but you can bake them as well with great results, and that's what you see here.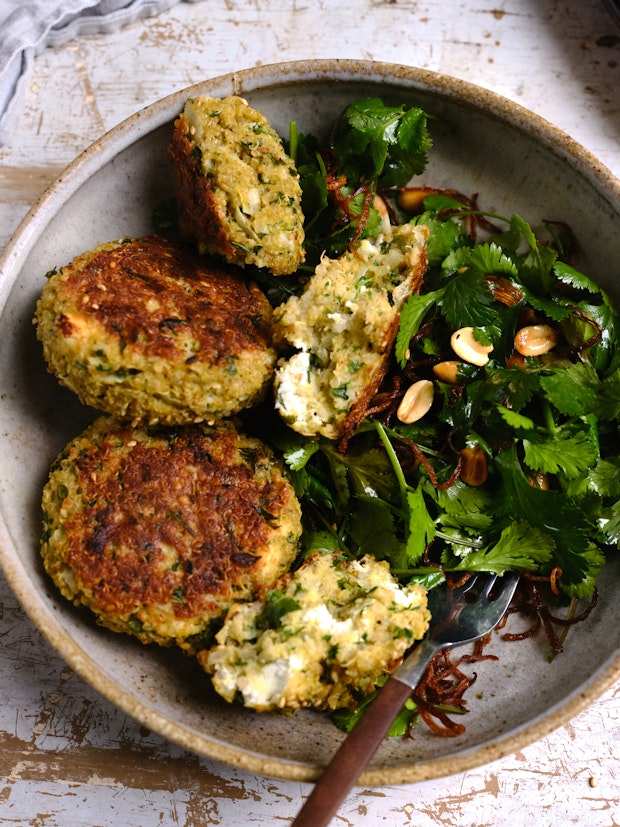 How to Make Quinoa Patties
Quinoa patties come together quickly, particularly if you have a few cups of leftover quinoa on hand. I always cook extra quinoa, knowing it will come together into a quick lunch if I plan ahead a bit. To make quinoa patties you simply combine cooked quinoa, eggs, herbs, breadcrumbs and seasoning in a bowl. The patties are shaped by hand and then baked or pan-fried. They can be enjoyed hot or room-temperature, and, either way, I love them with a bit of hot sauce.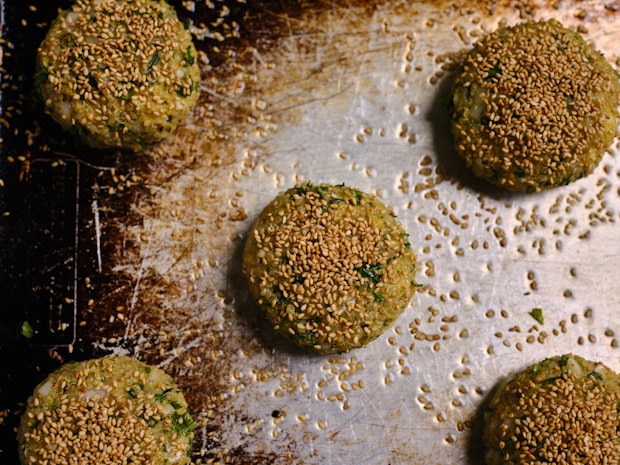 You can see the patties prior to baking above. And then after baking below. I like to sprinkle a few sesame seeds on top for added crunch. Really push them into shape using your hands so that they will hold their shape.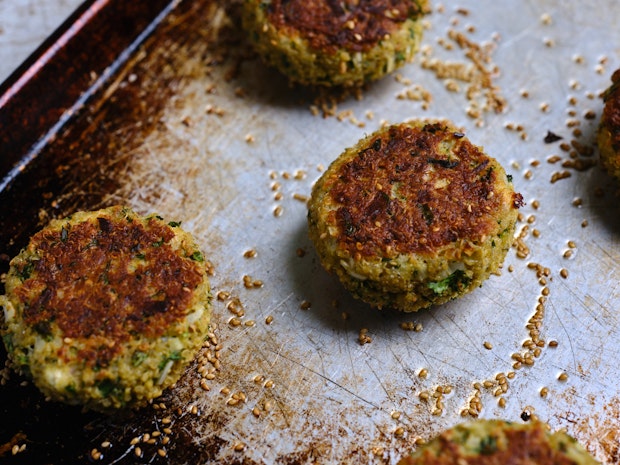 Quinoa Patties: On the Go
I initially highlighted these quinoa patties (below) when a number of you asked about packing meals for flights. I was heading to London - so, a long flight from San Francisco. My strategy for flight meals is an ever-evolving system which (currently) involves a collapsible container, two thick rubber bands, and a plastic fork/spoon thing. All food goes in one container, and I avoid anything liquid to get through security. A good splash of sauce seems to be fine though. For my flight to London, I packed these potstickers. What you didn't see was the way I buried them under a layer of these baked quinoa patties. Not pretty, but great to have on hand. I use a folded piece of parchment paper to divide the dumplings from the patties.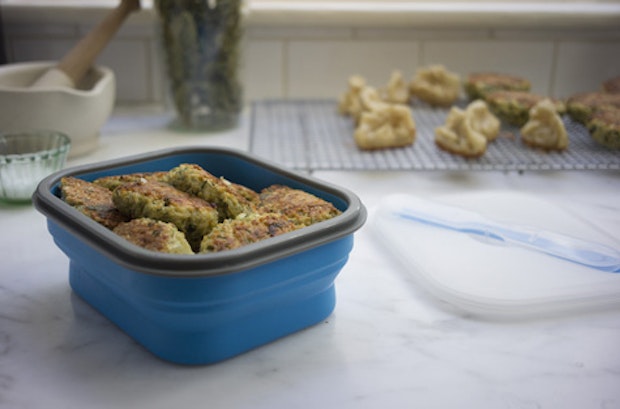 When I stay closer to home, I tend to go the bento or tiffin route - have a look at this page if you're interested in more on-the-go, feel-good lunch ideas.

Variations:
As long as your base ingredients (quinoa, eggs, onion, garlic, breadcrumbs) hold together into a patty, you can play around with different accents and ingredients. Here are a few ideas I've had success with over the years.
Za'atar Quinoa Patties

: Follow the recipe as follows, adding 1 tablespoon of za'atar to quinoa mixture. This is a favorite, especially along with a sesame crust.

Lemon Madras Quinoa Patties

: Skip some of the herbs and stir in 2 teaspoons Madras curry powder and the slivered zest of one large lemon.

Gluten-free Quinoa Patties

: Niki commented, "

I substitute ground almonds or walnuts for the bread crumbs - works perfectly."

Brussels Sprout Quinoa Patties:

VL noted,"

I just want to say I made these for a trip this weekend, but used brussels sprouts instead of the kale. They were great!" I can also imagine finely chopped cabbage working brilliantly as well, along similar lines.
There are a bunch of other great substitution ideas down in the comments as well.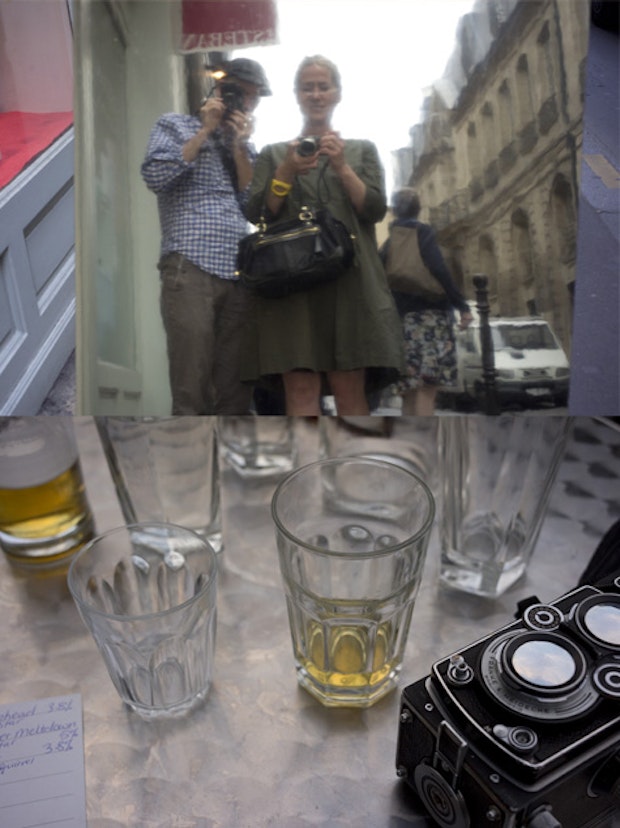 A Few Tips!
One thing I've learned over the years of making these is that the quinoa mixture is easier to shape if you allow it to sit overnight, refrigerated. It just holds together better.
Linda Marie commented, "I found that wet hands made shaping the patties easier. Did them in the skillet. Turned out great. Will try baking next time."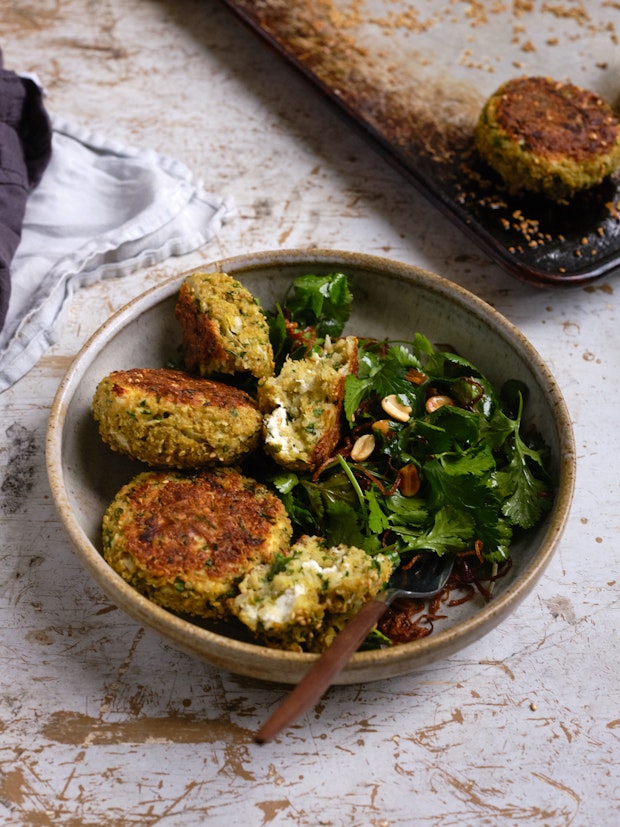 More Quinoa Recipes
Here's a post about how to cook quinoa along with a bunch of related quinoa recipes. I love this quinoa salad, this double broccoli quinoa, Heather's quinoa, and these little kale quinoa bites. And here's where you can get more inspiration for feel-good lunch ideas. These quinoa patties are great tucked into a bento situation along with edamame, a bit of coleslaw, and bit of spiced avocado.
Baked Quinoa Patties
I baked these, but you can pan-fry them in a skillet** if you like - it's a bit quicker, but requires more of your attention. I've included those instructions at the bottom of the recipe. And see notes in the main post for variation ideas!
Ingredients
2 1/2

cups

/ 12 oz / 340 g cooked quinoa, at room temperature*

5

large eggs, lightly beaten

1/2

teaspoon

fine-grain sea salt

1/3

cup / .5 oz / 15 g finely chopped fresh chives

1/3

cup

/ .5 oz / 15 g finely chopped fresh dill

1

cup

/ 1.5 oz / 45 g finely chopped kale

1

yellow or white onion, finely chopped

3

cloves

garlic, finely chopped

1

teaspoon

(toasted) cumin

1

teaspoon

baking powder

1

cup

/ 3.5 oz / 100 g bread crumbs, plus more if needed

water or a bit of flour, if needed

1/3

cup

/ 1.5 oz / 40 g crumbled feta

1

tablespoon

extra-virgin olive oil or clarified butter

sesame seeds, for coating
Instructions
Preheat oven to 400F / 200C.

Combine the quinoa, eggs, and salt in a medium bowl. Stir in the chives, dill, kale, onion, garlic, and cumin. Stir well.

Add the baking powder and bread crumbs, stir, and let sit for a few minutes so the crumbs can absorb some of the moisture. Gently stir in the feta.

At this point, you should have a mixture you can easily form into twelve 1-inch / 2.5cm thick patties. Use about 1/2 cup of the quinoa mixture per patty. I err on the very moist side because it makes for a not-overly-dry patty, but you can add more bread crumbs, a bit at a time, to firm up the mixture, if need be. Conversely, a bit more beaten egg or water can be used to moisten the mixture. If you're still having trouble getting the mixture to hold - mix in flour, a couple tablespoons at a time.

Oil a baking sheet, and arrange the patties with a bit of space between each. Sprinkle with sesame seeds if you like. Bake for ~20 minutes, or until the bottoms are brown. Flip and bake for another 5 minutes. Enjoy hot, or allow to cool to room temperature on a cooling rack.
Notes
Makes about a dozen patties.
**Alternately, you can cook the patties in a skillet. Here's how - Heat the oil in a large, heavy skillet over medium-low heat, add 6 patties, if they'll fit with some room between each, cover, and cook for 7 to 10 minutes, until the bottoms are deeply browned. Turn up the heat if there is no browning after 10 minutes and continue to cook until the patties are browned. Carefully flip the patties with a spatula and cook the second sides for 7 minutes, or until golden. Remove from the skillet and cool on a wire rack while you cook the remaining patties. Alternatively, the quinoa mixture keeps nicely in the refrigerator for a few days; you can cook patties to order, if you prefer.
Related Recipes
More Recipes
Popular Ingredients