Heather's Farro Recipe
A farro recipe I did for my sister's baby shower. Farro, a citrus dressing, roasted spring onions, yellow split peas, fresh peas, a bit of mixed salad greens, and a touch of goat cheese and chives.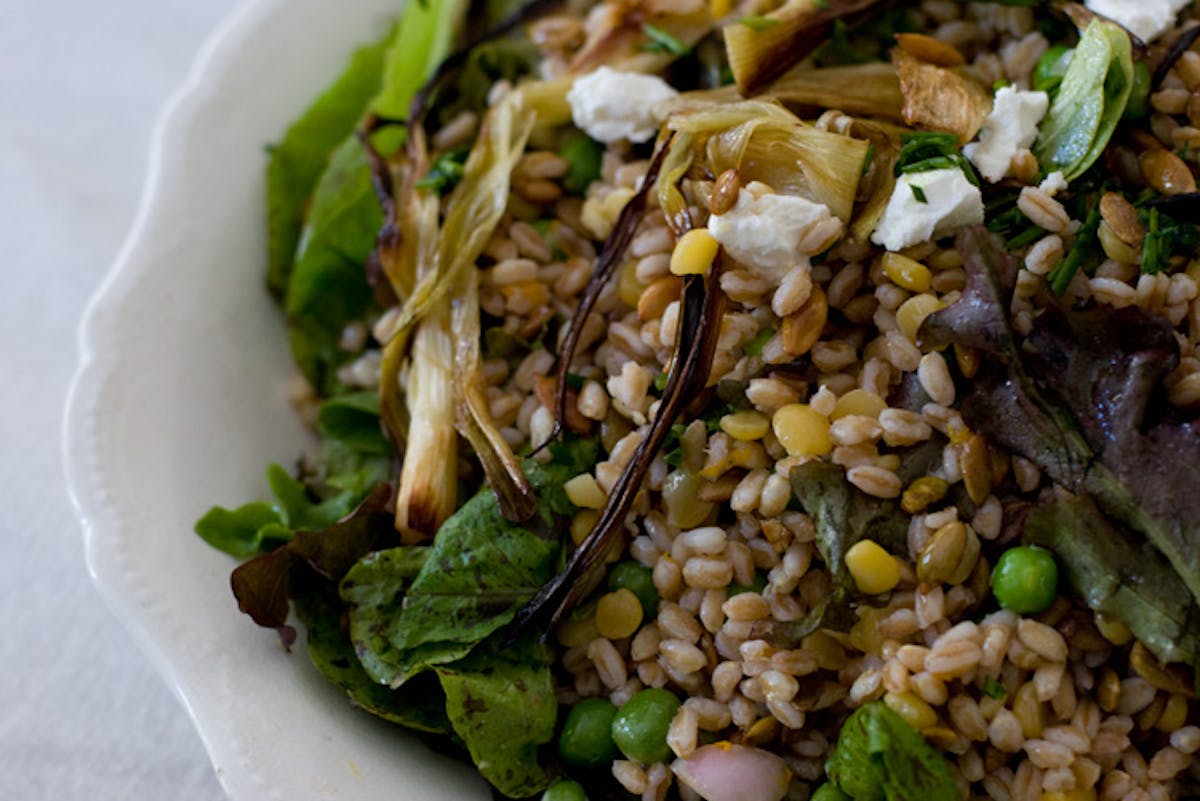 A number of you emailed me about the farro platter pictured in the baby shower post from last Sunday (apparently a least some of you aren't tired of grains and peas yet ;). While there are a few different components at play here, the great thing about it was being able to prep it two days in advance. This left me free to do other things the day of the celebration - like sleep in. What's in it? I used farro as the base along with my favorite citrus dressing, roasted spring onions, yellow split peas, fresh peas, a bit of mixed salad greens, and a touch of goat cheese. I see some chives snuck into the photo as well.
For those of you looking for a quick, on-the-fly meal, this isn't it. That is unless you have the components prepped (i.e. the dressing, the farro cooked, etc). If this is the case, you're golden, and you can throw everything together in a flash.
One other important thing to remember - you can remix a salad like this a thousand different ways to suit your tastes or season. A month or so from now I might trade the salad greens for basil leaves and use tiny, roasted, yellow tomatoes in place of the spring onions. that being said, the dark roasted, caramelized spring onions I used this time around added a depth to this salad that was hard to beat. Can't find farro? No worries. You can certainly use wheat berries or pearl barley as the base, millet might be a tasty choice as well.
Heather's Farro Recipe
As I mentioned up above you can make many of the components here in advance. I keep them separate until I'm ready to serve.
6 cups cooked farro*
2 cups cooked yellow split peas**
1 1/2 cups peas, fresh if possible boiled for 30 seconds in salted water and drained

a big splash of Citrus Parmesan Vinaigrette***
4 handfuls of mixed salad greens

10 spring onions, trimmed, cut in half length-wise, tossed in a bit of olive, sprinkled with a bit of salt and roasted on a baking sheet in a 350F degree oven for about 35 minutes or until browned (toss once midway)

1/4 cup goat cheese, crumbled
1/4 cup chopped chives
In a large bowl toss the farro, yellow split peas, and peas with the Citrus Parmesan Dressing. Toss until well coated. Add the spring onions and salad greens and give the salad another (more gentle) toss, so as not to bruise the greens. Taste and add more salt if needed. Serve in the big bowl or on a large platter topped with the spring onions, goat cheese, and chives.
Makes one generous, family-style platter.
*To cook farro: Combine farro, salt, and water in a large, heavy saucepan over medium heat (I cover the farro with water by a couple inches and salt generously). Cover and simmer, stirring occasionally, until the farro is tender, 45 minutes to an hour, or about half the time if you are using semi-pearled farro. Taste often as it is cooking, you want it to be toothsome and retain structure. Remove from heat, drain any excess water, and set aside until ready to use.
**To cook dried yellow spilt peas: Bring 3 cups of water to a boil in a large saucepan, add 3/4 cup dried yellow split peas, and cook for 20 -30 minutes, or until tender. Drain, salt to taste and set aside.
***Citrus Parmesan Vinaigrette: whisk together the zest and juice of 1 orange, 1 chopped shallot, 1/3 cup Parmesan cheese, 1 tablespoon white wine vinegar, and 1/2 cup good quality olive oil. Salt to taste.