Asparagus Stir-Fry Recipe
Someone crashed into my car the other night. Not just once, multiple times. I tell you this not because I'm upset about my car - quite frankly, I hardly ever drive it. I'm more annoyed that I have to take it for a quote, and then get it repaired. My first car appointment is scheduled at the same time I typically visit the farmers' market. Which doesn't seem like a crisis, I know, but I depleted our asparagus stash making this stir-fry and was counting on a fresh fix. Like many stir-fries it requires a bit of commitment on the front-end - slicing, dicing, and chopping. All completely worth it. Each time an ingredient hits the hot pan, the scent unfurls toward you in an intense bouquet. You just know it's going to be good. Asparagus and tofu form the base of this ensemble, but it has quite a lot going on beyond that. You get a bite of tang from the lime, heat from the red chiles and fresh ginger, mint and basil cool things down, and a touch hoisin sauce gives you just enough sweetness to balance it all out.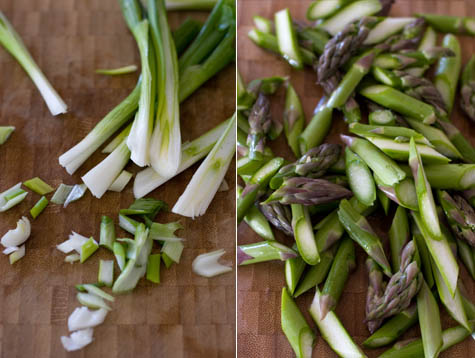 I should note a few things here. Prep all of your ingredients ahead of time and have them close at hand. You'll spend 95% of your time prepping this recipe, and it'll come together in no time beyond that. Also, you will want to make it to order. You can certainly prep many of the ingredients ahead of time (even a day ahead of time), but don't cook it until just before you are ready to eat. This way the asparagus and greens won't overcook as they are sitting around.
Asparagus Stir-Fry Recipe
I mention this up above in the main post, but be sure you have all your ingredients prepped and ready to go before you start actually stir-frying.
toasted sesame oil
8 ounces extra-firm tofu, cut into slices thick as a pencil
4 green onions, thinly sliced
scant 1 tablespoon freshly grated ginger (peeled)
1/2 teaspoon crushed red pepper flakes
1/2 a bunch of asparagus, trimmed and cut into 1-inch pieces
a couple big pinches of fine-grain sea salt
3 cloves garlic, chopped
1 big handful of toasted cashews, chopped up a bit
a few handfuls of spinach, or chopped kale, or chopped chard
zest and juice of one lime
2 tablespoons hoisin sauce
1 small handful fresh mint, slivered
1 small handful fresh basil, slivered
Have all your ingredients prepped and within arms reach of the stove. Heat a splash of sesame oil in a large pan, or well-seasoned wok over medium high heat. Alternately, you can do this in a dry non-stick pan - one of the few occasions I still use non-stick. When it is hot, add the tofu, and cook until golden - a few minutes. Remove the tofu from the pan and set aside.
Add another (generous) splash of oil to the pan and, as soon as it is hot, add the onions, ginger, red pepper flakes, asparagus, and salt. Stir fry for about a minute, then add the garlic, cashews, and spinach and stir-fry for another minute, or until the spinach wilts. Return the tofu to the pan. Stir in the lime zest and juice and the hoisin sauce. Cook for another 10-20 seconds, stirring all the while.
Remove from heat and stir in the mint and basil. Taste and add a bit more salt if needed.
Serves 2-4 (main/side)