Jamaican Veggie Patties Recipe
A favorite recipe from chef Bryant Terry's newest book, Vegan Soul Kitchen. A richly spiced potato, pea, corn, carrot, and cabbage filling is wrapped with a turmeric-hued pastry crust made with coconut oil.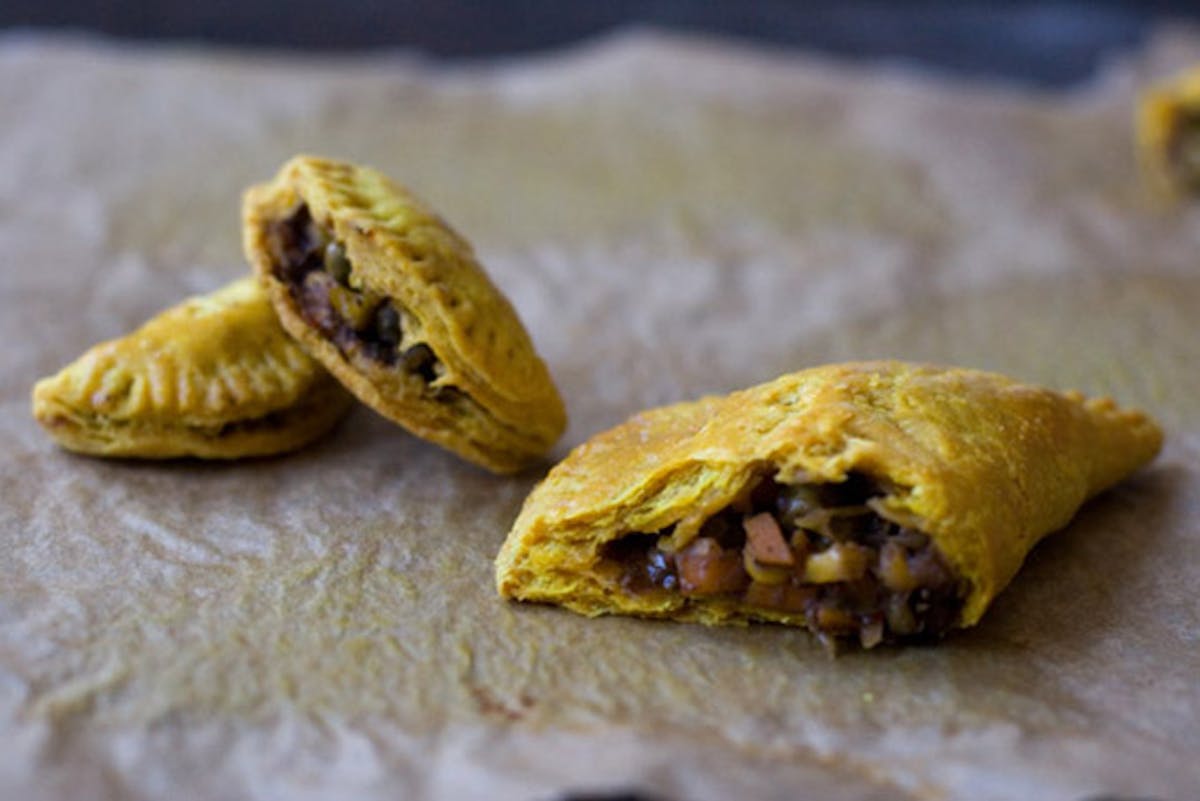 Shortly after posting Bryant Terry's list of favorite cookbooks last week, a number of you emailed asking whether or not I had a favorite recipe from his new book (Vegan Soul Kitchen). His Jamaican Veggie Patties immediately come to mind. The first time I read through the recipe I thought to myself - oh, they're hand-pies! And quickly filed them away in the lazy-day section of my brain. A richly spiced potato, pea, corn, carrot, and cabbage filling is wrapped with a turmeric-hued pastry crust made with coconut oil. You can make them large, you can make them small, and if you can't be bothered with the pastry side of the equation, the filling is delicious on its own over a simple bowl of brown rice or quinoa. It's not really a weeknight recipe, but you can certainly make a batch, bake a couple, and then freeze the rest for easy patties later.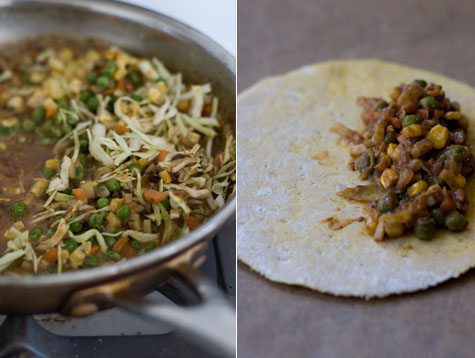 To give you a better sense of the recipes in the book, here's a sampling: Sweet Coconut Ginger Creamed Corn (which you might use as a an alternate filling here), Succotash Soup with Garlicky Cornbread Croutons, Spicy Smothered Green Cabbage, Collard Confetti, Upper Caribbean Creamy Grits with Roasted Plantain Pieces, Blackened Tofu Slabs with Succotash Salsa, Quinoa-Quinoa Cornbread, Black-Eyed Pea Fritters with Hot Pepper Sauce, Spicy Pickled Purple Okra, and Coconut-Pecan Pralines.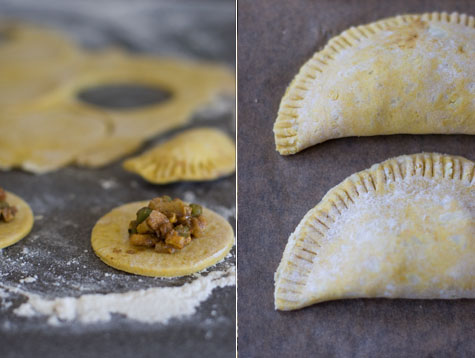 The book is black and white with color photo inserts and spans 223 pages. If you're interested in fresh, updated, vegan recipes that explore the flavors and richness of African, Caribbean, and African American cuisines, this book is where it's at. For those of you who already have the book, let me know if you have any favorites yet - I'm trying to figure out which recipe to try next.
Jamaican Veggie Patties Recipe
You can certainly experiment with different sizes here, but don't go much smaller than a 4-inch cookie cutter. Any smaller and they tend to come apart at the seams - a bit like gaping mouths (see lead photo). Also, be sure to roll the pastry dough thinly - a true 1/8-inch. And lastIy, I can't resist brushing the patties with a bit of beaten egg before placing them in the oven - it makes the crust nice and golden, but also takes them out of the vegan category.
1 tablespoon coconut oil
1/2 cup 1/4-inch-diced yellow onion
1/8 teaspoon ground cinnamon
1/4 teaspoon allspice
1/2 teaspoon ground cumin
1/4 teaspoon red pepper flakes
1/8 teaspoon cayenne
Coarse sea salt
2 larges cloves garlic, minced
3/4 cup coconut milk
1/4 cup 1/4-inch-diced carrots
1/4 cup 1/4-inch-diced yellow potatoes
1/2 cup fresh green peas (or frozen)
1/2 cup sweet fresh corn (or frozen)
1/2 cup shredded cabbage
1 tablespoon minced fresh thyme
1 tablespoon freshly squeezed lemon juice
1/2 teaspoon freshly ground white pepper

Pastry:
1 3/4 cups unbleached flour
1 cup whole wheat pastry flour
2 teaspoons turmeric
1/2 teaspoon fine sea salt
3/4 cup chilled coconut oil
2 teaspoons apple cider vinegar
1/2 cup plus 2 tablespoons ice water
For the filling: In a medium-size saute pan over medium-low heat, combine the coconut oil, the onion cinnamon, allspice, cumin, red pepper flakes, cayenne, and 1/2 teaspoon of salt. Saute, stirring occasionally, for 8 to 10 minutes, or until the vegetables are caramelized. Add the garlic and cook for an additional 2 minutes. Stir in the coconut milk, carrots, and potatoes, reduce the heat to low, cover, and cook until the carrots and potatoes are tender, 10 to 12 minutes. Stir in the green peas, corn, cabbage, thyme, and lemon juice, cover, and cook for 3 minutes more. Season with additional salt and the white pepper (or to taste) and set aside to allow the flavors to marry.
For the pastry: Combine 1 1/2 cups of the white flour with the pastry flour, turmeric, and salt in a large bowl and mix well. Set the remaining 1/4 cup white flour aside. Add the coconut butter to the flour mixture and rub with your fingertip until the mixture resembles fine sand, about 10 minutes (hs note: I've also make this dough by pulsing ingredients in a food processor with good results).
Combine the vinegar and water and mix well. Then, without overworking the dough, add the vinegar mixture by the tablespoon, while stirring, just until the dough comes away from the sides of the bowl and begins to coalesce. Squeeze into a tight ball, flatten, cover in plastic wrap, and refrigerate for at least 1 hour.
Preheat the oven to 350F and remove the dough from the refrigerator.
With the reserved flour, lightly dust a clean surface, roll out the dough until it is about 1/8 inch thick. Cut six 6-inch circles from the dough (you can use a bowl). Spoon 2 heaping tablespoons of the filling onto the center of one side of each circle, leaving about a 1/8-inch border. Fold the other half over to make a half-moon, press to seal, and make ridges around the edge using a fork. (hs note: if your dough is at all on the dry side you may need to run wet fingers around the edge of the circles to help get a good seal).
Transfer the patties to a parchment-lined baking sheet and bake until golden brown, about 35 minutes. Serve immediately with some hot sauce.
Makes six big patties, or a couple dozen smaller ones.
Reprinted with permission from Vegan Soul Kitchen: Fresh, Healthy, and Creative African-American Cuisine by Bryant Terry. (Da Capo Press, March, 2009)