Favorite Cookbooks: Bryant Terry Recipe
Chef and cookbook author Bryant Terry shares his favorite cookbooks.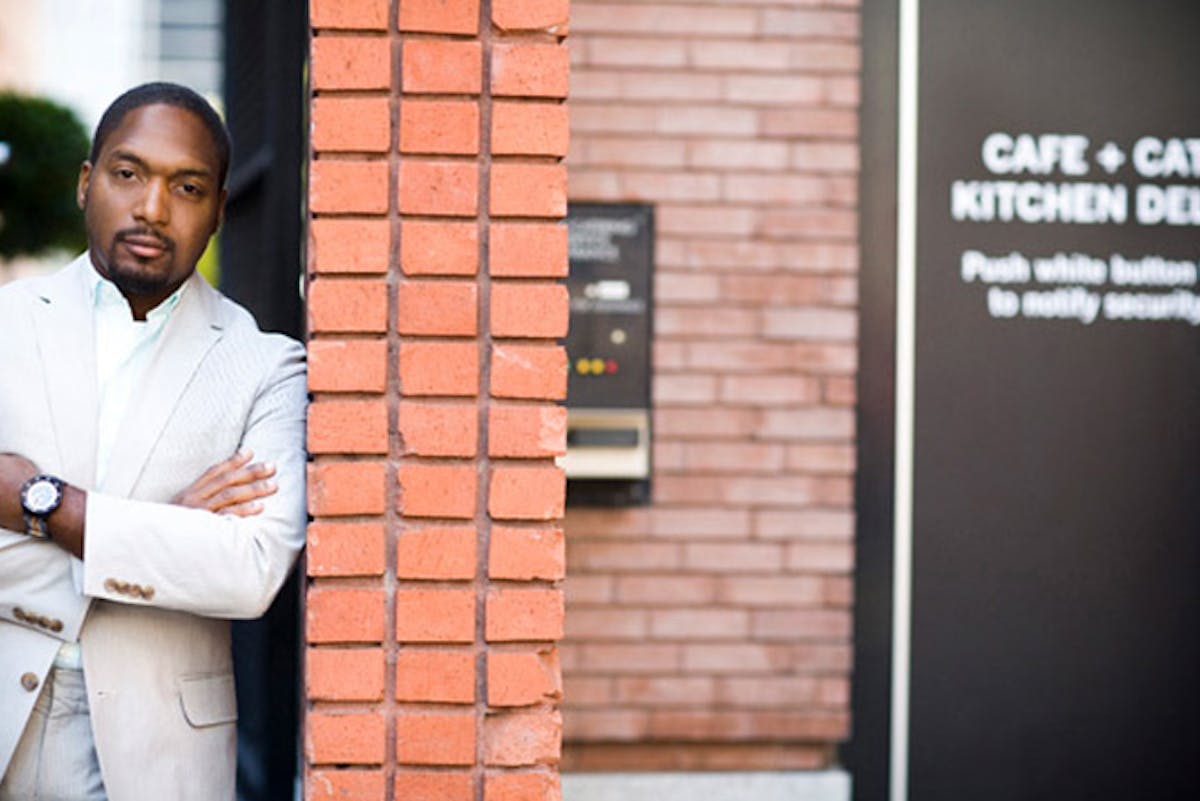 Many of you know Bryant Terry. If you don't, I'm very happy to share him with you. He's a chef. He writes books. He's on TV, in lots of magazines, and with his latest project, a new cookbook, I suspect he will change the way many people think about African-American cuisine - what it is, and what it can be. Vegan Soul Kitchen just started shipping - the subtitle sums up the focus: Fresh, Healthy, and Creative African-American Cuisine. I saw an early version of VSK and loved it - the recipes, the unique and personal point of view, the way it encourages the reader to explore this rich culinary realm through a updated, fresh, bright, and healthy lens.
Bryant is fantastically talented, the work he is doing is important, and he was nice enough to share a few of his favorite cookbooks (and insights) with us.
BRYANT'S COOKING STYLE (in his own words):
Generally, I would describe my cooking style as ingredient-driven. I let the season's bounty dictate my everyday meals, cooking simple dishes using ingredients from our CSA box. On weekends and special occasions I get a little fancier. Coming off of my latest book (Vegan Soul Kitchen), I have been cooking a lot of "Afro-Diasporic Cuisine" - cutting, pasting, reworking, and remixing African, Caribbean, African American, Native American, and European staples, cooking techniques, and distinctive dishes to come up with something deliciously unique.
Right now, I primarily use cooking and other media to viscerally move people to be more aware of their environment and work towards a more healthy, just, and sustainable food system. And while my work with food is certainly inspired by other chef's and cookbook authors, I find a lot of inspiration from architects, activists, designers, filmmakers, musicians, painters, and photographers as well. (see Bryant's inspiration board below)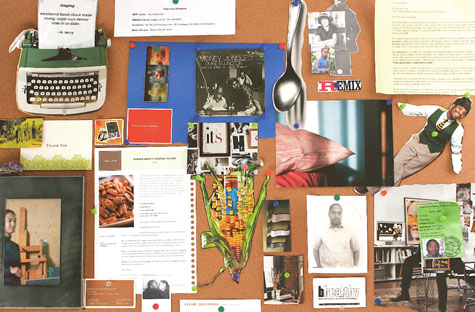 FAVORITE COOKBOOKS (the ones he turns to most often for recipes and inspiration):
- Peter Berley's The Modern Vegetarian Kitchen - This book inspired me to become a cookbook author. In fact, Vegan Soul Kitchen is heavily influenced by it - stylistically minimalist; focused on fresh, whole, and sustainable ingredients; and filled with information. In addition to being a chef, Peter is a jazz musician, and he brings his musical sensibilities to cooking and cookbook writing. So his work really resonates with me. Before I started writing Grub, my first book, I contacted Peter and asked if he would mentor me through the process. He continues to influence me to this day.
- Edna Lewis' The Taste of Country Cooking - The late Edna Lewis is one of my heroines. Similar to my latest book, her mission was to help people connect with the flavors of real food that she enjoyed growing up in the South. After taking New York City by storm with her take on Southern cuisine at Café Nicholson in the late 1940 and '50s, she went on to write several cookbooks that focused on seasonality and freshness. Her second cookbook, The Taste of Country Cooking had a major impact on my style of recipe writing. This book reads like a memoir infused with recipes, and it inspired me to draw heavily on history and memory in my own cookbook writing, which I often describe as "recipes as autobiography."
- Jessica B. Harris' The Africa Cookbook - Dr. Harris is a brilliant culinary historian and author. I'm most inspired by the confluence of intellectual rigor and soul that she brings to cookbook writing. In addition to the fact that this book celebrates the countries and people throughout the motherland whose contributions to the way we eat today have been ignored. I love the fact that she includes suggestions for menus, appropriate décor, and music.
- Myra Kornfeld's The Voluptuous Vegan - Myra was one of my teachers in culinary school, and I have always loved her cooking. This book showed me that I could compose a cookbook devoid of animal products that would blow people away!
- Heidi Swanson's Super Natural Cooking - At the risk of sounding like a sycophant...I remember seeing your book on display at a bookstore and speeding across the room to grab it because the cover was so striking. When I flipped through it I was floored. To this day, it is one of the best examples of "cookbook meets art book" that I have seen.
- Alice Water's The Art of Simple Food - This book re-inspired me to get back to the basics, and it influenced the way that I am cooking personally as well as professionally. I just started working on my third book, which guides readers in preparing simple, ingredient-driven home cooked meals using food from our home garden, CSA and local farmer's markets.
- Jamie Oliver's Jamie at Home - I've always been a big fan of Jamie's work. The bright, cheery photos and fun recipes of his early cookbooks make me happy. I especially like the informality that he brings to recipe writing (in my best British accent: "add a handful of parsley and a couple of glugs of olive oil."). I thought I was on the cutting-edge when I decided to focus on the domestic sphere for my next book...Then I discovered Jamie at Home. I love this book. The muted earth tones and matte pages mark an aesthetic departure from his earlier work, and this design choice is more in line with my personal style. I like the fact that he offers recipes made from ingredients from his "vegetable patch" and that he organizes the book by season. 'Nuff respect to Jamie. I'm happy to follow in his footsteps.
- Nate Appleman and Shelley Lindgren's A16: Food + Wine - This is the latest cookbook in my collection and one of my favorites. The book perfectly captures the relaxed and romantic vibe of the restaurant. The photographs are gorgeous and titillating. And I love the design. I have not tried any of the recipes yet, but If they are as good as the food at the restaurant...
Related links:
- Bryant Terry's website
- Bryant's new book Vegan Soul Kitchen
- Author photo by Sara Remington - It was really great to see her team up with Bryant on this book.
- Past cookbook list: Textile Designer Malinda Reich
- Past cookbook list: Fashion designer Isaac Mizrahi
- Past cookbook list: Grace Bonney of design*sponge
- Past cookbook list: Cookbook author Eric Gower