Kabocha French Lentil Soup Recipe
An anise and ginger-spiked French lentil soup, from a charming little cookbook I stumbled on titled SoupLove. The broth is thickened by lots of roasted winter squash, and it's great with lots of garlicky croutons.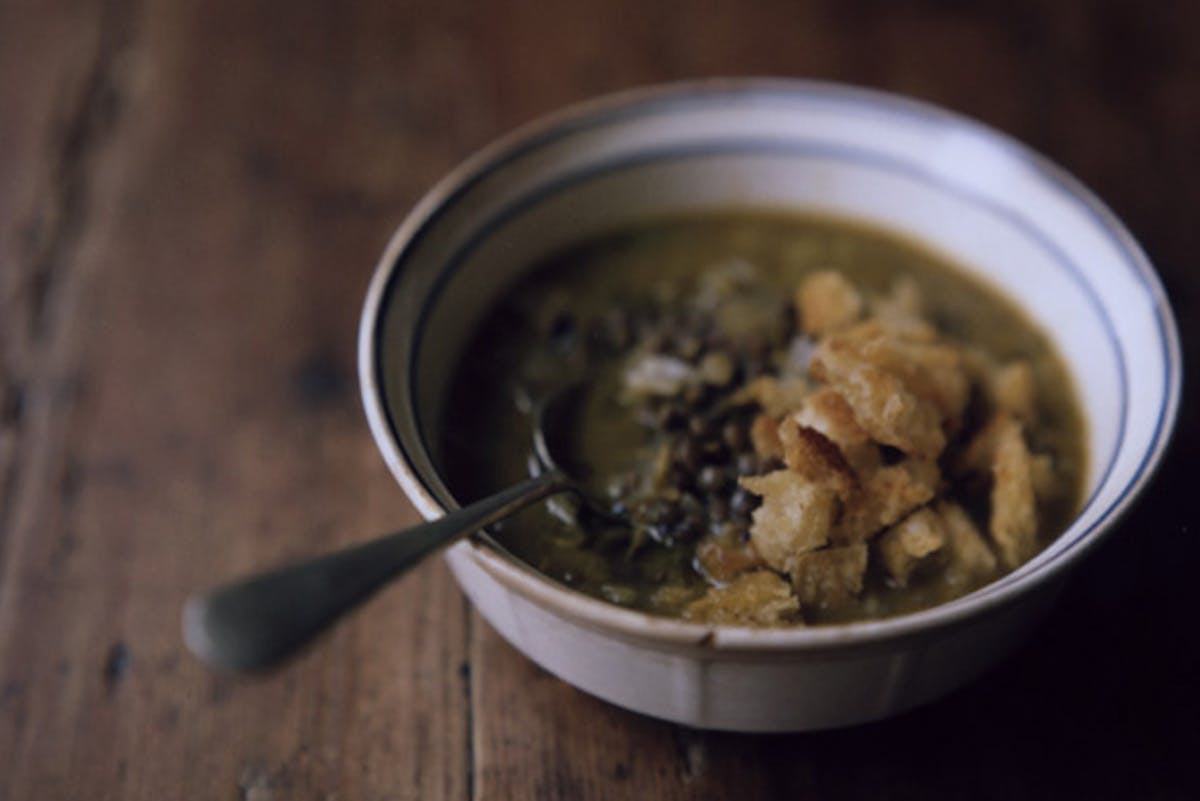 Last weekend Heather (my sis) and I waited for a break in the rain, loaded little Jack into the stroller, and headed toward the Mission district. We made lots of stops along the way - coffee, lunch, and The Curiosity Shoppe included.
The Curiosity Shoppe always has all sorts of neat things in stock. This time I came across a really sweet, unassuming cookbook titled SoupLove. It's by chef Rebecca Stevens, just 30 pages in length, single color, and features twelve simple, seasonal soup recipes including this Kabocha French Lentil Soup. The illustrations by Nabil Samadani send the charm factor to a ten.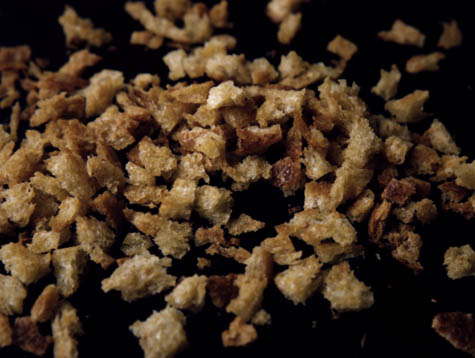 The soup? It is anise and ginger-spiked, with a broth thickened by lots of roasted winter squash. And for those of you keeping track, I promise, this is the last lentil soup for a while ;) I made a double batch, and we ate generous bowls for dinner topped with lots of extra-garlicky croutons. Then I put enough for one more meal in the refrigerator, and froze three freezer bags worth of leftovers.
For those of you who are interested in tracking down a copy of SoupLove, Nabil has posted a list of stores that are (or will be) stocking it. Or you can order it through Etsy for $8 - there you can see the cover, and a couple of the illustrations.
Kabocha French Lentil Soup
Rebecca calls for kabocha squash or other dark orange winter squash. I've been buying rugosa squash here in SF at Bi-Rite, it's an heirloom butternut squash - deep orange, creamy - it was really nice in this soup. I doubled this recipe. But still used just 1/2 cup water when roasting the squash.
1 kabocha or other dark orange winter squash, 1 1/2 lb. / 24 ounces / 680 g

1/2 cup / 120 ml water
1 tablespoon olive oil
sea salt
1 cup / 7 oz / 200 g green lentils, rinsed
5 coins ginger, 1/8-inch thick
1 whole star anise
6 cups / 1.5 liters water
1 teaspoon sea salt, plus more to taste
1/4 cup / 60 ml olive oil
1 yellow onion, medium dice
1 leek, sliced into 1/4 moons
1 fennel bulb, medium dice

red pepper flakes
Preheat oven to 425F/ 220C with a rack in the top third of the oven. Cut the squash in half and remove the seeds. Oil and salt the squash and roast cut side down (in a rimmed baking pan) with the 1/2 cup / 120 ml of water poured into the pan. Roast until tender, about 35 to 45 minutes. When cool enough, scoop out cooked squash and set aside.
In the meantime, in a medium saucepan, combine the lentils, ginger, star anise and water. Simmer until tender, about 30 minutes. Add 1 teaspoon salt.
In a large stockpot combine the olive oil, onion, leeks, fennel and additional salt. Cook covered over low heat until vegetables soften, about 7 - 10 minutes.
Remove the star anise and ginger coins from the lentil sauce pan, then add the lentils, lentil broth and squash to the vegetables in the stock pot. Stir well and cook for another 15 minutes or so, allowing the flavors to blend. Taste and adjust the seasoning here with more salt if needed, and in my case I used a few generous pinches of red pepper flakes as well.
Serve as is, or topped with lots of garlicky homemade croutons.*
Serves 4 - 6.
*For the croutons I simply ripped up the remainder of a day-old loaf of Outerlands bread into tiny shreds, doused it in olive oil, garlic, and a bit of salt, and toasted it in the oven until golden and crunchy - I think the oven was set to 375 at the time.

Prep time: 20 minutes - Cook time: 60 minutes