Kimchi Soup Recipe
A Kimchi Soup inspired by a bowl of fiesty, fiery, brothy cabbage soup I had years ago at Namu Gaji in San Francisco.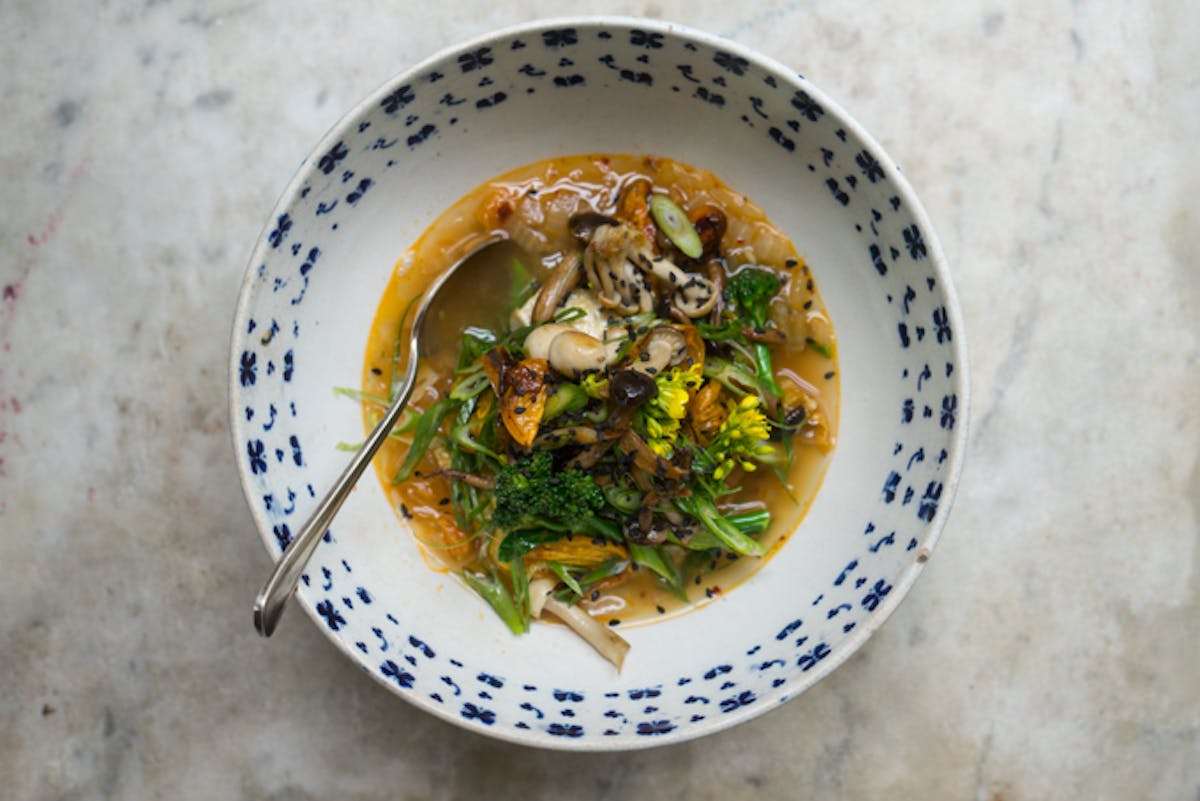 There is a soup I've had stuck in my mind for the past couple of years. I encountered it at Namu Gaji, a lively, welcoming, neighborhood spot run by the three (Dennis, Daniel, and David) Lee Brothers. It is situated diagonally across from Dolores Park in San Francisco, and is the perfect place to settle in along the street-facing bank of windows to chat and people-watch over sizzling okonomiyaki or a fiery stonepot of market vegetables. I see the Namu Gaji crew often at the Saturday morning farmer's market, shopping for ingredients or feeding market-goers from their Namu stall. Lots of heart on all fronts. The soup - I don't remember it being on the menu, although it could have been. I simply remember chatting about soup with one of the waitstaff there, and this fire-brothed magic appeared. It was a cabbage soup, but feisty and invigorating with lots of spice. You could see the flecks of red throughout, and the broth had little pools of spicy goodness suspended on top. I remember thinking to myself, it was as if someone had brothed out some amazing kimchi and called it a day - deceptively simple, in the best way possible. This is what I was attempting to channel when I stepped into the kitchen to prepare today's recipe. I added mushrooms and tofu, broccoli, and some other tasty flare to make a substantial one-pot meal of it - feel free to use as many, or as few, of the suggested toppings as you like.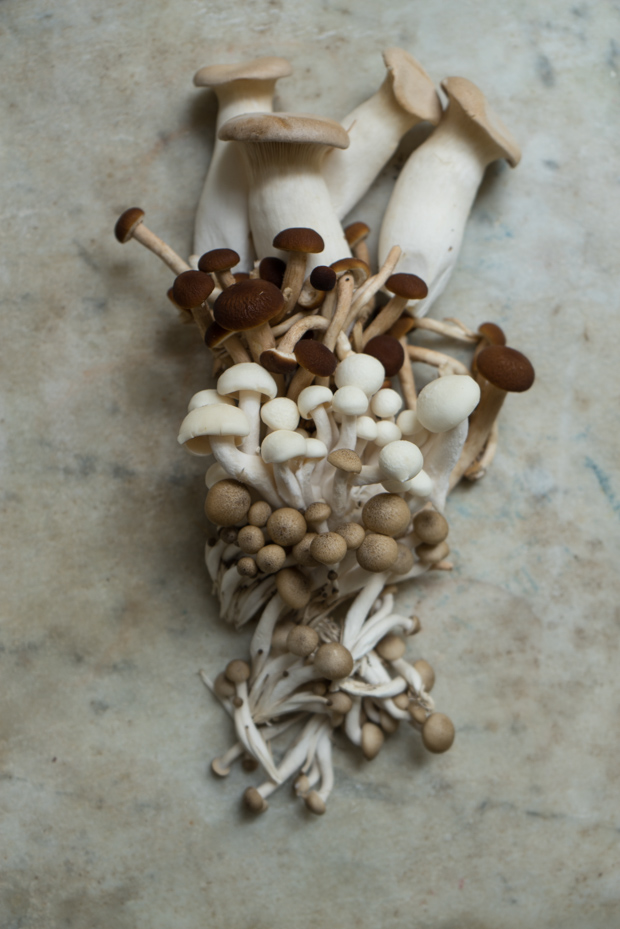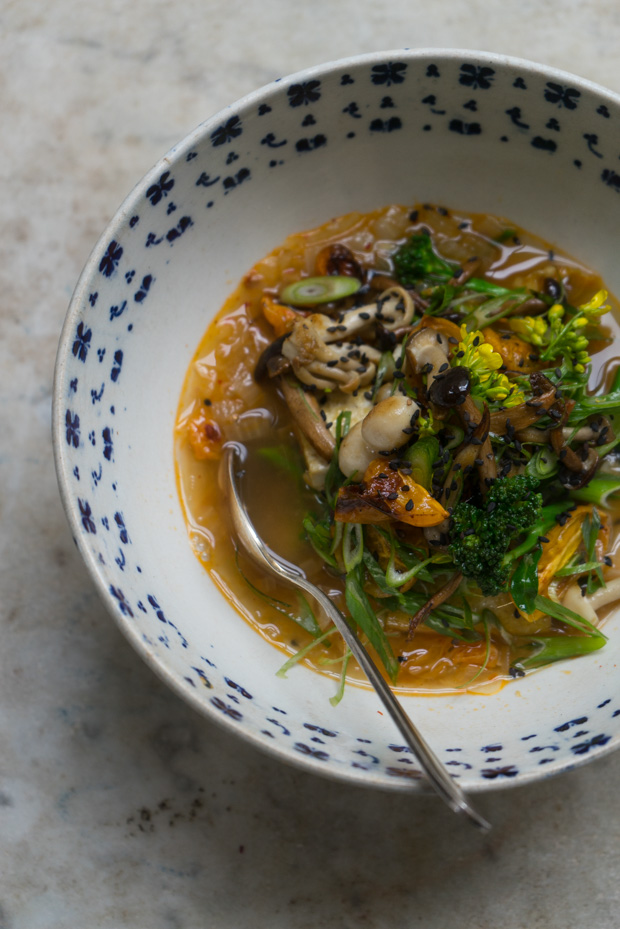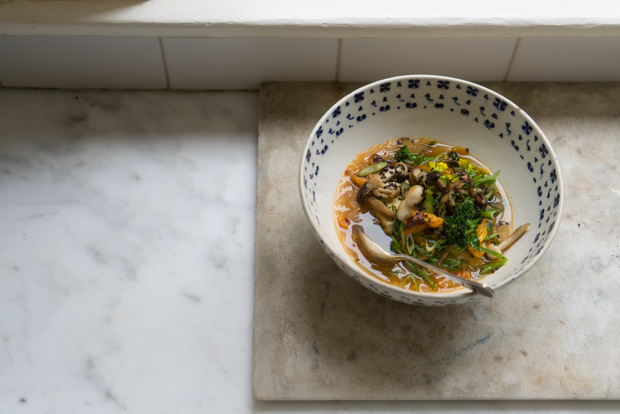 Kimchi Soup
One of the toppings I used here was the last of the season's cherry tomatoes, roasted until caramelized. When I go to make it again, I'll reach for whatever is seasonal - now that we're deep into fall, with winter not far off, some roasted delicata squash would be great. Or, a tangle of intensely roasted leeks. On the kimchi front, if you're buying prepared kimchi and are vegan or vegetarian, have a quick scan of the ingredient list, you'll need to choose one based on your parameters.
3 tablespoons olive oil, ghee, or clarified butter
8 ounces mushrooms, sliced
fine grain sea salt

1 large onion, chopped
1 1/2 tablespoons grated ginger
1 teaspoon chile flakes
5 garlic cloves, transparently sliced
2/3 cup kimchi, drained with 2 tablespoons juice reserved
6 cups water
1 tablespoon honey or dark brown sugar
8 ounces broccoli florets
3 tablespoons miso paste, or to taste
shoyu or soy sauce, to taste
12 ounces extra firm tofu, (pan-fried / optional)

to serve: roasted tomatoes, shredded green onions, sesame seeds, shoyu, squeeze of lime or lemon
Heat the oil in a large soup pot over medium-high heat. Add the mushrooms and a pinch of salt, toss to coat, and arrange in a single layer. Cook until golden where the mushrooms meet the pan. Toss, and cook a couple more times, or until the mushrooms are deeply browned, five minutes or so. Remove from the pan and set aside.
Using the same pan, stir in the onion, adding a bit more oil if needed. Sauté the onions, and after a few minutes, stir in the ginger, and chile flakes. After another minute or so, add the garlic, and the kimchi. Sauté until the garlic is deeply aromatic. Add the water, and the honey or sugar. If you taste things now, the broth is going to be bland and lack depth. That's ok, you'll season with miso later on, and retain the beneficial properties of the miso by not letting it simmer. At this point, stir in the broccoli, and simmer for a minute, or just until the broccoli becomes bright green. Remove the soup from heat. Place the miso in a small bowl and whisk a splash of broth into it, to thin it out. Stir the thinned miso, and the reserved kimchi juice into the soup. Taste. You really need to get the balance right here. If the broth tastes a bit flat, you might need more salt, or miso, or a splash of shoyu/soy sauce.
Just before serving, drizzle the tofu with a bit of shoyu/soy sauce. Serve the soup ladled into bowls, topped with the tofu, mushrooms, and as many of the suggested toppings as you can pull together. Pictured above, cherry tomatoes (roasted), shredded green onions, and sesame seeds. You might like to finish with a squeeze of lemon or lime juice.
Serves 4.

Prep time: 10 minutes - Cook time: 15 minutes