Miso Tahini Soup Recipe
The miso tahini soup we had for lunch as we prepped for the Remodelista Holiday Market last weekend - it was simple, hearty, and restorative with brown rice, winter squash, and a creamy miso-tahini broth. Avocado, lemon zest, toasted nori, and chives kept things lively and beautiful up top.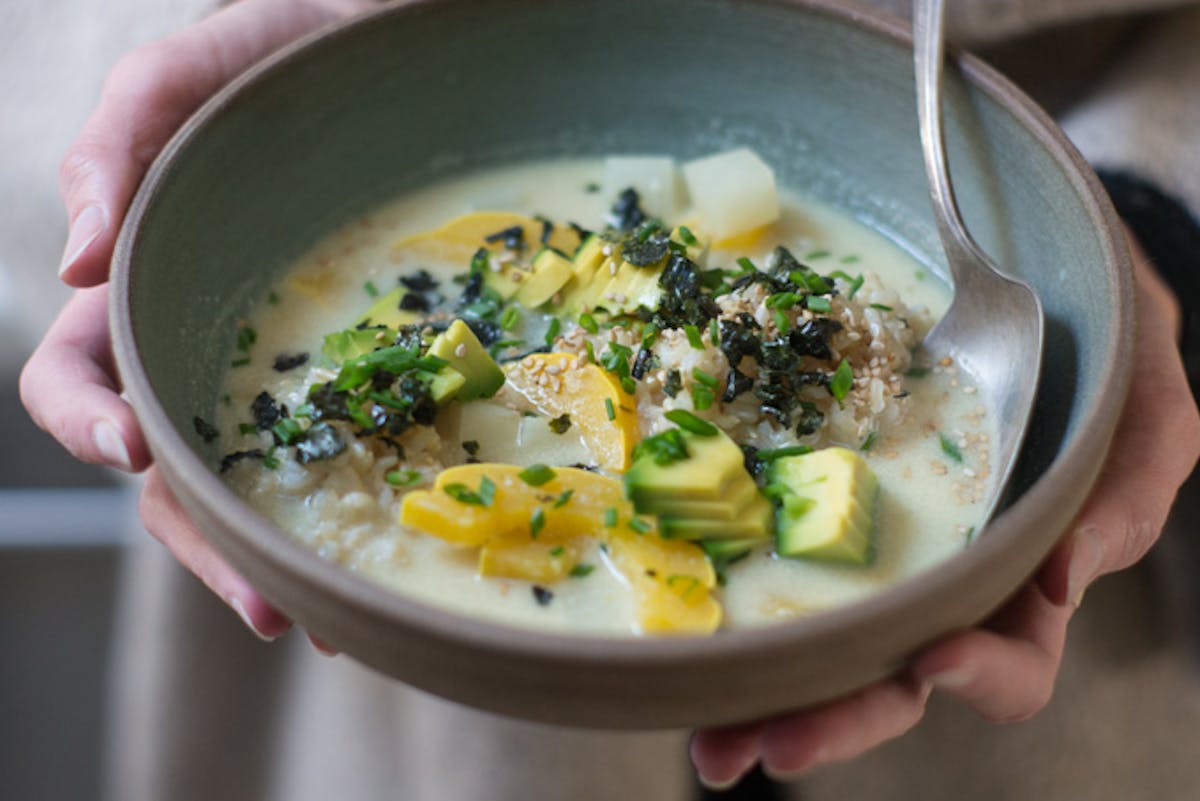 Last weekend we took our little shop project, QUITOKEETO, to the Remodelista Holiday Market. It took place at the Heath Ceramics factory, and it was the first time we've done anything "out in the wild" related to the shop. So exciting! We brought a small assortment of items, had amazing neighbors on either side (hi Adele! hi Tracy!), and spent the day on the south side of Heath's incredible production floor, directly across from the massive tile kilns. A big thank you to Sarah, Julie, Alexa, and the rest of the Remodelista crew for having us, and to Heath for hosting. It was much fun meeting readers, customers, and all the artisans & designers at the market - heartfelt thanks to all of you who turned out. Needless to say, we prepped for the market the preceding day, and Tina made this beauty of a soup for lunch (a lot of times we take turns cooking lunch, or all cook together)...I suspect you'll love it as much as I did. It's simple, hearty, and restorative with brown rice, winter squash, and a miso-tahini broth. Then there's avocado, lemon zest, toasted nori, and chives to kept things lively and beautiful up top.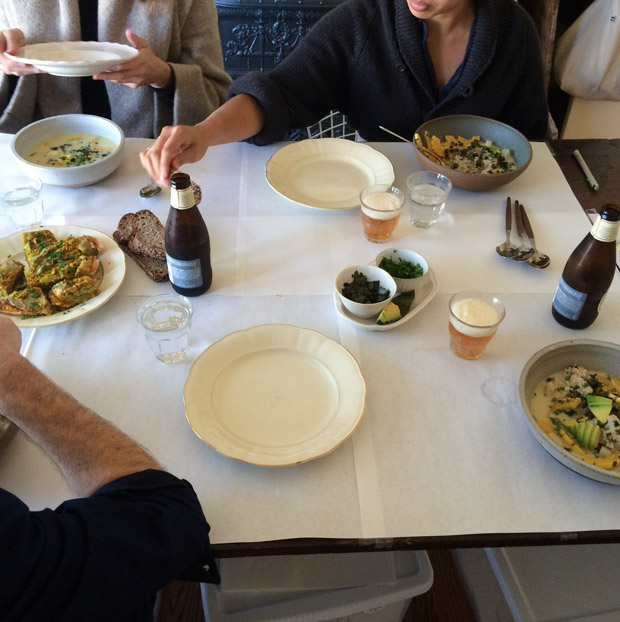 Before I move on to a few shots from this weekend, I'll say a few more things about the soup. The broth is a lovely, creamy quick broth - its rich nuttiness is thanks to the inclusion of tahini. We served the vegetables and broth over brown rice, but you can certainly take it in other directions. You could serve it over soba, or with tofu, or take your bowl in a different direction entirely - with cooked beans or chickpeas, or(!) farro with a poached egg....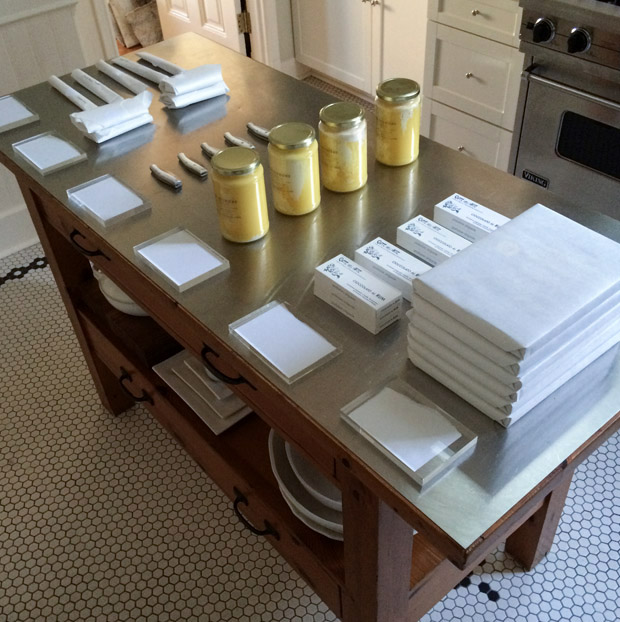 The night before the market I blocked out what our table might look like on my kitchen island (above) - books, honey, perfume, knives, chocolate, etc....And you can see how it look at the actual market (below)...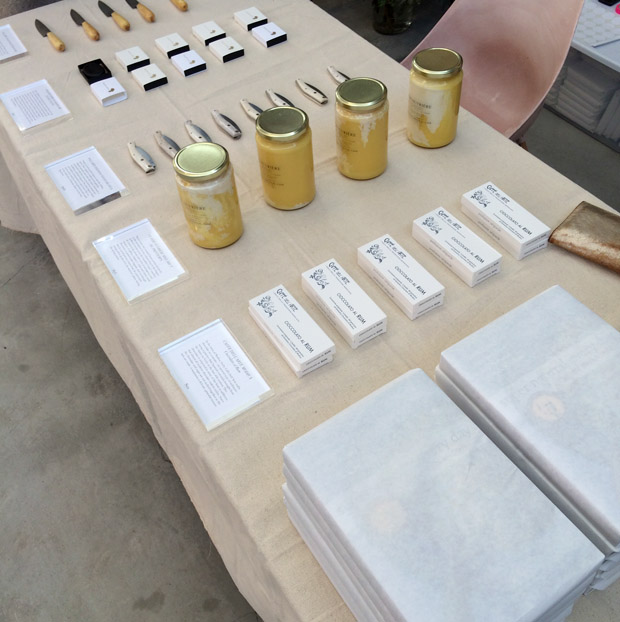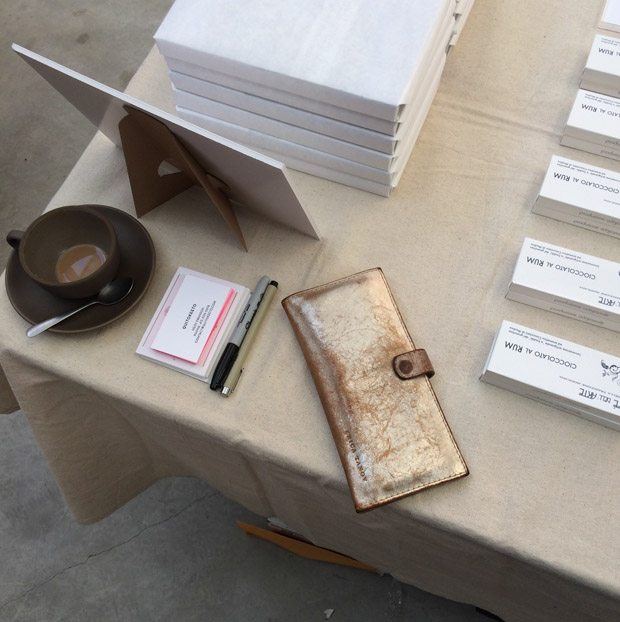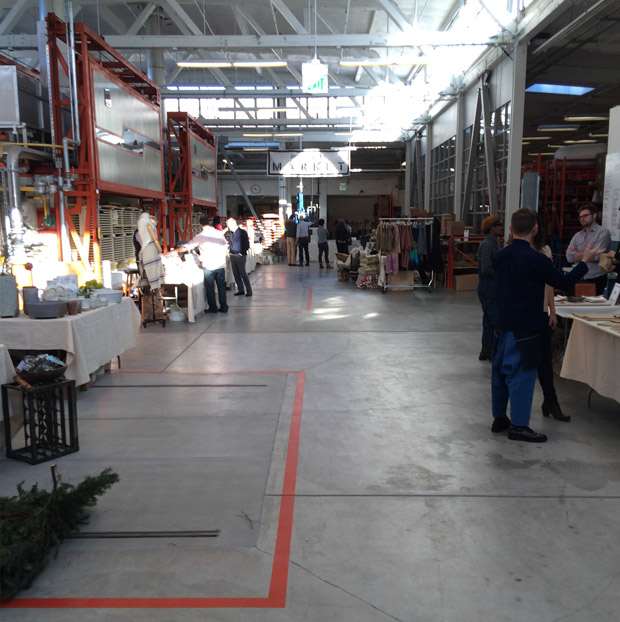 This was the view from our neighborhood as people were starting to set up in the morning. It was fascinating to watch the production floor transform into an fantastic market bustling with people. Already looking forward to next year. In the meantime, enjoy the soup (thank you T!) and have a wonderful holiday everyone. xo -h
Miso Tahini Soup
Kabocha squash is an alternative to delicata squash here. Or any winter squash, really. And the recipe calls for white miso here, but you can certainly experiment with another type of miso, or a blend. Just keep in mind some are much saltier (and stronger) than others, so add gradually if you're unsure.
1 small-medium delicata squash, seeded and sliced into 1/4-inch crescents
1 medium white turnip, peeled and cut into 3/4-inch pieces
4 cups water
4 tablespoons white miso, or to taste
1/4 cup tahini
zest of one lemon

~3 cups of cooked brown rice
1 avocado, sliced
1 bunch of chives, minced
toasted nori (or kale), crumbled, for serving
toasted sesame seeds
Add the squash and turnips to a large pot, cover with the water, and bring to a gentle boil. Simmer until the vegetables are tender, about 15 minutes. Remove the pot from the heat and let it cool just slightly. Pour a few tablespoons of the hot water into a small bowl and whisk in the miso (to thin it out a bit--this step is to avoid clumping). Stir the thinned miso back into the pot along with the tahini, and lemon zest. At this point, taste, and adjust the broth to your liking, it might need a bit more miso (for saltiness)...or more tahini.
To serve, place a generous scoop of rice in each bowl along with some of the squash and turnips. Ladle broth over the vegetables, and finish with a few slices of avocado, a sprinkling of chives, toasted nori, and sesame seeds.
If you have leftovers and need to reheat the soup, you'll want to do so gently, over low heat, to preserve the qualities of the miso.
Serves 4.
Prep time: 10 minutes - Cook time: 15 minutes