Lazy Day Peanut Noodle Salad Recipe
A peanut noodle salad recipe featuring soba noodles punctuated with spring onions, tofu, peanuts, and asparagus. Serve it up family-style on a platter at a potluck, party, or buffet - it holds up perfectly at room temp.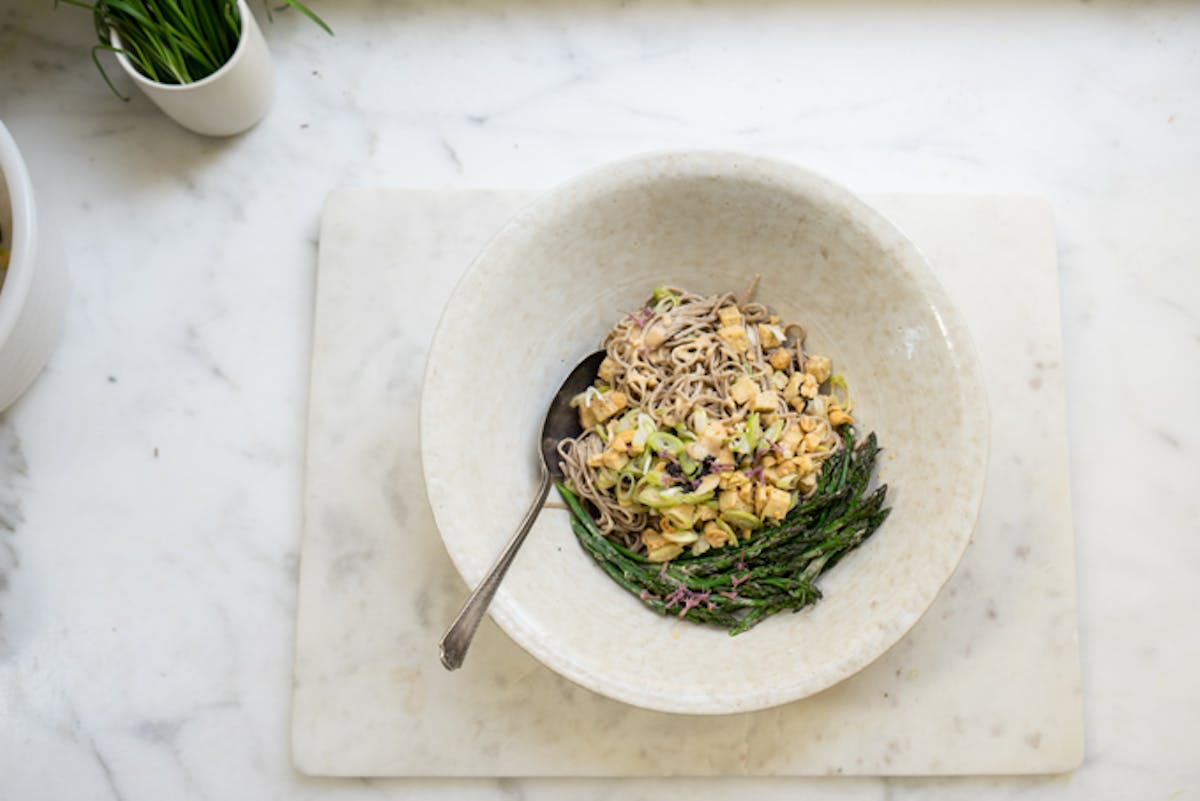 I've been trying to cook from the archives a bit lately. There are so many recipes that I'll cook on repeat for months, and then neglect when a new favorite makes an appearance. There are many, many recipes in my life, and to those that get sidelined on occasion, rest assured, I still love you. I dusted off this lazy day peanut noodle salad for lunch yesterday. It's a perfect, colorful bowl of peanut-slathered soba noodles punctuated with spring onions, tofu, more peanuts, and asparagus. A total crowd-pleaser, and makes a great lunch in a jar if you need a new option for work or travel.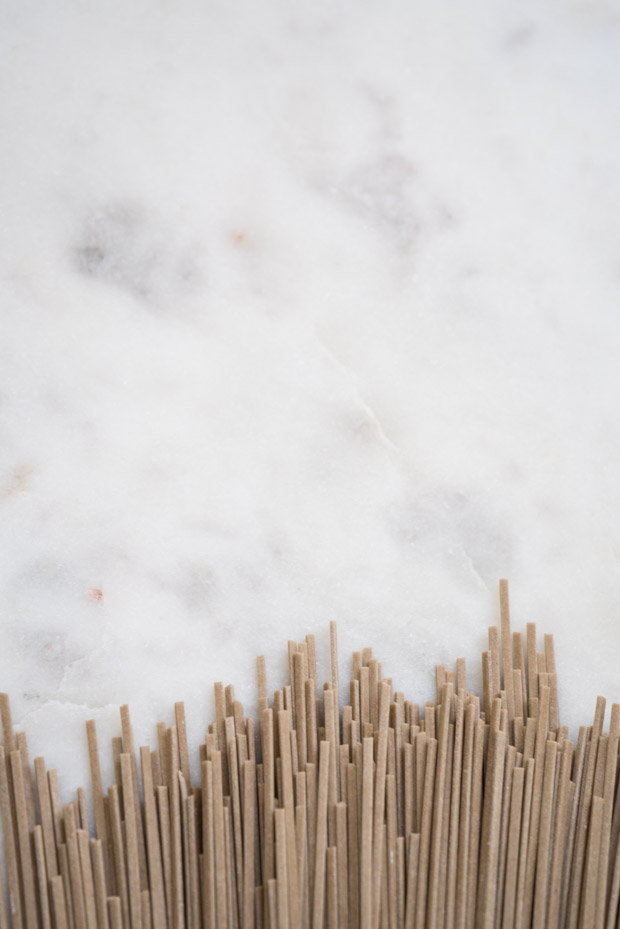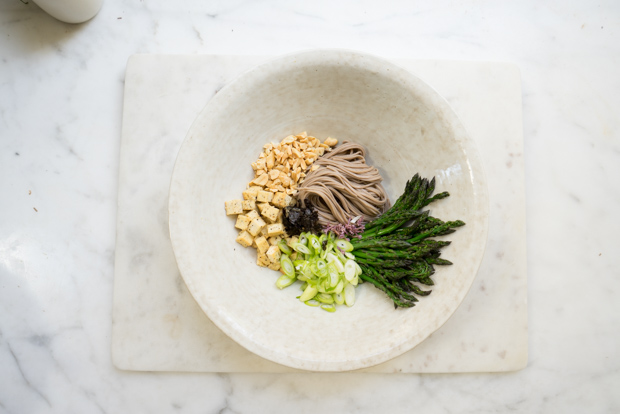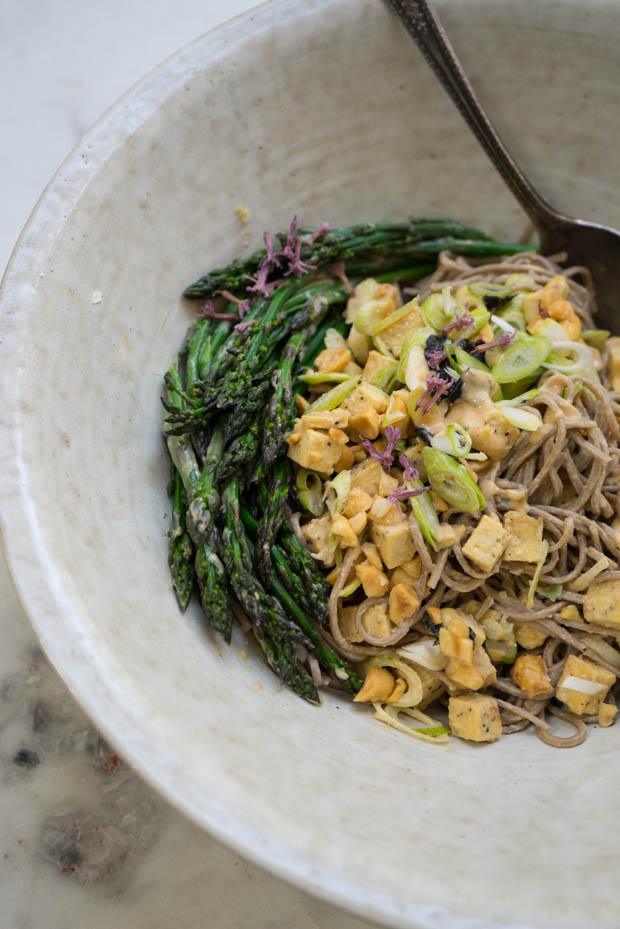 When I initially wrote the recipe, I mentioned how when the San Francisco skies are clear, bright, and blue I like to pop into Greens Restaurant where in addition to table service, they have a robust take-out menu. I usually grab a tofu sandwich on seeded bread, a side of their famous black bean chili and then walk the short distance to a nearby picnic bench where I enjoy the sailboats, seagulls, and sunshine. As I was reaching for my sandwich I noticed a stack of containers packed with peanut-slathered noodles. It had been ages since I'd enjoyed a good peanut noodle salad, so I decided to throw one together myself. I apparently couldn't be bothered to walk to the store for ingredients (hence the lazy title), and tapped my pantry for inspiration.
This makes a big chunky batch of peanut noodle salad. Serve it up family-style on a platter at a potluck, party, or buffet - it holds up nicely at room temp.
Lazy Day Peanut Noodle Salad Recipe
I used asparagus in this version, but you can use any of your favorite in-season vegetables. This time of year peas, asparagus, and carrots all make great additions to the noodles and peanut sauce.
1 8 ounce package soba noodles
1 bunch asparagus spears, ends trimmed then cut into 1/2-inch segments

3/4 cup creamy peanut butter
1/4 cup (brown) rice vinegar
2 cloves garlic, crushed and chopped
drizzle of toasted sesame oil
big pinch of crushed red pepper flakes
1/4-1/2 cup hot water

1 small bunch of spring onions or scallions, thinly sliced
1/2 cup peanuts
12 ounces extra-firm (organic) tofu, cut into small cubes (feel free to heat the tofu in a skillet if you like, but cold is good too)

herb flowers, optional
Big a large pot of water to a boil. Boil the soba noodles per package instructions.In the last minute or so of cooking toss in the asparagus. Drain noodles and asparagus, run under cold water for about a minute to stop cooking, and set aside.
Make the peanut dressing by combining the peanut butter, rice vinegar, garlic, sesame oil, red pepper flakes, and a big pinch of salt in a medium bowl. Thin with hot water - the amount you'll need depends on the original consistency of your peanut butter. I like it the consistency of a thin (non-Greek) yogurt. Taste and season with a bit more salt if needed.
Gently toss the noodles, asparagus, spring onions, peanuts, and tofu with a big splash of the dressing. I reserve a bit of each ingredient to sprinkle on top of the serving platter to make it look nice. Add more dressing a bit at a time, until the salad is dressed to your liking, reserving any extra for another use. Taste, sprinkle with more salt (if needed), and a few herb flowers if you have them on hand, and enjoy!
Serves 6 - 8.
Prep time: 7 minutes - Cook time: 10 minutes