Peanut Recipes
Peanuts are a crowd-pleasing favorite, and bring distinct flavor and crunch to everything from noodle salads to peanut sauces. They're interesting because, although they are technically a legume, they store fat, rather than starches like most beans. This is what makes them so nutlike. Like other legumes, they are high in protein. I do my best to source organic peanuts whenever possible.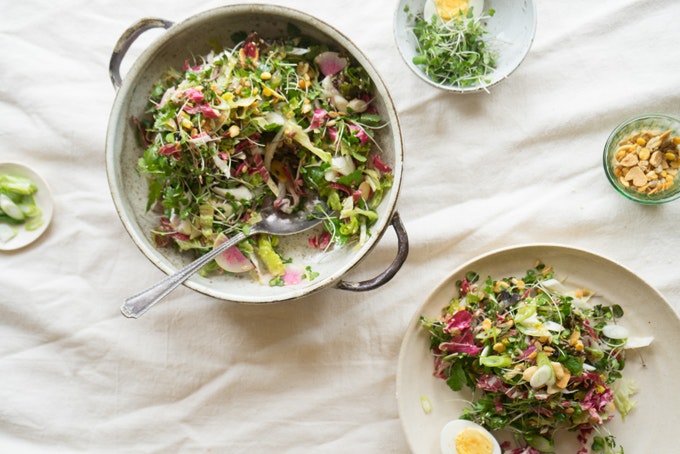 A vegetarian take on what I think of as the Chinese chicken salad of my youth. I love so many components of that salad, the crunchy peanuts, the thin, garlicky sweet dressing, the green notes of cilantro and scallions in there with the salad and cabbage. In place of shredded chicken, I'll pack a hard-boiled egg, or a bit of pan-fried tofu to make a one bowl meal of things.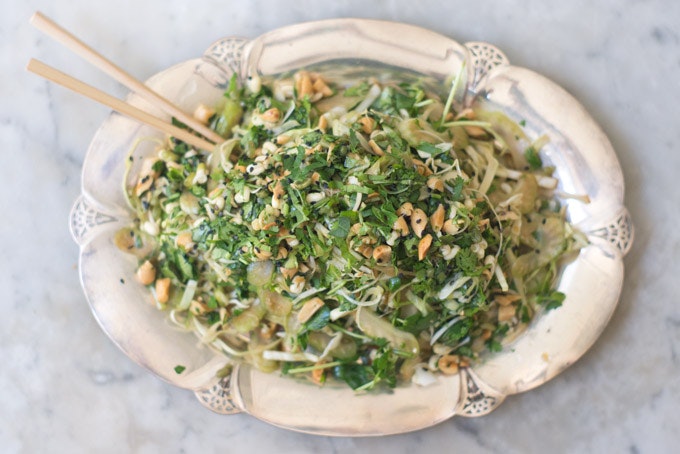 One of the things I love about having a work studio is our location. It means that most days, at one point or another, I find myself standing in the middle of San Francisco's Chinatown. This is a shredded salad inspired by the neighborhood - lots of cabbage and scallions, tossed with soy sauce, honey, and cilantro, and amount of crunch toasted peanuts, and celery.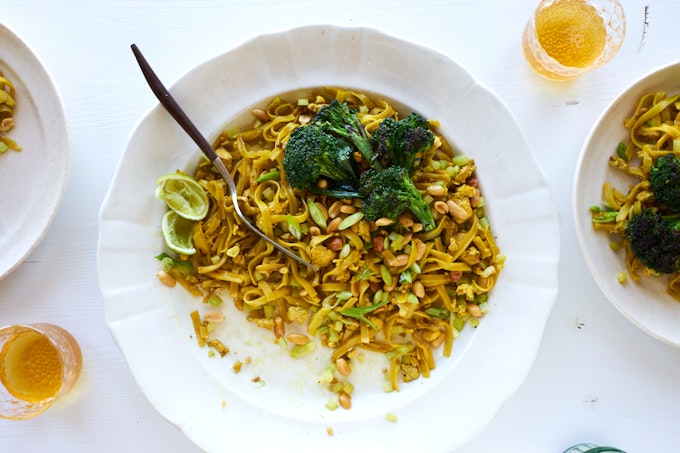 If you love pad thai, you need to try this simple trick to make a turmeric noodle version.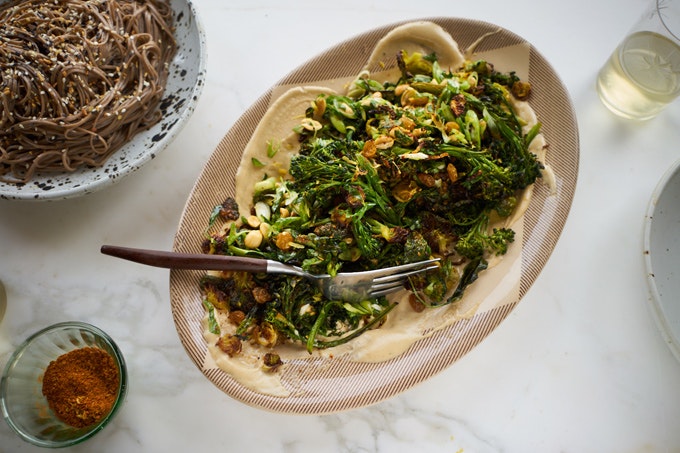 While the rest of the internet was baking Alison Roman's cookies, I somehow got stuck on a different recipe from Dining In - and, it's all about the sheet pan dinner.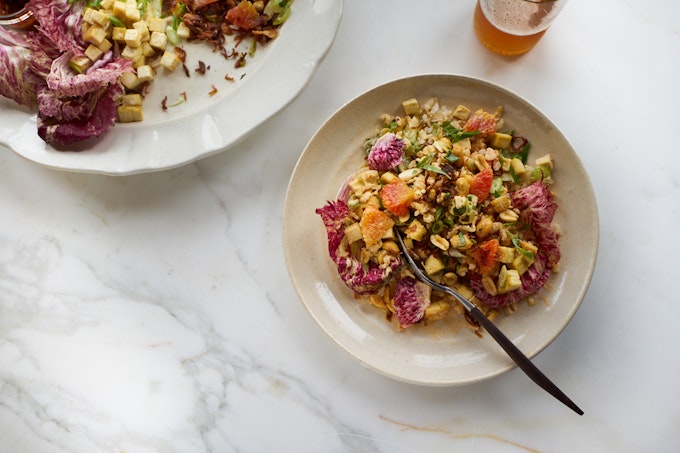 Everyone loves this beautiful rainbow chopped salad made with blood oranges, crispy shallots, peanuts, and a creamy, red curry dressing. Give it a try!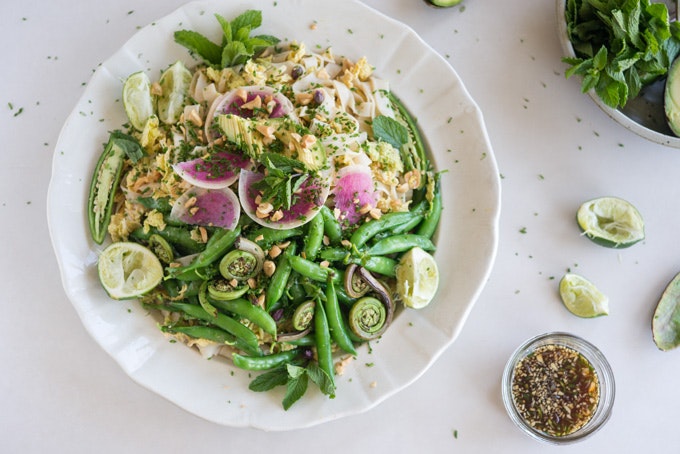 Imagine a spring roll without the wrapper and you've got this salad. A familiar chorus of flavors - sweet, sour, tangy, hot, and nutty all projected onto a mound of serpentine rice noodles and seasonal vegetables with a peanut dressing and lime splash.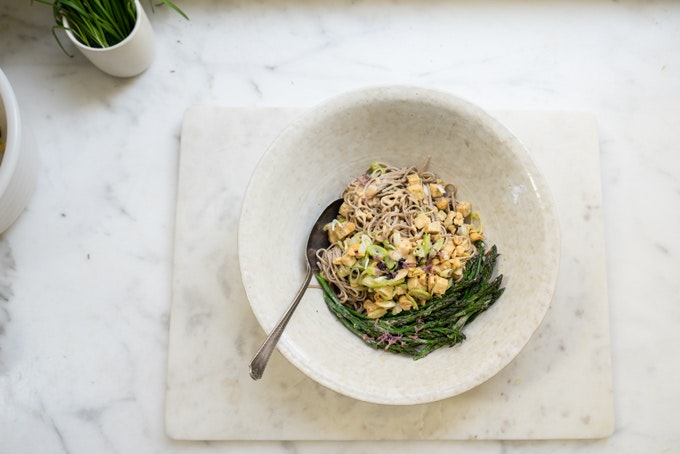 A peanut noodle salad recipe featuring soba noodles punctuated with spring onions, tofu, peanuts, and asparagus. Serve it up family-style on a platter at a potluck, party, or buffet - it holds up perfectly at room temp.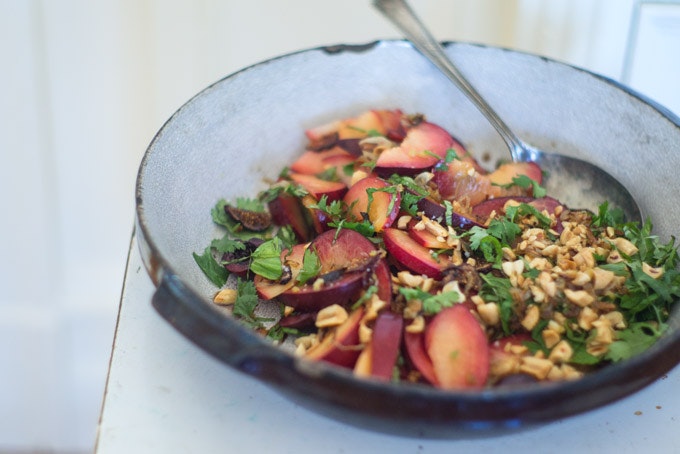 There are times when I feel compelled to snap fruit salads out of dessert-land and lead them over to the savory side of the spectrum. - this salad is pluot based, with toasted ginger, garlic, and shallots. It is drizzled with a simple lime soy sauce dressing, and is generously flecked with herbs - in this case, mint, basil, and cilantro.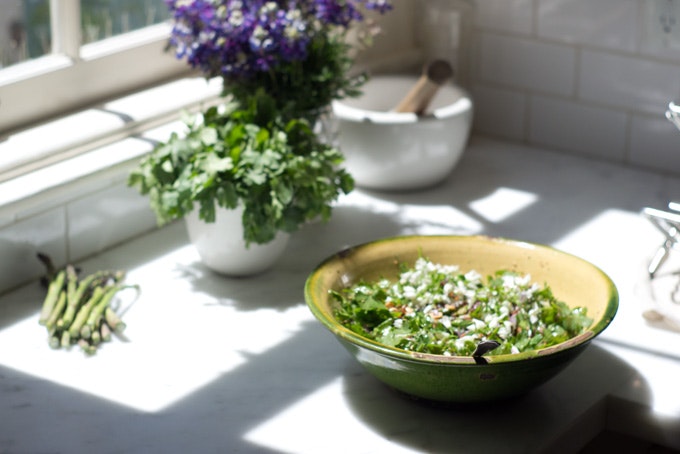 Perhaps the best salad I've had in the past year. And, unless you absolutely loathe cilantro, you must try it. Simply cilantro leaves and stems tossed with a simple shallot-forward soy sauce dressing, plus peanuts, and asparagus. So good.

We picked two new cookbooks to focus on in the 101 Cookbooks Library, and this recipe is inspired by a recipe from one of them. A refreshing chopped cucumber salad loaded with peanuts, spices, coconut, and chiles.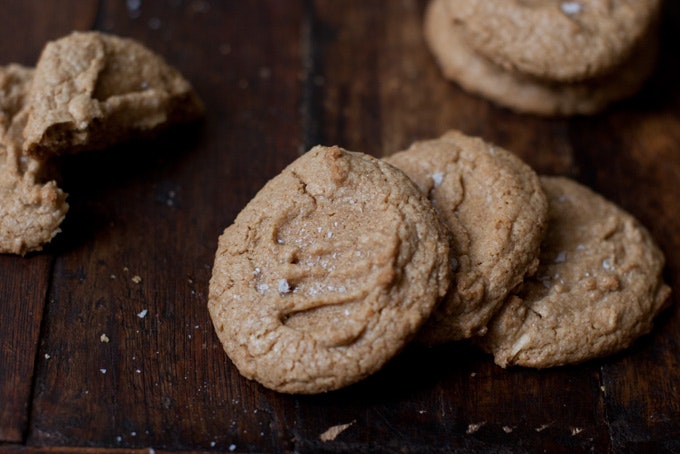 Not your typical peanut butter cookie recipe - but just as good. Tastes pretty darn close to the classic bu without all that butter, and with maple syrup in place of the white sugar. Vegan, egg-free, and easily made wheat-free if you like.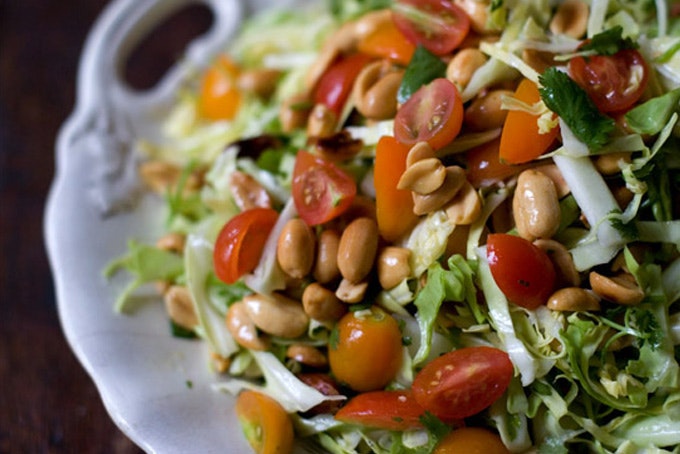 This feather-light, mayo-free, coleslaw recipe uses toasted peanuts, cherry tomatoes, and lime vinaigrette and is perfect alongside fajitas, or whatever you have coming off the grill. Keep in mind - great coleslaw is rooted in great knife skills.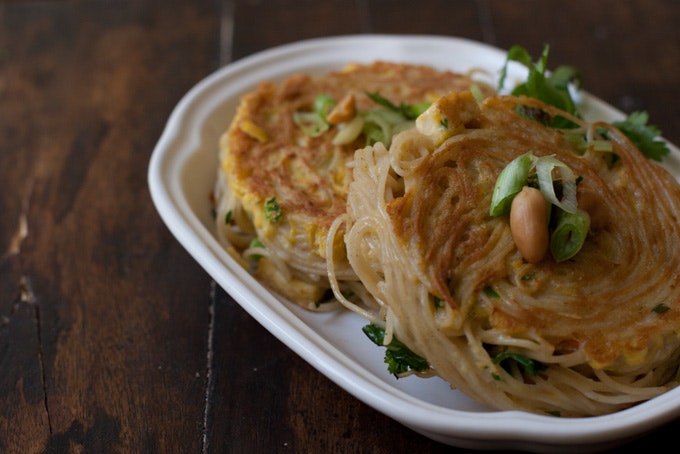 A great way to use up leftover noodles. These savory noodle cakes make a great lunch and are easily adaptable a hundred different ways.
More Recipes
Popular Ingredients