Lentil Almond Stir-Fry Recipe
A good cold-weather stir-fry recipe. Tiny potatoes, brussels sprout wedges, toasted almonds and lentils are served with a drizzle of mint and a bit of thinned-out, salted plain yogurt, and a sprinkling of chopped dates.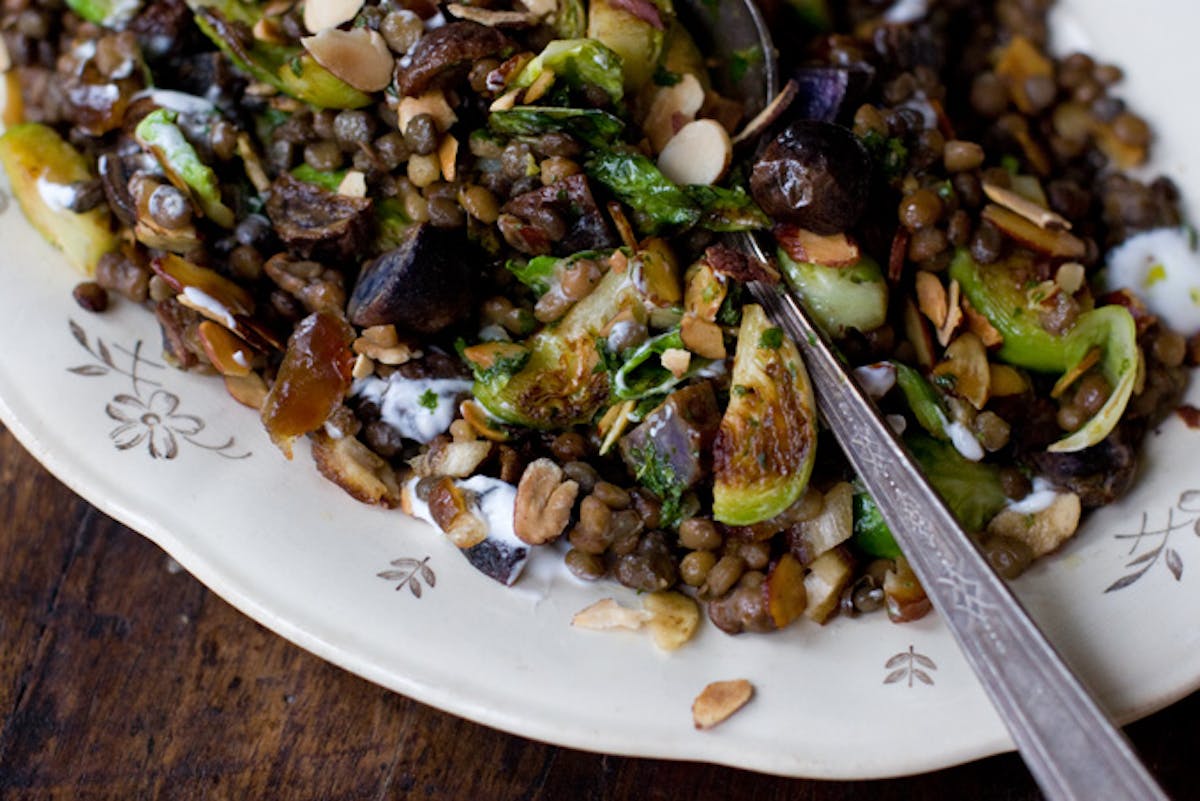 A warm, hearty, fill-you-up stir-fry for a cold night. There's nothing too fancy going on here, just tiny potatoes, golden brussels sprout wedges, toasted almonds and lentils tossed together in a olive oil-slicked skillet. I served it with a drizzle of mint and a bit of thinned-out, salted plain yogurt, and a sprinkling of chopped dates.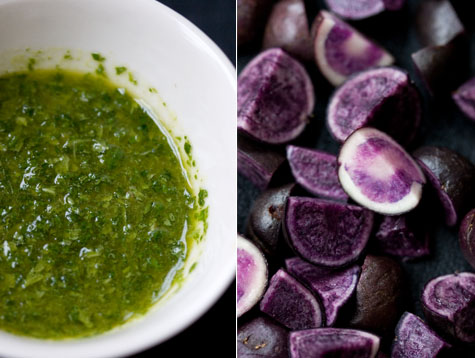 Making the mint drizzle take a bit of extra effort that you could skip if you don't have the inclination to make an extra component. Personally, I love the way the mint plays off the creamy potatoes and yogurt, but you could take the building blocks of this recipe and go in plenty of other directions that take varying degrees of effort. You might do a handful of grated Parmesan and a bit of lemon zest in place of the mint sauce and yogurt. I love the combination of lentils and goat cheese, so you could go that route (to which a handful of snipped chives would be a good finish). You could do a simple curry sauce along with the lentils, brussels sprouts, and potatoes. Lots of places to take this.
Happy New Year to everyone, and thank you for all your thoughtful comments on the last post.
Lentil Almond Stir-Fry Recipe
I used some fun marble-sized purple potatoes in this version, but you can use whatever smaller, new potatoes you come across. Just try to avoid big, starchy potatoes here. Also, Wayne brought home packets of cooked black lentils from Trader Joe's the other day. They're great if you are in a time crunch and don't have time to cook up a fresh pot of lentils.
Mint sauce (optional)
1 cup fresh mint leaves
1/2 serrano chile pepper, de-veined and seeded
2 tablespoons olive oil
pinch of salt
a touch of sugar, or honey, or agave nectar
1 tablespoon lemon juice

extra-virgin olive oil
6 to 8 very small new potatoes, cut into 1/2 pieces
2 cups cooked brown or black lentils
12 brussels sprouts, trimmed and quartered
1/4 cup sliced almonds, toasted

1/3 cup plain Greek yogurt, thinned out with a bit of water, and salted with a pinch of salt

2 dates, pitted and chopped
Start by making the mint sauce. Combine the mint leaves, serrano, olive oil, salt, sugar, and lemon juice in a food processor (or blender). Give it a few pulses, just enough for the mint to break down a bit. Taste, adjust for your tastes (more serrano? salt?) - set aside.
Now cook the potatoes along with a generous splash of olive oil and pinch of salt in a large skillet over medium heat. Cover the skillet and let the potatoes cook through, this will take five minutes or so. The water in the potatoes will help steam and soften them. When the potatoes are just cooked through (not mushy or falling apart) remove the lid and give them a good toss. Turn up the heat to medium-high and stir every minute or so (a spatula helps) until the potatoes look a bit golden. Stir in the lentils, and cook until heated through. Turn the potatoes and lentils out onto a large plate and set aside.
Now cook the brussels sprouts using the same pan. Heat another splash of olive oil in the skillet over medium heat. Don't overheat the skillet, or the outsides of the brussels sprouts will cook too quickly. Place the sprouts in the pan (single-layer), sprinkle with a pinch of salt, cover, and cook for a few minutes; the bottoms of the sprouts should only show a hint of browning. Cut into or taste one of the sprouts to gauge whether they're tender throughout. If not, cover and cook for another minute or two. Once just tender, uncover, turn up the heat, and cook until the flat sides are deep brown and caramelized.
Add the lentils and potatoes back to the skillet and add most of the sliced almonds. Turn out onto a large platter and drizzle with some of the yogurt and mint sauce*. Top with the remaining almonds and the chopped dates.
Serves 2-3.