Vegetarian Lentil Burgers Recipe
Tasty, hearty vegetarian lentil burger recipe. Slathered with saffron yogurt and stuffed with avocado, lettuce, and onions.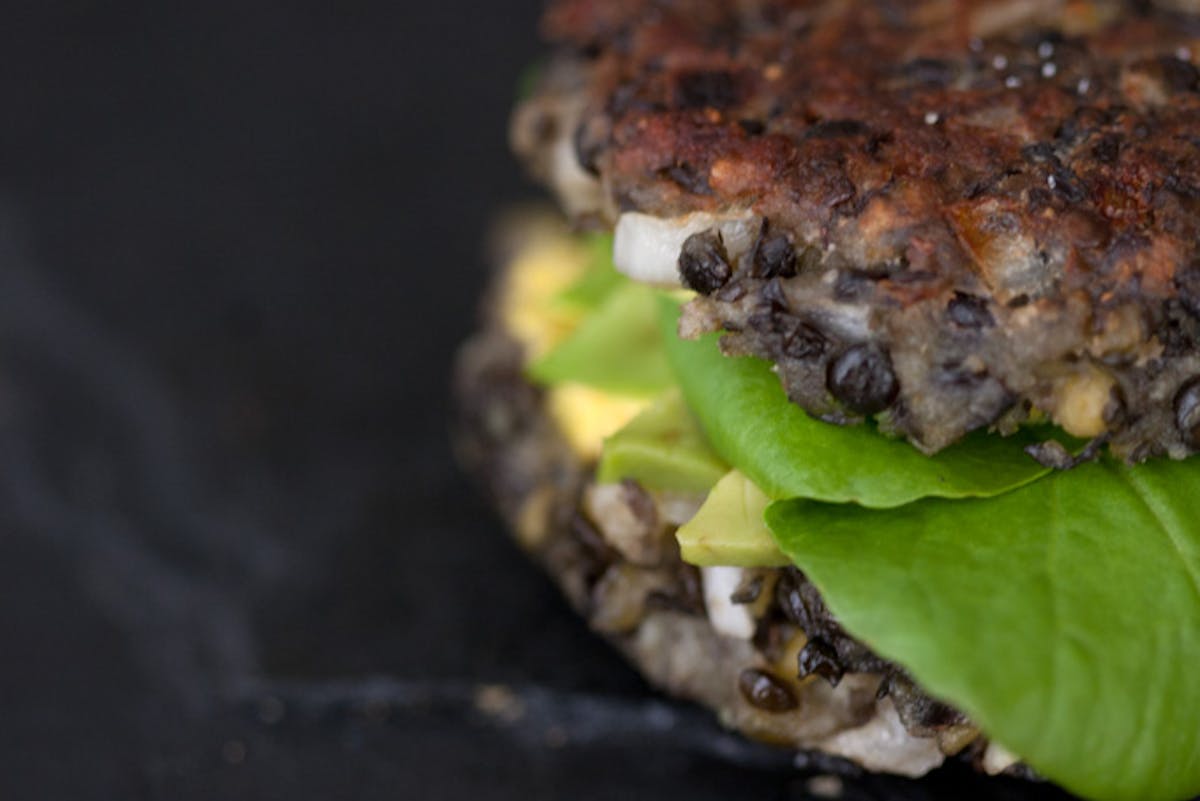 For those of you who are fans of the chickpea-based veggie burger I did in Super Natural Cooking, you might want to try this vegetarian lentil burger recipe - it's a twist on the one from my book. This version is a tasty, hearty lentil "burger" slathered with saffron yogurt and stuffed with avocado, lettuce, and onions. As I mentioned in SNC I finally figured out how to make a veggie burger that I actually enjoy - but it took an ah-ha moment for me to get there.
I've always felt that when you put a veggie burger patty on a bun you end up with a burger experience that is too dry and bready. It finally dawned on me to turn the patty into the bun by splitting it in half and then stuffing that with all sorts of deliciousness - avocados, greens, tomatoes, onions, spreads, whatever. This lentil burger uses the same approach.
I'd bet caramelized onions would add another dimension of depth and flavor either on (or in) these, if you have a bit of extra time on your hands. How about chopped cilantro? Or a bit of crumbled goat cheese, you all know I like lemon zest in just about everything, or chopped sun-dried tomatoes, chives, finely chopped walnuts, a bit of corn....not all at once of course, but feel free to spike the lentil mix with a few extras if you are feeling adventurous.
Party option: Do round, ultra-mini patties and serve them with a selection of dips, use double-pronged toothpicks for easy dipping. There is a garlic, cilantro yogurt dip in my book that would be delicious, also the red pepper and walnut-based muhammara featured here.
The saffron yogurt that I mentioned up above is one of my favorite condiments lately. I came home from the CIA Worlds of Flavor: Spain conference late last year with a drawer full of saffron and saffron spice blends, so I've been using it in all sorts of ways. I particularly like saffron yogurt with black lentils and use this combination in various ways in my day-to-day cooking. To make the saffron yogurt place a tablespoon of scalding hot (or boiling) water in a cup, add a tiny pinch of saffron threads to the hot water (about 10 threads). Wait about five minutes, then stir in about a 1/2 cup of plain yogurt. Fage 2% Greek yogurt is thicker and a good consistency for a burger spread if you can find it....the vibrant yellow color is stunning, and I never cease to be delighted by it. A dollop of this can transform a plate.
Other vegetarian recipes that can work well in the role of main course:
- Quinoa and Grilled Zucchini Recipe
- Bulgar and Spinach Pilaf Recipe
- Chickpea Veggie Burger Recipe
- Maranui Surf Club Salad Recipe
- Big Bowl Quinoa Recipe
- Lemon-scented Quinoa Salad

Vegetarian Lentil Burger Recipe
These make great do-ahead meals, and you can store shaped, ready-to-cook patties in the refrigerator for a week's worth of work lunches. I use black lentils in this recipe, some of the other types of lentils are too mushy when cooked - so I'd stick with the black lentils. Feel free to spice up the batter by experimenting with your favorite seasonings.

3 cups cooked black lentils
4 large eggs
1/2 teaspoon fine-grain sea salt
1 onion, finely chopped
1 cup toasted fine (whole-grain) bread crumbs
1 tablespoon extra-virgin olive oil (or clarified butter)
Combine the lentils, eggs, and salt in a food processor. Puree until the mixture is the consistency of a runny yet textured hummus - it's o.k. if many of the lentils remain whole (see photo). Pour into a mixing bowl and stir in the onion. Add the breadcrumbs, stir, and let sit for a couple of minutes so the crumbs can absorb some of the moisture. At this point, you should have a very moist mixture that you can easily form into twelve 1 1/2-inch-thick patties. I err on the moist side here, because it makes for a nicely textured burger. You can always add more bread crumbs a bit at a time to firm up the dough if need be. Conversely, a bit of water or more egg can be used to moisten the batter.
Heat the oil in a heavy skillet over medium low, add 4 patties, cover, and cook for 7 to 10 minutes, until the bottoms begin to brown. Turn up the heat if there is no browning after 10 minutes. Flip the patties and cook the second side for 7 minutes, or until golden. Remove from the skillet and cool on a wire rack while you cook the remaining patties. Carefully cut each patty in half, insert your favorite fillings, and enjoy immediately.
Makes 12 mini burgers.