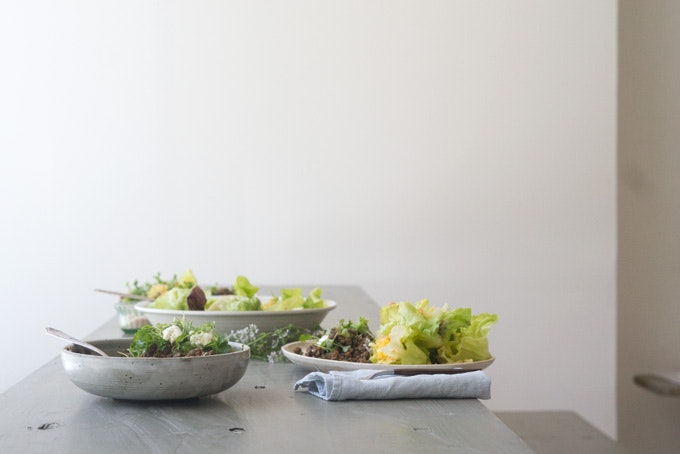 Lentils with Wine-Glazed Vegetables Recipe
As promised - the Deborah Madison lentil recipe. They're the ones you see on the table in the background of this post, a recipe I know by heart. These simple, wine-glazed lentils saw me through my twenties, and then my thirties. I made them often in my first solo apartment in San Francisco. And, because they travel well, they've kept me well-fed on a range of flights - Dar es Salaam and Bangkok included. When asked to call out one favorite recipe from Vegetarian Cooking for Everyone - this was the recipe I chose.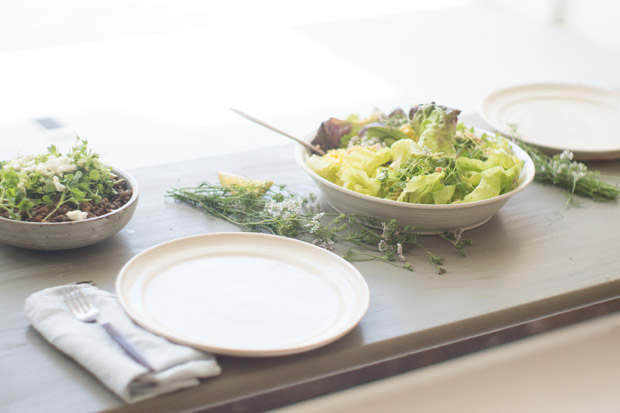 I go the butter / tarragon route (as opposed to olive oil / parsley), and always use either French or Umbrian green lentils. Deborah calls for red wine, but I sometimes do white (whatever is open, really), and I've even swapped in Belgian ale on occasion. What I mean is, red is best, but don't be discouraged if you don't have a bottle open or on hand - use what you've got.
Lastly, a quick heads up, for those of you who are honey enthusiasts - these massive jars of olive blossom honey are all labeled and ready to make their way to new homes - it's thick and gorgeous with notes of candy corn and dried apricot. Special stuff. xo -h
Lentils with Wine-Glazed Vegetables
My advice is to double this recipe, and enjoy the leftovers in the coming days.
1 1/2 cups Umbrian lentils or lentils du Puy
salt and freshly ground pepper
1 bay leaf
2 teaspoons extra virgin olive oil, plus more
1 onion, cut into 1/2-inch dice
1 large carrot, cut into 1/4-inch dice
1 celery rib, cut into 1/4-inch dice
1 garlic clove, mashed
1 tablespoon tomato paste
2/3 cup / 160 ml dry red wine
2 teaspoons Dijon mustard
2 tablespoons butter

to serve: chopped tarragon, micro greens or arugula, crumbled goat cheese or a dollop of creme fraiche
Put the lentils in a saucepan with 3 cups of water, 1 teaspoon salt, and the bay leaf. Bring to a boil, then lower the heat to a lively simmer and cook until the lentils are tender but hold a little texture, about 25 minutes.
Meanwhile, heat the oil in a large skillet. Add the onion, carrot, and celery, season with 1/2 teaspoon of salt, and cook over medium-high heat, stirring frequently, until the vegetables are browned, about 10 minutes. Add the garlic and tomato paste, cook for 1 minute more, an then add the wine. Bring to a boil and then lower the hear and simmer, covered, until the liquid is syrupy and the vegetables are tender, about 10 minutes. Stir in the mustard and add the cooked lentils along with their broth. Simmer until the sauce is mostly reduced, then stir in the butter, and season with pepper. Serve topped with greens/arugula, and crumbled goat cheese, and a generous drizzle of olive oil.
Serves 4.
Adapted from Deborah Madison's The New Vegetarian Cooking for Everyone
Prep time: 10 minutes - Cook time: 30 minutes