Nine Great Lentil Soups to Choose From
Absolutely everyone needs a great lentil soup in their cooking repertoire. Here's a selection of some of the best.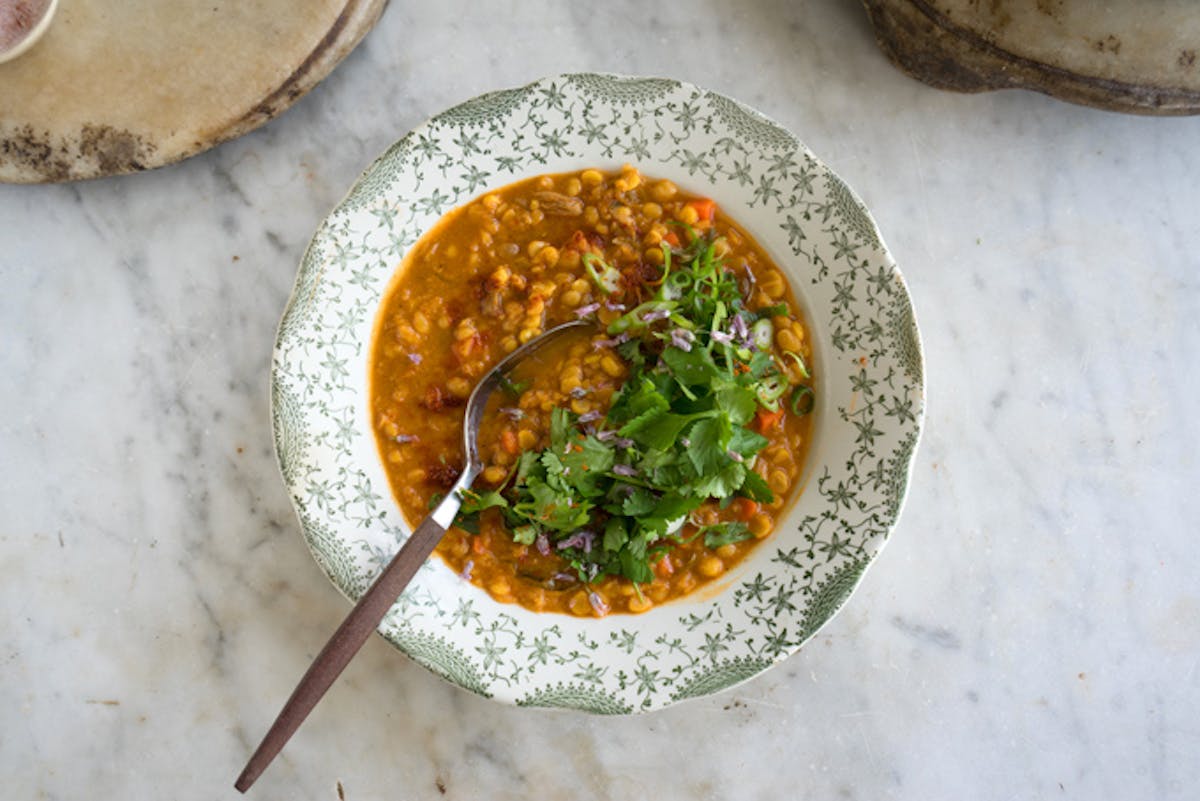 I've written so many lentil soup recipes for this site (and for my books), that I remember telling myself to take a break for a while. So, although I haven't published one in a while, I rarely go more than a week without making some sort of lentil soup goodness. Trying other lentil soups I come across is also a great way to expand my line-up, and brothy, creamy, chunky, pureed, spiced, and straight versions are all are fair game as far as I'm concerned. Here's a list of some tried-and-true favorites, and some great takes I've come across from out and about.
1. Coconut Yellow Split Pea Soup - (QUITOKEETO)
Not technically lentil soup, but close enough. A ginger and curry-spiked yellow split pea stunner. Leftovers freeze well, and this makes an A+ lunch. Get the recipe here.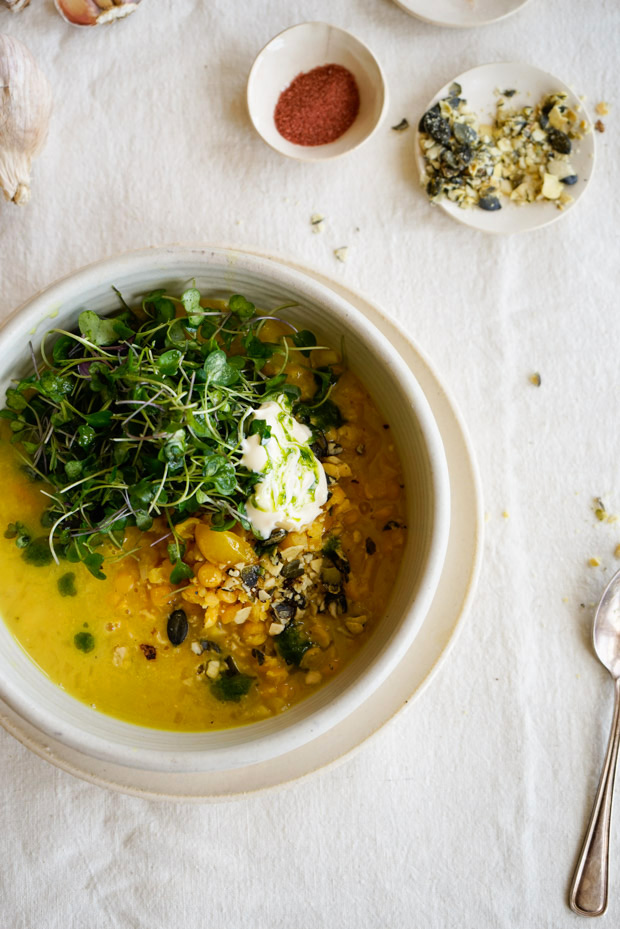 2. Coconut Red Lentil Soup - (101 Cookbooks)
One of the top ten best soups of my life. Get the recipe here.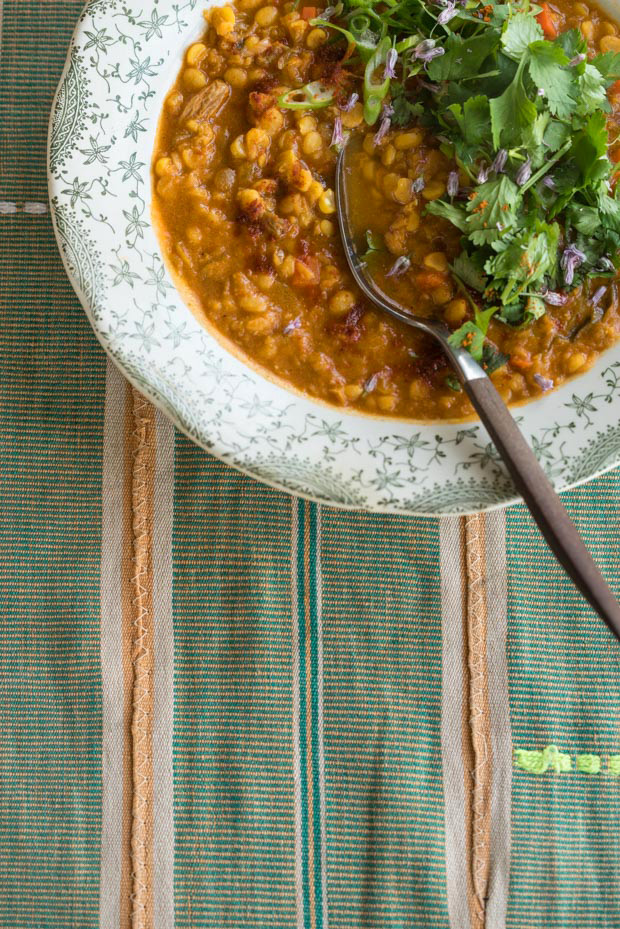 3. Crockpot Detox Lentil Soup - (Pinch of Yum)
For the crockpot enthusiasts out there. Get the recipe here.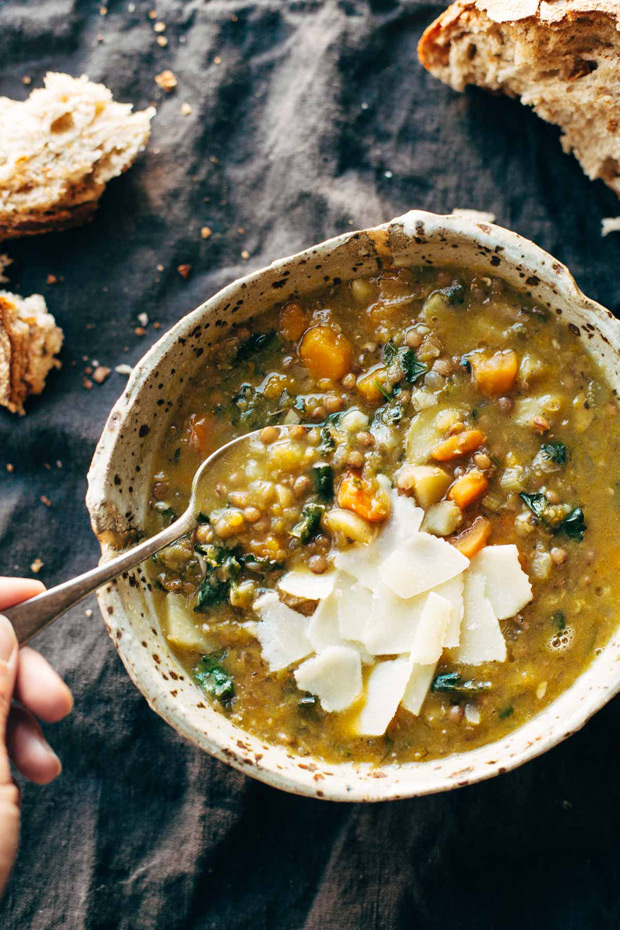 4. Persian New Year Noodle Soup - (101 Cookbooks)
This is my favorite soup (yes, ever) and it has lentils in it, so I'm including it here. At its core we're talking about a bean and noodle soup featuring thin egg noodles swimming in a fragrant broth spiced with turmeric, cumin, chiles, and black pepper. You use a medley of lentils, chickpeas, and borlotti beans, making the soup hearty and filling without being heavy. You add spinach, dill, and cilantro. You add lime juice for a bit of sour at the end. And then you've got a number of toppings to add when you serve the soup - chopped walnuts, caramelized onions, and sour cream. From deep in the 101 archives. Get the recipe here.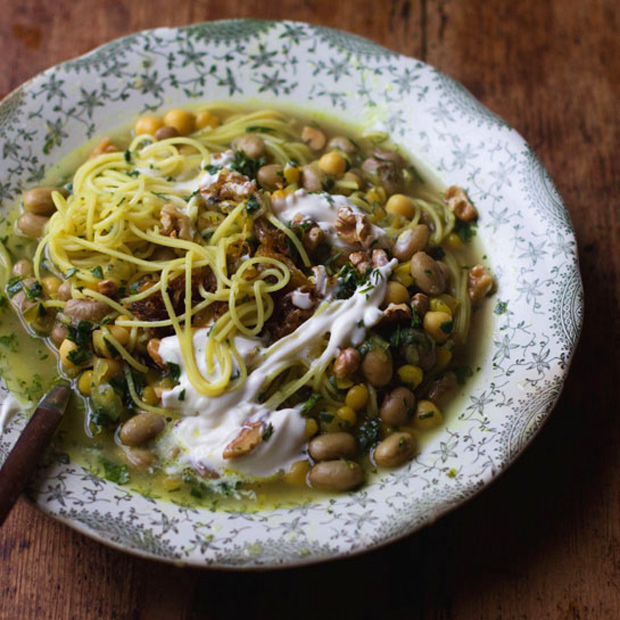 5. Smoky Sweet Potato Lentil Tortilla Soup - (The Bojon Gourmet)
Lentil soup meets tortilla soup in brothy sweet potato-studded bowls of chipotle warmed goodness. More details here.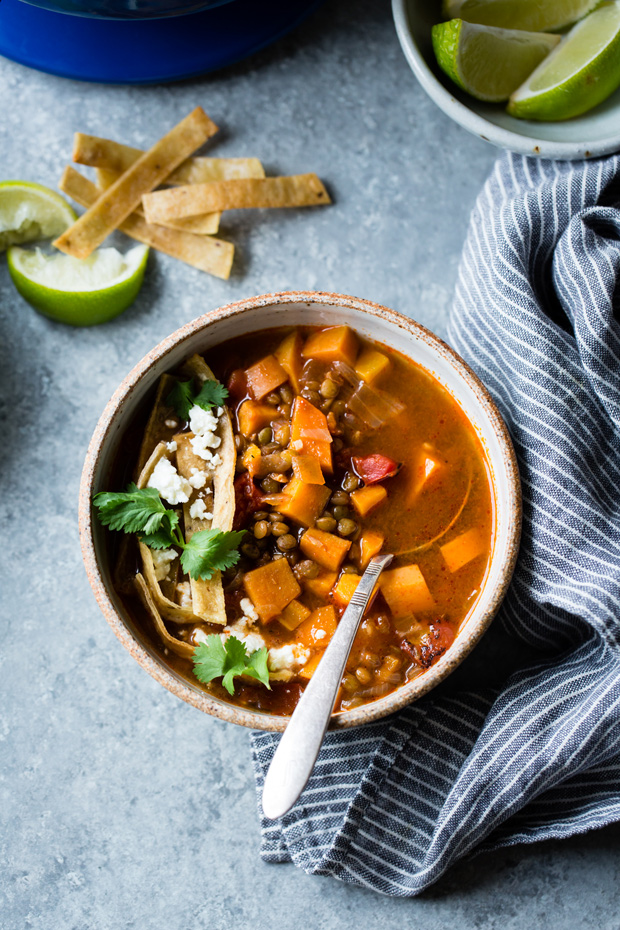 6. Green Lentil Soup with Curried Brown Butter - (101 Cookbooks)
Green lentils (or split peas), topped with a curried brown butter drizzle, and pan-fried paneer cubes. Get the recipe here.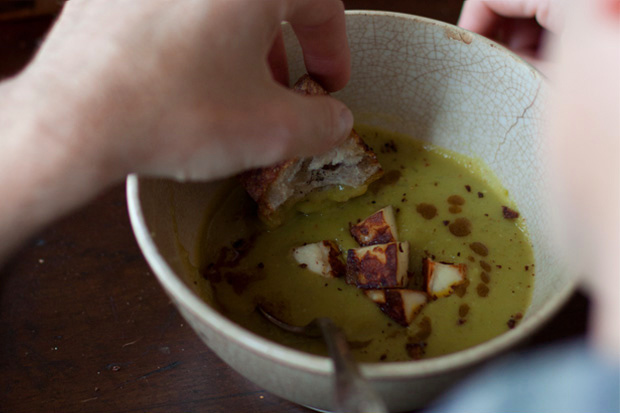 7. Indian Lentil Soup / Dal Shorva - (The Woks of Life)
When you're ready to really raid your spice cupboard, this is the recipe. This is a recipe to turn to if you find yourself coming down with a cold anytime soon. Get the full recipe here.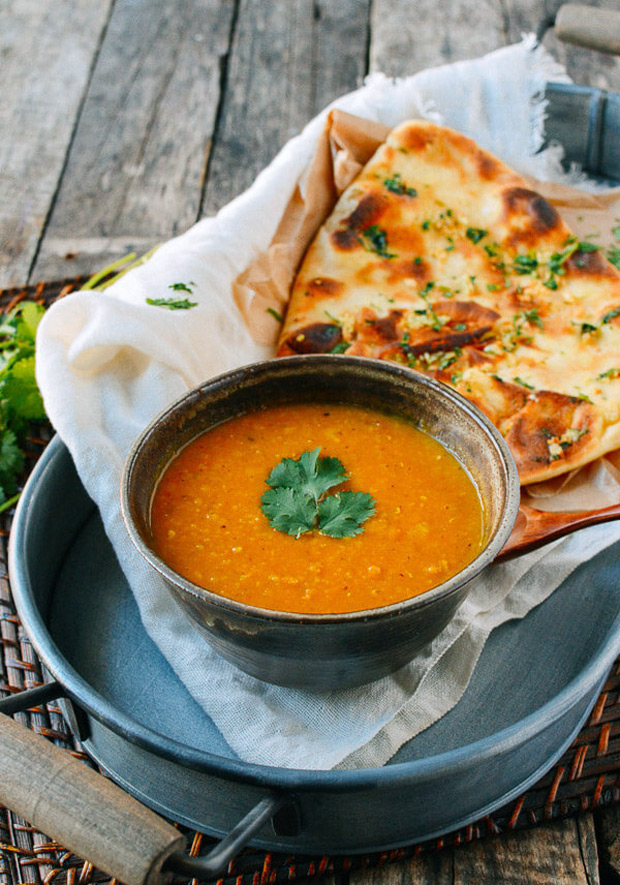 8. Lively Up Yourself Lentil Soup - (101 Cookbooks)
This is what I make when I need a bit of a reset. Make a big pot, and then eat throughout the week. Get the recipe here.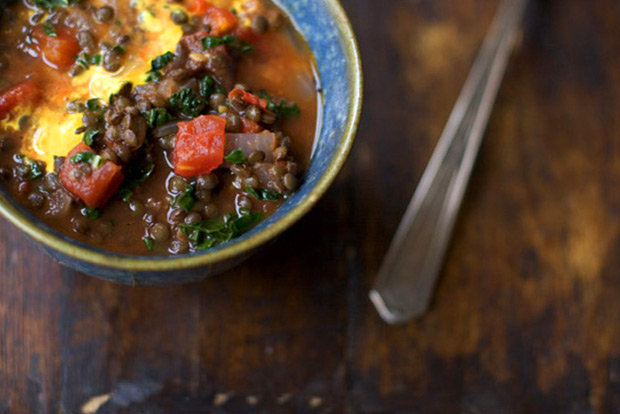 9. Yellow Coconut Curry Red Lentil Soup - (Will Frolic for Food)
This Chitra Agrawal recipe caught my attention because it cleverly incorporates coconut, but not coconut milk. So, the broth stays hearty but not creamy - hits the spot when you want something filling but not overly decadent. Get the recipe here.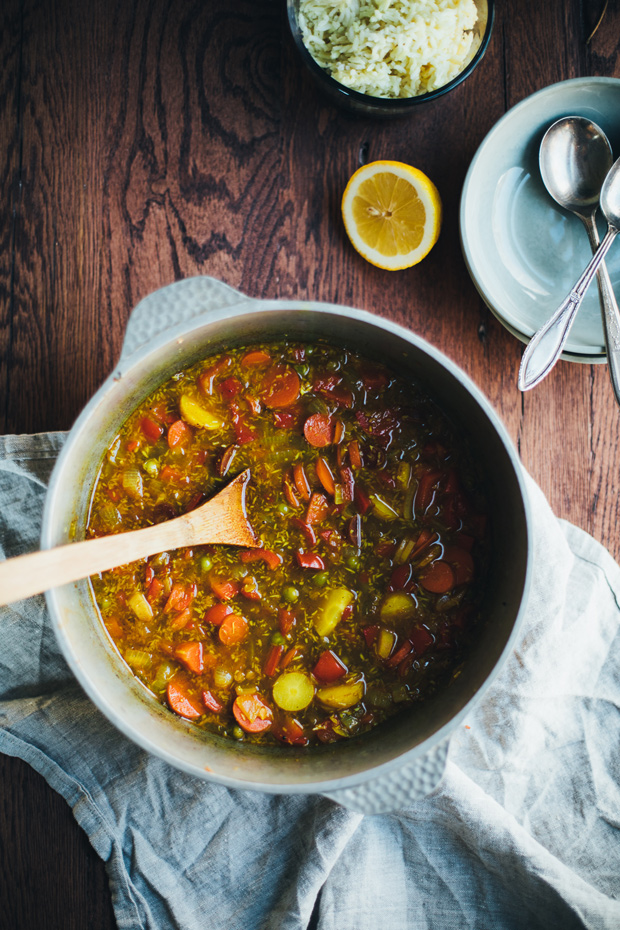 Bonus! Slow Cooker Winter Vegetable with Split Red Lentils - (A Beautiful Plate)
Adding this at the last minute. Another slow cooker option. This one with a minestrone angle.
Get the recipe here.