Melissa Clark's Black Bean Skillet Dinner
An on-point, one pan, black bean skillet dinner from Melissa Clark's new book, Dinner: Changing the Game. Topped with lime yogurt, avocado, and quick pickled red onions.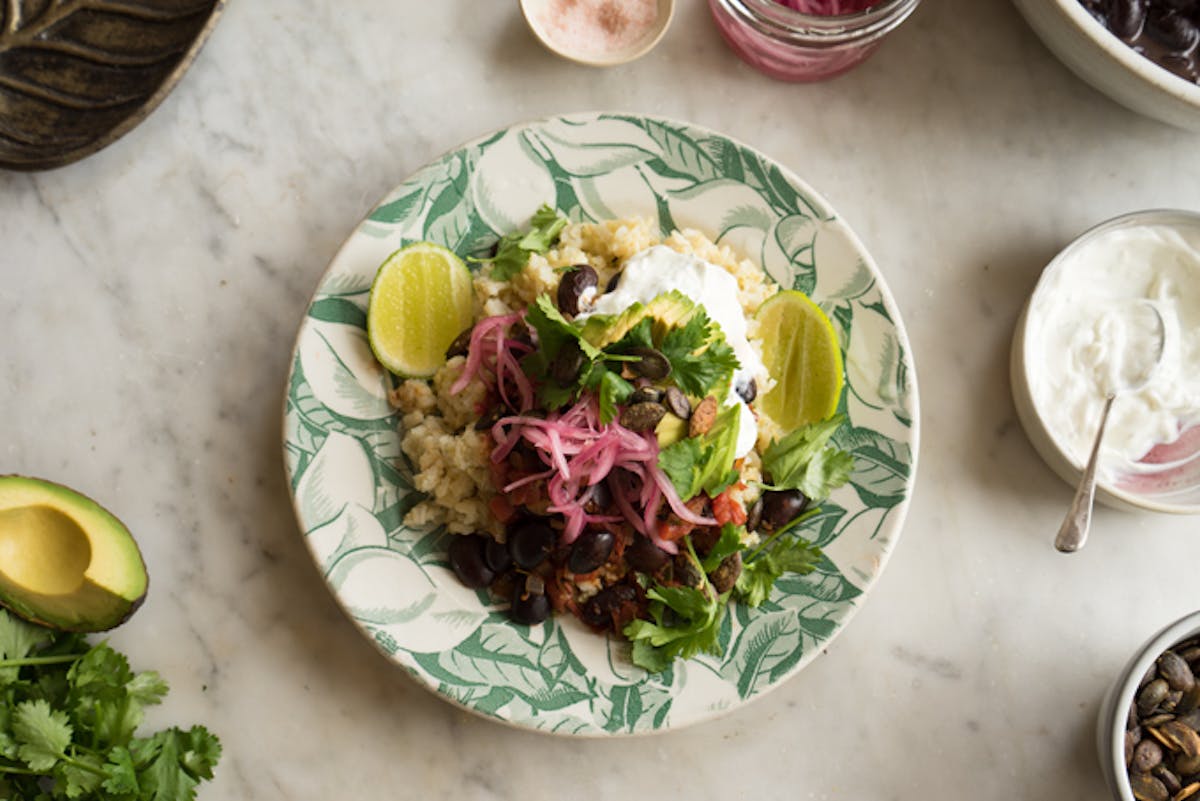 I'm not sure anyone loves a one-pot / one-pan dinner more than me. It's probably one of the reasons I'm so hung up on soups. At any rate, I'm alway on the lookout for inspired ideas related to the one-pan approach, and was excited to come across a fantastic example of a hearty, satisfying, flavor-packed black bean skillet dinner in Melissa Clark's new cookbook. To be fair, I've flagged a lot of recipes in this book (I love Melissa's recipes). But, as in this case, it's even better when I don't need to make a run to the store ;) My guess is many of you have a good chunk of the ingredients on hand as well, and you can see how it comes together in the video below!
I forgot to mention in the video, but you can certainly make the pickled onions, and the crema up to a few days ahead of time. I mean, they come together in a flash, but sometimes its nice to be able to just grab for the special toppings.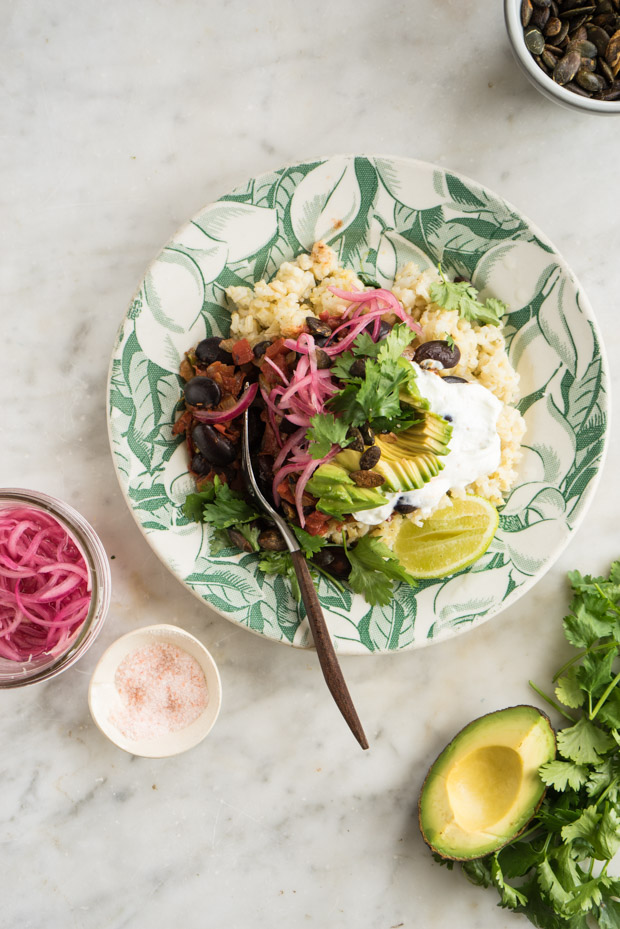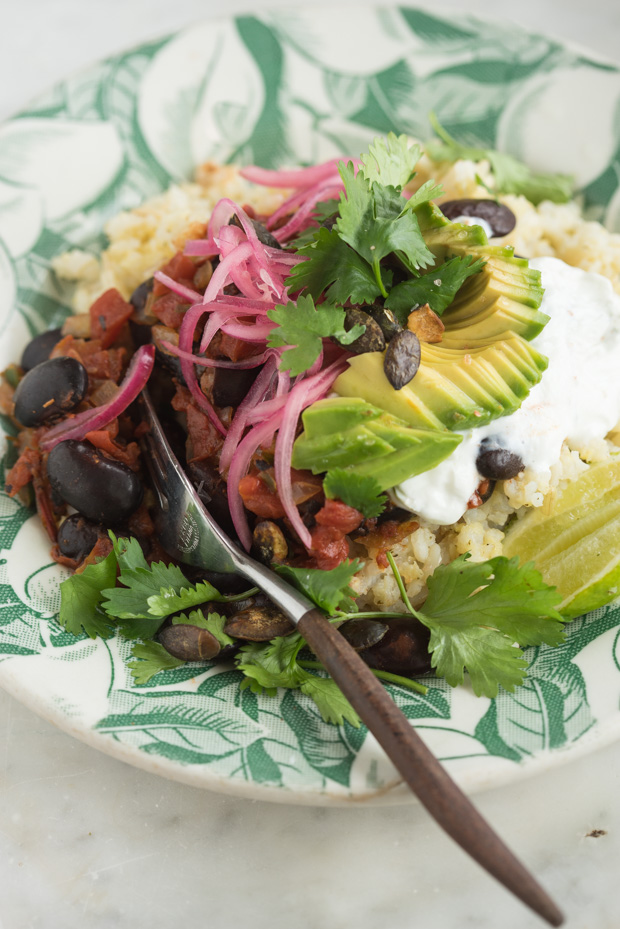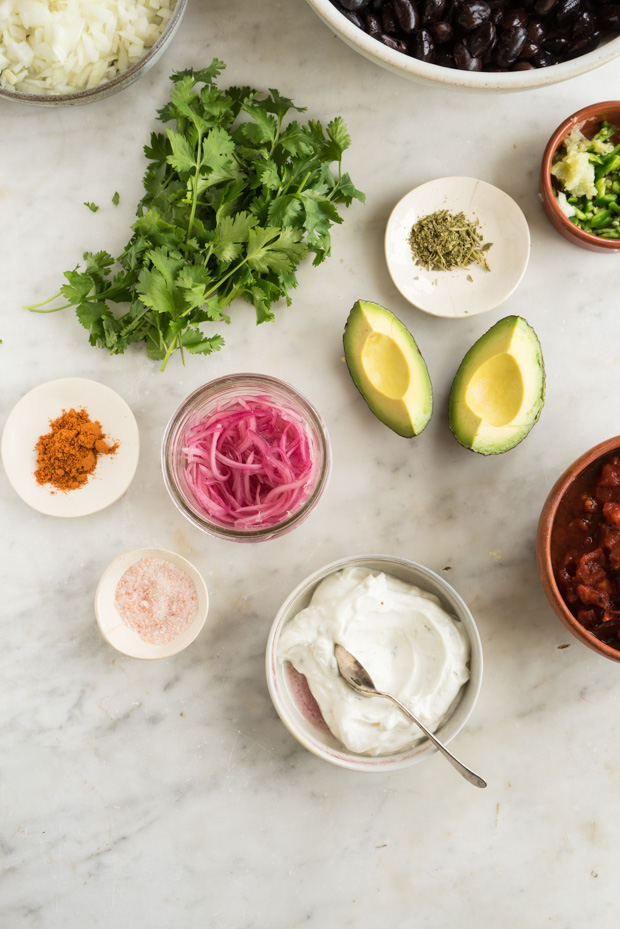 Melissa Clark's Black Bean Skillet Dinner
Note: Melissa uses 3 cubanelle peppers, seeded and diced, added with the jalepeno - but they were the only ingredient I didn't already have on hand, I was too lazy to pop out to the store, and, really, it was no big deal.
For the crema:
Finely grated zest of 1 lime
1 garlic clove, grated or minced
1 cup Greek yogurt or sour cream

For the pickled onions:
Juice of 1 lime
1 small red onion, very thinly sliced
1 teaspoon sugar
1/4 teaspoon salt

For the beans:
1 1/2 tablespoons extra-virgin olive oil
1 small yellow onion, diced
1 small jalapeño, seeded & finely chopped
1 garlic clove, grated or minced
2 teaspoons dried oregano
1 teaspoon chili powder
3 cups cooked black beans, if canned, rinsed and drained
1 15-ounce can diced tomatoes, with their juices
1 teaspoon kosher salt, plus more if needed

to serve: avocado, cilantro, toasted pepitas, rice, lime wedges

Make the crema: In a small bowl, combine the lime zest, garlic, and yogurt. Season with the pinch of salt.

Make the pickled onion: In another small bowl, combine the lime juice, red onion, sugar, and salt. Let the mixture stand while you prepare the beans.

Cook the beans: Heat the olive oil in a large skillet over medium-high heat. Add the onion, and jalapeño. Cook, stirring frequently, until the vegetables are softened and browned at the edges, a few minutes. Stir in the garlic, oregano, and chili powder, and saute until the mixture smells garlicky, 1 to 2 minutes. Then stir in the black beans, tomatoes and juices, 2/3 cup of water, and the salt. Reduce the heat to medium and simmer for a few minutes, until the mixture has thickened a bit, ten minutes or so.

To serve, spoon the beans into individual warmed bowls (over rice if you like). Top them with sliced avocado, dollops of the crema, pickled onions, cilantro, and pepitas.

Serves 4.

Slightly adapted from Dinner: Changing the Game by Melissa Clark (Ten Speed Press, 2017)