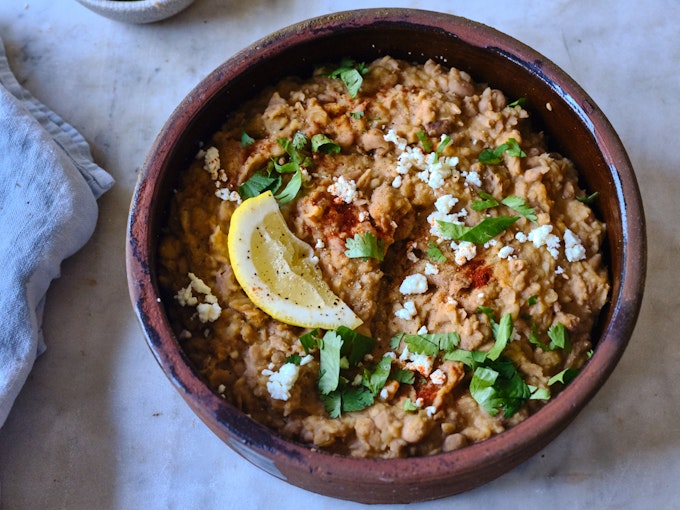 If you've only had refried beans from a can, this should be the next recipe you cook. Homemade refried beans are a game-changer. They're simple to make and having them on hand makes it simple to throw together meals for days. Think tacos, tostadas, chilaquiles, and next-level bean dips. There are a lot of opinions about how to make refried beans. I'll just say this: when I'm home alone, and there's no one else to share a meal with, this is how I cook them. This version is so incredibly good that I usually just enjoy them by the spoonful. But it's also so simple that I didn't think to share the recipe here until a number of you asked when you saw me cooking in one of my Stories recently. So here we go!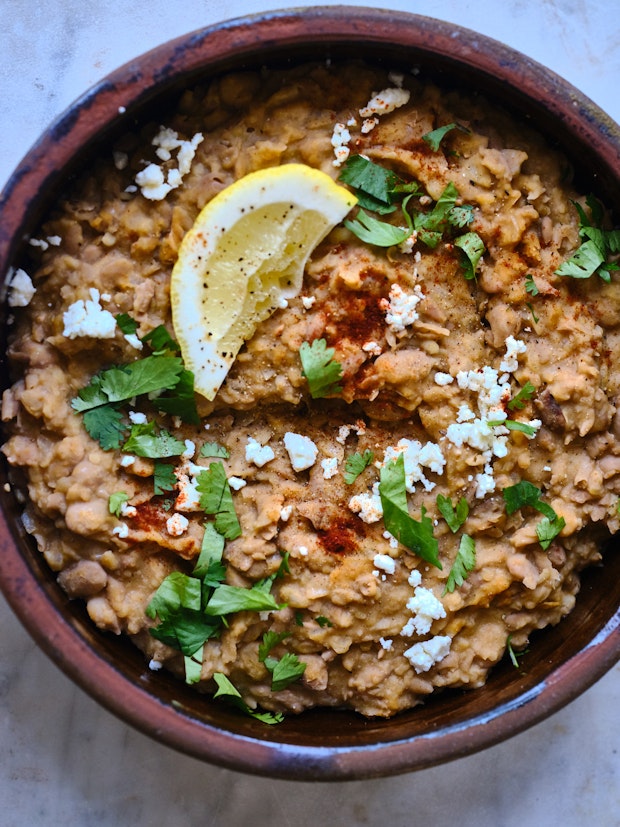 My Refried Bean Technique
The way I cook refried beans is quite straight-forward, although I do have a couple somewhat unconventional moves that I stand by. I like my beans with depth and flavor, while still maintaining some brightness and lightness. I use just the right amount of olive oil to cook well-minced onions along with the beans and plenty of their broth. Smoked paprika adds a hint of smoky depth you can't quite put a finger on, while keeping things vegetarian. My secret ingredient is a finishing splash of freshly squeezed lemon juice. I think it's the element that helps keep the beans from seeming too heavy, and the acidity counters the starchiness of the beans. Don't skimp on the lemon juice.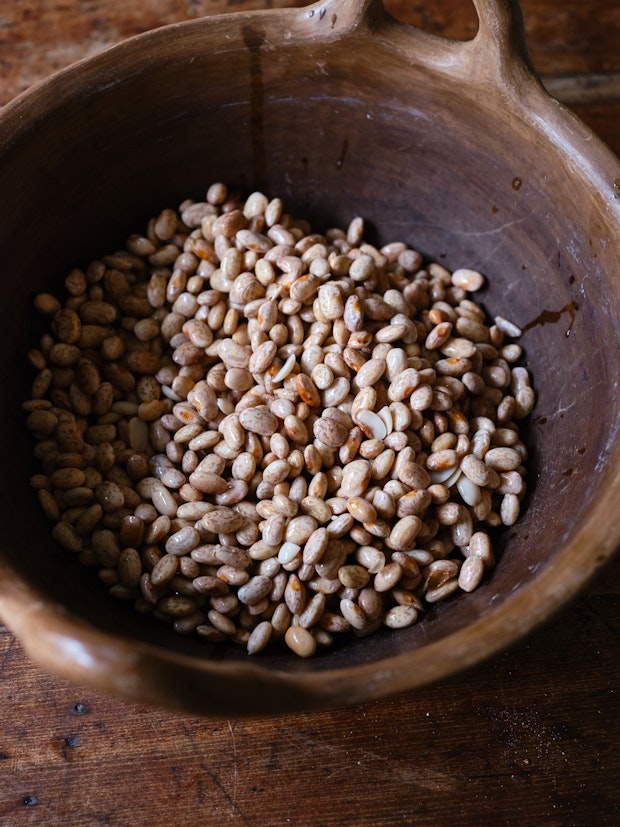 Good Beans Matter

I feel like a bit of a broken record. You hear this from me every time I feature a bean recipe. Try to purchase dried beans from a source that has good turnover. You don't want to buy a bag of dusty, sad beans that has been on the shelf too long. Bulk sections of grocery stores often move through their beans and pulses quickly, or keep your eyes peeled for dried beans at your local farmers markets, co-ops, and the like. Or, search around for heirloom beans online - there are so many wonderful beautiful varietals. I use pinto beans here, but you can certainly explore other types of beans - black beans, cranberry beans, etc. Play around!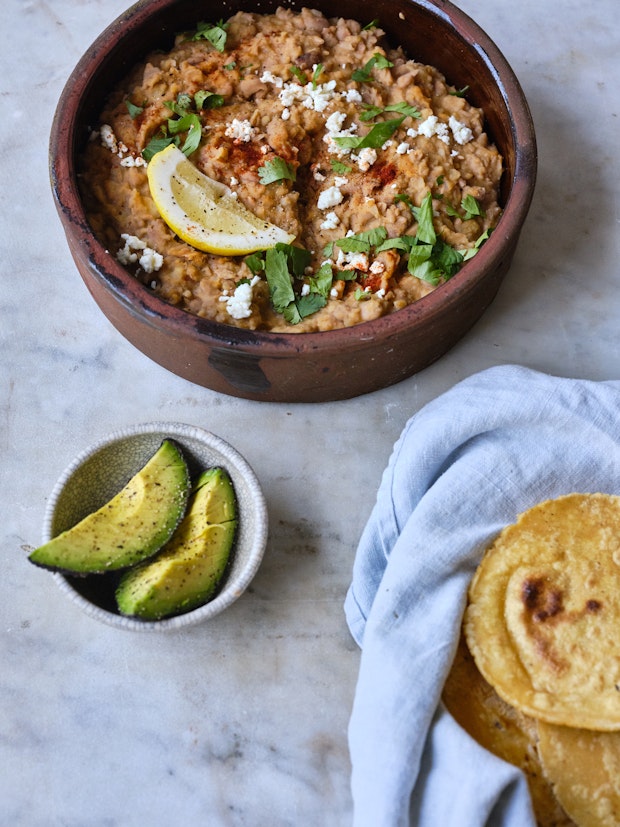 Mash Before Cooking

One last thing I'll mention before we get to the recipe. A lot of people like to mash their beans at the end of the cooking process, but I usually do it at the beginning. It's less messy this way, you aren't working over a hot burner, and I find it easier to get the the consistency just right. I'll mention it down below, a potato masher is great for this. Any mashing tool: a pestle in a bowl, a big fork, whatever can smash beans. A few pulses with a hand blender can also work, but I like the consistency you get from doing it by hand, and there's no extra appliance to wash.

I hope you try these! They really are one of my favorite simple culinary pleasures. And if you're on the lookout for other bean inspiration I've done this post about how to cook beans that are tender, creamy and nearly perfect using an easy, lower temperature long cooking method. Enjoy!

Homemade Refried Beans
I call for pinto beans here, but you can use the same method with other beans as well. Try black beans as an alternative.
Ingredients
1

pound

dried pinto beans, soaked overnight

fine grain sea salt

1/3

cup

extra virgin olive oil

1

medium onion, minced

1

teaspoon

smoked paprika, or to taste

1-2

tablespoons

freshly squeezed lemon juice
Instructions
Drain and rinse your beans and transfer them to a large pot. Cover the beans with water by 2 inches and bring to a simmer over medium-high heat. Simmer until the beans are completely tender, remove from heat, and season with 1/2 teaspoon of salt. Stir and taste the broth, it should taste really good if seasoned properly. Add a bit more salt if needed. You can move on to the reefing step at this point, or allow the beans and broth to cool, then refrigerate for up to a couple of days until you're ready. I like to separate the beans from the broth at this point. Be sure to keep the broth.

When you're ready, mash the beans. You can use a potato or bean masher if you have one. Or a pestle, or big fork. Really go for it. You want some pasty action, and some chunky parts. This way your refried beans will have good texture. But if you like super smooth refried beans, hit them with a hand blender.

Add the olive oil and onions to a large skillet or pot over medium-high heat. Cook for five minutes or so, until the onions soften, but avoid browning. Add the beans to the pan along with about 1 1/2 cups of bean broth. Bring to a simmer and cook for 10-15 minutes. Add more broth 1/4 cup at a time to achieve the consistency you like. Some like their beans stiff, others like them more soupy. Stir in the paprika, cook for another couple of minutes, and stir in the lemon juice. Taste and add more salt if needed at this point, I usually end up adding ~1/4 teaspoon more.

Serve the beans on their own or topped with a bit of crumbled cheese and chopped cilantro.
Related Recipes
More Recipes
Popular Ingredients