Millet Croquettes Recipe
Millet croquettes - crunchy crusted, basil and kale flecked for the flight to Delhi, along with a snapshot of how I packed.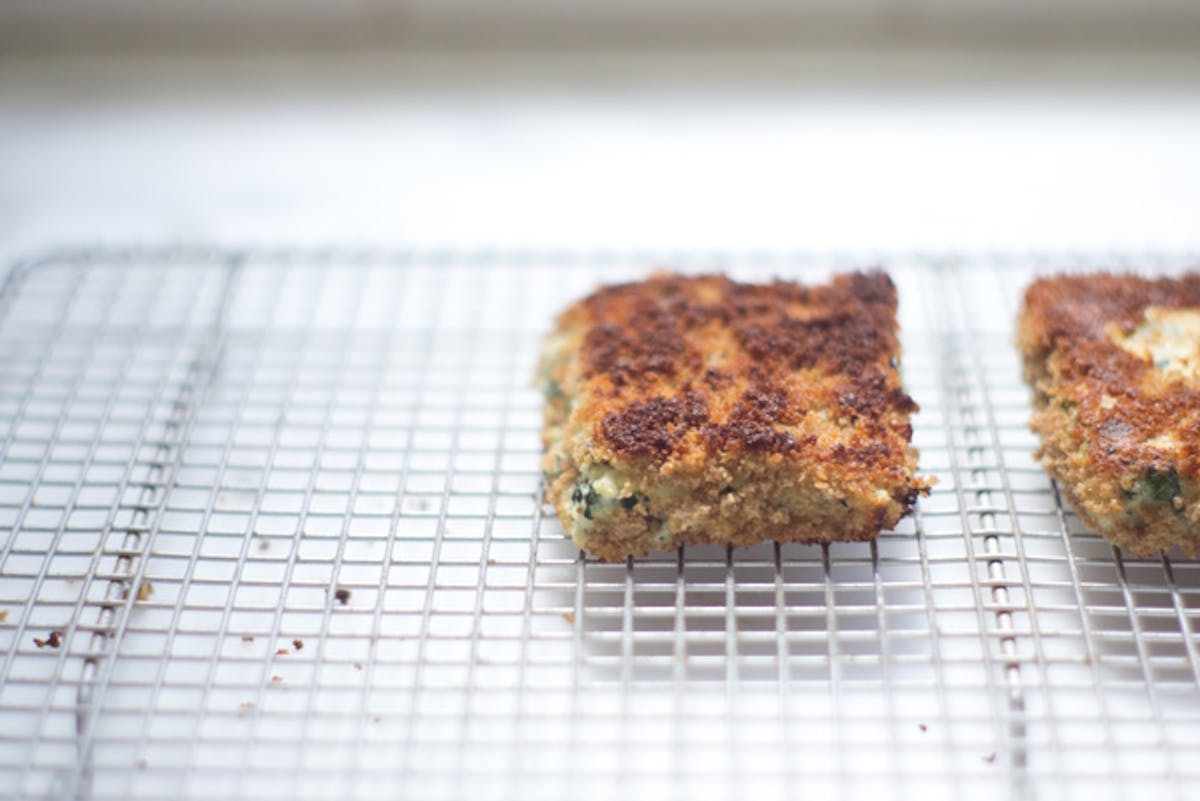 I thought a lot about how I might pack for India. A lot. I'm excited about the adventure, and in the days before pulling my suitcase out of the closet I found myself deep inside my own head considering which cameras to bring, which dresses (just 2, maybe 3!), and what food to bring for the flight - SFO to Frankfurt to Delhi. That, my friends, is the one part of the trip I wasn't looking forward to - it's twelve hours to Frankfurt, another seven to Delhi. Here's a peek at how my packing came together. On the food-for-the-flight front, I've been playing around with a few ideas. No question, these dumplings made the cut, and I ended up packing these millet croquettes for snacking as well - crunchy crusted, basil and kale flecked, I think they'll hold up nicely.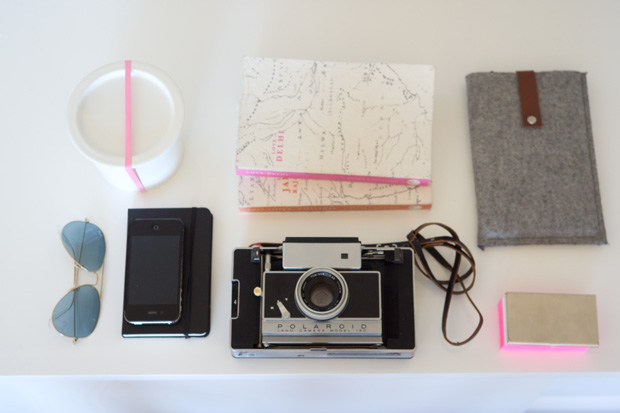 One carry-on, one purse - that was the goal. My camera and film take up a chunk of space in my suitcase, and beyond that it's all about cramming things into little pockets and corners. In this shot (clockwise from top-left): lunch canister (new! I stack in layers between sheets of parchment), Love Travel Guides, Kindle (with this & this on it), sunglasses, notebook/phone, my Land camera, business cards.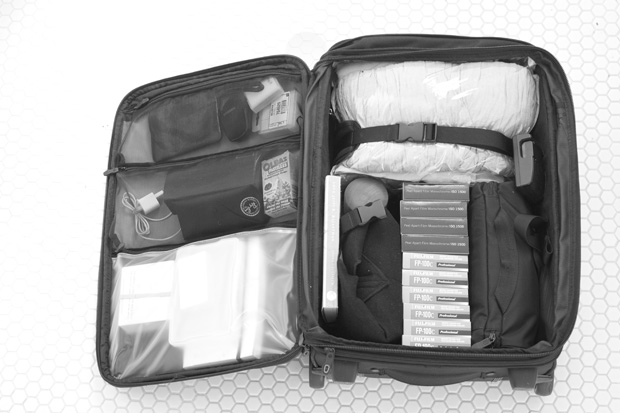 Here's a glimpse of how it's coming together into my suitcase. I have room for a few more packs of film, and a pair of ballet flats. But everything else is in there - adapters and camera gear on the left, dresses (top right), toiletries (bottom right), camera and guide book (bottom left).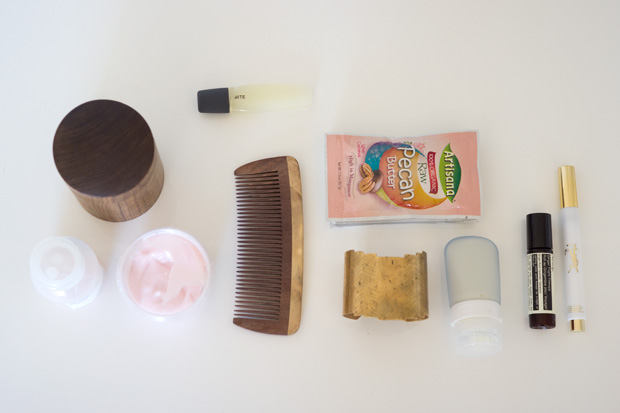 A few other travel favorites tucked away - pure shea butter, lip gloss, packets of nut butter, YSL Flash Touch (I think Jen Altman turned me onto this gem), Aesop Flight Therapy, I put this in a Go Tube to use for hands/legs, brass cuff from Cisthene, a comb I bought in Rome when I was 23, Love travel shampoo and conditioner.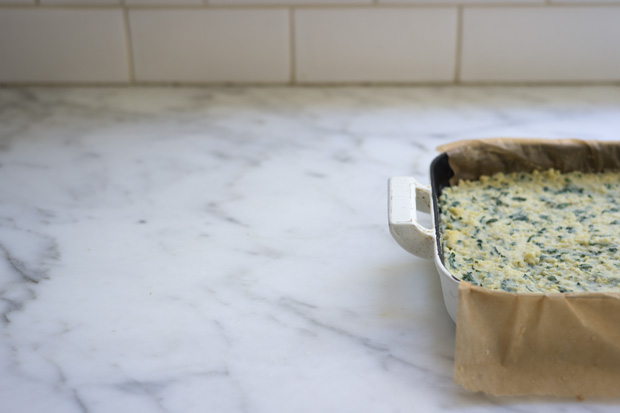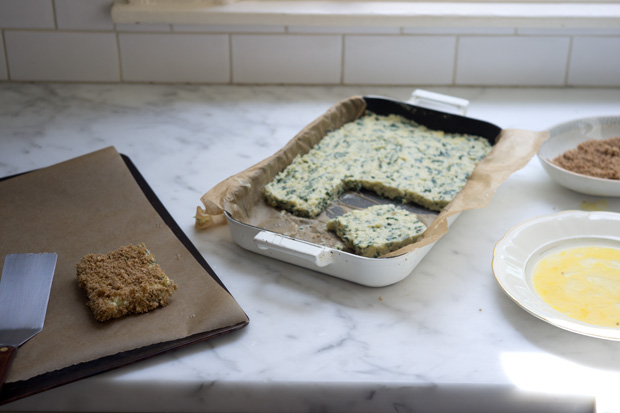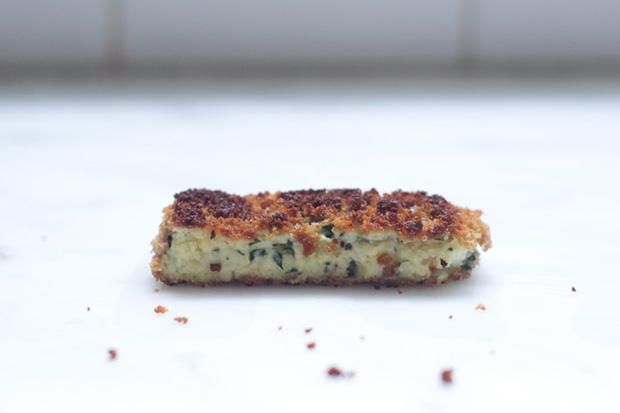 This is my first trip to India, and it's a relatively quick one, but I already have a good number of pics to share when I get back. More soon! -h

Millet Croquettes
A couple notes - the semolina flour I use here is a very fine grind which contributes to the creamy interior texture of these croquette (which works nicely in contract to the crunch exterior). ALso, feel free to go with a smaller baking dish to set the semolina, it'll result in taller croquettes.
1 cup / 240 ml milk
3 tablespoons clarified butter or olive oil
1 small shallot, minced
1 1/2 teaspoons fine grain sea salt
3/4 cup / 5 oz / 145 g semolina flour
1 1/2 cup / 2 oz finely chopped kale (remove stems first)
1/3 cup / 20 g grated Gruyere cheese
1 1/3 cups / 150 g cooked millet*
30 basil leaves, chopped
3 large eggs
2 cups / 140 g whole wheat panko (or dried bread crumbs)
In a large saucepan, combine the milk, 1 cup / 240 ml water, 1 tablespoon of the butter, shallot, and sea salt. Bring just to a simmer, remove from heat, and use a whisk to stir in semolina flour. Stir until combined, add the kale, return to medium heat and stir until the semolina really thickens up 5-10 minutes, your whisk should be able to stand up in it. Remove from heat and stir in the gruyere and millet. Taste and adjust the seasoning with more salt if needed. Allow this mixture to cool for at least 10 minutes, stirring every few minutes to release heat.
In the meantime butter a 9 x 13-inch, or equivalent, baking dish and line with parchment paper.
When the semolina has cooled, so that it is warm but not hot to the touch, stir in the basil, beat one of the eggs in a small bowl, and mix that in as well. Turn into the prepared pan spreading it evenly across with a spoon or spatula. Cover with a clean cloth or loose plastic wrap and refrigerate for at least three hours. You can keep the semolina at this stage for a few days, cooking off croquettes as needed, or making them all at once.
To make the croquettes: Line a baking sheet with parchment. Cut the cold semolina into squares - I think 2x2-inches is a nice size. Beat the two remaining eggs and place them in a shallow wide bowl. In another shallow bowl, do the same with the panko or breadcrumbs. Gently dip each square into the egg, turning to coat, then coat the cakes in the panko/breadcrumbs. Transfer to the parchment-lined baking sheet. Repeat with as many pieces as you intend to cook.
Add the remaining 2 tablespoons of clarified butter to a large skillet over medium-high heat. Arrange a few croquettes and cook, preferably covered, until the bottoms are deeply golden, 5 minutes or so, flip and repeat for the other side. These are great served warm or hot.
Makes about 2 dozen croquettes.
*To cook millet: Combine 1/2 cup / 100 g millet with a few generous pinches of salt and 1 cup / 240 ml water in a small saucepan. Bring to a simmer, cover and cook for 15-20 minutes or until water is absorbed and the grains are cooked through. Remove from heat, fluff with a fork, and cover until ready to use (or serve).
Prep time: 180 minutes - Cook time: 20 minutes