Pumpkin and Rice Soup
Silky textured and vibrant, the pumpkin soup I made as soon after 40 hours of travel back from India. It has a herby rosemary butter drizzle and lemon ginger pulp, and completely hits the spot.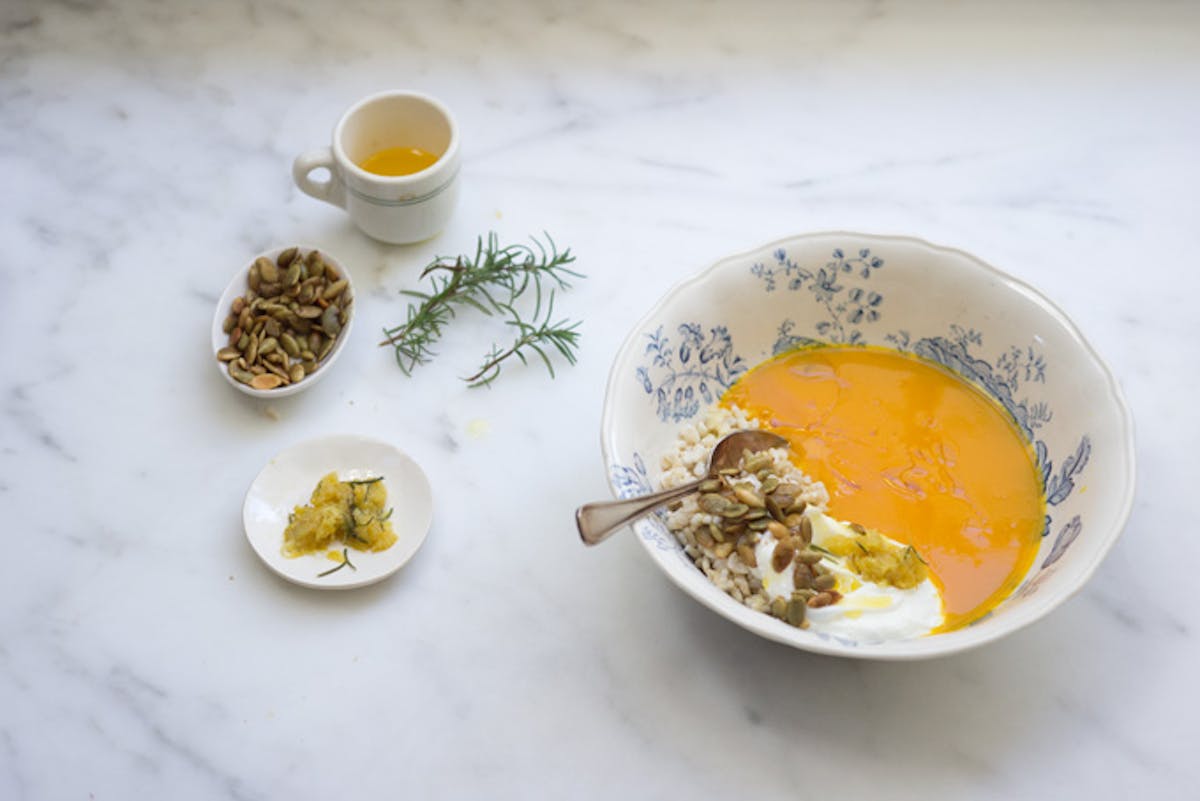 The provisions were scarce when we got back from India the other night - my first winter squash of the year still on the counter, brown rice in the freezer, a bit of sad looking ginger on the windowsill, random nuts and seeds in the cupboard, herbs still going strong in the planter boxes out back, and a three week old knob of butter. That was pretty much it. But I felt exhausted after getting off the plane, and after forty hours of travel from door to door, I was determined cook at home. This simple soup was the first thing I made. It was silky textured, vibrant in color, and after a quick trip to the corner store in the morning for a bit of yogurt and a lemon - the lunchtime leftovers were even better. Particularly because of a finishing touch of a rosemary herby butter drizzle and lemon ginger pulp. I hope you find it as restorative as I did. Also! I wanted to tack some photos of one of my favorite experiences from India onto this post - the day Wayne and I had our photos taken on the street in Jaipur.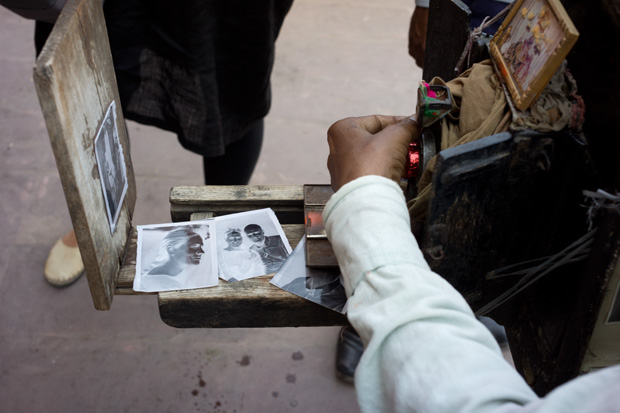 I'd read about
this man
, Tikam Chand. He has been taking pictures in the Old City of Jaipur using his grandfather's camera for decades. And, upon arriving in Jaipur, we set out to find him. No luck, at first. But a couple of days passed, and finally, at a moment we weren't looking, Wayne spotted a guy with an old camera on the sidewalk. We pulled over, hopped out, and it wasn't ten seconds before we were in front of the camera. Sixty seconds and five frames had been snapped. Sit here, look here, you two together, and so forth. I was thinking it was very much like getting a dental x-ray. Much more fun, but still - all business. And it wasn't Tikam with the camera, it was
Surrender
. I'm still not entirely clear on whether the two photographers share the camera, or if they're related.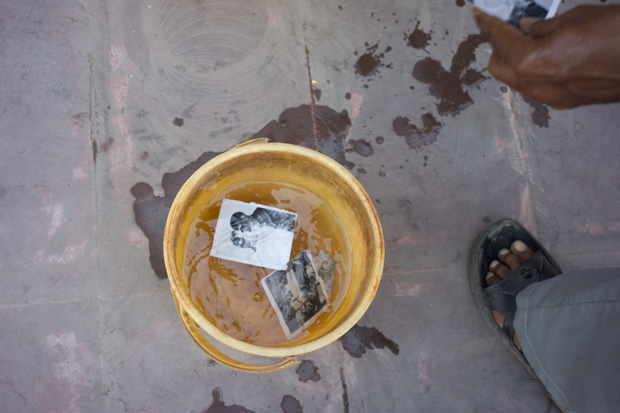 So, you have your picture taken, and that's when things start getting incredible. The processing is done right there on the street, and is finished in just a few minutes. A box in the back of the camera functions as the darkroom, negatives made from small sheets of hand-torn photo paper are slapped on a piece of wood, and shot again to make the positives. There's a bucket for rinsing. Your completed pictures (and negatives if you splurge for them) are unceremoniously wrapped in a zig-zag folded sheet of the daily newspaper. It all goes down fast, and somewhat hilariously. For those of you who are interested in the specifics of how this works, I found
this
(Jonas also has some amazing Jaipur photos).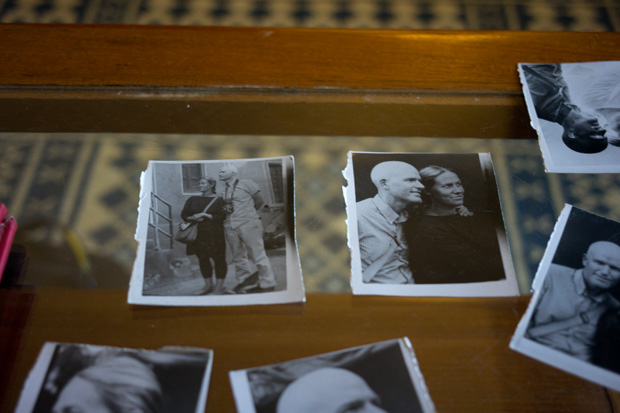 The head-to-toe shot of us up above might be my favorite shot ever of the two of us together.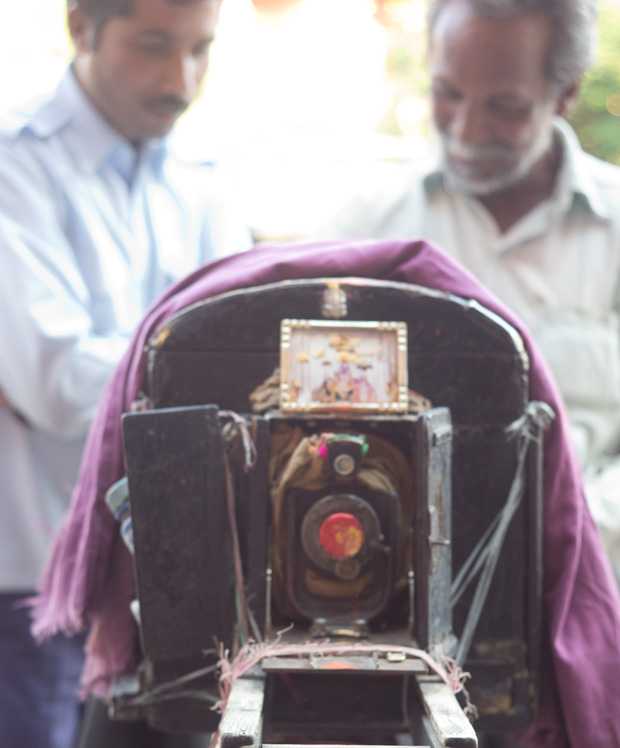 An out of focus shot of the camera from the front. All eyes on Krishna. There's no shutter, so to expose the frame, the red foil lens cap is moved to the side for a second or so. Part of what I loved about the whole experience was how unfussy, and non-technical it was. This guy had a good lens on a box set on a tripod that looked like a few sticks of driftwood bound together. And his photos are beautiful in a way you'll never get with a new camera. Completely inspiring.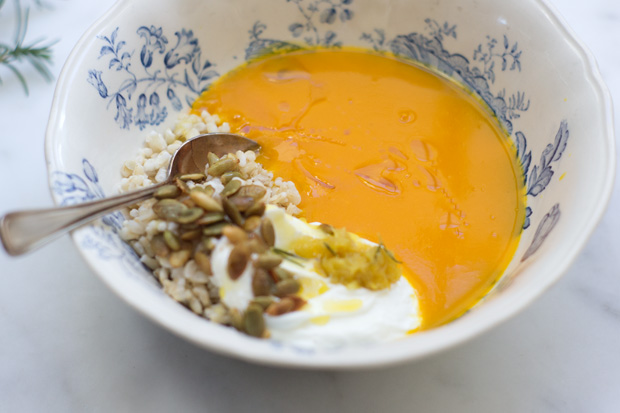 Anyway! I have much more to share with you, in the meantime enjoy the soup. Trick it out with the good toppings (don't skimp on the
pumpkin seeds
), and I'm almost positive it'll become a staple for you this fall/winter - or, at least, I hope so. xo -h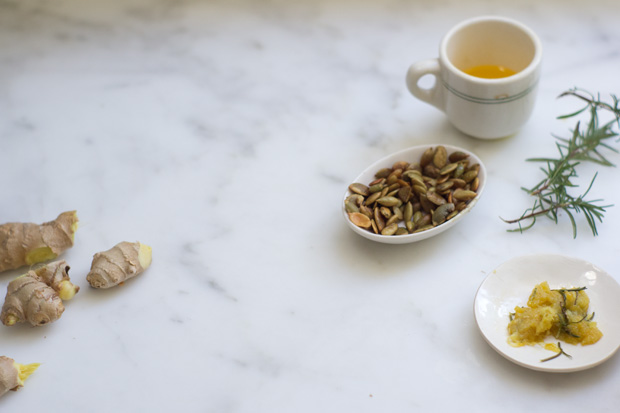 Pumpkin and Rice Soup
For this soup I started with a 2 kg / 4 1/2 pound squash, and used about half of it.
Ingredients
2

tablespoons

unsalted butter

1

medium onion, chopped

1

large shallot, chopped

1/2

serrano chile, seeds and all, chopped

fine grain sea salt

1 1/2

pounds

pumpkin/squash flesh, seeded, peeled, and cut into 3/4-inch chunks

1

teaspoon

fresh ginger juice, pressed from grated ginger

cooked brown rice, warm

other toppings: plain yogurt, toasted pepitas, lemon ginger rosemary butter* (and pulp)
Instructions
In a large soup pot, melt the butter over medium-high heat. Add the onion, shallot, and serrano and a couple big pinches of salt. Cook until softened, about 5 minutes, then add the pumpkin and 6 cups of water (or less if you like a thicker soup), I make this one on the slightly thin side.

Bring just to a simmer and cook until squash is completely tender throughout, about 15 minutes. Note that the time it takes will differ between different squash/pumpkin varietals. Remove from heat and puree with a hand blender until smooth, and add the ginger juice. If you like an even thinner soup, add a bit more water at this point, then stir in more salt to taste, about 2 teaspoons.

Serve over a big scoop of brown rice with lots of toasted pumpkin seeds (or pepitas), a dollop of yogurt, a drizzle of lemon ginger rosemary butter (and pulp).
Notes
Serves 4-6.
*Lemon Ginger Rosemary Butter: Melt 1/4 cup / 2 oz unsalted butter in a small saucepan over medium heat, long enough to let the butter start to brown a bit. Remove from heat and immediately stir in leaves from a 4-inch sprig of rosemary, zest of one lemon, I teaspoon grated ginger, and a good pinch of salt. Stir well and let sit for 5 minutes or so. Strain the butter, and reserve the pulp to serve separately.
Related Recipes
More Recipes
Popular Ingredients