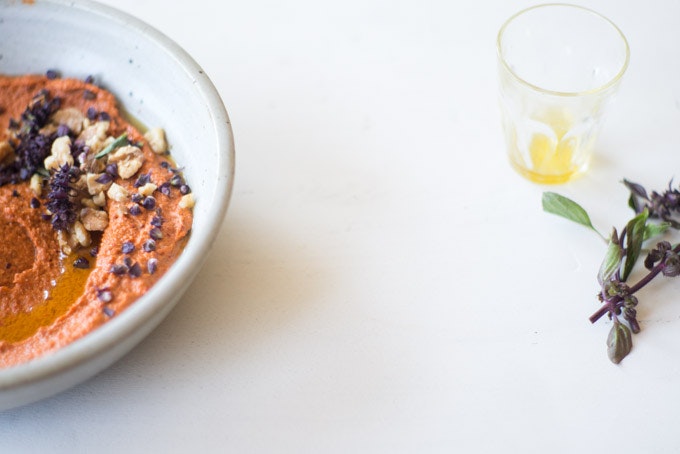 Muhammara (or mouhamara) is something I love to turn people on to. It's a traditional red pepper spread originating from Syria made with a beguiling blend of red peppers, walnuts, olive oil, pomegranate molasses, and a handful of other ingredients - depending on the cook. I included a recipe for it years ago in Super Natural Cooking, and make it when something reminds me of how much I love it. Which is exactly why you're seeing it today. I was having dinner the other night at Aziza, here in San Francisco, and always order Mourad's beautiful spreads - one of which reminds me of muhammara (although I think he makes his with piquillo peppers and almonds, or perhaps whatever looks good at the moment). It's a perfect spread for late summer -- you can use red peppers from the market and grill them -- ideal alongside grilled flatbread or toasted pita. Make this the next time you're considering doing a hummus or labneh - or (even better) go for an assortment.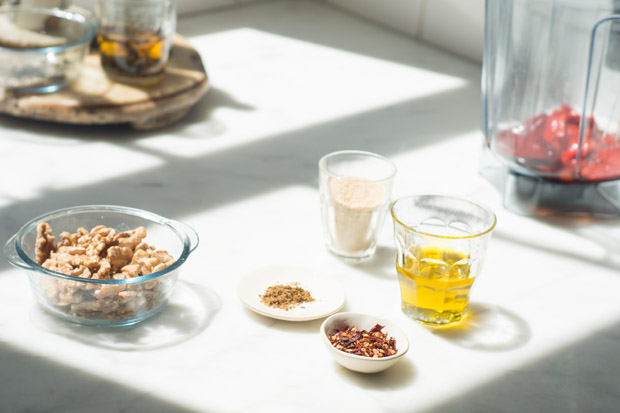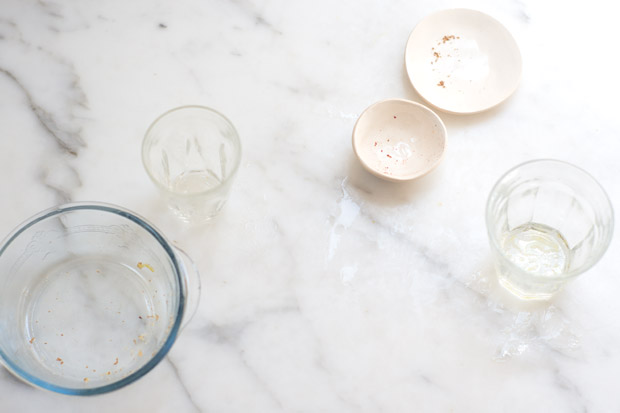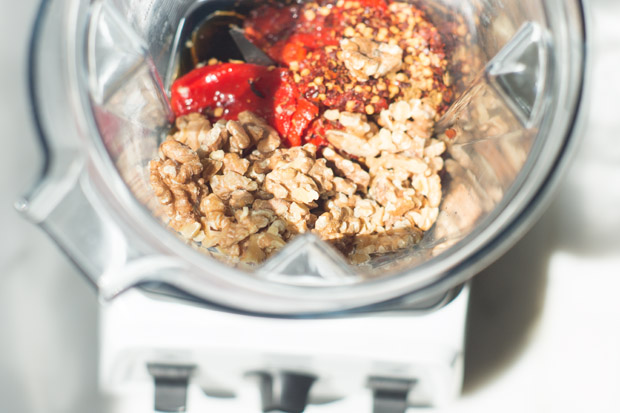 A couple notes - this is quite a hearty, substantial dip - toasted walnuts round out the flavor of a beautiful red pepper base, and a rich splash of sweet pomegranate molasses lends a subtly sweet backnote to the red chile flakes. My version tends to be light on the cumin and red pepper compared to other recipes you might come across - it's a matter of personal preference, really. Correspondingly, you can easily make the spread thicker or thinner depending on how you plan to enjoy it.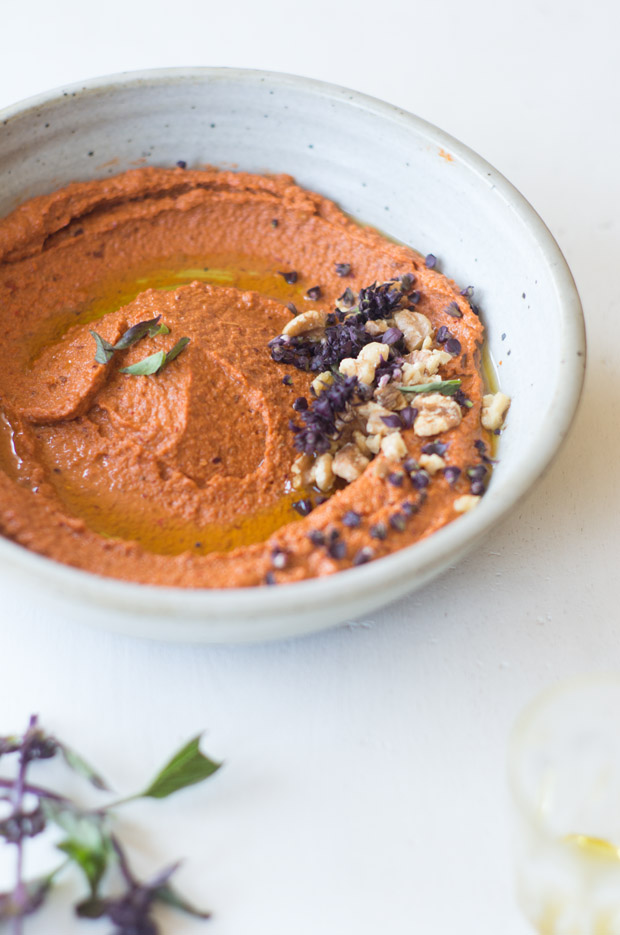 Muhammara
1 tablespoon crushed red pepper 
flakes or 1 small red chile
1/2 teaspoon ground cumin

3/4 cup walnuts, toasted

1/4 cup whole-grain bread crumbs

1/4 cup extra-virgin olive oil
, plus more to serve
2 tablespoons pomegranate molasses

1/4 cup tomato paste

2 to 3 roasted red peppers

1/2 to 1 cup warm water

1/2 teaspoon fine-grain sea salt

to serve: torn basil
Using a hand blender or a conventional blender, puree the chile flakes, cumin, most of the walnuts, bread crumbs, olive oil, pomegranate molasses, tomato paste, and red peppers to a smooth, even consistency. Mix in the warm water in increments to achieve an easily spreadable consistency similar to a thick yogurt. If you¹re going to use it for dipping, you might want to leave it a touch thicker. Stir in the salt and adjust the seasonings if needed. Serve topped with torn basil, the remaining walnuts, and a thick thread of olive oil.
Serves 4-6.