California Barley Bowl
From Megan Gordon's cookbook, Whole Grain Mornings, a super grain bowl. Plump barley grains are tossed with sprouts (or greens), nuts, avocado, a bit of cheese and dolloped with a simple yogurt sauce.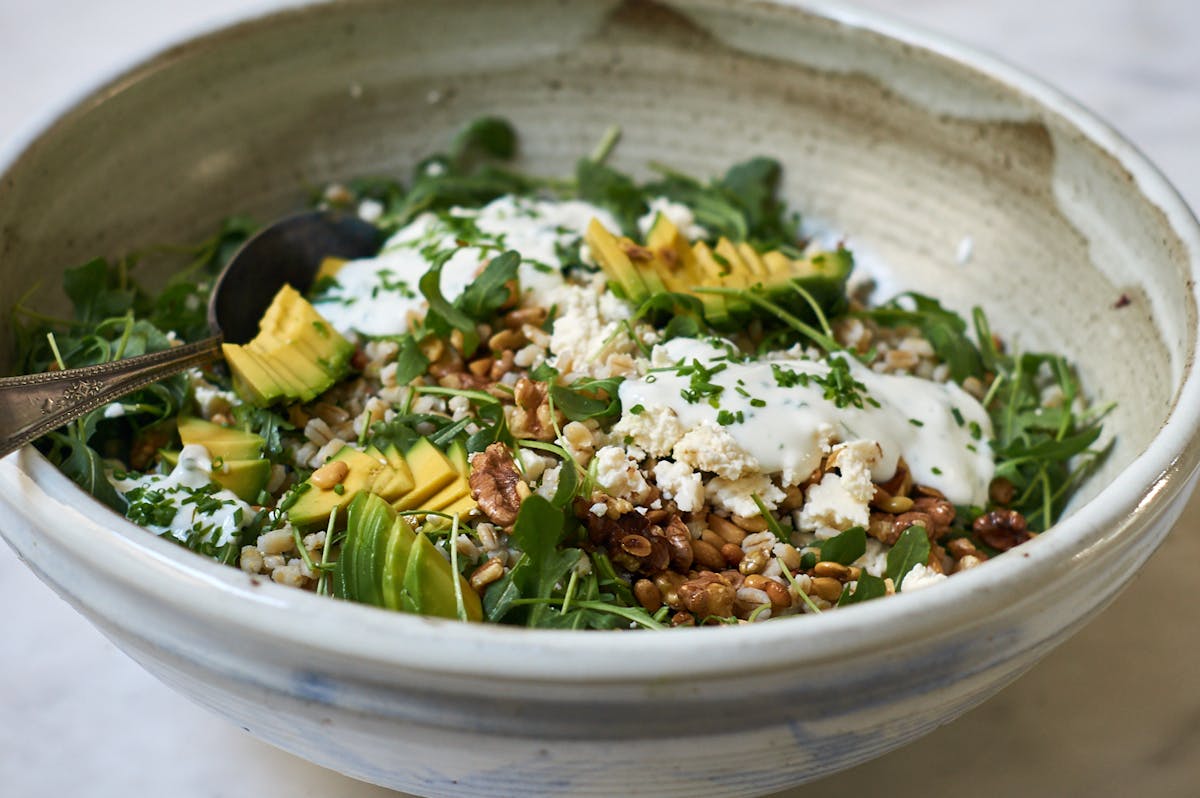 This California Barley Bowl became part of my repertoire after I began cooking from Megan Gordon's cookbook, Whole Grain Mornings. I met Megan years ago when she was sampling granola in front of my favorite San Francisco market. We continued to cross paths over the years and became friends. I love Megan's smart-but-relaxed approach to cooking and this sort of grain salad situation is perfect for picnics, potlucks and family gatherings. It's an easy call. Most of the prep can be done ahead of time. Plump barley grains are tossed with sprouts (or greens), nuts, avocado, a bit of cheese, then dolloped with a simple yogurt sauce. I tend to do an extra large version, family-style, reflected in the recipe below.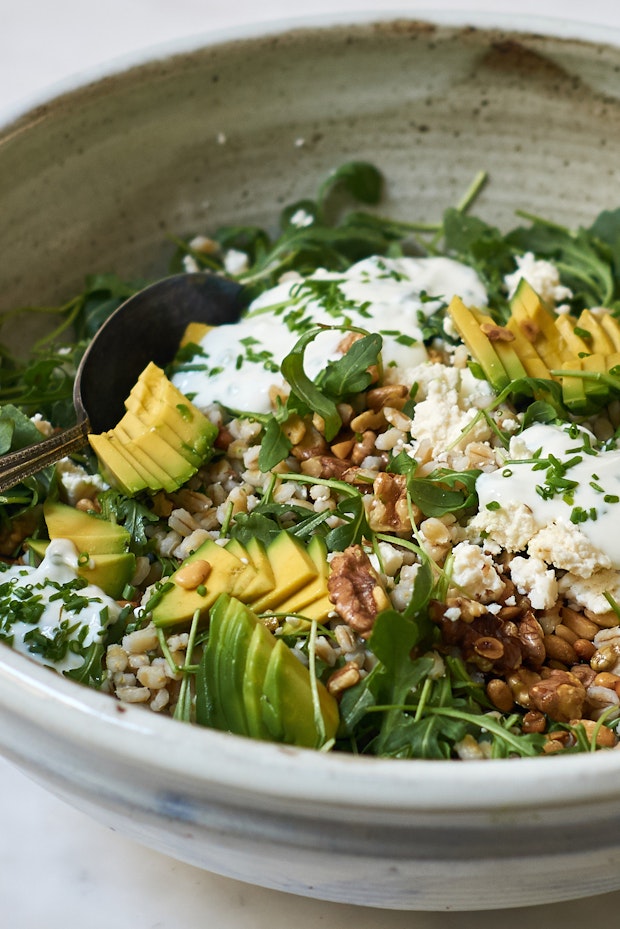 The Strategy
Anytime you're cooking a grain like barley or farro, go big. Cook a lot. Enough to use with whatever recipe you have at hand, and enough to bag and freeze for use in the coming days (and weeks). To do this, make sure the grains are well-cooked and well-drained if you have any residual cooking water. Cool in the refrigerator, and double bag before placing in the freezer. It's the sort of thing to grab for when pulling together a quick stew, a twist on fried rice, or lunchtime grain bowl.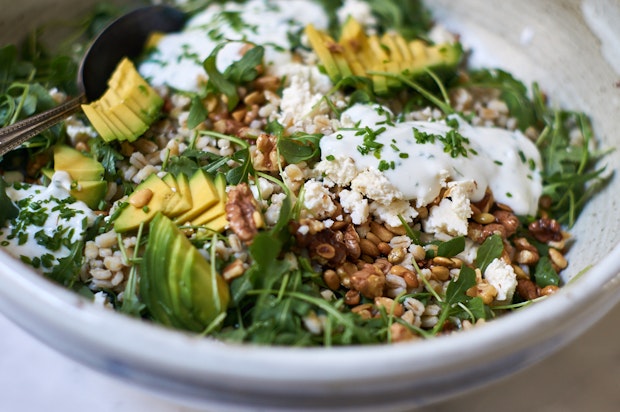 Variations
A number of you have posted fantastic variations of the barley bowl over the years, and I want to highlight a few here:
Keep it warm: Patricia says, "I substituted spelt for the barley and I think I like it better – great texture, a little chewy, nutty taste. I also tossed the arugula into the spelt while it was still warm so there was a wilted effect that we like. And I used part ricotta and part crumbled feta cheese for a little snap to the flavor. Yum!"
Wheatberries: Di noted, "I made a similar dish for lunch today but used organic wheat berries instead of barley. Added chopped walnuts, pomegranate arils, grated carrot, currants, rocket, lemon and parsley with a splash of plain yoghurt."
Double up!: Megan's pro-tip is, "

I always at least 2x the yogurt sauce, too, as I love using it up on just about anything throughout the week. "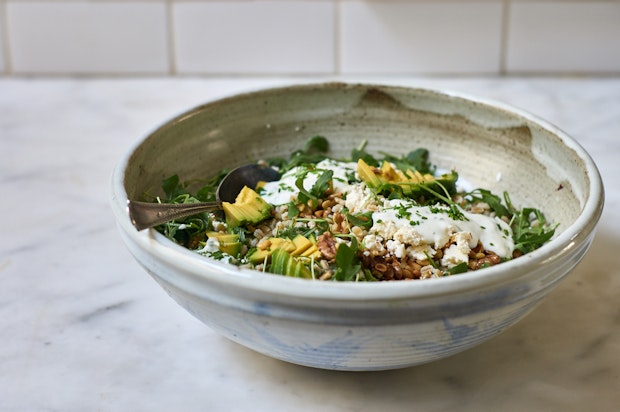 More Grain Salads
California Barley Bowl
As Megan mentions, this bowl can be equally good with other grains - farro or quinoa, in particular. You can use pearl barley or hulled barley here. Hulled barley is minimally processed leaving the bran and germ intact. Pearled barley is more like white rice in that regard and has the bran and germ polished away. The recipe below is an adaptation of Megan's, scaled up for a bit of a crowd. And because I had a sampling of other nuts and seeds on hand, I supplemented the almonds she calls for with those - pepitas and walnuts.
Ingredients
6

cups

cooked barley

4

cups

arugula or bean sprouts

6

ounces

cotija, queso fresco, or ricotta salata cheese

1

cup

toasted almonds, or a mix of seeds/nuts

scant 1/2 teaspoon fine grain sea salt, or to taste
Yogurt Sauce:
2

cups

plain yogurt

zest of one lemon

1

tablespoon

freshly squeezed lemon juice

1/4

cup

of chives, plus more for serving

1/4

teaspoon

fine grain sea salt
For serving:
2

ripe avocados, thinly sliced
Instructions
In a large bowl combine the barley, arugula, cheese, almonds, and salt together. Mix well. You might need more or less salt depending on the saltiness of your cheese.

Make a quick yogurt sauce by whisking the yogurt, lemon zest, lemon, juice, chives, and salt in a small bowl. You can refrigerate this (or any leftovers) for a few days, if needed. If the sauce begins to separate, just give it a good stir before using.

Serve barley mixture topped with avocado, chives, and big dollops of yogurt sauce.
Related Recipes
More Recipes
Popular Ingredients