My Favorite Grilled Kabob Recipe
A kabob recipe featuring grilled mushrooms, lemons, tofu red onions and a delicious red pepper walnut slather.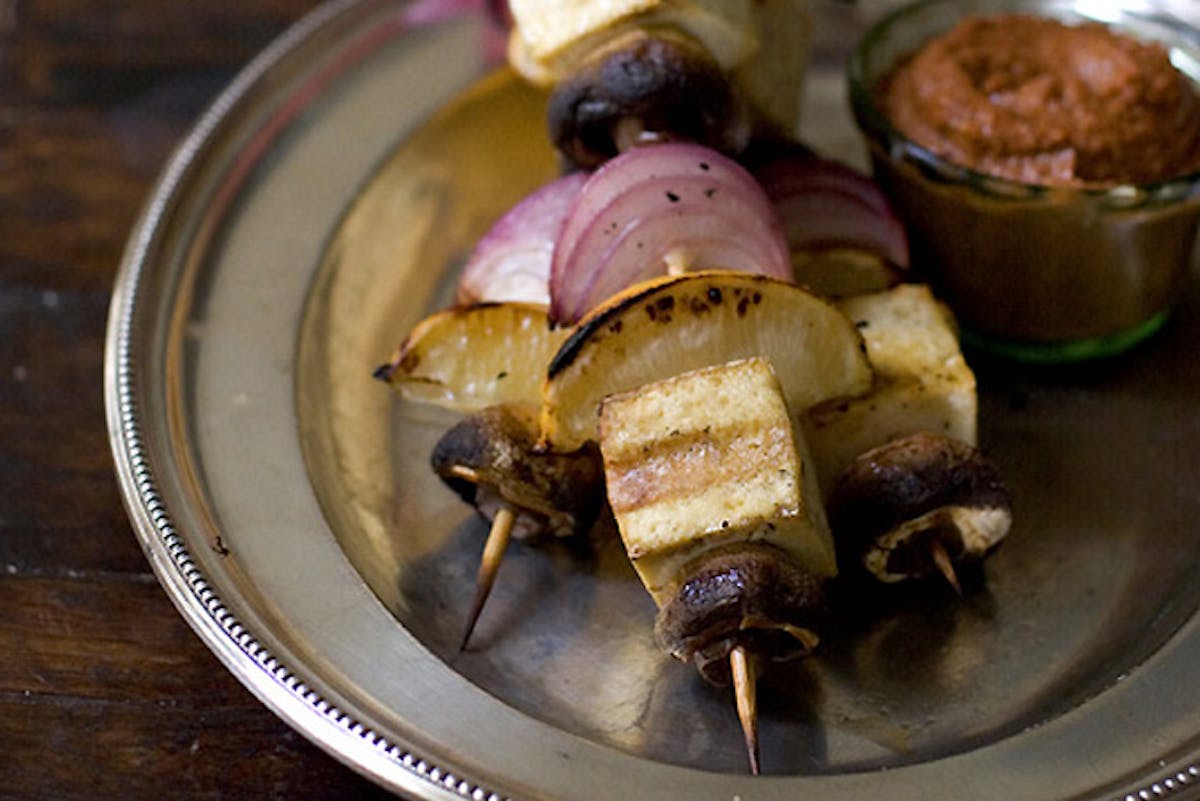 Because we're at the height of grilling season, I thought I'd share my favorite way to prepare grilled kabobs. For those of you with my book, this recipe might look familiar (page 102), but I thought I'd call it out on its own because there are a couple things that make it special. The first thing is the slather - I serve my kabobs with a special red pepper and walnut spread after they come off the grill. But that's not all, in addition to that is the grilled lemon factor - once you start grilling lemons along with your kabobs, it is hard to turn back. The lemons come off the grill transformed, their sourness rounded and soften by time in the flames. The warm lemon juice squeezed over the kabobs just before serving adds a beautiful and fragrant dimension of flavor.
I cite the combination of mushrooms, tofu, red onions, and lemon in the kabobs you see here - all the ingredients play nicely together. If you are one of those people who feel like it isn't a real BBQ without meat, swap away - the tofu could certainly be substituted with your protein of choice.
The sauce I spoke of above is called muhammara (or mouhamara), it is a Middle Eastern spread that quickly garnered a favored position in my kitchen, and why it plays second-fiddle to hummus and baba ghanoush escapes me. The great thing about it (in addition to how it tastes) is that it's multi-purpose spread, slather, sauce, dip, etc, that can deliciously accent not only kabobs, but many of your favorite dishes. Toasted walnuts round out the flavor of the beautiful red pepper base, and a rich splash of sweet pomegranate molasses lends a subtly sweet backnote to the red chiles. I suspect this is a traditional recipe that bends to the taste of the cook preparing it - my version is lighter on the cumin and red peppers than some of the other recipes you might come across. You can easily make it thicker or thinner depending on how you are going to use it. Kabob recipe aside, this has become a favorite dip/spread (I've made it four times in the last two weeks!). It's perfect with flat bread, crackers, pita, chips, or anything else crunchy that you have on hand and it comes together in a flash.
Enjoy, and happy grilling and slathering!
My Favorite Grilled Kabob Recipe
From Super Natural Cooking, Muhammara-Slathered Kabobs, page 102.
My recipe calls for whole-grain bread crumbs, but regular bread crumbs will work just fine. I usually make my bread crumbs from whole-grain bread, so that's what I call for.
Look for pomegranate molasses in ethnic foods aisle or with the sweeteners in natural foods stores. If you can't find it, substitute an equal amount of pomegranate juice (though, it is really not the same). Also, selecting the right tofu is essential here. Look for the extra-firm variety swimming in minimal liquid. As a time-saver, I¹ve used jarred roasted red peppers (water-packed) with good results. If you don't have a grill, the kabobs can be cooked on a baking sheet in a 350°F oven for 30-40 minutes.
Muhammara Slather:
1 tablespoon crushed red pepper
flakes or 1 small red chile

1/2 teaspoon ground cumin
3/4 cup walnuts, toasted
1/4 cup whole-grain bread crumbs
1/4 cup extra-virgin olive oil
2 tablespoons pomegranate molasses
1/4 cup tomato paste
2 to 3 roasted red peppers
1/2 to 1 cup warm water
1/2 teaspoon fine-grain sea salt

Kabobs
2 red onions, each cut into 6 wedges
3 lemons, each cut into 4 lengthwise wedges
12 ounces extra-firm tofu, cut into 12 equal-sized cubes
12 mushrooms
extra-virgin olive oil, for brushing
fine-grain sea salt

Special equipment: 6 wooden skewers
Prepare a medium-hot grill; if the temperature is right, you should be able to hold your hand a few inches above the grate for 4 or 5 seconds.
In the meantime, make the muhammara. Using a hand blender (preferably) or a conventional blender, puree the chile flakes, cumin, walnuts, bread crumbs, olive oil, pomegranate molasses, tomato paste, and red peppers to a smooth, even consistency. Mix in the warm water in increments to achieve an easily spreadable consistency similar to a thick yogurt. If you¹re going to use it for dipping, you might want to leave it a bit thicker. Stir in the salt and adjust the seasonings if needed.
When constructing kabobs, I don¹t bother soaking wood skewers in water. I just load them up with food from tip to tip, which seems to solve any problems with the wood igniting. Onto 6 medium-length skewers, thread an onion wedge, a lemon wedge, a cube of tofu, and a mushroom, then repeat. Brush each kabob generously with olive oil and season with salt. Put the kabobs on the grill and cover. Cook, rotating regularly and brushing with olive oil every few minutes, until the onions are tender, about 12 minutes altogether.
To eat, slather with the muhammara, slide off the skewers. and squeeze the juice from the roasted lemons over everything.
Makes 6 kabobs.