Nettle Pasta Recipe
Nettles in a pasta with feta, sesame, almonds, and onion sprouts & a few pics from the Golden Gate bridge birthday fireworks.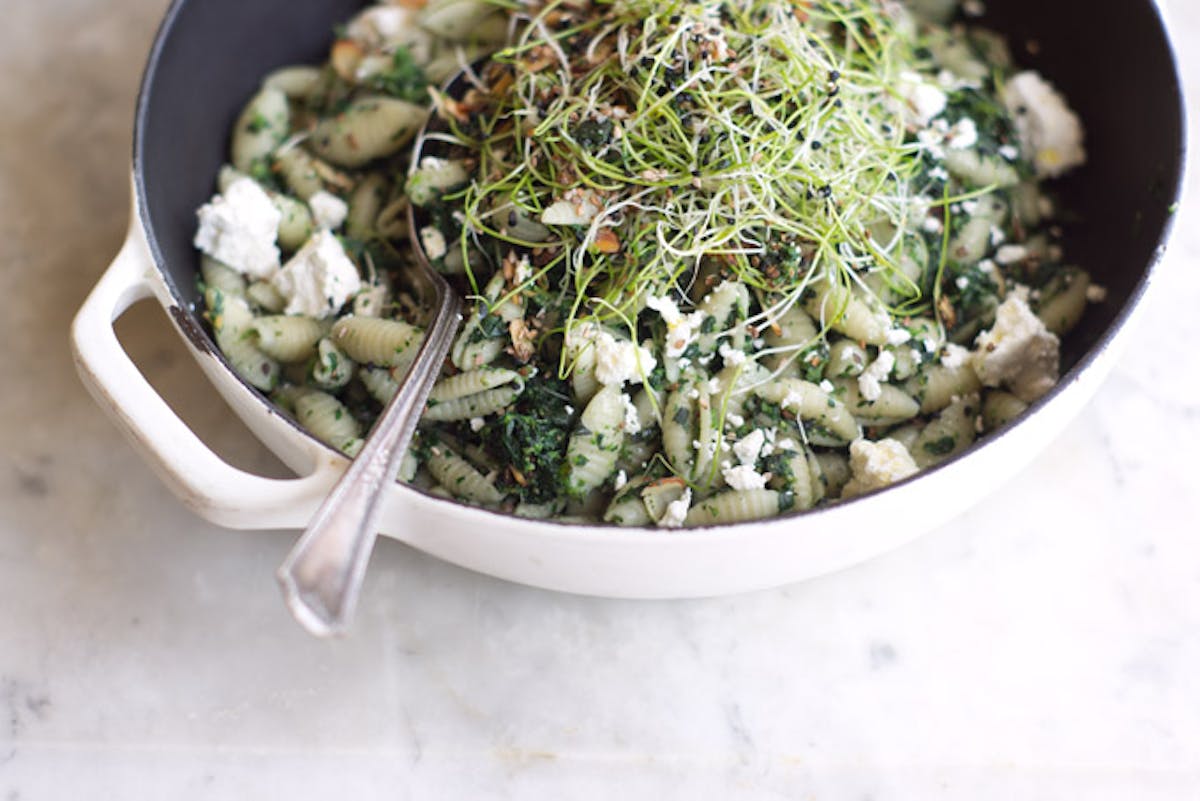 It has been a good week. Aside from the paper cuts. Things related to this little monster are coming together, and unless I've totally blown it, packages should start going out as planned in the coming weeks. There might even be a preview ready in the next few days. Maybe! In the meantime, there are a couple things I'm excited to share. First, a nettle pasta recipe I've been in love with lately. And then, a few snapshots from a walk I took to the Golden Gate bridge the night of its 75th birthday celebration.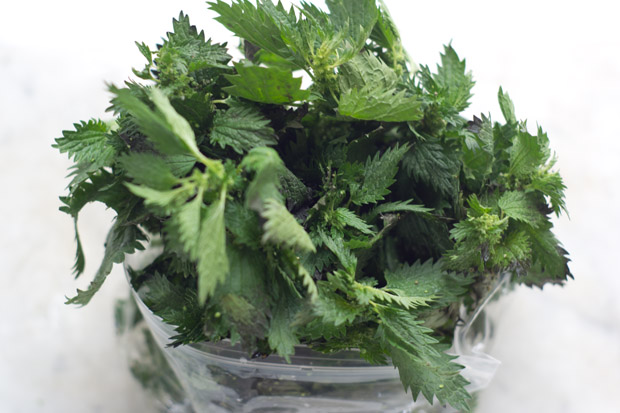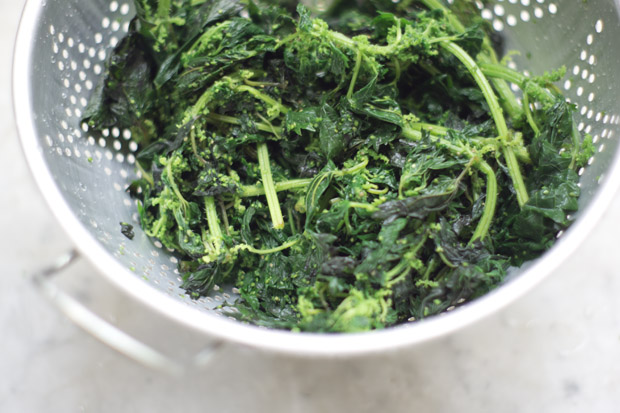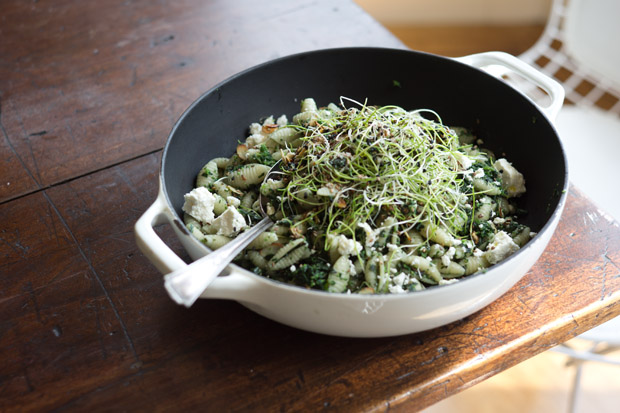 The pasta is a breeze. For those of you who've never cooked with nettles (I suspect this might be a good number of you), buy some the next time you come across them. They're easier to deal with than you think. Here I quickly blanch them straight from the bag they came in, in the same water I cook the pasta. One pot, no stings. I add toasted almonds for crunch, feta because its tangy creaminess plays nice with the nettles, and onion sprouts. Bit of garlic.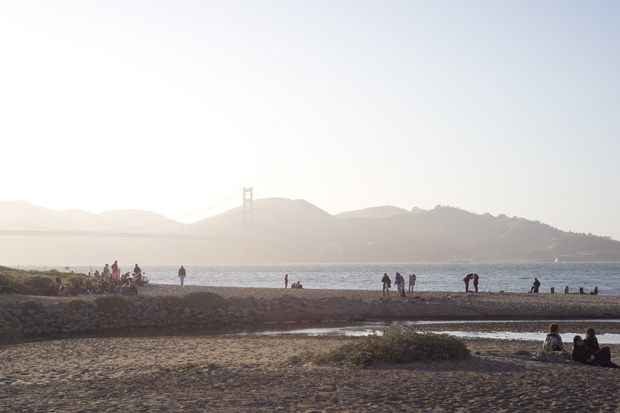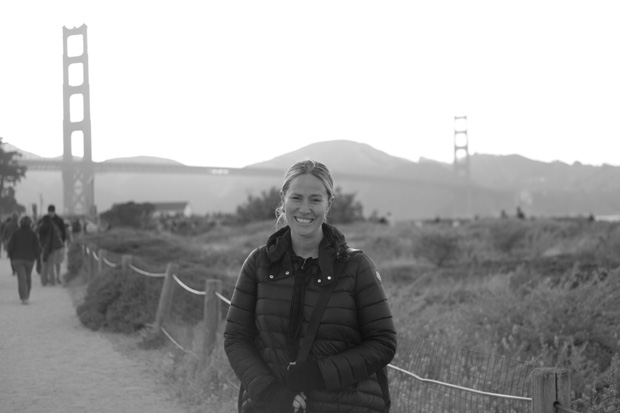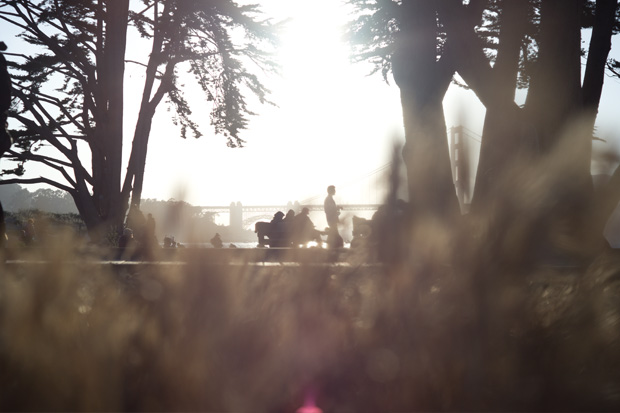 I really should have packed the leftovers (and more layers!) for our expedition to the bridge, but we went on a bit of a whim, and I didn't think it through entirely. There was a news report predicting half a million people would attend the celebration, they were closing the span to all traffic for an hour, and it seemed worth checking out. So we walked out the front door around 6pm, and, over the next few hours, made our way to the ridge just to the right of the south tower.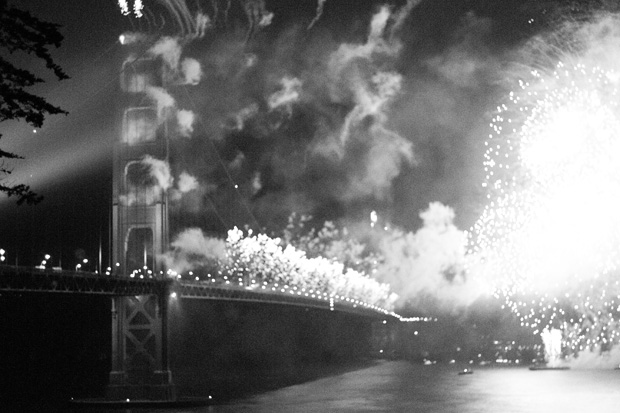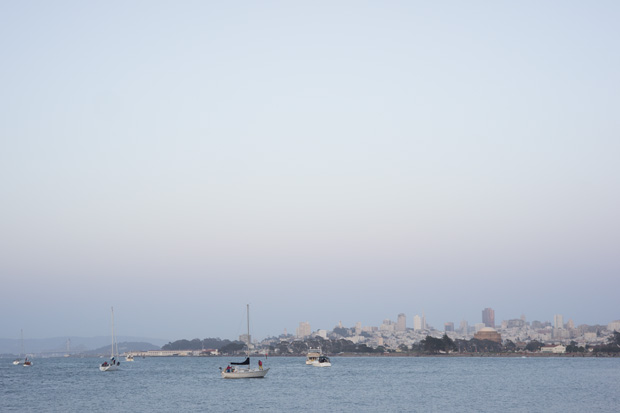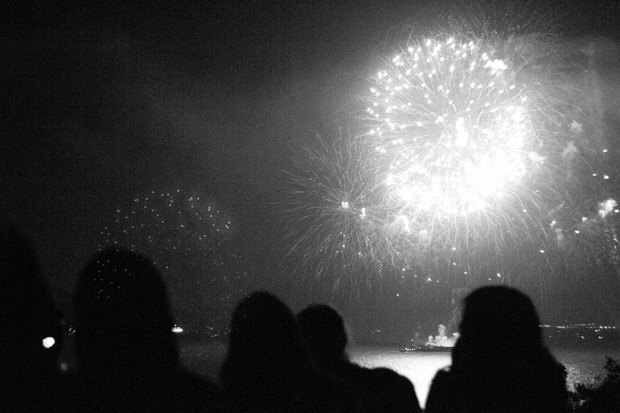 There were a lot of people, and it was a beautiful San Francisco evening, and thankfully there was plenty of space from everyone. People were spread out for miles along the hills and shoreline. It was one of those things that turned San Francisco into something its typically not - a city where people are out and about late at night, bustling to get here or there. Because of the lack of parking (and buses and taxis), it felt like everyone walked in. Which meant they also walked out. Anyway, it was nice in a lot of ways. And it was a nice reminder that sometimes a really long walk, fireworks or not, is a perfect way to spend a night out. xo -h
Nettle Pasta
It's quite easy to find nettles in the markets for most of the year here. But don't worry if you can't get a hold of them, you can substitute kale or spinach, no problem.
6 - 8 ounces stinging nettles*
8 ounces small dried pasta (orecchiette, orzo, etc)
extra virgin olive oil
1 large clove garlic, minced
a big handful of toasted almond slices
3 tablespoons toasted sesame seeds
a handful of onion sprouts
feta cheese, crumbled - as much or as little as you like
fine grain sea salt
Bring a large pot of water to a boil. Salt well, as you would for pasta water, and add the nettles straight from the bag so as not to get stung (or use gloves to handle them). Boil until the nettles wilt, just 20 seconds or so, then use a slotted spoon to remove the nettles from the pot. Run under cold water, drain well, then strip the leaves from any big stems. Chop the leaves into a paste.
In the meantime, bring the nettle water back to a boil, add the pasta, and boil until just tender. Reserve a cup of the nettle water, and drain the pasta.
Place the pasta pot back on the burner over medium-high heat, adding 1/2 cup / 120 ml of the reserved pasta water, a splash of olive oil, and the chopped garlic. Bring to a simmer, the add the pasta and chopped nettles. Add more pasta water if needed. Stir well, and add most of the almonds and sesame seeds. Taste and add more salt if needed. Remove from heat and stir in most of the onion sprouts before turning out into a bowl. Serve family-style topped with feta, the remaining almonds, sesame seeds, and sprouts, drizzled with olive oil.
Serves 4.
*Use gloves when handling raw stinging nettles. A quick blanch in boiling water will neutralize their stinging power.
Prep time: 5 minutes - Cook time: 15 minutes