Orzo Super Salad Recipe
An orzo salad packed with nutritious ingredients - asparagus, almonds, feta, sprouts, broccoli, cucumber, and a zesty lemon dressing.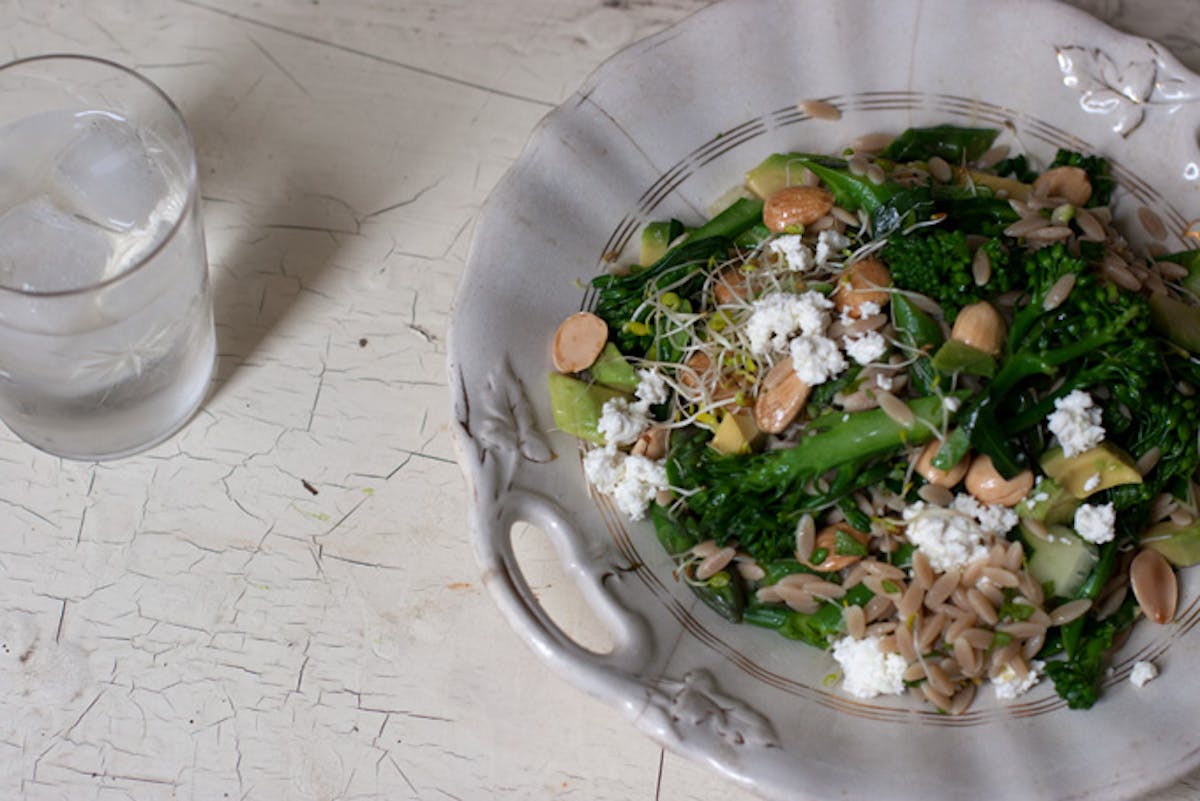 I thought we could chat a bit about orzo salads today. Do you see one at just about every potluck or group picnic you go to? Or is it just me? Whether or not you like orzo salads, you have to respect them to a certain extent. I mean, after surviving the perils of transport, they often assume their position on whatever table beckons, and then endure hour upon hour exposed to the elements. A tough job for any salad. Inspired by a bag of whole wheat orzo I had on-hand, I decided to take a stab at a new version. One that is less pasta-centric than most, made from ingredients that can handle a ride around town on the back of a ten-speed or scooter. One that can handle some time at the beach or park. I used the whole wheat orzo as the base and then packed in as much super-nutritious goodness as I could - almonds, avocado, cucumbers, sprouts, asparagus, feta and baby broccoli.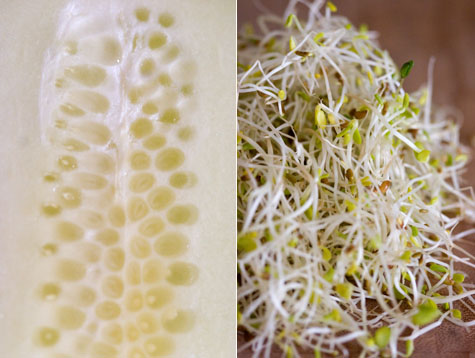 And I have to tell you, it turned out great. A little crunch from the almonds, cucumber, and asparagus. A little creaminess from the feta and avocado. A bit of zip from the lemony dressing. And so much green!
I'm sure this isn't the last orzo salad I'll make this year. I'm thinking that the next one will likely be with slow-roasted tomatoes, once the summer crops arrive. But I'm always open to suggestions and ideas.
Orzo Super Salad Recipe
If you are going to transport this to an outdoor picnic or potluck, place all of the ingredients, layered, in a big bowl or container. Toss the avocado gently with a bit of lemon juice ahead of time - so it doesn't brown. Make sure there are a few inches of head room in the container, and you'll need some sort of lid. Carry the dressing in a separate jar. When you are ready to serve the salad, gently toss the ingredients with the dressing using your hands, or leave the lid on the container and gently shake/tumble it - not ideal but it works. You can double or triple this recipe to serve more of a crowd. To make it vegan, you know the drill, skip the feta. And GF-ers, you can swap in a gluten-free grain/rice (for the orzo) and make a grain salad out of this instead.
1 cup dried (whole wheat) orzo pasta
8 - 10 medium asparagus, trimmed and cut into 1-inch segments
1/2 a medium head of broccoli (or broccolini), cut into small trees
small handful of cilantro(or mint if you prefer), chopped

1 small clove of garlic, mashed with a big pinch of salt and chopped
2 tablespoons fresh lemon juice
1/4 cup extra virgin olive oil

a small handful of sprouts
1/3 cup almonds, toasted
1/2 small cucumber, cut into 1/4-inch pieces
1 medium avocado, sliced into small pieces
1/4 cup feta, crumbled
Bring a large pot of water to a boil. Salt generously and boil the orzo per package instructions. Avoid over-boiling, you want your orzo to be cooked through, but maintain structure. About 30 seconds before the orzo is finished cooking stir the asparagus and broccoli into the orzo pot. Cook for the final 30 seconds, drain and run under a bit of cold water. Just long enough to stop the cooking.
In the meantime, whisk together the garlic, lemon juice, olive oil, and more salt (if needed) into the dressing. Set aside.
When you are ready to serve the salad toss the orzo, asparagus, broccoli, and cilantro with about half the dressing. Add more dressing if needed, and toss well. Now add the sprouts, almonds, cucumber, avocado, and feta. Very gently toss a couple of times to distribute those ingredients throughout the salad and serve.
Serves 4.