Ravioli Pasta Salad Recipe
Trying to improve on typical pasta salads, this ravioli salad recipe features ricotta-stuffed raviolis, asparagus, peas, spinach, and toasted pine nuts.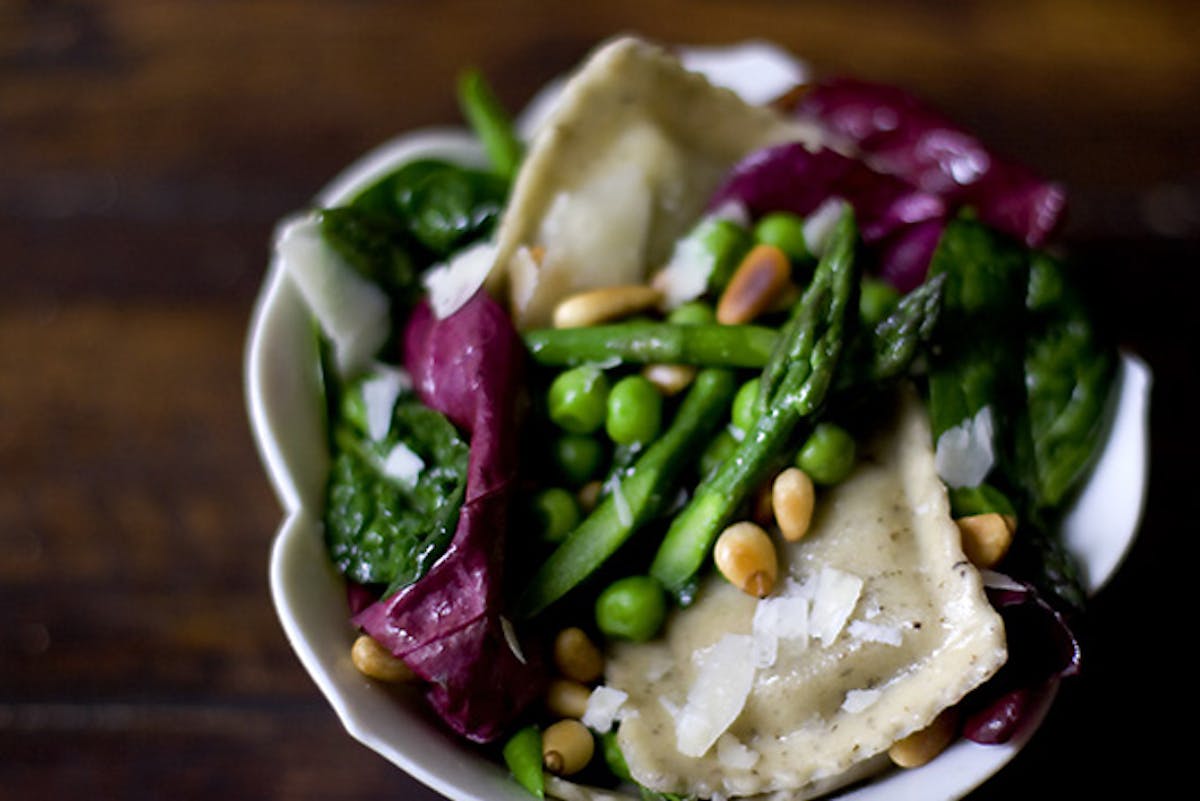 I've been wanting to do this for a while now - remix the ubiquitous pasta salad into something I actually look forward to eating. Pasta salads show up at every picnic, potluck, and work party because a) you can buy them at just about every deli counter in the country, and b) they are easy to make - if you can boil water and open a jar of pesto, you're in business. Before we get into the makeover, let's outline a few of the things working against most pasta salads:
Too much pasta, not enough other stuff.
Overcooked, unsalted pasta noodles. The one-two punch of bad pasta.
Too much dressing, often overpowering dressing.
The clump factor - inevitably, after hours in the refrigerator all the pasta in a pasta salad clumps together into a big mass, which shortly thereafter turns into a big heavy mass in my stomach.
I think we can do better, and without much more effort. For starters, I dropped the ratio of pasta to other tasty ingredients way down. I added lots of color by using seasonal ingredients and working in plenty of springtime treats like asparagus, greens, and peas. Because I wanted the focus to be on the flavor of the actual ingredients, I used a bit of good olive oil to dress everything, along with a bit of salt. Simple.
Now let's get down to practicality. I'm pretty confident this salad can stand up to the long car rides, endless refrigerator hours, and/or time in direct sunlight required of all pasta salads. It can be served warm or cold, transports easily, and is clump resistant. I had it for dinner two nights ago, and lunch yesterday.
The time factor: I wrote this recipe with just one big pot of boiling water in mind - no cooking each ingredient separately. Seriously, it took longer to boil the pot of water than do the prep.
Now it's your turn: This is more an idea than anything else, there are a thousand variations you can explore here depending on the season and what flavor of ravioli you buy. A couple tips - first off, keep all your add-ins fresh and seasonal. A salad like this only pops when you use bright, good quality ingredients (don't overcook them). Secondly, when you start thinking about other things to add to the recipe to make it more your own, echo some of the flavors that are in the ravioli stuffing. So for example, if you have a lemon ricotta-herb stuffing, add some slivered fresh basil and lemon zest to the salad. If it is a goat cheese-olive stuffing, crumble a bit of goat cheese and tear up a handful of olives for the salad. Make sense?

Book sightings!
Here's a list of places where my book has been sighted including The Cook's Library in Los Angeles and Powell's for Cooks & Gardeners in Portland, Oregon. You might want to call ahead to confirm it is in stock. Please let me know if you see it elsewhere so I can add to the list!
Book Signing this SATURDAY in SF:
Lastly, before I sign off for today, I wanted to let you know I'm doing a book signing at Borders Books at Union Square in downtown San Francisco this SATURDAY, March 24th. Come stop by, I'd love to meet more of you in person! Borders Books Union Square 400 Post Street, San Francisco at 2:00pm. Hope to see you locals there!
Ravioli Pasta Salad Recipe
I used a ricotta-stuffed buckwheat pasta, but any standard cheese-stuffed ravioli will also work if that is what your store offers. Many of you might be able to locate a spinach pasta ravioli - this would be a good alternative as well. I came across some bright red spinach at the market this weekend (red orach German Mt. spinach), so I used 1/2 red and 1/2 standard baby spinach. Use whatever is available to you. I love the color the red spinach adds to the bowl, but the downside is it tends to stain the ravioli a bit (in the way rainbow chard or beets can).
1/2 pound ricotta-stuffed ravioli
1 bunch thin asparagus, cut on deep bias (angle)
10 ounce bag organic peas, thawed overnight in refrigerator
3 - 4 big handfuls baby spinach, washed (any stems removed - optional)
a couple splashes of extra-virgin olive oil
1/2 cup pine nuts, toasted
fine grain sea salt
Parmesan cheese, for garnish
Prep all of your ingredients ahead of time - cut asparaus, wash spinach, etc.
Into an extra-large pot of well-salted boiling water add the raviolis. After a few minutes, when a couple of the raviolis begin to float, add the asparagus and peas. Because the asparagus is thin and the peas aren't frozen, you'll need to cook them only for about a minute - really quick, just enough to brighten up the peas and give the asparagus a touch of tenderness.
Drain everything into a large colander. Immediately transfer to a large bowl, add the spinach and pine nuts, and gently toss with a couple big splashes of olive oil and a pinch or two of salt. Serve in a big bowl or on a simple platter with a bit shaved Parmesan crumbled on top.
Serves 4 to 6.