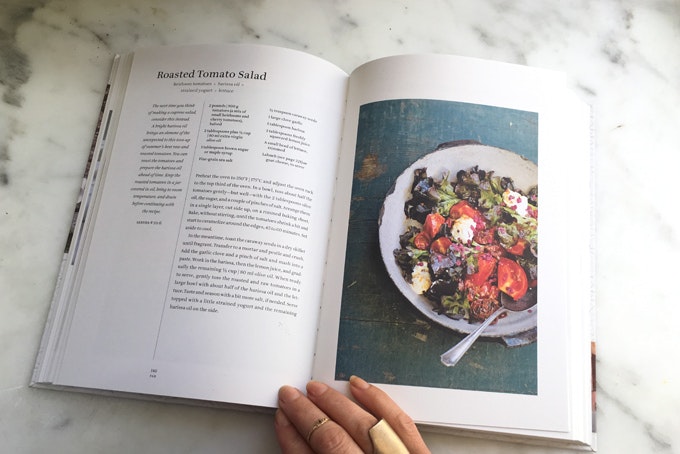 Roasted Tomato Salad Recipe
I've done a number of these roasted tomato salads over the years, but this is the one I featured in Near & Far. I introduced it by saying, the next time you think of making a caprese salad, consider this instead. And I meant it. It's a bit of extra effort (not much), but the combination of both raw and roasted tomatoes is special. And the bright harissa oil brings an element of the unexpected. You can roast the tomatoes and prepare the harissa oil ahead of time. Keep the roasted tomatoes in a jar covered in oil, bring to room temperature, and drain before continuing with the recipe.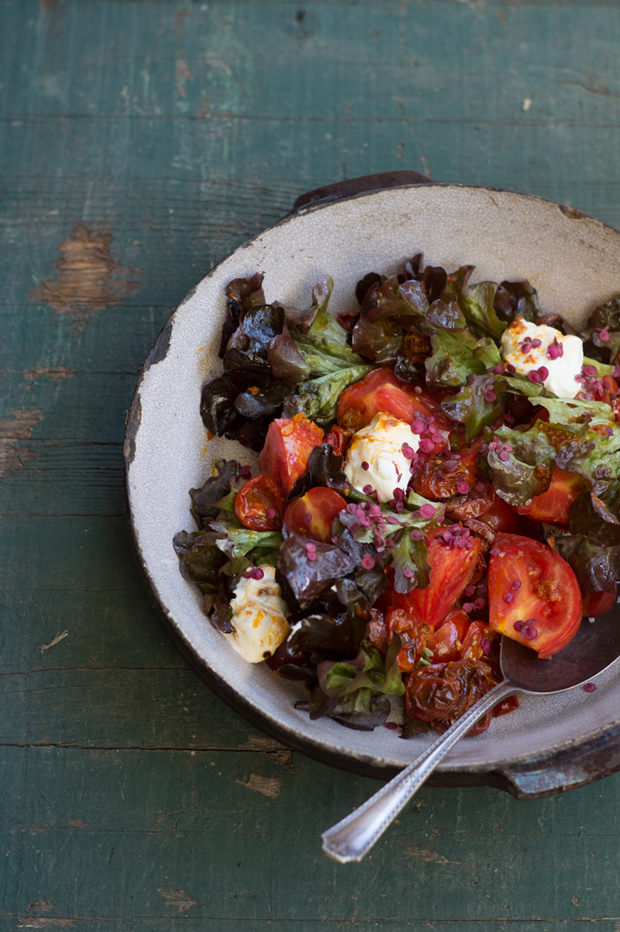 Roasted Tomato Salad
2 pounds | 900 g tomatoes (a mix of small heirlooms and cherry tomatoes), halved
2 tablespoons plus 1/3 cup | 80 ml extra-virgin olive oil
1 tablespoon brown sugar or maple syrup
Fine-grain sea salt
1/2 teaspoon caraway seeds
1 large clove garlic
1 tablespoon harissa
3 tablespoons freshly squeezed lemon juice
A small head of lettuce, trimmed
Labneh or goat cheese, to serve
Preheat the oven to 350°F | 175°C and adjust the oven rack to the top third of the oven. In a bowl, toss about half the tomatoes gently--but well--with the 2 tablespoons olive oil, the sugar, and a couple of pinches of salt. Arrange them in a single layer, cut side up, on a rimmed baking sheet. Bake, without stirring, until the tomatoes shrink a bit and start to caramelize around the edges, 45 to 60 minutes. Set aside to cool.
In the meantime, toast the caraway seeds in a dry skillet until fragrant. Transfer to a mortar and pestle and crush. Add the garlic clove and a pinch of salt and mash into a paste. Work in the harissa, then the lemon juice, and gradually the remaining 1/3 cup | 80 ml olive oil. When ready to serve, gently toss the roasted and raw tomatoes in a large bowl with about half of the harissa oil and the lettuce. Taste and season with a bit more salt, if needed. Serve topped with a little strained yogurt and the remaining harissa oil on the side.
Serves 4-6.
Prep time: 10 minutes - Cook time: 60 minutes