Heirloom Tomato Salad
My favorite tomato salad this year - made with roasted and ripe tomatoes, capers, mozzarella, almonds, and chives.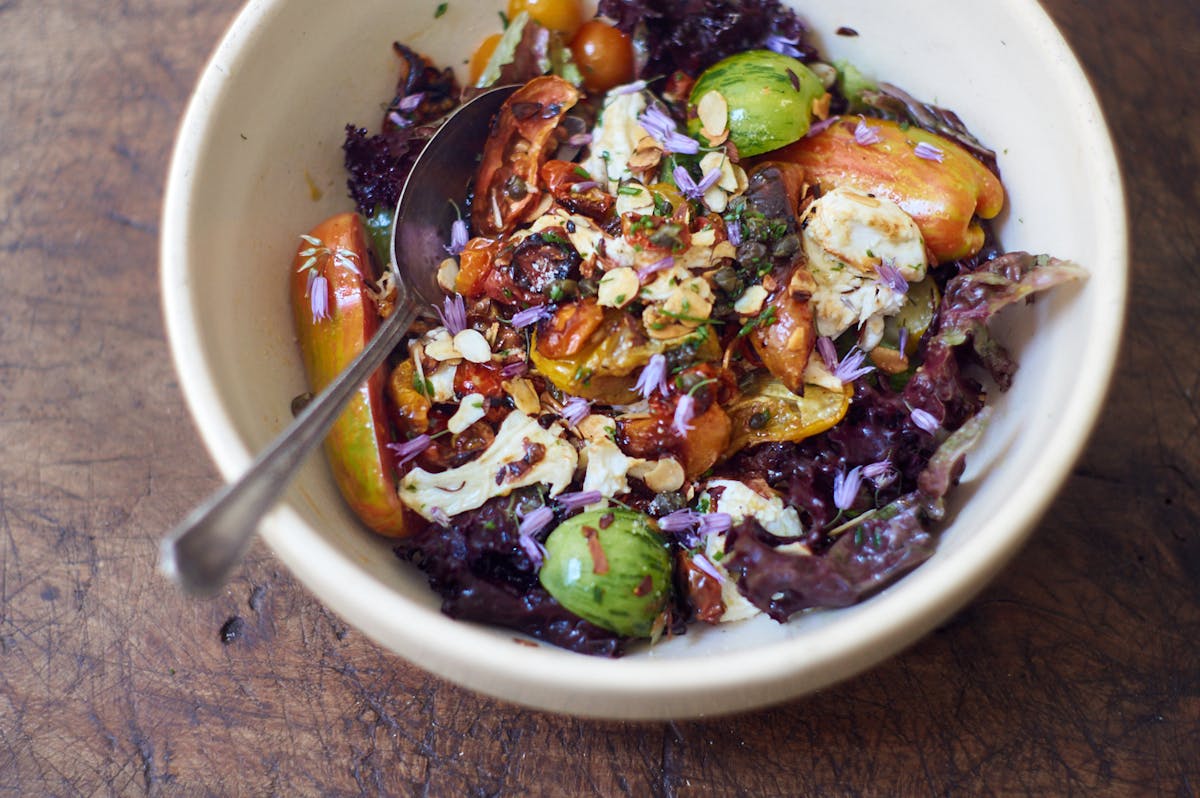 I've thrown together a lot of tomato salads in my life. And certainly not all need to be highlighted here...That said, I made one over the weekend that is a bit offbeat, in a good way -a seasonal salad worth sharing. I think the magic happened when I decided to roast half of the tomatoes. The salad became a mix of beautiful heirlooms in shades of greens, reds, yellows, and orange, tossed with their roasted, caramelized counterparts. The roasted tomatoes brought depth to the salad - well worth the bit of extra time and effort.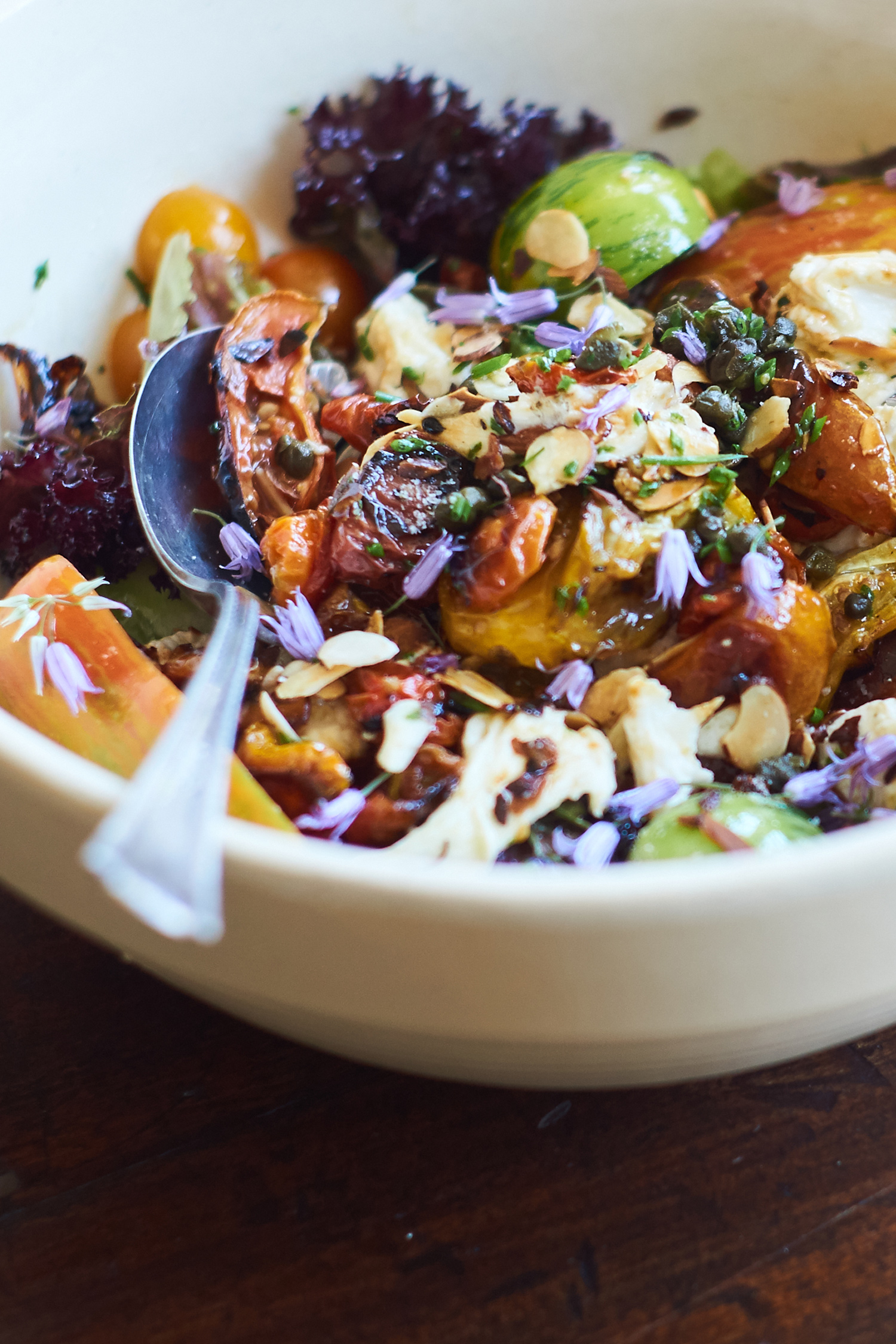 Building on the tomatoes
Beyond the tomato base (use your best & make sure they're ripe), I found myself pulling from ingredients around the kitchen. Capers, quickly pan-fried, added a mustardy pop. Crunch came from toasted almonds, and creamy fresh mozzarella delivered just the right amount of decadence. Fresh herbs added a bright finishing accent.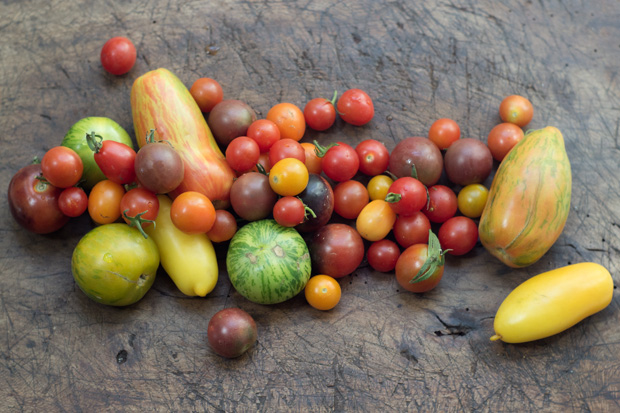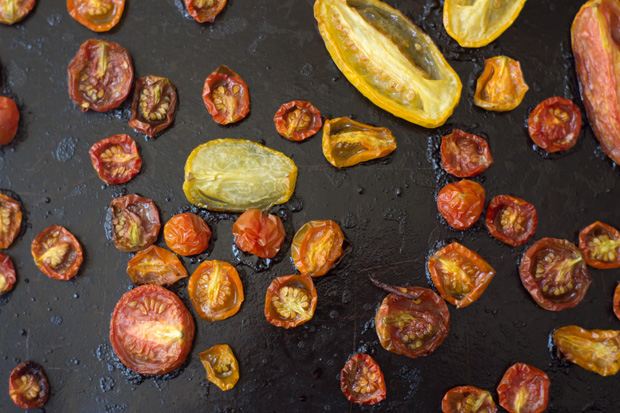 Tomato Salad Variations
Don't let my version influence you too much. Play around! You can take the basic premise (a tomato salad made with a mix of ripe and roasted in-season tomatoes) in unlimited different directions. Try different nuts, herbs, and vinaigrettes. A version using this pesto is A+. Experiment with different tomato varietals and shapes.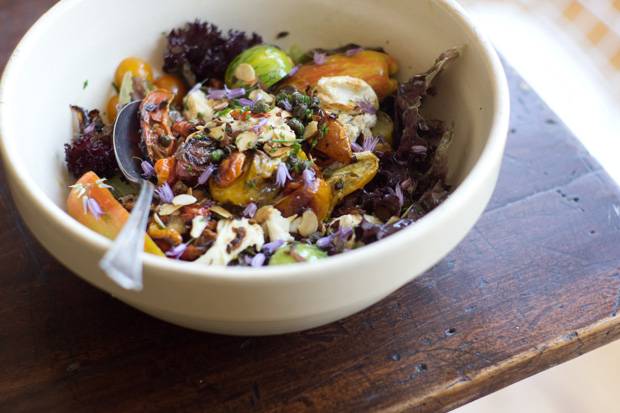 It's easy to prep nearly everything ahead of time here, and I have to tell you, this salad served on slabs of garlic-rubbed bread? Or partnered with oven-baked falafel tucked into warm pita bread? Best lunch I had all week.
Heirloom Tomato Salad
You can absolutely roast the tomatoes ahead of time if needed. Keep them in a jar covered in oil. Drain before continuing with the recipe.
Ingredients
2

pounds

/ 1 kg tomatoes ( a mix of small heirlooms & cherry tomatoes), halved

1/4

cup

/ 60 ml extra virgin olive oil

1

tablespoon

brown sugar or maple syrup

couple pinches of fine grain sea salt

1/3

cup

toasted almond slices

2

tablespoons

capers, fried in a bit of oil

6

oz

good mozzarella, torn into chunks

a handful of torn lettuce leaves

generous drizzle of lemon olive oil or chive oil*
Instructions
To start, you're going to roast about 1/2 of the tomatoes - as I mention up above, preferably a mix of cherry and heirlooms. Preheat the oven to 350°F (175°C), and adjust the oven rack to the top third of the oven. Toss the tomatoes you will be roasting gently (but well) in a bowl along with the olive oil, sugar, and salt. Arrange them in a single layer, cut side up, on a rimmed baking sheet. Bake, without stirring, until the tomatoes shrink a bit and start to caramelize around the edges, 45 to 60 minutes. Set aside to cool.

When ready to serve, gently toss the roasted and raw tomatoes with a bit of chive or lemon oil, most of the almonds, the capers, the mozzarella, and the lettuce. Taste and season with a bit more salt if needed. Serve topped with the remaining almonds, and any herb flowers you might have.
Notes
Serves 4 - 6.
*To make chive oil, use a food processor to puree 1/4 cup chopped chives with 1/2 cup / 120 ml good olive oil. Stir in another 1/4 cup finely chopped chives by hand. Season with sea salt to taste.
Related Recipes
More Recipes
Popular Ingredients