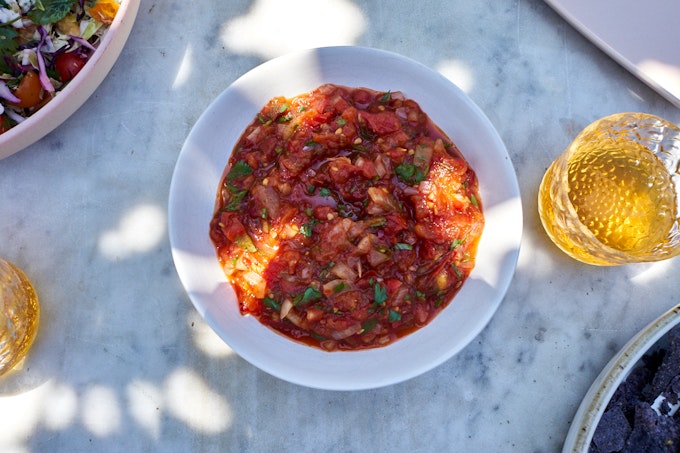 Fourth of July Roasted Tomato Salsa
I love this salsa recipe, and make it every year for Fourth of July. While it appears deceptively average, it actually delivers electric flavor with each bite. When you're ready to move on from salsa fresca, make this. What you'll have is a deliciously vibrant, earthy, and slightly smoky-tasting salsa. Different from salsa fresca, the deep, caramelized flavors of roasted tomatoes and onions alongside the smokiness of the chipotles make for a richly beautiful and balanced salsa. And, that color! It's beautiful.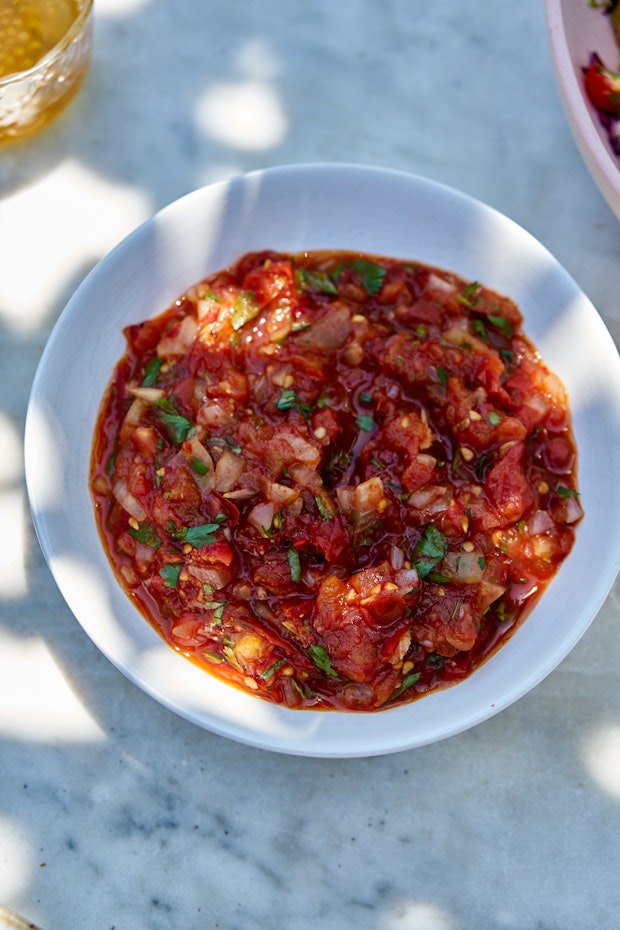 Salsa Inspiration
Initially, I'd been sitting on this salsa recipe for over six months, waiting (and waiting) for tomato season. I waited through citrus season, asparagus season, and a good chunk of the stone fruits. Every few weeks I'd flip through my pocket-sized notebook and there it was, a messy scribble of black pen spanning three-quarters of a single page. The black letters were there to remind me of the deliciously vibrant, earthy, and slightly smoky-tasting salsa I jotted down while visiting friends (Hadley & Philip) in New Zealand. It is a salsa richly red in hue, accented with tiny flecks of green cilantro. We stayed with in Wellington for a week, and Hadley made this salsa for us one evening.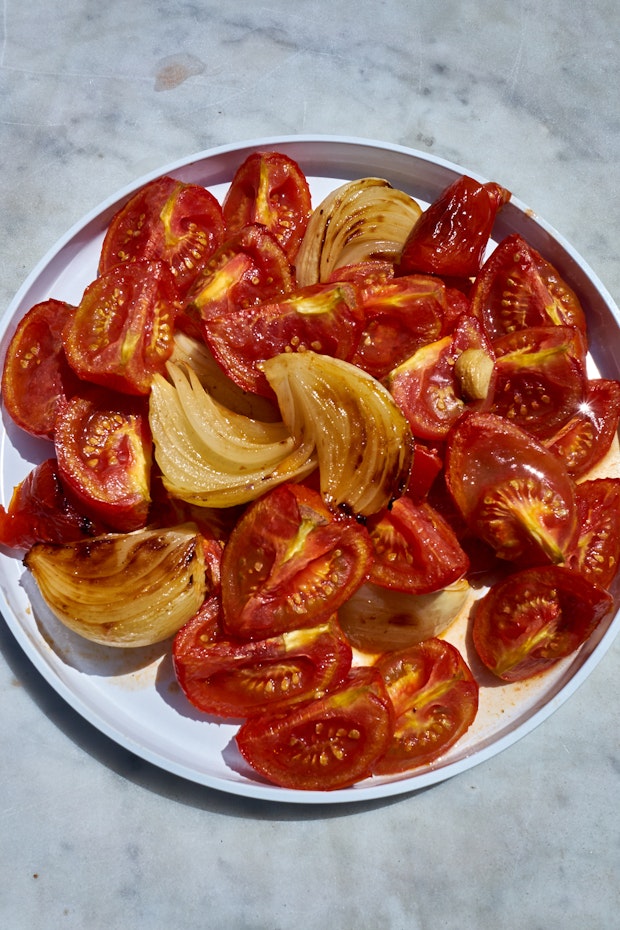 Why this Salsa?
If you are used to making or buying salsa fresca, great. I love salsa fresca and make it regularly. This salsa is an entirely different beast - the deep, caramelized flavors of the roasted tomatoes and onions alongside the smokiness of the chipotle(s) makes for a richly beautiful and balanced salsa. The other thing I love is the texture. This salsa has a rustic, hearty texture which comes from pureeing a portion of the ingredients toward the beginning of the process, and then hand-chopping the majority of the roasted tomatoes and onions. With the roasted ingredients, it is a bit more effort, to be sure, but SO worth it.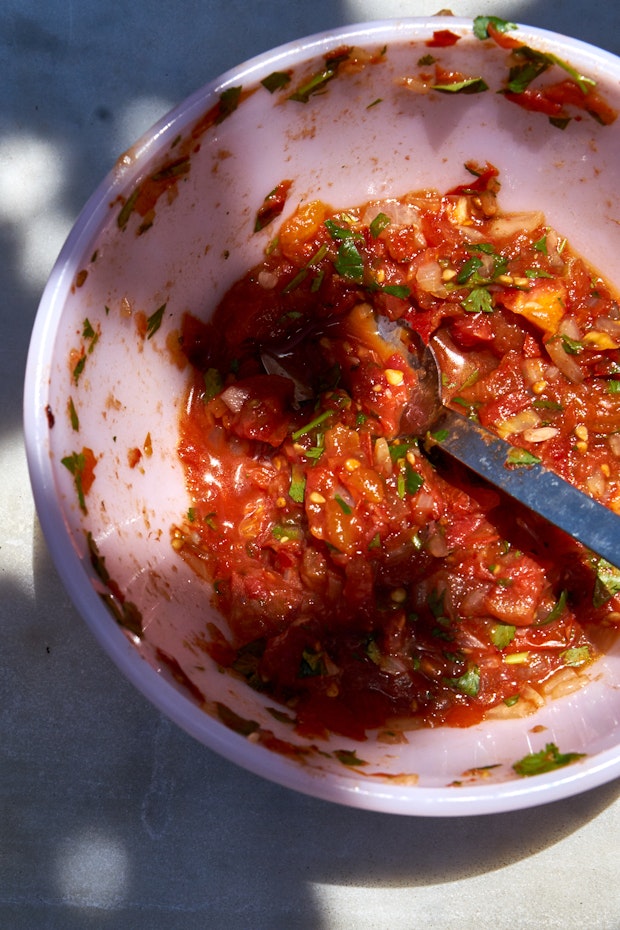 Not just for chips, this is the perfect salsa recipe for use on nachos, tacos, eggs, veggie burgers, quesadillas, kabobs.....a perfect addition of a Fourth of July spread. Other ideas? Give a shout in the comments.
Fourth of July Roasted Tomato Salsa
If you can't find a guajillo pepper, no worries - just leave it out of the recipe. The salsa will still taste delicious with just the roasted tomatoes and chipotles. You can also substitute another type of chile if you like. The reddish-brown guajillo are known for their strong, complex and earthy flavor, and medium heat. Feel free to experiment with more readily available chiles from your area until you find one you really like to play off the flavors of the chipotles and roasted tomatoes. Two chipotles can be very spicy, consider yourself warned. Start with one, or even one-half a chipotle if you or your family are heat-sensitive, and work up from there.
Ingredients
2

pounds

Roma tomatoes (or similar), cut in half lengthwise

1

medium white onion, cut into six wedges

1

large garlic clove, halved

a couple pinches of finely ground sea salt

2-3

tablespoons

of extra-virgin olive oil

1

medium dried guajillo chile pepper, soaked in boiling water until softened, and then drained

1 -2

chipotles in adobo sauce (canned)

1/2

cup

cilantro, roughly chopped
Instructions
Roast Ingredients
Heat oven to 400F degrees. Now gently tossed the tomatoes, onions, garlic, and salt with the olive oil in a large bowl. After they are nicely coated arrange in a single layer, tomatoes cut-side facing up, across a parchment-lined baking sheet. Roast in the oven for 25-30 minutes or until the tomatoes start to collapse and the onions begin to caramelize a bit. Remove from the oven.
Puree, Chop, and Combine
Puree the chiles (both the guajillo and chipotles) with the roasted garlic and two roasted tomato halves. Chop the remaining tomatoes by hand (once they've cooled a bit). Chop and add the onions as well. Season with salt generously, and stir in the cilantro.
Related Recipes
More Recipes
Popular Ingredients