Roasted Vegetable Orzo Recipe
Roasted delicata squash and kale tossed w/ orzo pasta & salted yogurt dressing & I try to answer a few questions about living with marble kitchen counter tops.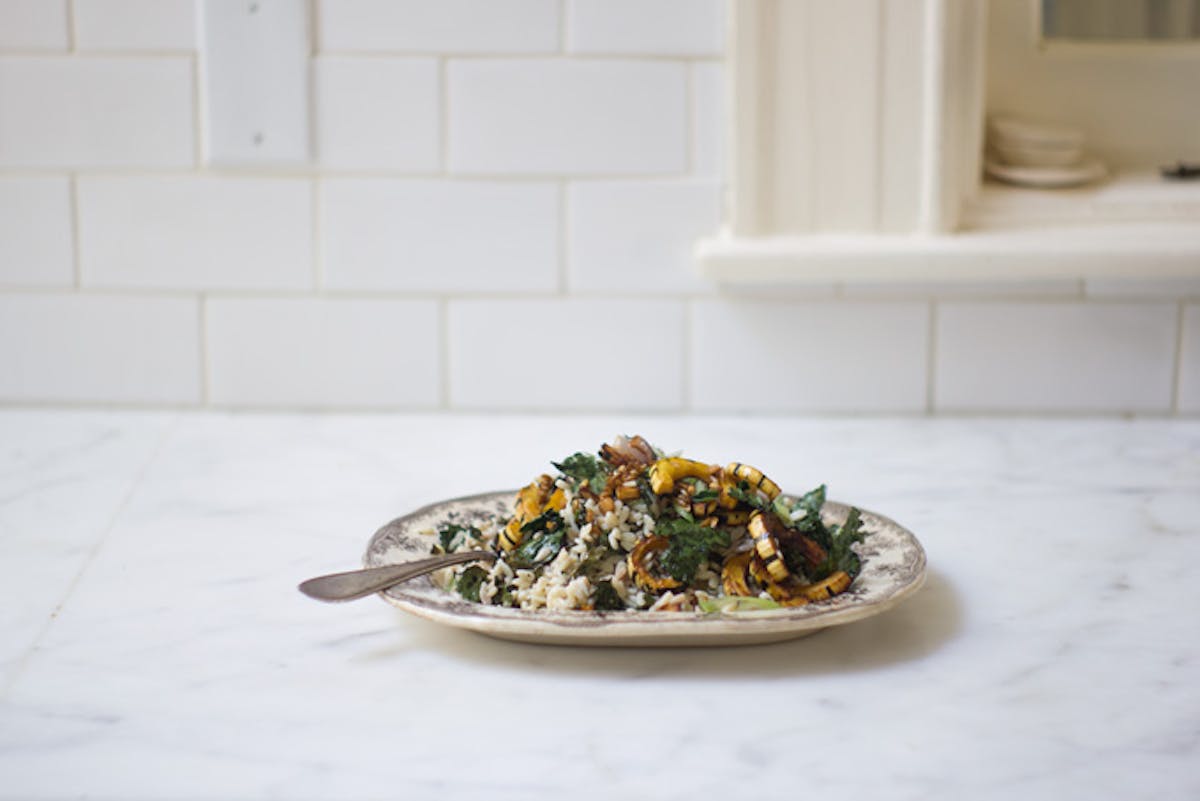 If a quick scan through my in-box is any indication, many of you are curious about...living with marble counter tops. The questions just keep coming, month after month, which makes me think this post is long overdue. So, let's give it a shot. After living and cooking in a very active, marble-countered kitchen, I thought I'd share some opinions, a bit of advice, and a recipe for the orzo salad I made on them just yesterday. Sound good? I'll kick things off by saying, you'll either love marble or it will make you crazy, anxious, and neurotic.
I love it, but made a number of decisions early-on that set the tone for our relationship. In short, I had no desire to keep it perfect. I wasn't even going to try. After I decided that, we were all good. I say this because absolutely every time anyone brings up the topic of marble in the kitchen, you end up talking about its propensity to stain, etch, and chip. Mostly the conversation revolves around staining.
My understanding is that many people apply a sealant every few years to help prevent staining and etching - we were advised that our counters needed re-sealing when we moved in nearly two years ago. The backstory: I suspect the counter tops here were installed about ten years ago when the entire building was renovated. The original sealant was applied at that point, and perhaps once more (?) in the meantime. At any rate, I decided when we moved in we wouldn't reseal them, for a few reasons. I don't like super-shiny marble, and I'm happy with a bit of etching, subtle discoloration, coffee blush, and all those things that come with a kitchen that has been much loved, and much-used. I want counter tops that tell a story over time. The kind that look like someone cooked, and prepped, and used them. Also, I use the counter tops directly for pastry and dough shaping, and don't love the idea of doing that on top of a chemical sealant that apparently wears off with use.
We do joke around a lot about "instant etching"...for example, when I'm juicing citrus, and there is acidic juice everywhere. In those sorts of scenarios, I try to be mindful, and will wipe that sort of thing off relatively quickly, but my overall attitude is more "whatever" / don't sweat it. That said, there are a couple exceptions related to my cooking style / repertoire. I'm careful with tomato sauce and tomato juice, wiping it off if it spills or splatters. And then there is turmeric, oh, and saffron. I'm not interested in having bright yellow stains across the marble, so I'm quite careful with those two. Or curry blends with turmeric in them. People seem to be particularly concerned about marble + red wine stains, but for whatever reason that hasn't been an issue. If we have friends over and there are wine glasses around they usually end up on the island or in the sink. If I was more concerned, I might make a pass through the kitchen once or twice over the course of a night to see if the counters needed a quick wipe down, but quite honestly, I never do. And the counters have been fine. I'm sure some of you have horror stories about marble counter tops (please share!), but so far, I like them more and more each day.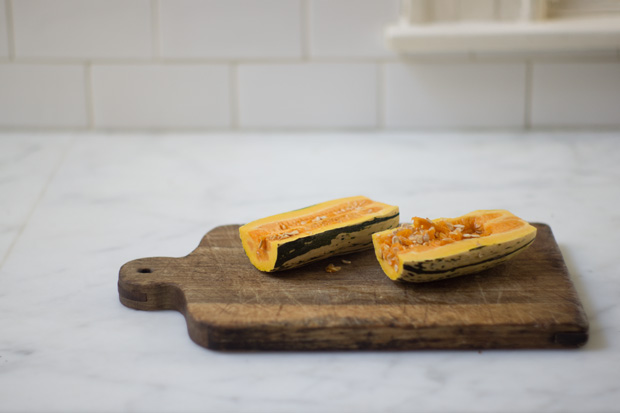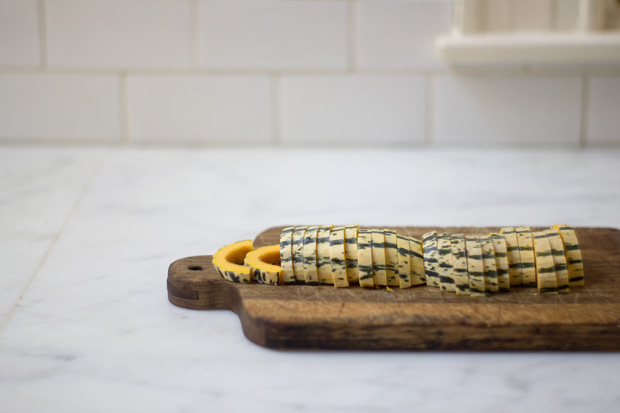 Today's recipe? I simply roasted a number of the ingredients I had around the kitchen. I can't get enough delicata squash this time of year, and I always roast and eat it with the peel on. Kale? It's hard to escape right now. The orzo is a blend of whole wheat and plain - the remainder of a bag I've had sitting around for months. I tossed it all with a salted yogurt dressing of sorts. All said, don't feel limited by the my choice of roasted vegetables here, you can certainly swap in whatever you can imagine would be good - another winter squash, broccoli, cauliflower, leeks, carrots - just roast each individually, until it is done (or tastes good)...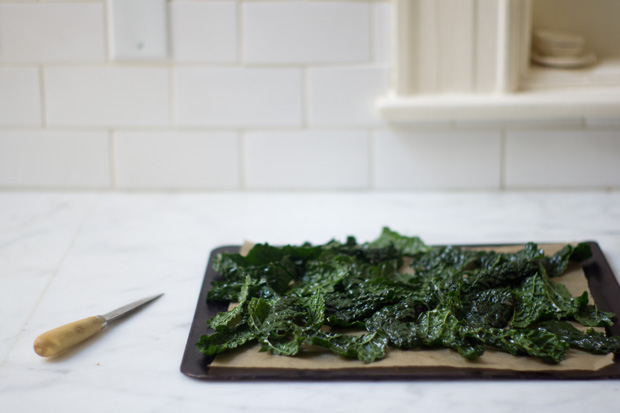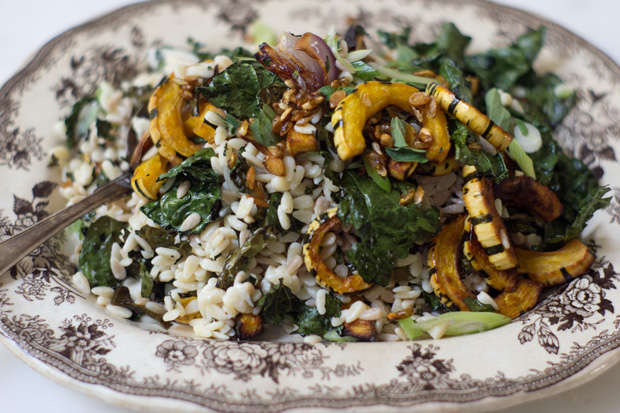 Let me know if you have any specific questions related to marble in the kitchen, or if you come up with any alternative to my version of the roasted orzo that you're particularly excited about. I suspect there are going to be many more meals along these lines for me in the coming rainy months. xo -h
Roasted Vegetable Orzo
I used a blend of whole wheat and plain orzo pasta here. Use whatever you have or like. I find having percentage of plain mixed in with the whole wheat lightens it up nicely while still getting the benefits of a whole grain pasta.
1 medium delicata squash, seeded & sliced 1/3-inch thick
3 shallots, peeled
2 tablespoons olive oil or melted clarified butter
fine grain sea salt
4 medium cloves garlic, peel on

12 kale leaves, washed & dried well, de-stemmed & cut into 3-inch strips

1 1/2 cups / 9 ounces uncooked orzo pasta
1/2 cup / 120 ml plain yogurt

For serving: slivered scallions, fresh oregano, toasted nuts or seeds
Preheat the oven to 400F / 205C with racks arranged in the top and bottom thirds. Line two baking sheets with parchment. You're going to roast the squash, shallots, and garlic on one sheet, and the kale on another.
Prep the delicata squash, and toss it in a large bowl with the shallots, 1 tablespoon of the olive oil, and a big pinch of salt. Arrange in a single layer on one of the baking sheets, add the garlic and place on the bottom rack, for about 30 minutes. Spin once or twice along the way to get even roasting - let it all get deeply golden.
After the squash is in the oven, use the same bowl to toss the kale with another splash of olive, and pinch of salt. Arrange the leaves on the other baking sheet and bake for about 10 minutes, or until you get a touch of browning, but the leaves are primarily still green. Set aside.
Get the pasta water boiling, salt well, and cook the orzo pasta. Drain and use quickly (warm) OR (if you won't be serving for a while) run under cold water, and toss with a tiny splash of olive oil.
For the dressing, extract the roasted garlic from its peel, and mash it with a bit of the yogurt and 1/4 teaspoon sea salt. Work in the rest of the yogurt, taste, and add more salt if needed.
When you're ready to serve, toss the orzo, and roasted vegetables with about half of the yogurt. Turn out onto a platter and sprinkle with scallions, oregano, and seeds/nuts. Serve the remaining yogurt to the side.
Serves 4-6.

Prep time: 10 minutes - Cook time: 30 minutes