Stuffed Shells Recipe
A stuffed shells recipe made with lemon zest and bright tomato sauce. Classic, with a hint of a twist. Everyone loves them.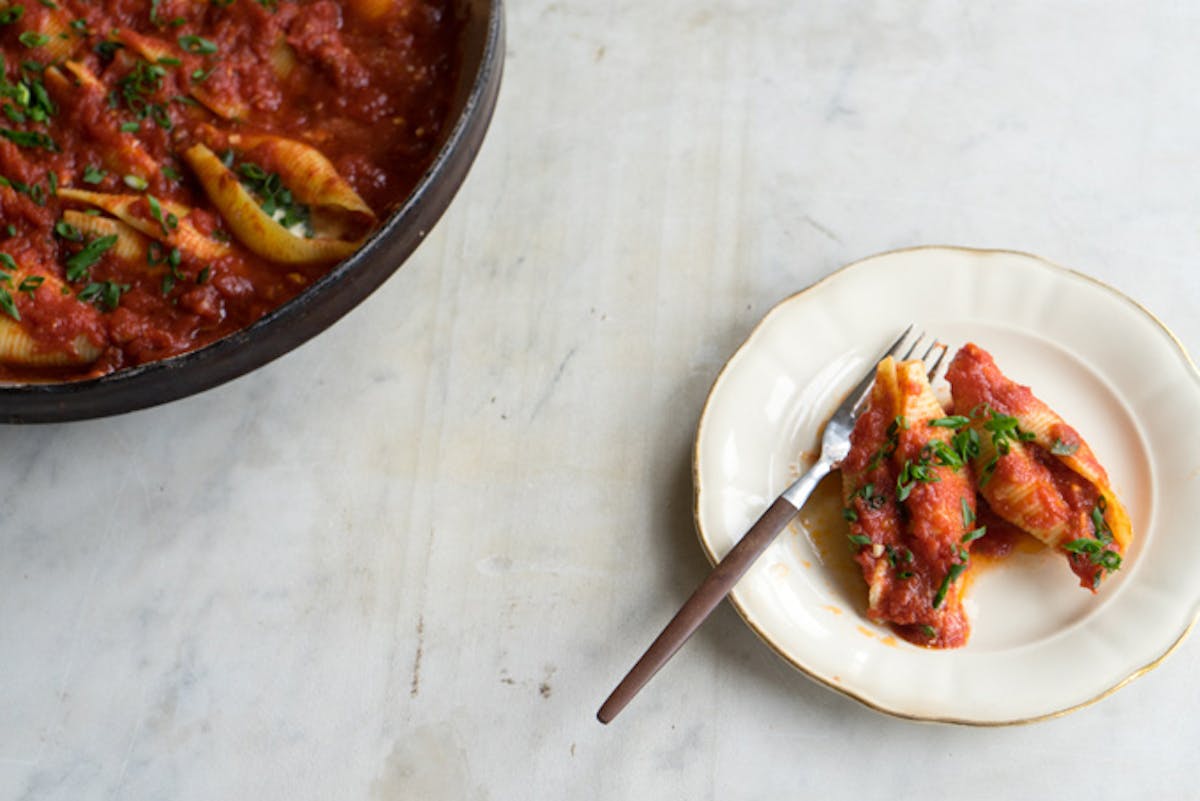 Wayne loves stuffed shells - straight up, red sauced, ricotta-stuffed snails of baked deliciousness. I made them five years ago, when we moved from our apartment a few blocks south of where we currently live, and I baked a batch the other night. They've made appearances on our table dozens of times in between. Said another way, as far as pasta recipes are concerned, stuffed shells are just straight-up crowd pleasers, and couldn't be simpler to make!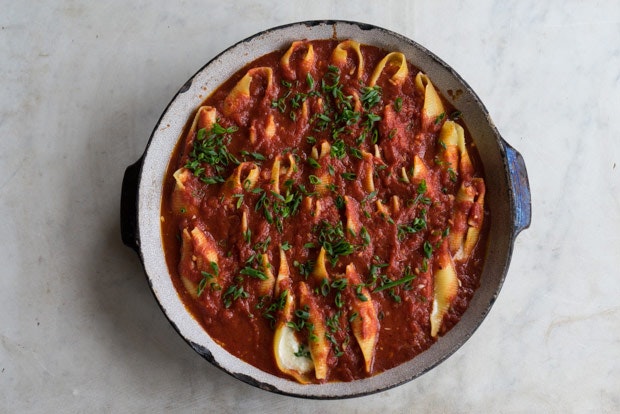 When I originally post this, I admitted stuffed shells were a bit of a cheat for a first-night meal. I did all the prep ahead of time, and then drove the shells up the street in the backseat of our car. But, man, did they hit the spot after an incredibly long day. And it was no big deal to make them.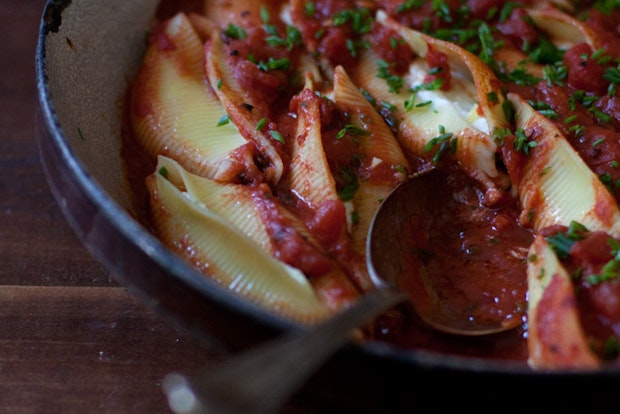 Although most of the kitchen was packed up, I was able to made a quick pot of my favorite tomato sauce a couple days prior. The day before the move, I made the ricotta mixture, filled each shell, and arranged them in a big baking dish. All I had to do is get them to the new apartment intact, and wash a mixing bowl and spoon.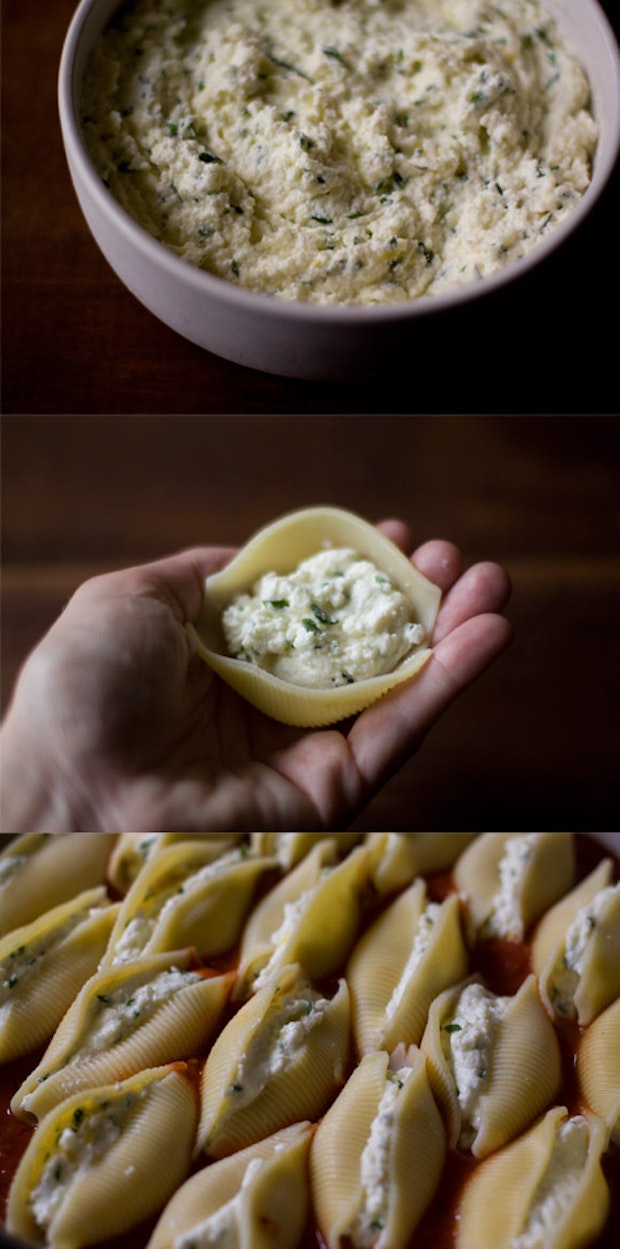 You fill each shell with a generous dollop of the ricotta mixture. The shells are nested in a baking dish coated with simple tomato sauce. More of the sauce goes on top, and then everything is baked.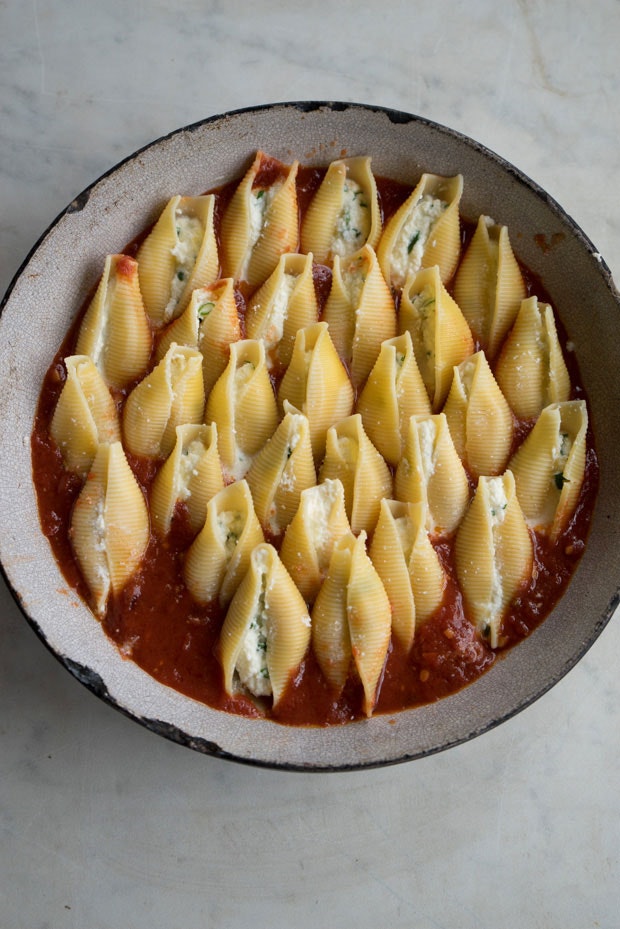 Stuffed Shells: A Few Tips and Techniques
The sauce: I like to make these shells with lemon zest in the filling and in the sauce. Not typical, but really tasty. The sauce I use is basically this five-minute tomato sauce. It's great here, on pizza, on just about everything. I love the pop of heat you get from the red pepper flakes in the sauce.
Individual Portions: You can bake the shells family-style, in one big pan, as pictured here. But, you can also bake them in individual portions in ramekins, gratin dishes, or Staubs, if you like.
Filling Ideas: Play around with the ricotta filling too - sometimes I add chopped olives, or chopped spinach, herbs, roasted seasonal vegetables, etc.
A Kid-friendly Recipe
Kids love filling the shells, and then lining them up side by side in the baking dish. It's a great recipe to get the whole family involved. Enjoy! -h
More Pasta Recipes
Favorite Pasta Sauces
Other Favorite Italian Recipes
Stuffed Shells Recipe
As I mention up above, you can make the components for this a couple days ahead of time if needed - i.e. sauce, filling. Also, you won't be able to fit 25-30 shells in your pan, but a few are always casualties of the boil, so I call for more than you'll likely need.
Ingredients
Sauce:
1/3

cup

/ 80 ml extra virgin olive oil,

plus more for the pan

1 1/2

teaspoons

crushed red pepper flakes

scant 3/4 teaspoon fine grain sea salt

4

medium cloves of garlic,

finely chopped

1 28-

ounce

can crushed red tomatoes

1 14-

ounce

can crushed red tomatoes
Filling:
1 15-

ounce

container ricotta cheese

1

egg,

beaten

1/4

teaspoon

fine grain sea salt

1

cup

/ ~5 oz grated mozzarella

1

bunch of chives,

minced

25-30

jumbo dried pasta shells
Instructions
Oil a 13 x 9-inch / 33 x 23-cm baking pan, or equivalent, and sprinkle the zest of 1/2 the lemon across it. Set aside. Get a big pot of water boiling, and preheat your oven to 350F / 180C with a rack in the middle.
Make the Sauce
To make the sauce, combine the olive oil, red pepper flakes, sea salt, and garlic in a cold saucepan. Stir while you heat the saucepan over medium-high heat. Saute just 45 seconds or so until everything is fragrant - you don't want the garlic to brown. Now stir in the tomatoes and heat to a gentle simmer, just a minute or two. Remove from heat and carefully take a taste (you don't want to burn your tongue)...If the sauce needs more salt add it now. Let cool.
Make the Filling
To make the filling, combine the ricotta, egg, and salt in a medium bowl. Mix until combined, then stir in the mozzarella, remaining lemon zest, and 3/4 of the chives. Set aside.

Cook the shells according to package instructions in well-salted water - until al dente. If you overcook, the shells will tear as you attempt to fill them. Drain and let cool long enough to handle with your hands - see photo.
Assemble
Spread 1/3 of sauce across the bottom of the prepared pan. Fill each shell with ricotta, and arrange in a single layer in the pan. Ladle the remaining sauce over the shells, cover with foil and bake for 30 minutes, uncover for the final 15 minutes or until the shells are cooked through. Sprinkle with the remaining chives and serve hot.
Related Recipes
More Recipes
Popular Ingredients