Roasted Winter Squash Salad Recipe
A wintertime riff on potato salad. No potatoes though, just winter squash, a beer-based dressing, rosemary, walnuts, currants, and celery.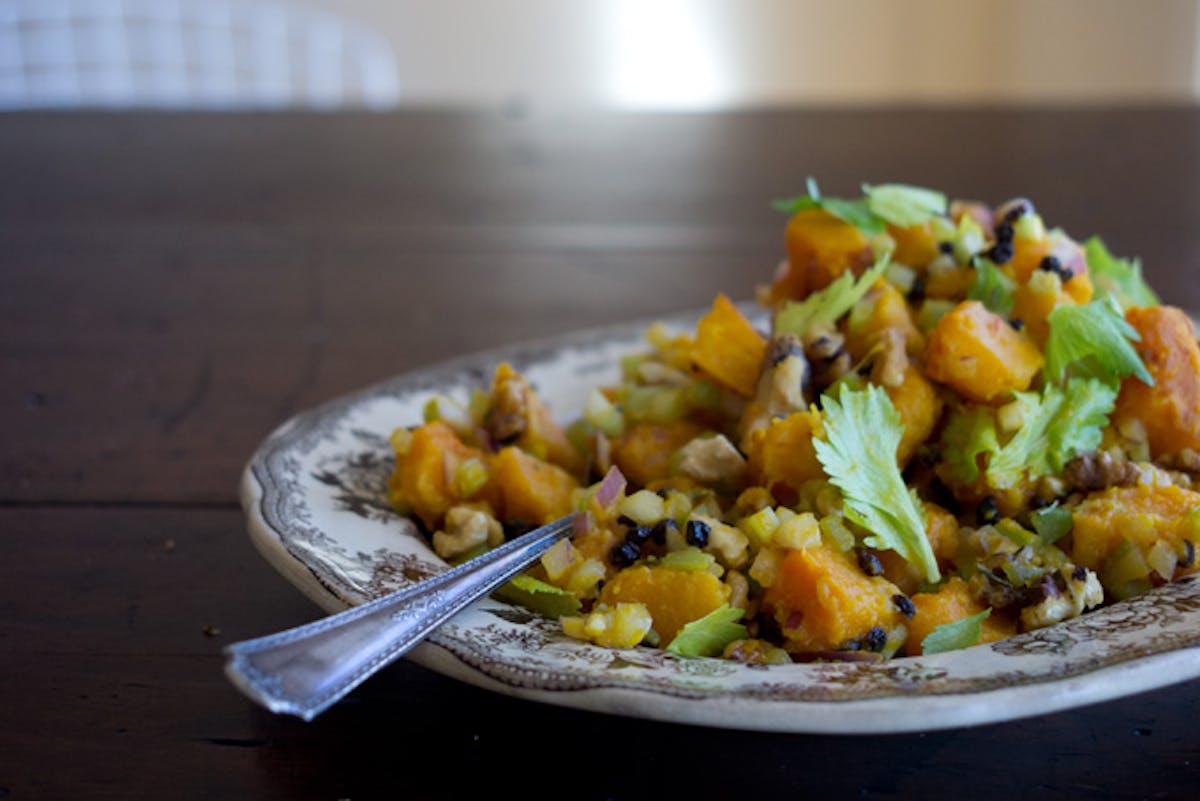 I keep buying kabocha squash. Orange ones. This is despite the fact that, orange or green, they're incredibly heavy. Now, before you jump to the conclusion that I'm a complainer, allow me to add this - the walk home from the farmers' market is best thought of as a summit attempt. Straight up, five blocks. And not only are the kabocha dead weight, but they also threaten to crush the eggs, and smash the little gems in my sack. Bag bullies. But I can't get enough of them, and I've come to terms with the fact that they're actually worth the fuss - just the right amount of sweetness, quick-cooking, velvet-textured, sunset-orange flesh, AND they don't have the stringiness of pumpkins.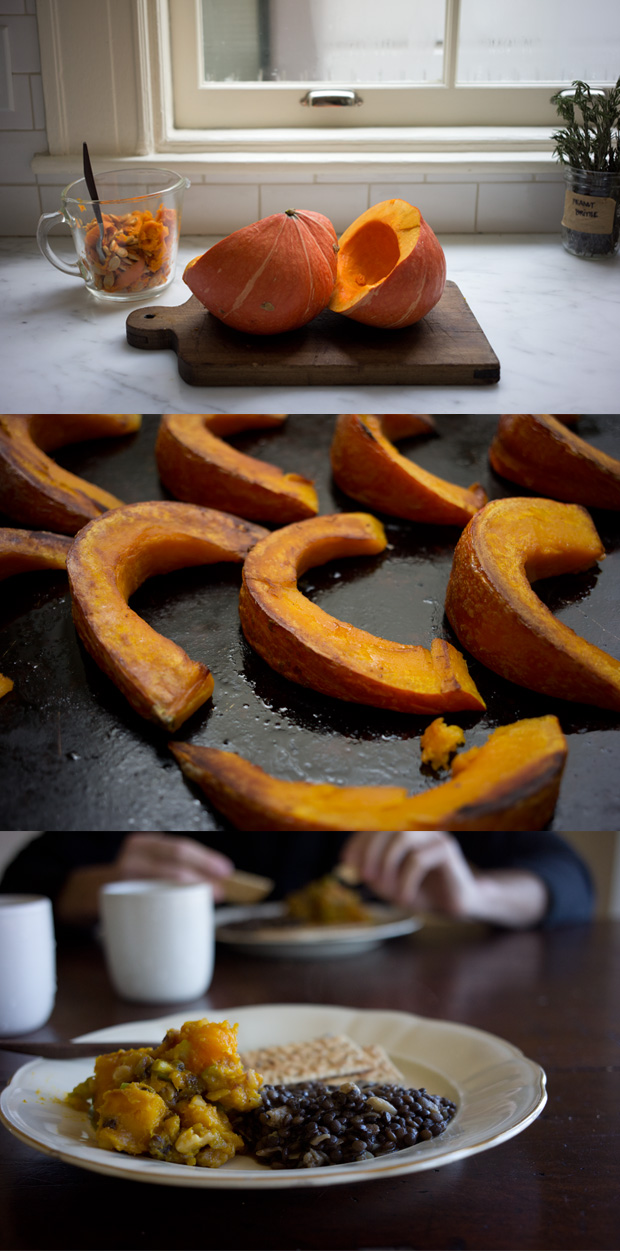 My absolute favorite way to eat the orange kabocha is this: roast fat wedges to within an inch of their life at 425F / 220C. They should end up deeply browned, the flesh tender and nearly falling from the sliver of skin lending structure. While still hot, eat straight from the skin - each bite with a smear of butter and a few flakes of good salt.
When you've had enough of that, I encourage you to try this. In short, it's a wintertime riff on potato salad. No potatoes though, just winter squash (kabocha, pumpkin, acorn, etc) roasted until brown-crusted and tender fleshed. Chopped celery and red onion lend crunch, bite, and that familiar flavor profile. The rest of the salad (in this case) came together from whatever was within arms reach; rosemary from the window-sill, the second half of my beer = dressing base, toasted walnuts and currants hopped up from spice drawer.
This is a long way of saying, if you come across these guys at the market, bring one home with you. I suspect you'll agree it's worth the effort. -h
Book signing: Just a quick reminder that I'll be at the Remodelista Holiday Market in Marin this Saturday 12/3 from 10-4. I'll have books to sell, and I'm happy to sign books you already have. Hope to see some of you there.
Roasted Winter Squash Salad
As I mentioned up above, I made this with orange kabocha squash, but I imagine it'd be nearly as good with acorn, delicata, or most other winter squash, really. I used walnuts, but I bet roasted pepitas or almonds would be great, and chopped dried figs in place of the currants. You can make and toss this ahead of time, but bring it to room temperature to serve.
1 pound / 450 g roasted winter squash*, cut into 1-inch / 2.5-cm chunks, skin removed

4 celery stalks (with leaves if possible), diced
1/ 2 medium red onion, finely chopped
2 big handfuls toasted walnuts, chopped
1/4 cup dried currants / dried figs

2/3 cup / 160 ml beer (something along the lines of Anchor Steam)
2 teaspoons Dijon-style mustard
2 tablespoons cider vinegar
3 tablespoons olive oil
1 1/2 teaspoon honey or brown sugar
1/4 teaspoon fine grain sea salt
If you haven't already roasted your squash, start there*.
In the meantime, make the dressing by whisking together the beer, mustard, vinegar, olive oil, honey, and salt. Taste, adjust with more sugar or salt if needed, and set aside.
Toss the squash in a large bowl with about a third of the dressing. Let it sit for a minute or two, add more dressing, and most of the celery, red onions, walnuts, and currants. Toss again. You'll likely have dressing left over, but this is a salad you should overdress in the beginning - the squash really drinks it up. Also, taste for seasoning at this point and add more salt if needed. Sprinkle with the remaining celery, red onions, walnuts, and currants, and enjoy. Let sit at least 5-10 minutes and serve.
Serves 6.

*Toss 1 1/2 inch thick slabs of (de-seeded) squash with a few gluts of olive oil, a sprinkling of salt, and 1 teaspoon chopped rosemary in the top third of a 425F / 220C oven until completely tender, about 15-20 minutes. Remove and let sit until cool enough to handle. For this recipe, slice into 1-inch / 2.5 cm chunks, leaving the skin behind.

Prep time: 10 minutes - Cook time: 20 minutes