Seeded Pumpkin and Feta Muffins
Savory muffins packed with spinach, feta and Parmesan cheeses, black pepper, mustard, and sunflower seeds. Adapted from a recipe in a lovely little self-published Australian cookbook, Martha Goes Green.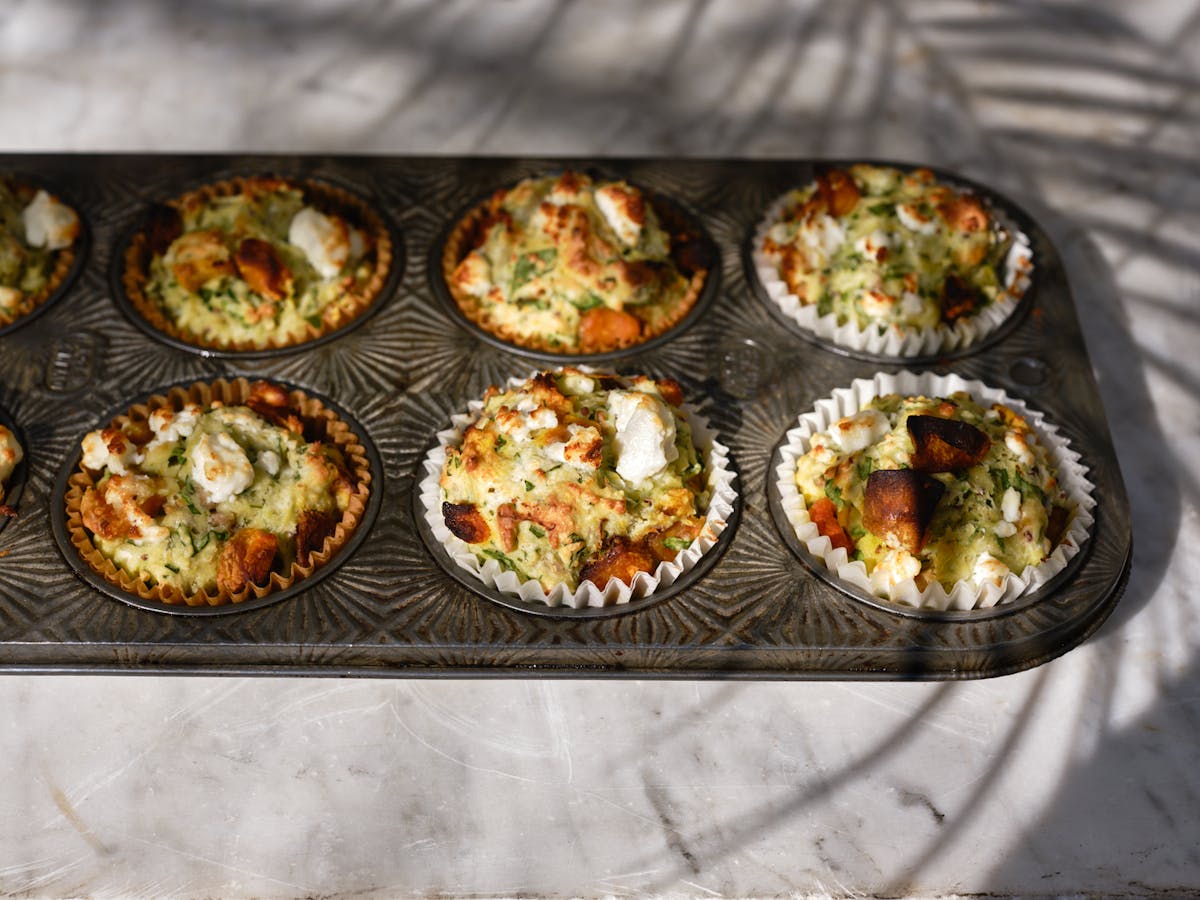 I originally highlighted this recipe in 2010, and revisited it last week. So good! You all know by now, I love self-published cookbooks. Particularly ones with a strong point of view, thoughtful design, and inspired recipes. In that spirit, I have a gem to share with you this afternoon. It is a light-hearted little cookbook titled Martha Goes Green, created by a media-savvy trio of friends in Melbourne, Australia. The book includes a recipe for these sunflower seed and spinach-flecked pumpkin feta muffins. Savory muffin fans, you know who you are, these don't disappoint.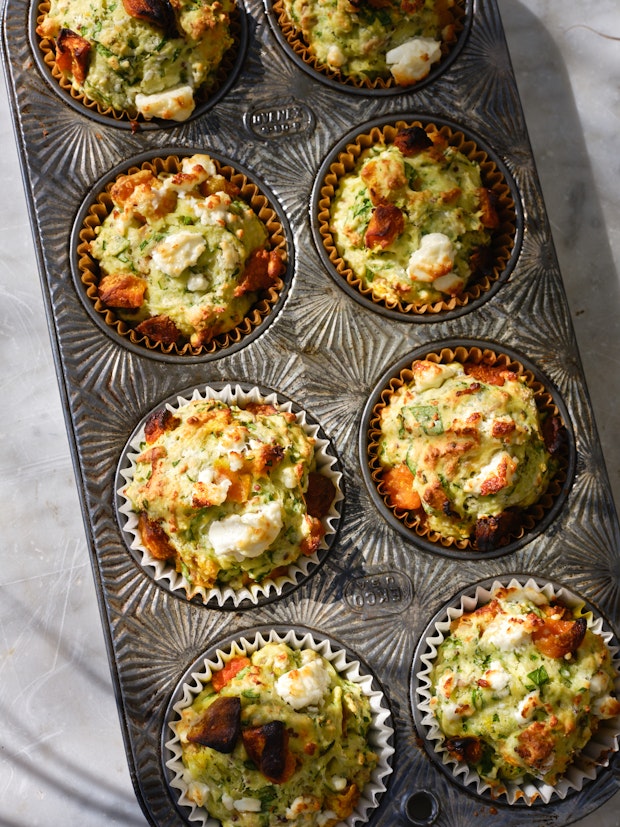 When I spent a month traveling around New Zealand a few years back, it became clear that New Zealand is the land of the A+ muffin. Scones too, but muffins in particular. There were lots of savory versions to choose from, but my favorites always had winter squash in them. If this book is any indication, I suspect Australia might be similar. Anyhow, these muffins are exactly the sort of thing I crave and remember from that trip. I love the kick of black pepper here, and the blend of cheese. It's not quite pumpkin season here, so I substituted butternut squash. But really, just about any winter squash will do.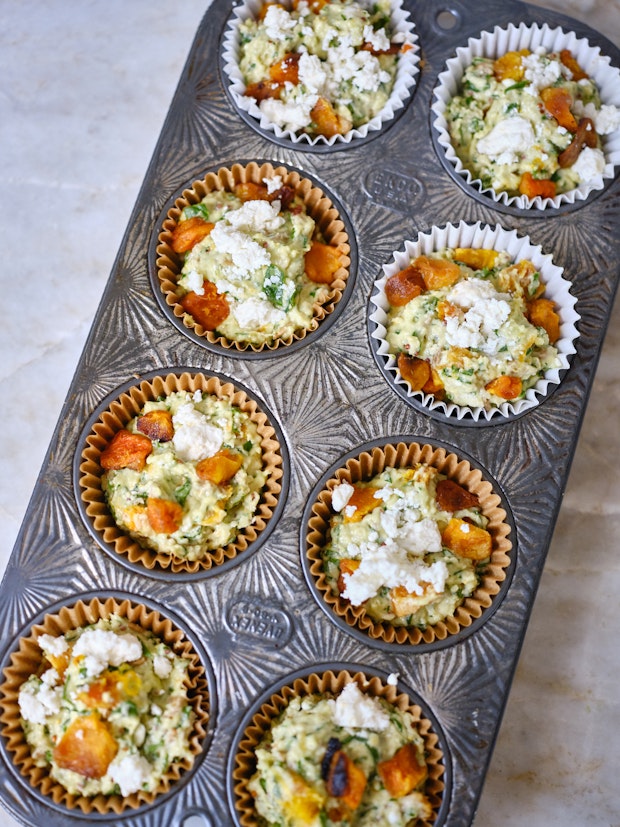 As far as the specs of the book go, Martha Goes Green is a collection of about fifty vegetarian recipes. It is just shy of 100 pages, spiral-bound and printed on recycled paper using vegetable based inks. Nearly all of the recipes have been photographed, and the book is punctuated with adorable illustrations by Jessica Honey. The recipes have an accessible, achievable vibe to them and I have the vegetarian pho, satay curry, stir fried noodles, and lentil mushroom moussaka earmarked to try next. The book doesn't seem to be available anymore (it has been over a decade), but you can still check in on some of the recipes here and here on Rosie's site.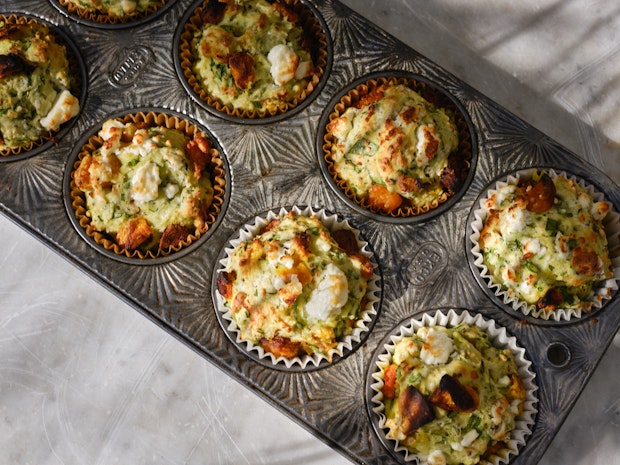 Other things to know about these muffins from people who have baked them over the years:
Michele says, "I froze a bunch, so wanted to let you all know they freeze well. And, while this is probably obvious, they need to be stored in the fridge. I forgot they weren't "regular muffins" and just left them in a container on the counter and the cheese went bad." Julia noted, "I only had fresh dill instead of the parsley and asiago in place of the parmesan. Was still really tasty." And, I've also done a version with pumpkin seeds in place of the sunflower seeds. Also great. There are a bunch of other ingredient swap suggestions in the comments along with people reporting back on gluten-free and vegan versions!
Seeded Pumpkin and Feta Muffins
The recipe calls for 2 cups of flour. There are a couple different flour combinations you might explore. The original: you can use unbleached all-purpose flour - 2 cups / 9 oz / 260g. Alternatively, I use equal parts APF and spelt flour which translates to 1 cup / 4.5 oz/ 130g APF + 1 cup / 4 oz / 115g spelt flour. I might try a whole wheat pastry flour version next time - using 2/3 wpp + 1/3 apf, the first time around - to see how that goes. You might need to add an extra splash of milk though.
Ingredients
1

tablespoon

unsalted butter

2

tablespoons

extra-virgin olive oil

2

cups

/ 9 oz / 255g cubed pumpkin or butternut squash, 1/2-inch cubes

salt and pepper to taste

1

large handful of baby spinach, chopped

2

tablespoons

chopped parsley or cilantro

1/4

cup

/ 4T. sunflower seeds kernels

3/4

cup

/ 1 oz / 30g freshly grated Parmesan

100

g

/ 3.5 oz / 1/2 cup cubed feta

1

tablespoon

whole-grain mustard

2

large eggs, lightly beaten

3/4

cup

/ 180 ml milk

2

cups

flour (see headnote!)

4

teaspoons

aluminum free baking powder

1

teaspoon

fine-grain sea salt
Instructions
Preheat oven to 405F / 200C, with rack in the top third. Use the butter to grease a 12-hole muffin pan and set aside, alternately, use paper liners.

Sprinkle the olive oil and some salt and pepper over the squash. Toss well and turn onto a baking sheet or roasting pan. Arrange in a single layer and bake for 15 - 25 minutes or until cooked through entirely. Set aside to cool. You can do this step a couple days in advance, and refrigerate the squash until you're ready to use it.

Transfer two-thirds of the squash to a large mixing bowl along with the spinach, parsley, sunflower seeds, Parmesan, two-thirds of the feta, and all of the mustard. Gently fold together. In a separate bowl beat the eggs and milk together and add to the squash mix. Sift the flour and baking powder onto the squash mix, top with the salt and a generous dose of freshly ground black pepper and fold together just until the batter comes together, be careful not to over mix.

Spoon the mixture into the prepared pan, filling each hole 3/4 full, top each muffin with a bit of the remaining squash and feta (see photo up above). Bake for 15-20 minutes or until the tops and sides of the muffins are golden, and the muffins have set up completely. Let cool for a couple minutes then turn out onto a cooling rack. I like these muffins cooled a bit, served just warmer than room temperature.
Notes
Adapted from a recipe in Martha Goes Green by Rosie Percival and Ruth Friedlander.
Related Recipes
More Recipes
Popular Ingredients