Rosewater Plum Compote Recipe
A stunning jewel-colored rosewater plum compote. It can make ordinary french toast, waffles, pancakes, and crepes, and vanilla ice cream extra special.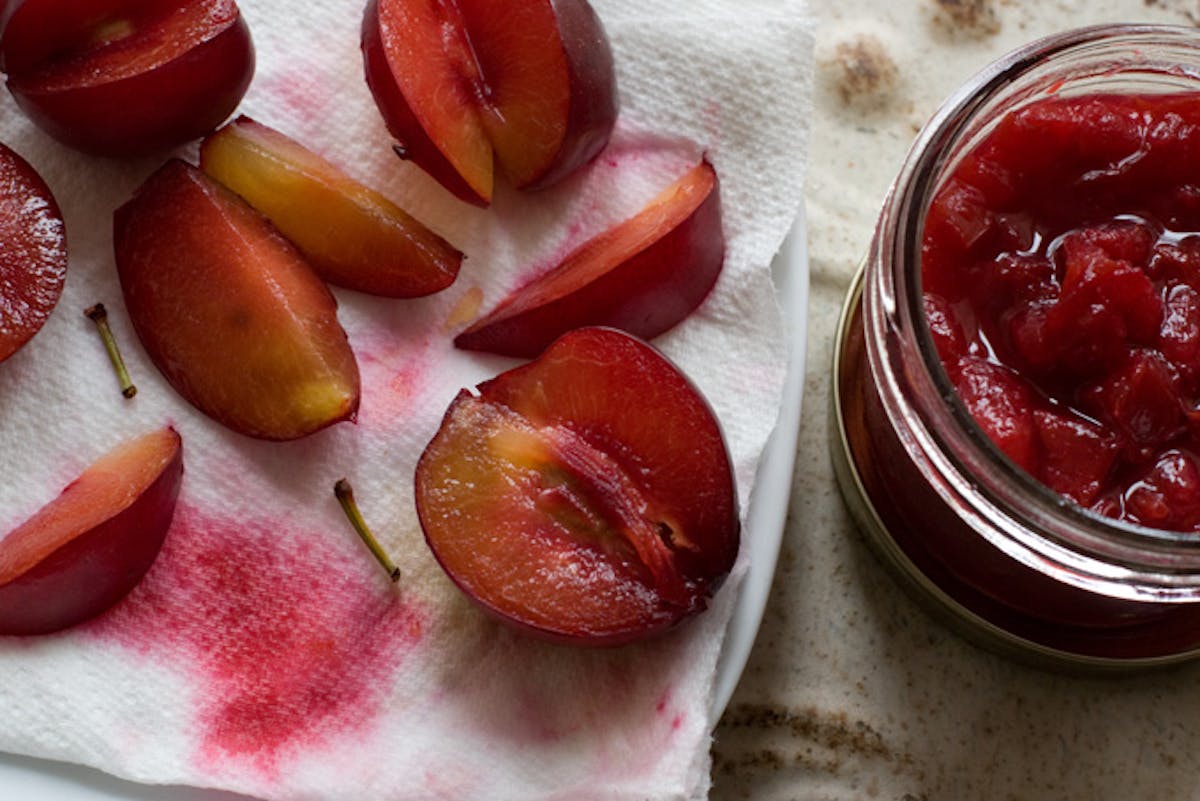 It's plum season. I can see it coming and going from my back porch. Just over our backyard fence in a neighbor's otherwise barren backyard are three huge plum trees. I can see deep maroon orbs clinging to the top branches where the sunlight is generous. If I turn my glance to some of the inner branches the plums range in color from green to a vibrant ruby-purple depending on ripeness. There are hundreds, maybe thousands of plums, and every one of them will end up in the dirt beneath those trees by the end of the season. There is a pit bull who lounges in the shade at their base guarding the bounty, or I'd almost certainly consider loosening a board or two in the fence to squeeze through and harvest them myself.
The first year we lived here, three or four years back, a few of the plum tree branches crossed over into our yard - Wayne and our friend (and downstairs neighbor) Quyen used a ladder to reap a basketful of plums. Unfortunately, an overzealous gardner cropped those branches back that year, and we can no longer reach the nearest tree. I suppose I could walk over and knock on the door of this house, but I've never seen a person in that back yard, I don't have any idea who lives there, and to be honest I'm a bit intimidated.
So instead of doing anything useful, round about this time every year as I run into friends and neighbors out in front of the house, I ask them to dream up ways to get at the plums. So far no luck with those trees, but the good news is that my other neighbor Kitty brought me a huge bag of deliciously ripe plums courtesy of HER friend with a tree! They are sweet and tart at the same time and in certain fruits the flesh graduates from a rich yellow-orange to a deep blood-range color all in once slice.
So, the dilemma. What to do with all those plums? I decided on a compote. It was late at night when I started, and I wanted something that would come together quickly. I wasn't up for the whole canning and sterilizing thin at that hour. This compote is not overly sweet, and the kiss of sweetness plays nicely with the bit of tartness I mentioned. I couldn't help but think a splash of rose water would mingle beautifully in this compote and lend a subtle floral nose to the compote, so I added that as well.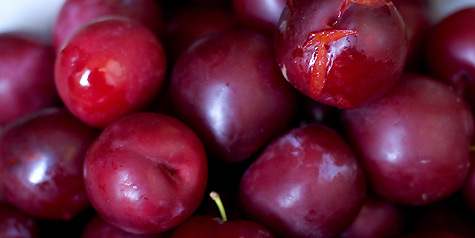 It is the kind of thing that will make ordinary french toast, waffles, pancakes, and crepes just a little more special. It would make a wonderful vanilla ice cream topping. Wayne threw it on an almond butter sandwich for lunch. You might want to "can" it as you would other preserves, but I made this batch to enjoy fresh. You might also try a version with a bit of pectin for more of a jam texture. Or a puree might be nice as well....
Rosewater Plum Compote Recipe
I believe the plums I received were Santa Rosa. Feel free to cut this recipe in half if you don't have access to the bounty of a neighborhood plum tree. Rose Water can be found in many ethnic and Middle Eastern markets. Don't worry if you can't locate it, the compote will be delicious without it as well.
5 pounds plums
1/3 cup fresh lemon juice
1 pound sugar (I used fine-grain organic cane sugar)
3 tablespoons rose water
Have a big bowl ready. Pit and chop the plums into small 1/2-inch pieces. As you chop place the chopped plums in the bowl and toss with a drizzle of the lemon juice every once in a while. When all the plums have been chopped gently toss them with any remaining lemon juice and the sugar. Stir in the rose water. If you have some time to spare, let the mixture sit for twenty minutes or so.
In your largest, widest, thickest-bottomed pot bring the plum mixture to a boil over medium heat. Stir regularly scraping the bottom of the pot to make sure the fruit doesn't burn. Adjust the heat if needed and cook at a lazy boil for about 20-25 minutes, skimming off any foam that develops on top. Be mindful of the texture of the fruit, you don't want to overcook (or over stir) the fruit to the point that it breaks down and goes to mush.
Remove from heat and spoon the compote into individual jars. Refrigerate until ready to use. It will keep for about a week like this.
Makes about eight 1/2-pint jars of compote.