Plum and Peach Crisp Recipe
This rustic plum and peach crisp has a generous oat-flecked crumbly crust. Paired with a dollop of cold, creamy vanilla ice cream - heavenly.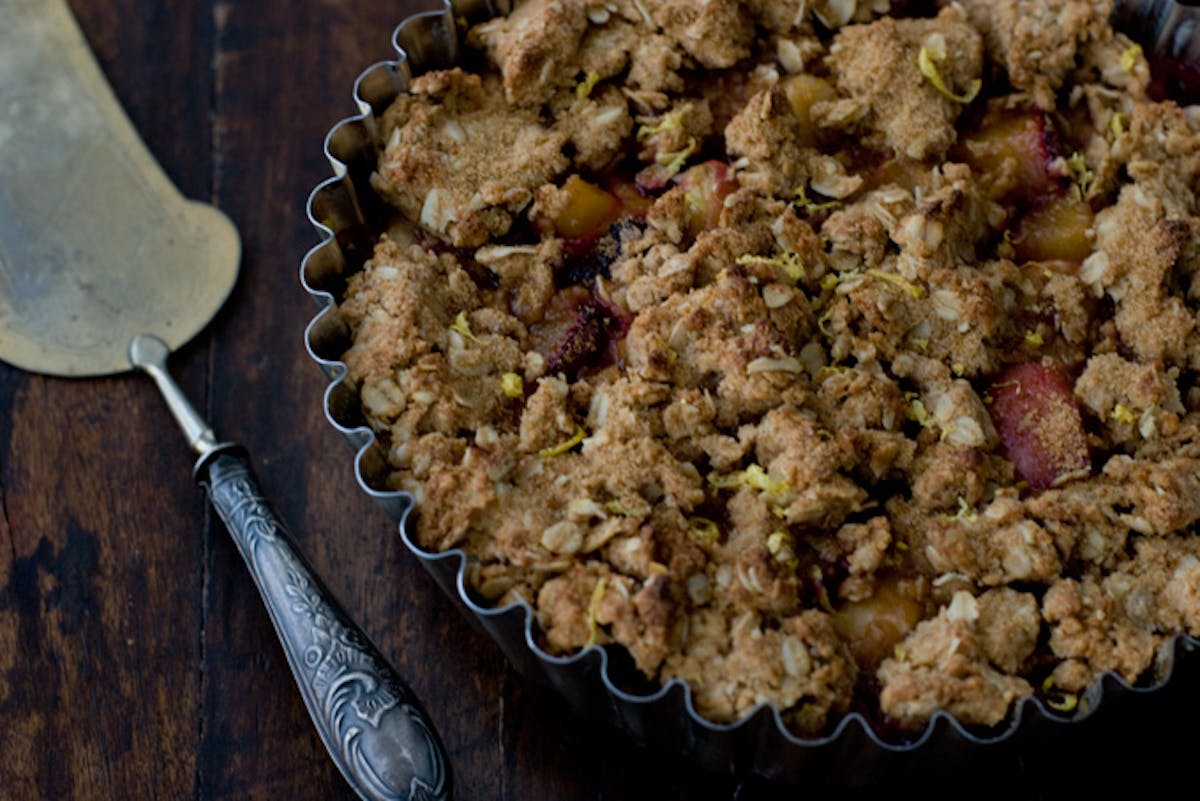 My friend Whitney had a baby girl last week, so Wayne and I decided to drive over to Berkeley to pay a visit to the new arrival and enjoy a nice lunch. I didn't want to show up empty handed, so we decided to put the remainder of the plums from the last post to use in a rustic plum and peach crisp - with plenty of extra crisp, or crumble, or whatever you call the topping part. I suspect I'm like many of you in liking a high crisp to fruit ratio. When it comes down to it, I'm after a spoonful of oat-flecked crumbly crust, some deliciously warm and fragrant fruit, paired with a dollop of cold, creamy vanilla ice cream. I'm not sure it gets much better.
In my mind a good crisp recipe incorporates a few other considerations as well. First off, I don't like overcooked, un-textured fruit, so I keep my cooking time relatively short compared to other crumble or crisp recipes. Just enough to get my topping nice and golden.
Also along these lines, use fruit that is ripe, but not overly ripe. You want the fruit to retain shape and texture. Too ripe it goes to mush. Not ripe enough, you'll fight the stone fruits through the entire slicing and pitting process. They let you know when they are ready.
I also scale back on the sugar a bit. A lot of crisps, cobblers, and crumbles (or pies for that matter) are overly sweet. I try to make my crisps just sweet enough - because when you pair an overly-sweet crisp or cobbler with a big scoop of sweet vanilla ice cream, it's a bit much.
The only time-intensive part of a recipe like this is cutting the fruit. I'm sure some of you will ask about using frozen fruit. While it isn't quite the same, I've used frozen fruit in crisps and cobblers on occasion with success. Someone also suggested cutting and freezing segments of my plum bounty for use later in the year - great idea.
Thanks to everyone who sent me emails encouraging a visit to my neighbor last week. I'll keep you posted on that front. Also! I heard from Barry, the Unwilling Cook last week - I'll post an update from him soon as well.
Enjoy the crisp recipe, and feel free to swap in your favorite stone fruits and berries. You could also do individual versions in ramekins as well.
Plum and Peach Crisp Recipe
A couple other notes about this recipe: In addition to being very sweet, most crisp/crumble/ cobbler-type toppings are big-time butter bombs - unnecessarily so. I tried to scale back a bit here without sacrificing taste or texture, and used yogurt to keep things moist. You can sweeten the fruit part to taste with whatever sweetener you prefer. Honey might work nicely with all peaches, etc.
Fruit:
1 pound ripe peaches
1 pound ripe plums
1/4 cup natural cane sugar (or brown sugar)
1 tablespoon plus 1 teaspoons arrowroot (or cornstarch)
a scant 1/2 teaspoon orange blossom water (opt)

Crisp:
3/4 cup rolled oats
3/4 cup white whole wheat flour (all-purpose flour)
1/2 cup natural cane sugar (or brown sugar)
1/2 teaspoon cinnamon
big pinch of salt
1/3 cup butter, melted
1/3 cup yogurt

Special equipment: 8x8 square baking dish or equivalent
Preheat the oven to 400F degrees.
Cut the peaches and plums into bite-sized, 1-inch pieces. I cut relatively chubby slices and then cut them again in quarters or thirds. Place the chopped fruit in a medium-sized bowl.
In a separate small bowl whisk together the 1/4 cup sugar and the arrowroot. Sprinkle over the fruit, toss gently (but well), add the orange blossom water (optional), toss again, and transfer the fruit to an 8-inch square baking dish (or your favorite equivalent-sized, deep-sided, solid-bottomed tart pan).
To make the topping combine the oats, flour, sugar, and cinnamon together in a medium bowl. Stir in the butter, and then the yogurt and mix until everything comes together in a dough-like texture. Sprinkle the crumble evenly over the plum and peach mixture.
Place the baking dish in the oven, middle rack, and bake for about 20-25 minutes, or until the topping is golden. Sprinkle a bit more sugar on top as it comes out of the ovens, and if you have a lemon onhand, grate a bit of zest on top (optional). Enjoy warm or at room temperature.