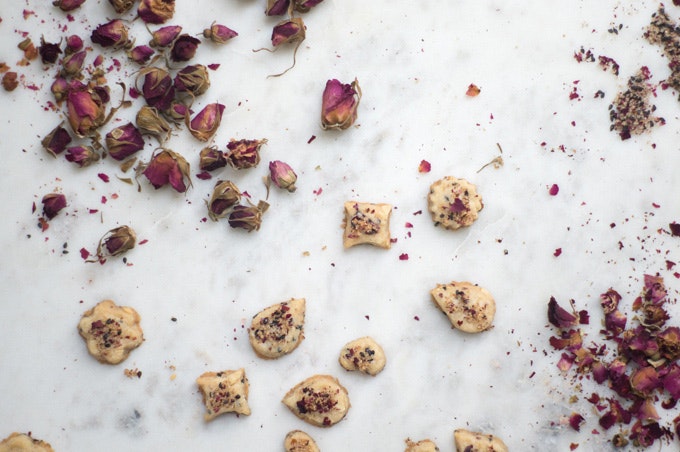 Rosewater Shortbread Recipe
Looks like there is a big storm headed our way, so I'm going to sneak these in here, and then do a few fun things like check all the batteries in the flashlights. Also, I know this is holiday cookie season, and perhaps these beauties aren't altogether appropriate - but I can't help but share them with you. They're buttery whole wheat shortbreads fragrant with rosewater, flecked with toasted nuts, and dried rose petals. They have a crunchy dusting of sugar on top that provides a satisfying, sweet tongue scratch, and are punctuated with black sesame. I'm not even going to lie - it took a few attempts to nail them down. As many of you know - dealing with floral flavors can be a bit tricky. But the idea for them developed as I was attempting tiny cookies to bring to a friend's house who was cooking an impressive Ottolenghi-inspired feast. I was tasked with dessert, and thought these would be a pretty finish.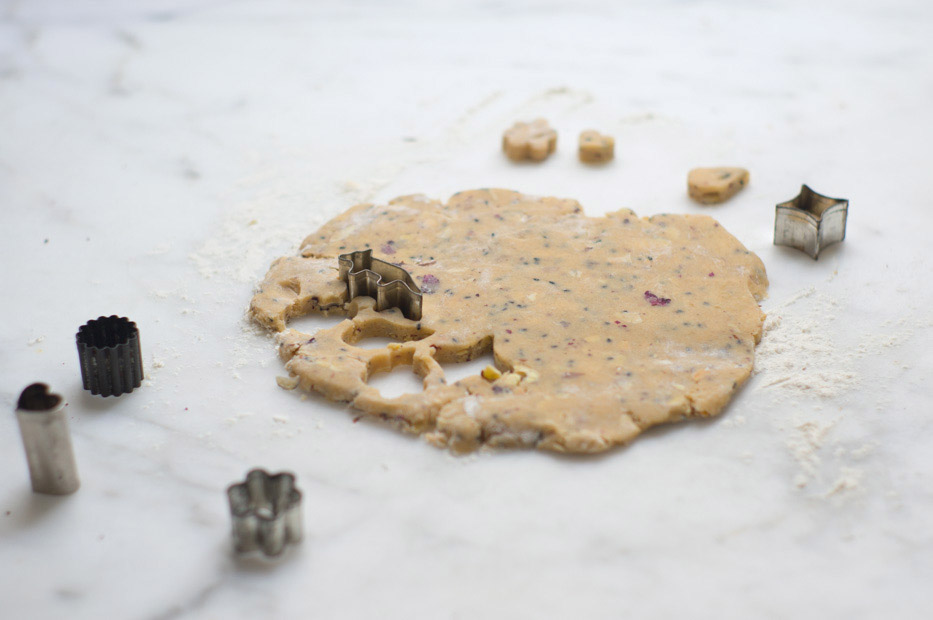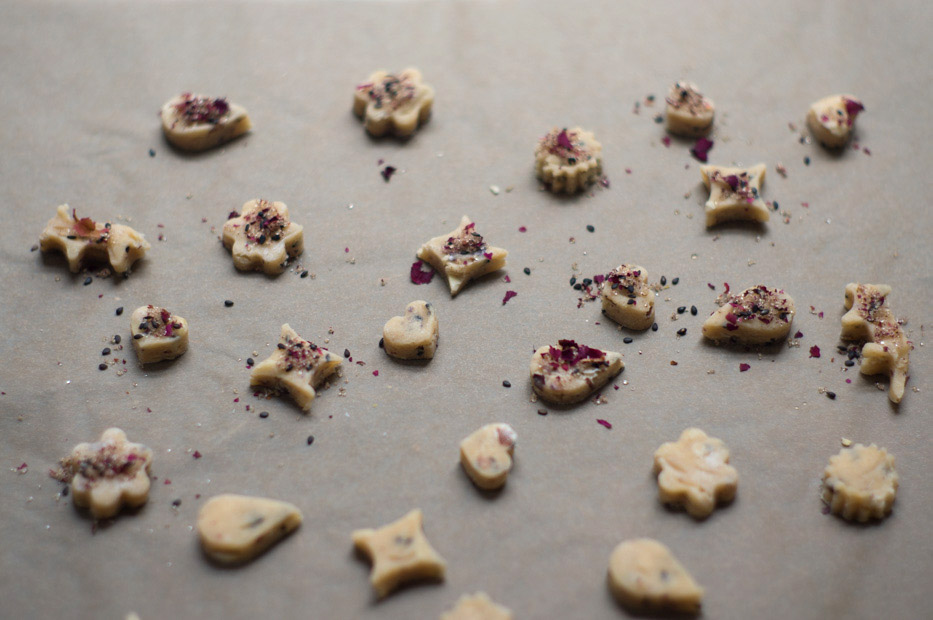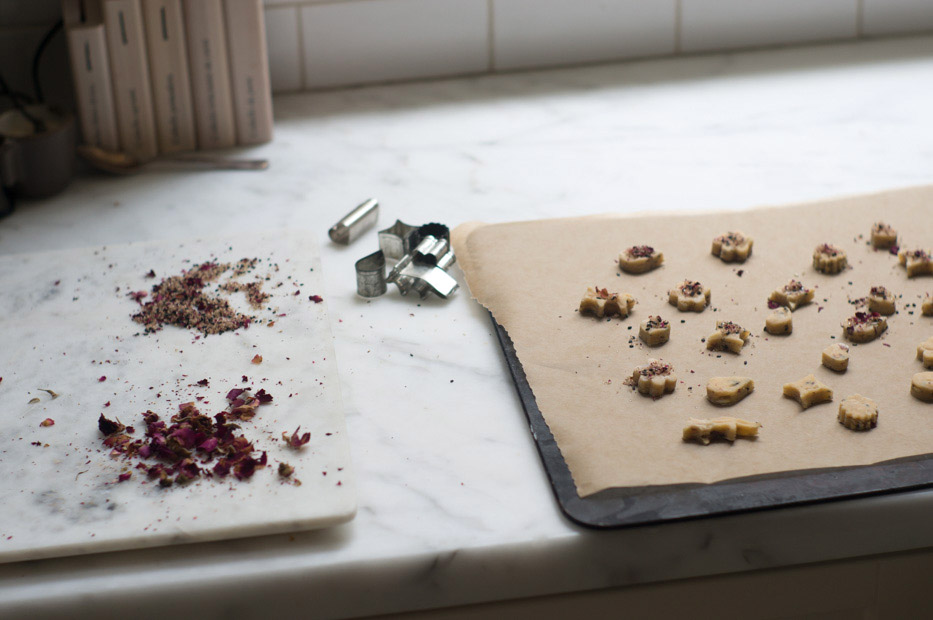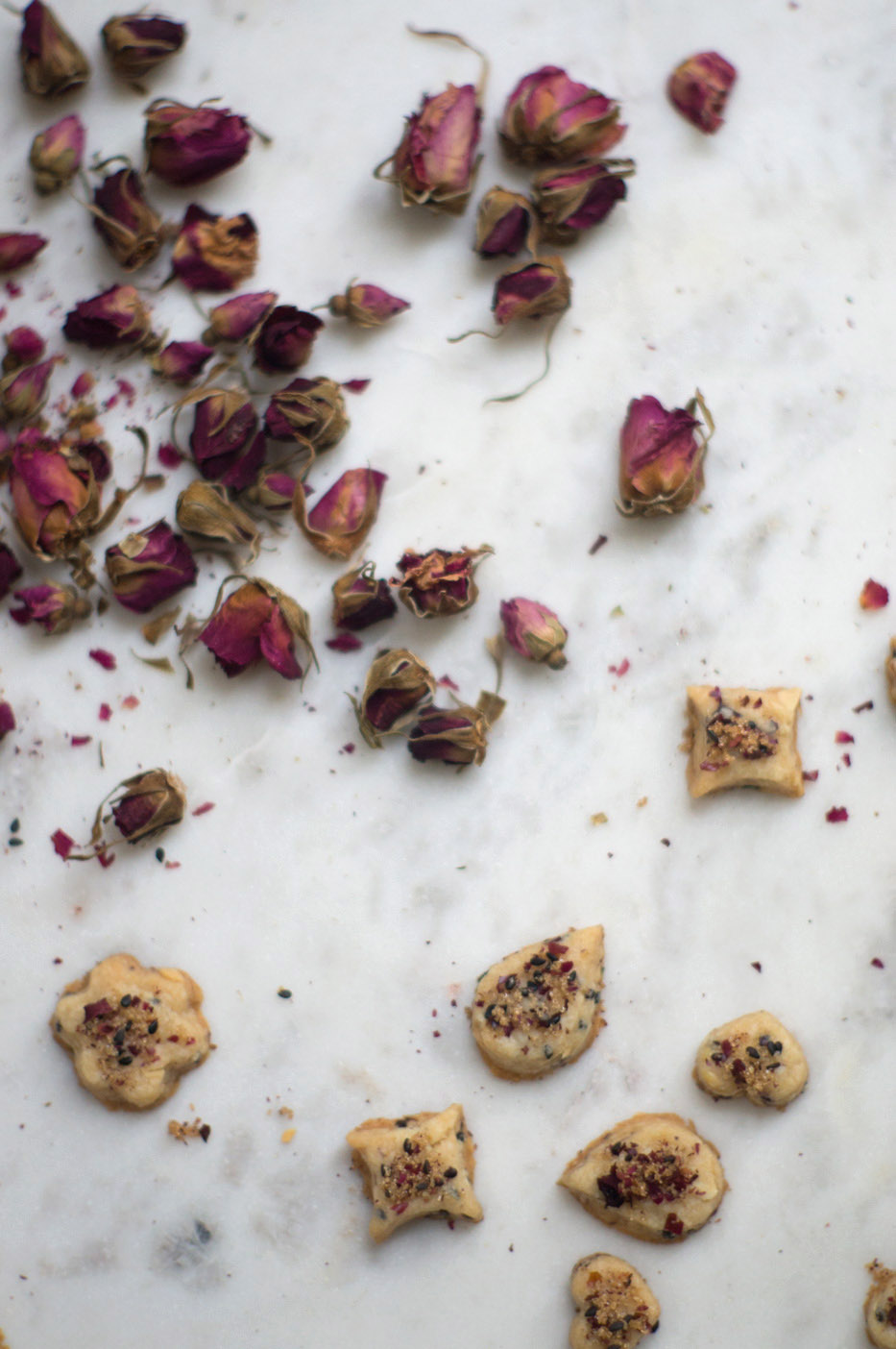 This trick with florals is figuring out how much is too much, and how little is too little. The first couple of attempts I used dried rose petals only, and a good amount. But the flavor got pushed around a bit, bullied and overpowered by the browning butter. So I gave the rose notes a boost by layering the petals in the dough with a splash of rose water. They dough immediately became more fragrant, balanced, and what I intended (and hoped for) from the start. I'd still suggest using a bit of caution when baking with rose water, because each bottle seems to vary in strength, quality, and scent. Strictly for reference, I'll mention that I used Nielsen-Massey Rose Water. If you're unsure about the quality or strength of your rose water, start with half, and taste the dough. You can always adjust with more from there. Trust your senses :)!
I hope to see some of you locals at the Remodelista Markethere in San Francisco this weekend. Hopefully the worst of the weather will have moved through by then.
Rosewater Shortbread
As far as dried rose petals go, I typically dry my own from unsprayed roses I buy at the farmers market. I've seen them available in Mexican grocers, and also if you search around online you can find them. Also, they're a very pretty component to these cookies, but if you had to leave them out, and rely on the rose water only, they'd still be delicious.
1 cup / 4.5 oz / 130 g unbleached all-purpose flour
Scant 1 cup / 4.5 oz / 130g whole wheat pastry flour
1/3 cup / 1 oz / 30 g lightly toasted, sliced, pecans
1 tablespoon dried rose petals, plus more for sprinkling
1 tablespoon black sesame seeds, plus more for sprinkling

1/2 pound (2 sticks) unsalted butter, softened
1/2 cup / 3.5 oz / 100 g sugar
scant 1/2 teaspoon fine sea salt
2 teaspoons rose water
large grain sugar, for sprinkling
In a medium bowl whisk together the all-purpose and whole wheat flours, pecans, rose petals, and sesame seeds. Set aside.
In a separate medium bowl, or in the bowl of an electric mixer, beat the butter with the sugar, salt and rosewater, until smooth and creamy, about a minute. Add the flour mixture and mix until barely combined. Scrape the dough into a ball, and if you feel like it needs to come together a bit more, knead it once or twice on the counter top, or until it is smooth. Shape into a round, flat patty shape wrap tightly in plastic, and refrigerate for a couple hours, or overnight.
About fifteen minutes before you're ready to stamp out your cookie shapes, remove the dough from the refrigerator. Position racks in the top and bottom thirds of the oven and preheat to 350F / 180C. Line baking sheets with parchment paper.
Roll the dough out 1/4-inch thick on a lightly floured counter top, and stamp into desired shapes. You can collect and roll out dough scraps as well, after your first round of stamping. If the dough gets too warm, put it back in the refrigerator for a bit. Place the cookies at least an inch apart on a prepared baking sheets, sprinkle each cookie with a combination of large-grain sugar, rose petals and sesame seeds, then chill them one last time in the freezer for another ten minutes.
Bake until the cookies are golden at the edges, 13 to 15 minutes, but watch them closely. It's more about coloring than time here. Rotate the sheets back to front about 9 minutes in. Remove from the oven and after a minute or two transfer to a baking rack to cool completely.
Store leftovers in a big jar, they keep beautifully for days. The recipe makes dozens of tiny cookies, the yield really depends on the size of your cookie cutter.