Rye Pasta Recipe
A rustic rye pasta dough made with my little, hand-cranked, Mercato Atlas pasta machine.
My little Marcato Atlas pasta machine has been out on the counter for the past couple of weeks. It is compact, stout, heavy for its size, and manual. I've had it for more than ten years, but perhaps less than fifteen. And it teaches me lessons about making pasta that I forget and have to relearn each time there is an extended gap in our time together (of which there are many). I like to use the Atlas to make egg pasta - "00" flour enriched with an impossible number of electric yellow egg yolks, good for fettuccine and tagliatelle. But I've switched things up the past few days and have been rolling thin rye pasta. It's a nice option for the winter months, it freezes well (so I can make a lot in one go), and you can drop tangles of the noodles into a range of restorative winter broths.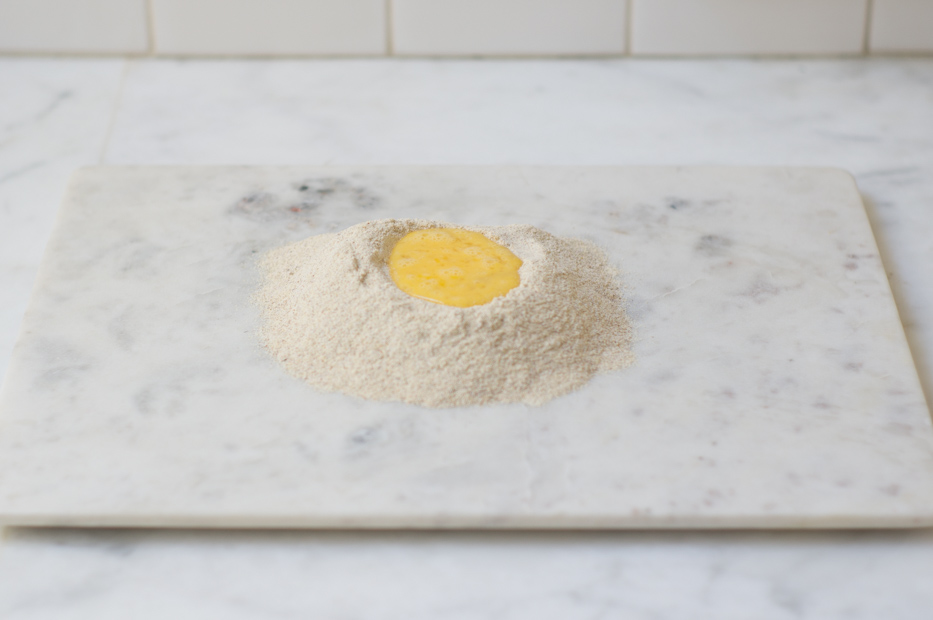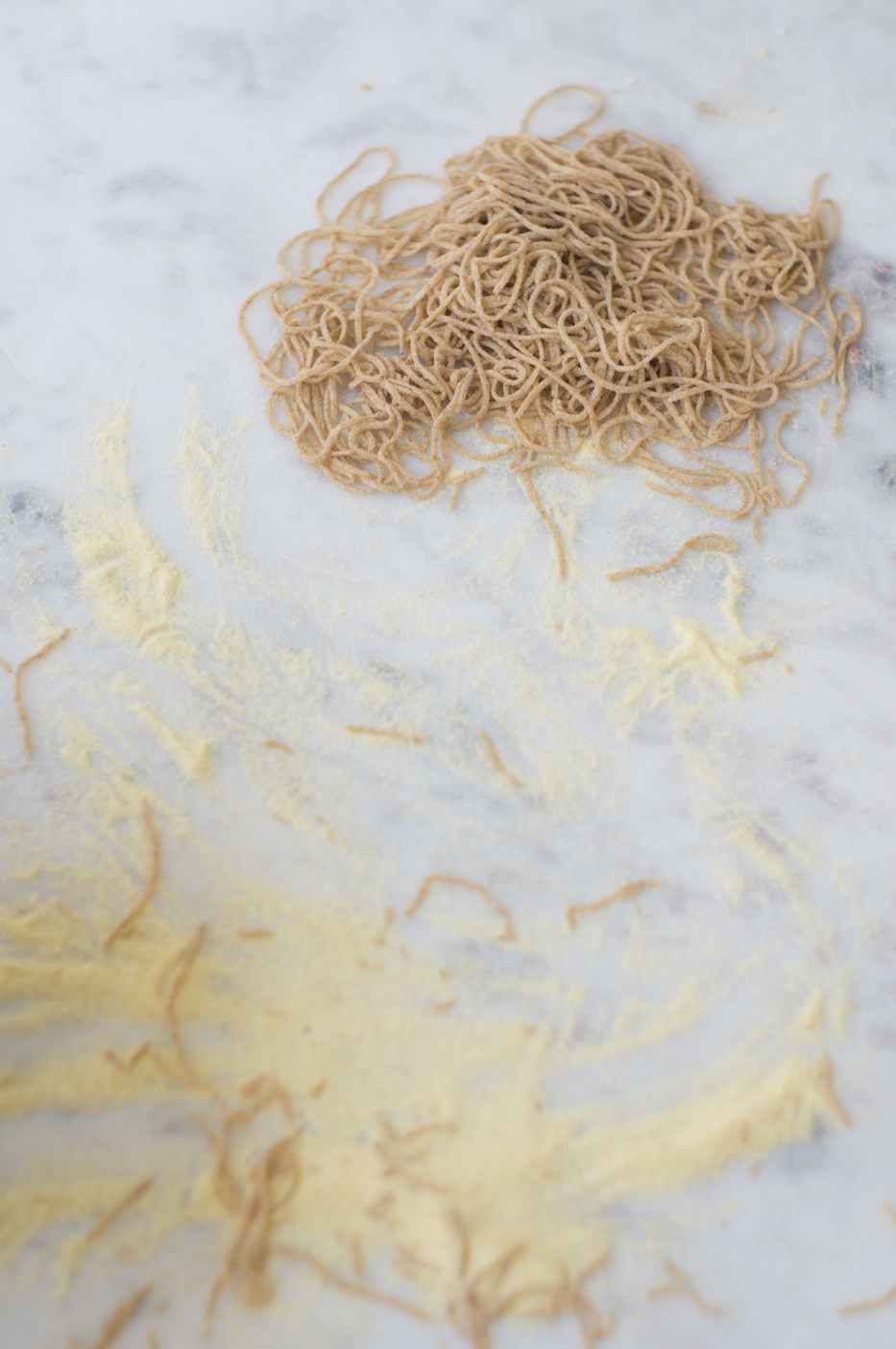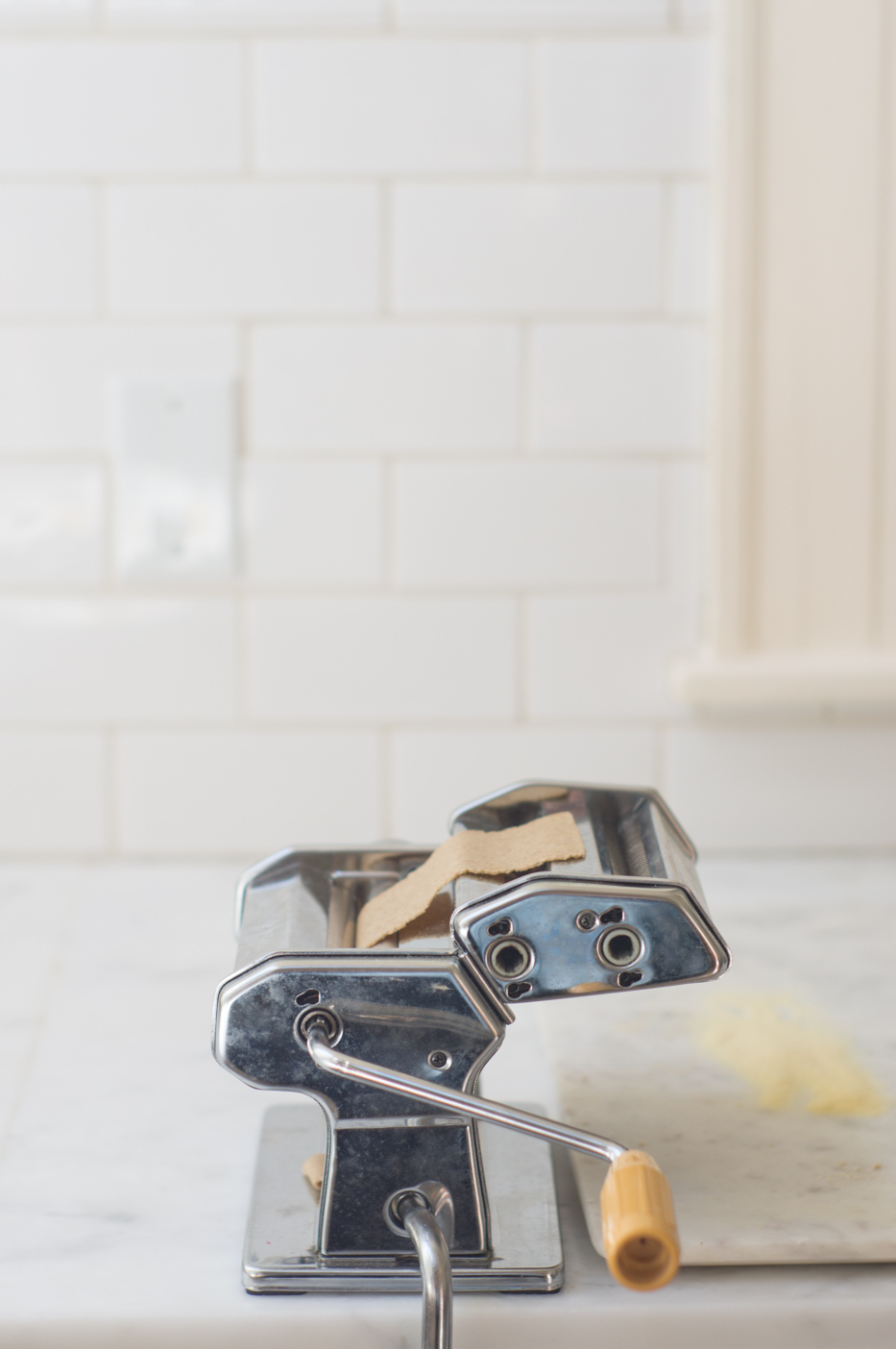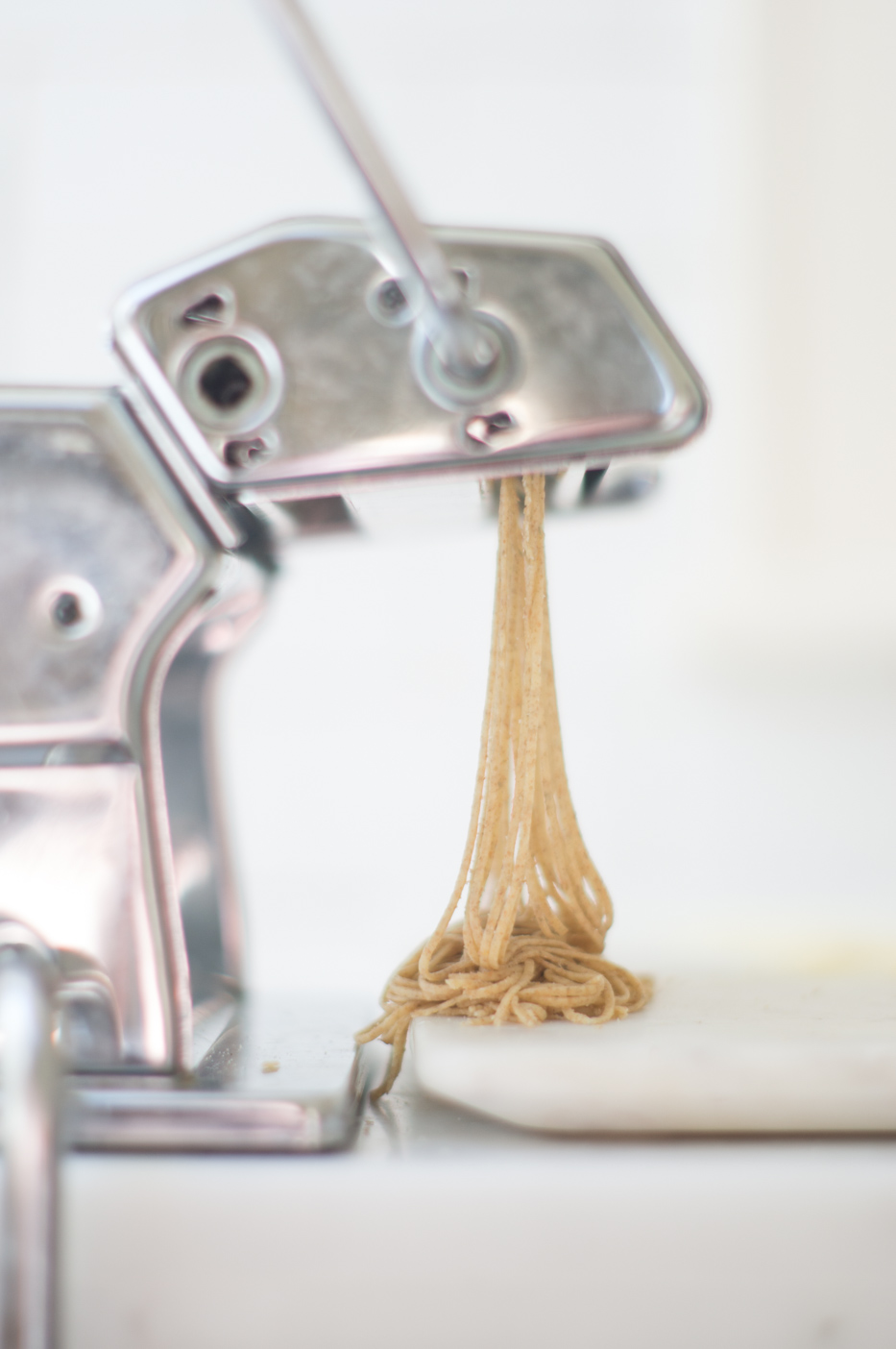 These rye noodles boiled, then tossed with a big spoonful of salsa verde, splash of cream, and toasted almonds made a respectable ten-minute lunch topped with a poached egg. They were also good with lemon verbena infused olive oil, roasted crescents of delicata squash, and toasted hazelnuts (left over from this).
And while a pasta machine makes easy work of a task like noodle making, there's no reason you can't roll this dough out by hand. Be sure to allow the dough to rest, then roll it thin on a surfaced floured as lightly as you can get away with. If your dough is at all sticky, dust it with semolina flour to prevent sticking, but avoid over flouring. Fold it over on itself a few times, and slice with a sharp knife. Perhaps aspire for a noodle wider than the ones you see pictured here. They'll be a but more rustic, but certainly tasty.
Thanks to each of you who left comments last week. You're a big part of why I enjoy sharing and exploring ideas and recipes here. I am so very appreciative of each of you. -h
Rye Pasta Dough
1 cup rye flour
1 cup semolina flour
1/2 teaspoon fine grain sea salt
1 large egg, whisked
1/4 cup cold water, plus more as needed

special equipment: spray bottle filled with water, pasta machine
Making pasta takes a bit of patience and practice. It's more about developing a feel for the dough, versus following a precise recipe. With this dough, you're after a specific consistency, not too wet, not too dry. Before rolling out, the dough should be taught and elastic, similar in consistency to the palm of your hand. You get there through a process of kneading and adjusting. Let's give it a go.
To make the pasta dough, start by combining the flours and salt, turning it out onto a large (preferably wood) cutting board. Form a well in the middle of the flour (see photo above). Use a fork to gradually stir the flour into the egg yolk, little by little. Do your best not to breach the walls or the egg will run out. If this happens, simply work that egg into the flour. Drizzle the water across, and stir again. I like to use a dough scraper and/or my hands at this point in the process. Work the mass into a ball, kneading a couple of times if possible. You want to add as little water as possible beyond this, but enough that the dough comes together into a cohesive mass. To accomplish this, spray with water (or drizzle), and knead another few times. Repeat, adding more water, until you're set.
At this point you're going to transfer the dough to a clean surface and knead for a solid five minutes, even better if you can hold out for ten. You'll sense when then dough is happy, it develops a nice shine and elasticity. Better to err on the long side versus short at this point in the process. When finished, form into a ball, wrap tightly in plastic, and allow to rest, at room temperature, for at least 30 minutes before rolling out. If you have an extruder, this makes a nice dough for extruded pasta shapes, but rolls out into noodles beautifully as well. This is the approach we're going to talk through today.
Rolling pasta starts by slicing off a segment of dough, perhaps a bit larger than a golf ball. Immediately re-wrap the remaining dough to prevent it from drying out. You can either roll the pasta dough out by hand, and then slice into noodles, or start running the dough through a pasta machine's widest setting. In either case, after the dough has started to flatten and stretch out (say, the middle setting on the pasta machine), fold the pasta strip on itself every 3-4 inches or so, aiming for three or four layers. Now, roll the pasta to its desired length and thickness. If you're using the machine rotate the dough 90 degrees so the open edge of the pasta is feeding directly into the rollers. If at any point the dough gets too tacky, simply rub it with a bit of the flour you used in the dough.
Once the dough is at the desired thickness, run it through the cutting rollers on your pasta machine, or loosely roll the pasta into a tube, before slicing with a sharp knife. If you're cutting by hand, you really want to make sure the dough isn't going to stick, dust with just enough flour to ensure this doesn't happen.
Transfer the noodles to a flat surface dusted with semolina flour. With a light touch, fluff the noodles with your fingertips, incorporating a bit of the flour if the dough is sticking at all. Form into little nests. At this point you can cook the pasta in boiling, well-salted water, hang it to dry, or freeze it for later use.
Makes about 1 lb.

Prep time: 60 minutes - Cook time: 5 minutes