Saffron Pasta Salad Recipe
A spring pasta salad made with a vibrant red-wine and saffron vinaigrette, asparagus, and toasted whole wheat orecchiette pasta from Puglia.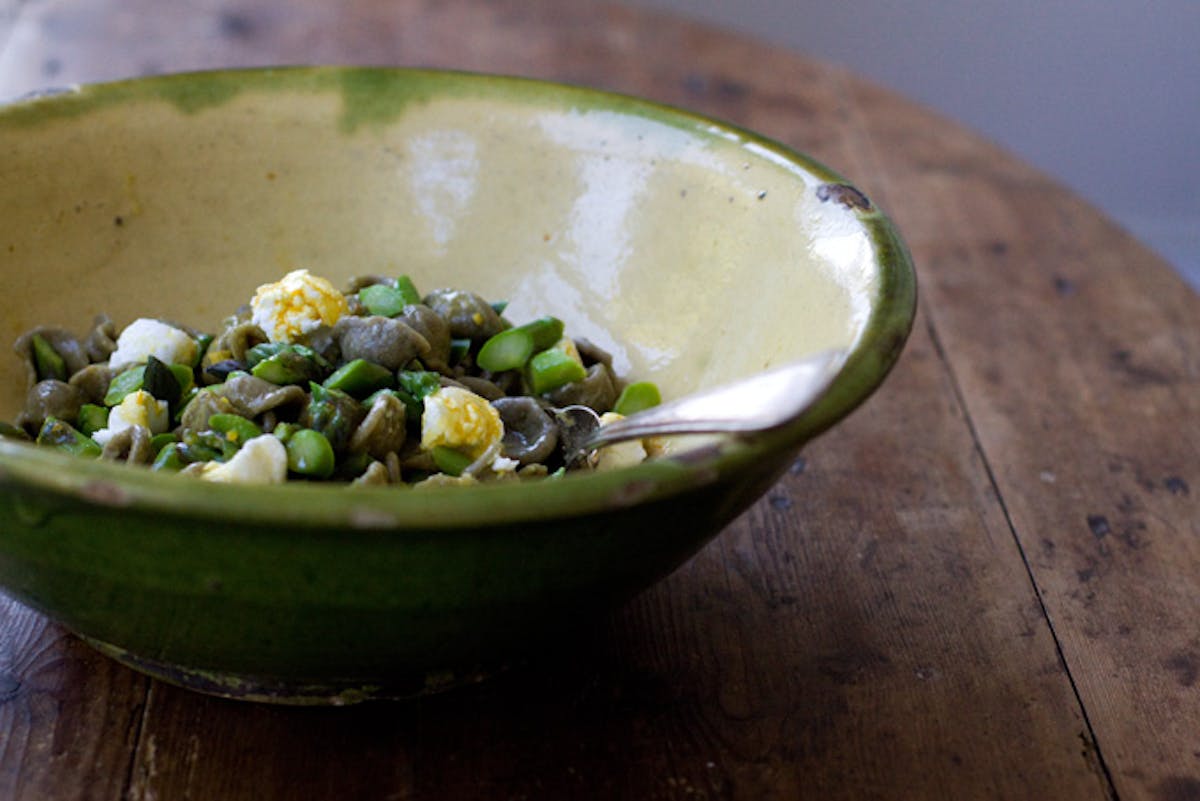 Wayne had a meeting near St. Helena a while back. It's about 2 hours north of San Francisco, and as he was walking out the door I decided I'd hop in the car too. The drive is nice. Particularly if you sneak off the main roads. Yellow swatches of mustard buffer the vineyards, and wildflowers seemed to be coming out of their winter slumber here and there. After a quick stop at Bouchon Bakery, we arrived in St. Helena late in the afternoon. There are many ways to spend two hours on a drizzly day in that part of the world and I entertained myself by taking pictures, browsing shops, and sipping hot coffee. Today's recipe was inspired by a little book I picked up for $5 in a second-hand bookstore. A first edition copy of Diane Worthington's The Taste of Summer had a recipe for a pasta salad dressed with a saffron vinaigrette that caught my attention. I held off on making it until asparagus started showing up in the markets here, and it was well worth the wait.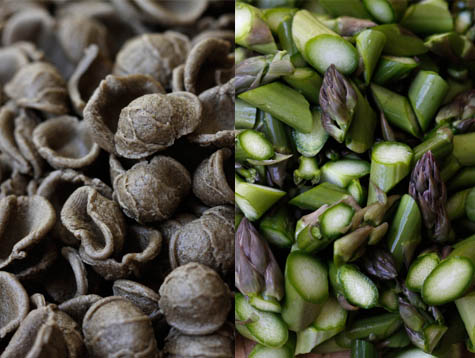 Diane's version combined a vibrant red-wine and saffron vinaigrette with late spring produce (asparagus, fresh peas, zucchini), and orzo pasta. I did a variation using only asparagus and a toasted whole wheat orecchiette pasta from Puglia. There were no peas or zucchini at the market at the time, and everyone seemed to be out of the whole wheat orzo I normally use.
Not everyone likes whole wheat pastas - I totally get that. They can be heavy and gloppy - something I was worried about as I was draining the orecchiette. But, the strong saffron vinaigrette stood up beautifully to the pasta here - the key was letting it sit for a while after dressing it. The orecchiette I used is a bit obscure, so let me offer up a few alternative suggestions. Diane's recipe calls for orzo - I'd certainly make this again using whole wheat orzo. For those of you who want to ease your way into the whole wheat / whole grain pasta thing, I suggest going half/half, it really lightens things up while still incorporating more whole ingredients. For example:
- 1/2 whole wheat penne pasta + 1/2 regular penne pasta
- 1/2 whole wheat orzo + 1/2 regular orzo
The irritating part is that I'm also going to encourage you to cook each type of pasta in its own pot. Aside from that, lefftovers make a good lunch, and if asparagus isn't quite in season where you live I can imagine an alternative versions with either chopped kale or broccoli working well :)...
Related links:
- Revised updated edition of The Taste of Summer (Chronicle Books, June, 2000)

Saffron Pasta Salad
I used a toasted wheat orecchiette here, the original recipe calls for orzo. I offer up a few suggestions in the main entry.
Saffron vinaigrette:
1/4 cup red wine vinegar
1/2 teaspoon saffron threads
1 medium garlic clove, smashed
1/2 teaspoon salt
2 tablespoons lemon juice
2 teaspoons Dijon mustard
1/2 cup / 120 ml olive oil
bit of sugar/honey or splash of cream (if needed)

12 ounces / 340 g dried pasta (see head notes)

1 pound / 16 oz / 453g thin asparagus, ends trimmed, cut into 1/2-inch segments

3 ounces / 85g goat cheese, crumbled
fresh chopped chive and toasted pine nuts (optional)
To make the dressing add the vinegar and saffron to a small saucepan. Over gentle heat bring just to a simmer. Remove from heat (immediately) and let cool.
Sprinkle the garlic clove with the salt and mash and chop into a paste. Place this in a mixing bowl along with the cooled vinegar and saffron, lemon juice, and mustard. Whisk together, then gradually whisk in the olive oil. Taste, and if it is too harsh for your liking you can soften some of the acidity with a bit of sweetener or a splash of cream. Set aside.
Bring a large pasta pot of water to a boil, salt well and add the pasta. Cook until al dente. Just 30 seconds before the pasta is finished cooking add the asparagus. You just barely want to cook the asparagus. Drain, rinse with cold water, and shake off as much extra water as possible.
Place the pasta in a large bowl, toss with the saffron vinaigrette, and set aside or refrigerate for at least 30 minutes (or up to a day). Toss again, taste, and add a bit more salt if needed.
You can serve this slightly chilled, at room temperature, or even reheated in a skillet (really good), topped with tiny dollops of goat cheese. A handful of chopped chives and toasted pine nuts makes this extra good.
Serves 6-8.
Inspired by the Orzo Vegetable Salad in Saffron Vinaigrette in Diane Worthington's The Taste of Summer (Bantam Books, 1988)

Prep time: 20 minutes - Cook time: 35 minutes