Pounded Walnut Strozzapreti Recipe
Inspired by Mona Talbott's recipe in the new Coco cookbook, a pounded walnut pesto with marjoram and parsley, tossed with farro pasta and Pecorino cheese.
While shopping for holiday gifts this year, I fell into a trap. The "one for you, one for me" trap. Some of you might know it? Not behavior I'm particularly proud of, but it is what it is. For example, I bought Ad Hoc at Home as a gift, then bought the Coco book for myself. Casa Moro = gift, River Cottage Bread Handbook = me. Phaidon's huge Coco book surprised me. I thought it would be too restaurant-centric for my tastes, filled with recipes that wouldn't translate to my day to day cooking. But there I was, flipping through it, excited about many of the chefs who were highlighted within the 400+ pages - Mona Talbott, Skye Gyngell, and Amaryll Schwertner to name a few. And I've actually been cooking from it.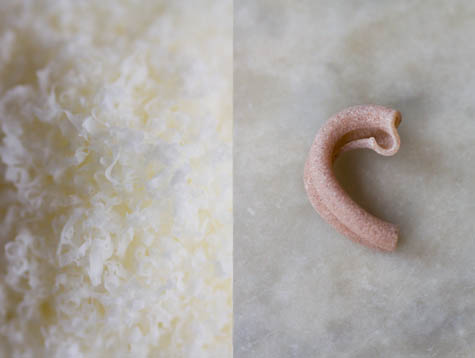 For those of you who haven't seen Coco, the premise is simple - ten culinary masters highlight one hundred contemporary chefs. The culinary masters are Gordon Ramsay, Ferran Adria, Alain Ducasse, Alice Waters, Rene Redzepi, Jacky Yu, Yoshihiro Murata, Fergus Henderson, Shannon Bennett, and Mario Batali. They, in turn, have selected one hundred of the best contemporary chefs working today. So, as you can imagine, there is a fascinating range of individuals highlighted here. There are chefs cooking not far from where I live, and others as far-fetched as Copenhagen, New York, Paris, Oslo, Hong Kong, Kyoto, Siena, and Singapore. You get a peek in each of their kitchens, and a selection of their recipes. It's fun to see all the different platings, and cooking styles ranging from simple and traditional to experimental.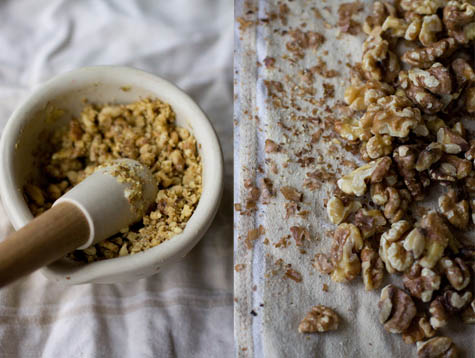 Mona Talbott is the chef (and director) of the Rome Sustainable Food Project at the American Academy in Rome, and the pasta I'm highlighting today is hers. You make a pounded walnut pesto with marjoram and parsley, and toss it with farro pasta and Pecorino cheese. It's rustic, simple to make, and perfect this time of year. Each time I would flip to this recipe, I'd also notice her dried fava bean and chicory soup, and the chestnut flour cake with raisins and pine nuts. Both on the list of recipes to try from this book.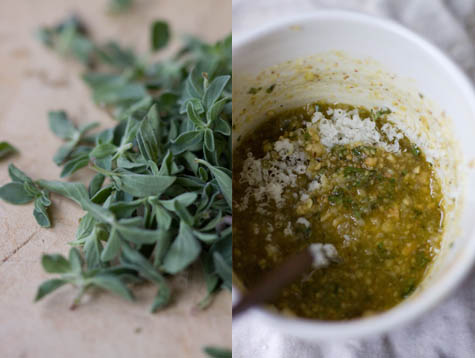 I suppose what I'm trying to say is that I've been delighted with this not-so-little holiday present to myself. I so appreciate each of these chefs giving us a glimpse into their kitchens, and even if my cooking style isn't in line with many of them, I found something inspiring in each profile.
Pounded Walnut Strozzapreti
Use a short pasta here, I happened to have a farro strozzapreti, which was great, the sauce got caught up in its little curls. In the book Mona uses a ruffled edge farro pizzichi.
3/4 cup / 3.5 oz / 100g walnuts
1 clove garlic, peeled, germ removed if garlic sprouted
1/4 teaspoon fine grain sea salt

2/3 cup / 5oz / 150ml extra-virgin olive oil
3 tablespoons marjoram, chopped
3 tablespoons parsley, chopped
1/2 cup / 1 oz / 30 g pecorino Romano, grated
salt & pepper
1 pound / 16 oz / 460g short farro pasta
Start by heating a large pot of water, it will take a while for it to come to a boil.
In the meantime, toast the walnuts in a 350F / 175C degree oven until they are golden, 8-10 minutes. While still warm, wrap them in a clean dish towel and rub off the skins.
Place the garlic and salt in a mortar and pestle, and pound to a fine paste. Add the walnuts to the mortar and pestle and pound into a paste. Alternately, you can do this in a food processor.
Transfer the nut mixture to a bowl. Stir in the olive oil, then add most of the herbs. Stir in the pecorino, taste, and adjust the seasoning.
Salt the pasta water generously, and cook the pasta al dente. Drain and reserve a big cup of the pasta water. Toss the walnut pesto with the pasta, and thin out the sauce with the reserved water. Serve topped with a sprinkling of the remaining herbs.
Serves 6.
This recipe was adapted from Coco: 10 World-Leading Masters Choose 100 Contemporary Chefs by Editors of Phaidon Press. Published by Phaidon Press (November 16, 2009).
Prep time: 10 minutes - Cook time: 20 minutes