Shichimi Mushroom Rice Bowl Recipe
I made this mushroom topped brown rice bowl the other night when I returned from Yosemite - chanterelles, garlic, kale, tofu, and lots of Shichimi Togarashi, the Japanese spice blend.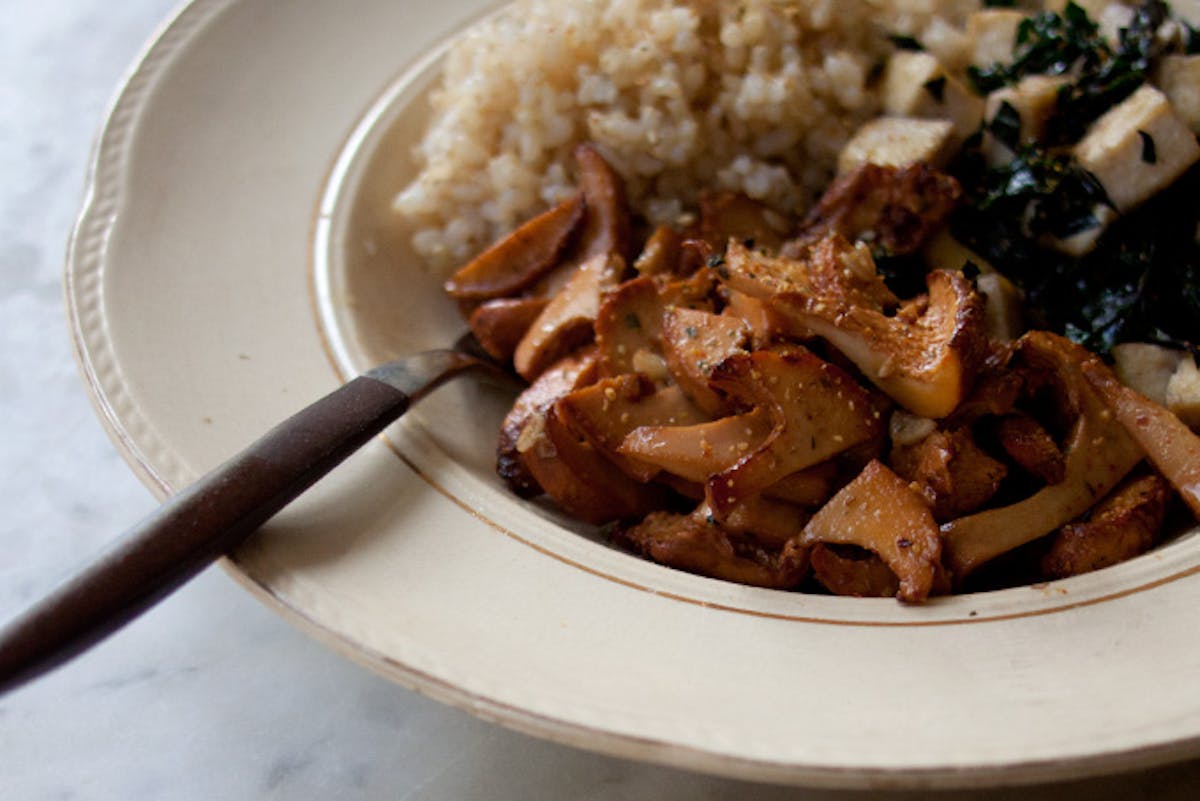 If you're flying east from either San Francisco or Oakland on a cloudless day, and if you're lucky enough to get a window seat on the right side of the airplane, you might get to see one of my favorite views of Yosemite. Look carefully, not long after take off (ten minutes?), and try to pick out Half Dome jutting up from the surrounding foothills below. It's pretty cool to see.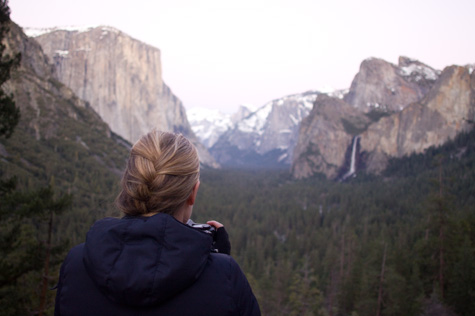 Wayne is always trying to get me to go to Yosemite, I usually pass. As impressive as it is, I'm more of a coastal type. Up until this week I'd only been to Yosemite in the spring and summer, and my impression has always been that there are typically lots of people, and traffic to and from to match. But, this time of year is supposed to be quieter. So we packed a cooler, hopped in the car on Wednesday, and decided to give winter in Yosemite a try. A first for both of us. I'm going to include a bunch of pics from our trip, and also the recipe for the mushroom rice bowl I threw together when we returned home. It was the sort of thing assembled from some leftover kale and tofu in the refrigerator, following a quick dash to the store to pick up some golden chanterelle mushrooms.
Thank you to everyone who sent Yosemite recommendations. We did the hike to the base of Vernal Falls, the bridge rather, and followed that up with a walk to Mirror Lake. Most of the trails were snowy and icy, but the roads were clear and the sky was blue. A guy on the trail near us at Vernal Falls said he saw a bobcat, but as far as wildlife goes my list is short: crows a plenty, a handful of squirrels, and one raccoon. Do the ants in our hotel room count? ;)
This was my view for the better part of the day. Wayne loooves a nature walk. There's apparently a cabin you can snowshoe to from the valley, and I suspect that is next on his list. We watched the sunset from a near-empty parking lot at Inspiration Point, and made our way back in time for dinner at the Ahwahnee Hotel.
This is me on the bridge near Vernal Falls. You can't believe how fast the water was running, and how much water was moving in the valley in general. The waterfalls were strong wherever you looked. Frazil ice fans will be sad to know, it's too early in the season for it, next time!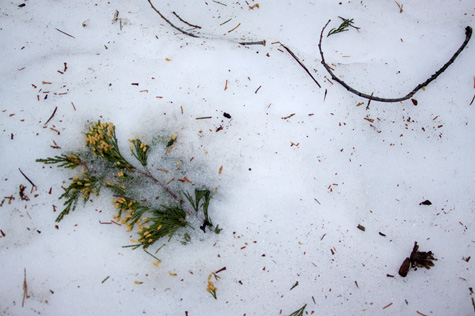 I popped into a number of antique shops in the Sierra foothills, and made a couple neat finds. Hopefully things that will make appearances in future posts. And then I made this rice bowl when we got home. One ingredient some of you might not be familiar with is the Shichimi Togarashi spice mixture I used for seasoning here - although I suspect you'd recognize the little jar it often comes in. It's a Japanese spice mixture which includes red chile pepper, orange peel, sesame seeds, and a number of other ingredients. I love it sprinkled over brothy soba noodle soups, directly on tofu, on blanched vegetables, etc, etc. It's a great way to add pep and dimension to an endless list of foods and preparations. But as I mention down below, if you don't have it on hand, some red pepper flakes will do the trick for this recipe.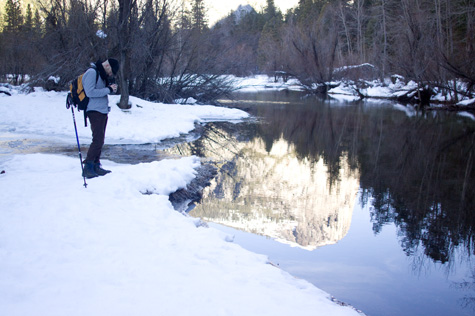 So the overall concept here was pretty simple. Pan-fry slices of mushrooms until they're nicely browned. Do a quick saute of tofu and kale in the same pan. Then serve over brown rice. Season it all with Shichimi Togarashi. For those of you who need to get a jump start on weeknight meals, there's no reason you couldn't prep the brown rice, tofu, kale, and mushrooms ahead of time. The actual cooking time here, aside from the rice, is minimal.
I hope to have a few more Yosemite shots to share once I get my film back. Thanks again to all of you who left me notes and sent suggestions. It was a uniquely beautiful place to visit this time of year. -h

Mushroom Shichimi Rice Bowl
For those of you who would like to make this vegan, use more olive oil in place of the butter.
2 cups cooked brown rice*
2 tablespoons extra-virgin olive oil
2 tablespoons unsalted butter
2 cloves garlic, very thinly sliced
Fine-grain sea salt

12 ounces / 340 g chanterelles or mushrooms of your choice, sliced ~1/4-inch thick

8 ounces / 225 g firm tofu, cut into tiny cubes
1 small bunch kale / 3 oz / 85 g, well chopped
Shichimi Togarashi or red pepper flakes, to taste
If you need to cook the rice from scratch, do so.*
Heat the olive oil and butter in a large skillet over high heat. Add the mushrooms in a single layer, stir well, and cook until the mushrooms release their liquid, and then brown, about 5 minutes more. Stir a few times along the way, but don't overdo it; you want the mushrooms to be deeply browned on both sides. Stir in the garlic roughly 20 seconds before the mushrooms finish cooking. If you need to cook the mushrooms in two batches, do so. Transfer the mushrooms to a plate, set aside.
Using the same large skillet, no need to clean it out, cook the tofu along with a couple pinches of salt over medium-high heat until heated through, and until it starts to brown a bit. Roughly one minute before the tofu is finished cooking, stir in the kale. It should collapse and cook down over the next 60 seconds.
Season all the components generously with Shichimi Togarashi and salt to taste. For each serving, dish up a heaping spoonful of brown rice along with some of the tofu/kale mixture and a some of the mushrooms.
Serves 3-4.

*To make a pot of brown rice: The ratio I use to cook brown rice is 1 part rice to (just shy of) 2 parts water, plus a good dose of salt. The following recipe will make more than you need for the above recipe by about double, but it's worth making extra for later in the week.
You'll need 2 cups / 14 oz / 400 g brown rice, rinsed and drained + 3 1/2 cups / 830 ml water + 2 teaspoons fine-grain sea salt
In a large saucepan over high heat, bring the rice, water, and salt to a boil. Reduce the heat, cover, and simmer gently until the water is absorbed, about 45 minutes. Fluff with a fork and serve hot. Any leftover rice can be cooled and then stored in the freezer for later use.
Prep time: 15 minutes - Cook time: 5 minutes