Slurp-tastic Herb Noodles Recipe
A big, slurpy bowl of whisper-thin spinach noodles draped in a spicy curry and herb broth - inspired by a beautiful box of noodles I picked up in Mill Valley, Ca.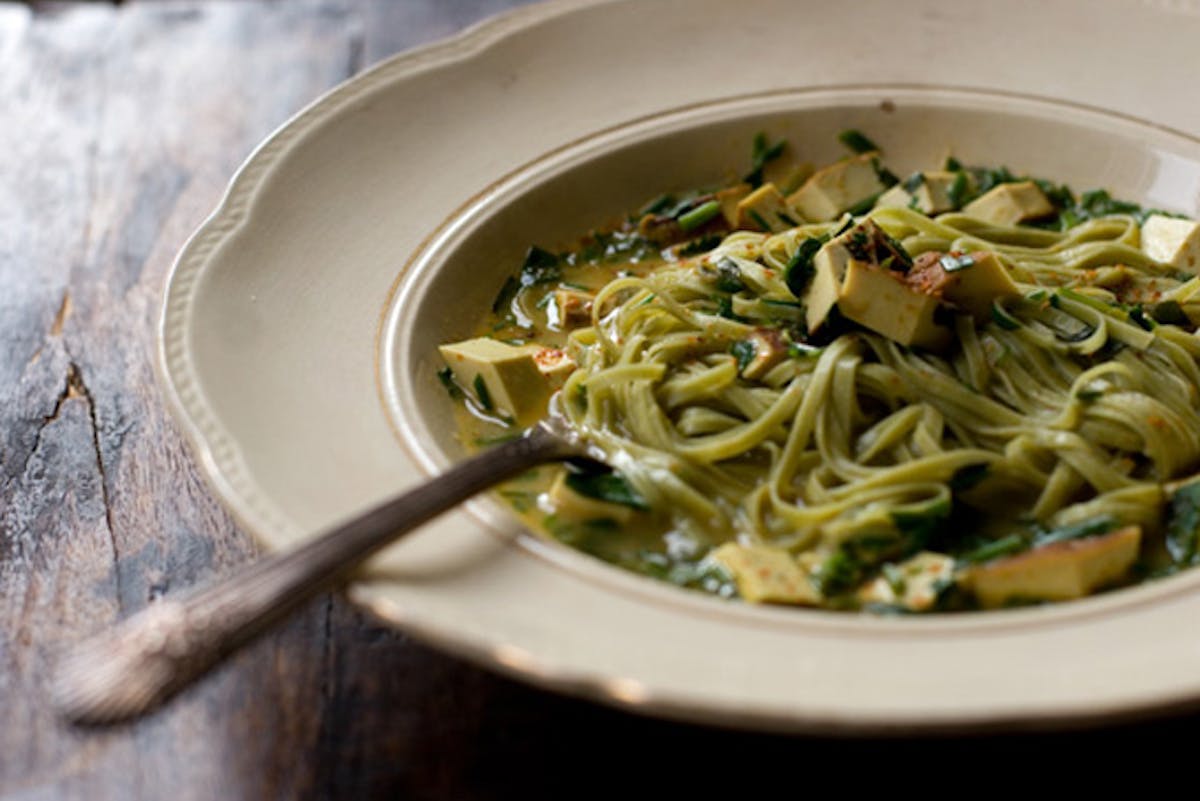 I suppose I had what most people would call a stay-cation last week in nearby Marin County. My assignment was simple - take care of your sister's two dogs. Friends find this mildly amusing, because although I generally like dogs, I don't own one, and Heather's dogs aren't exactly petite. I'll just mention that one is a Bernese Mountain Dog and leave it at that. I settled into her house, made sure the dogs had plenty to eat, and used it as home base while she was in the UK. For those of you unfamiliar with Marin, most of it sits just north of the fog-bank that drapes itself over San Francisco each summer. Temperatures peaked in the 90s while I was there, and when I wasn't tossing squeaky toys to my two canine friends, I was exploring some of the nearby sites. This big, slurpy bowl of whisper-thin spinach noodles draped in a spicy curry and herb broth was inspired by a beautiful box of noodles I picked up in Mill Valley.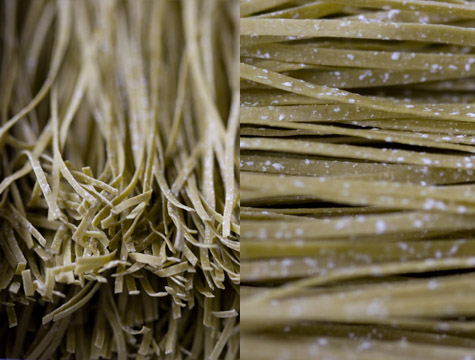 While walking around Mill Valley, I stumbled into Tyler Florence's new shop - yes, you know him, the guy from the Food Network! He lives in this area. His shop is called Tyler Florence West Coast Kitchen Essentials - it's sort of like Williams-Sonoma but infused with the slightest hint of Anthropologie, and let's say 5% generic country kitchen. There were a couple unexpected details and quirks that I'd love to see more of. For example, stacks of vintage Gourmet magazines you can take to the back of the store and browse while sitting in the cozy library cookbook alcove. You can't buy them though (I tried!). He also stocks adorable, handmade kitchen aprons and textiles by Ambatalia / The Fabric Society. This one came in a kids size, and although I rummaged through the shelves looking for an adult-sized version, it wasn't meant to be. There was a wall of various food products - oils, spices, vanilla and the like. I spotted a box of lovely, light, Cipriani spinach tagliolini and quickly grabbed a box. You see half of it here in today's recipe coupled with a selection of herbs that were congregating in my refrigerator door (again), and a nice jolt of curry paste.
In case you find yourself in that zip-code, and before you make your way to the recipe, here are a few other places worth mentioning. I spent my mornings at Emporio Rulli in Larkspur. There is one guy pulling shots who is particularly on point. If I lived in that area I'd have to ask him his work schedule is. Wayne came over on the ferry one day and we had fantastic Neopolitan-style pizza that night at Pizzeria Picco - and no, we couldn't resist the olive-oil drizzled soft serve with sea salt. And to counterbalance all that - I took a couple tough (but great) classes at The Dailey Method, conveniently located just up the street from Pizzeria Picco.
We ate this the first night back. You could certainly add broccoli for a bit of colorful crunch, and nutritional boost. Cauliflower might be good too.

Other favorite noodle recipes include: this incredible vegan ramen, my favorite pad thai, sriracha rainbow noodle salad, and black sesame otsu. Pasta with Smashed Zucchini Cream is also really good, or browse this list of tasty noodle soups!
Slurp-tastic Herb Noodles Recipe
I used Cipriani's extra-thin spinach tagliolini here, but many thin pastas could be substituted. Just try to imagine if it would go with a nice, hearty, spicy curry -some pasta will work better than others.
4 ounces thin, dried spinach pasta (thin)
1 cup coconut milk (light is fine)
scant 1 tablespoon green or yellow curry paste
1 1/2 cups lightly flavored vegetable broth
~1/4 teaspoon salt (more or less depending on the saltiness of your broth)
6 ounces tofu, cut into small cubes or pieces
1/4 cup chives, minced
1/3 cup cilantro, chopped
1/4 cup basil, chopped just before using
pinch of crushed red chile peppers
Bring a large pot of water to a rolling boil. This is eventually going to be the pot you cook the pasta in.
In a separate large, thick-bottomed pot, bring 1/4 cup of the coconut milk to a simmer, mash and stir the curry paste into the coconut milk so there are no lumps. Now add the rest of the coconut milk and the vegetable broth and bring to a boil, reduce heat to a simmer and stir in the tofu. Taste and decide if you need to add more curry paste or salt - if you do want to add more curry paste at this point, make a slurry by combining the additional curry paste and a bit of the broth, working any lumps out - add this to the pot.
Back at the pasta pot, salt the water generously and cook the pasta per package instructions. Drain.
Just before serving stir the chives, cilantro, and basil into the curry pot. To serve, place a nice helping of noodles in the center of each bowl and finish with a ladle of the curry and tofu along with a tiny pinch of crushed red chile peppers.
Serves 2 to 4.