Soup au Pistou Recipe
A soup I made for a camping trip to the Sonoma coast - lots of beans, vegetables, and stellette pasta. Tiny stars under the stars, with a good dollop of pistou for each bowl.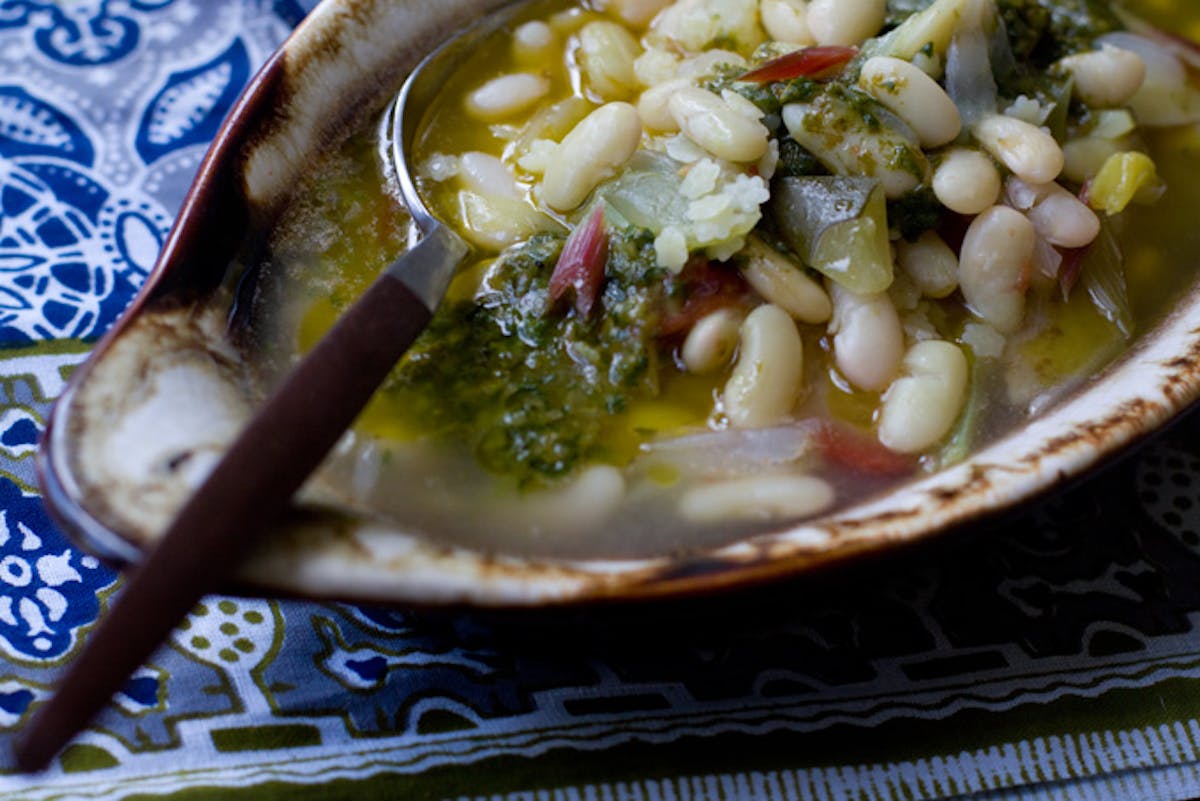 Have you ever tried to pitch a tent in 50 knot winds? I can now say, with some authority, it's challenging. On somewhat of a whim, we tossed our gear in the car two days ago, pointed the car north, and set up camp along California's Sonoma coast. There are few places more stunning - golden meadows, craggy coastlines, rambling coastal trails for days. On some trips to this area we are met with dense fog, this time we were welcomed with blue skies, lingering sunsets, and wind that peeled your eyelids back. So, before I finish unpacking the car, I thought I'd share some photos and the recipe for the soup I made for our first night camping - lots of beans, vegetables, and stellette pasta. Tiny stars under the stars, with a good dollop of pistou for each bowl.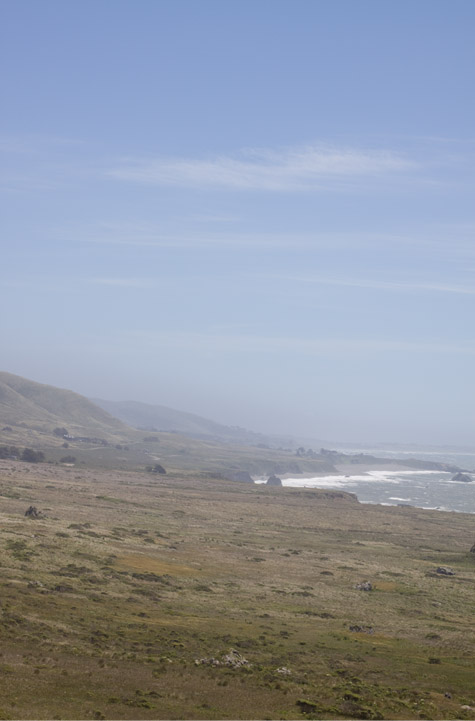 However spontaneous a trip might be, a bit of preparation (even last minute) always pays dividends. I threw a few things together, late, the night before we left. Anytime you camp on the Northern California coast, it can get chilly, so I made a hearty soup (with whatever needed to be used up), froze it, and counted on it to do double-duty as ice blocks in the cooler the first day. I figured serving it with some bright green basily pistou would be just the thing. All we'd need to do is heat it up.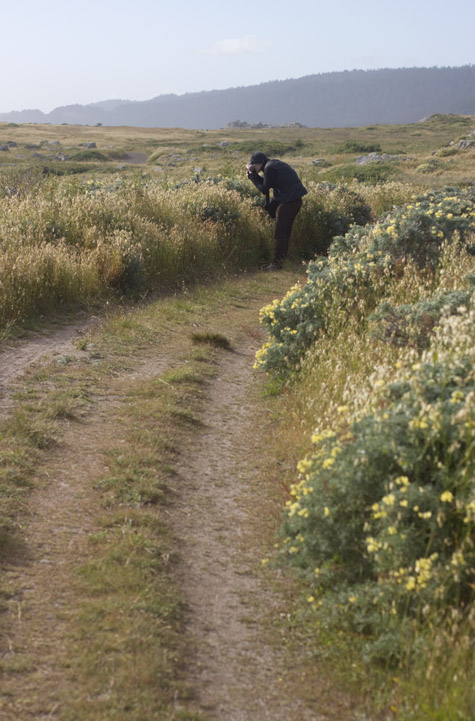 The best part of camping in this part of California is the coastal walks. The most challenging part is sharing the campground. One chuckle-inducing, abalone-diving neighbor told me he set his alarm for 4:20 a.m. No joke. I can confirm his 4x4 blazed out of the campground well before 5 a.m. He returned hours later, three abalones in tote. They were heavy in my hands, the shells beautiful.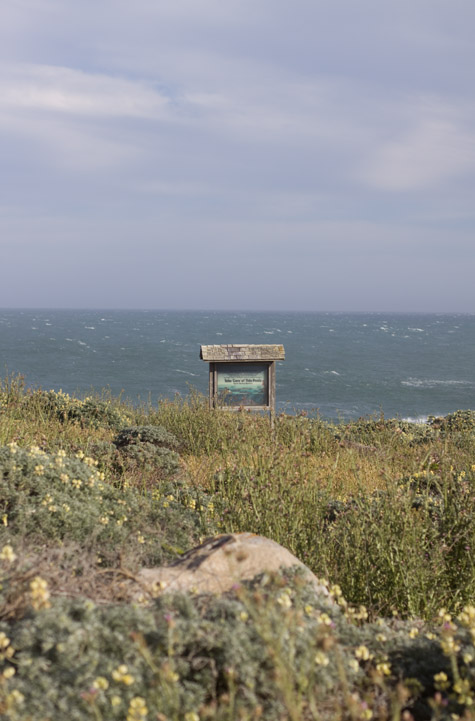 In addition to the abalone, I also saw: the tiniest yellow wildflowers, no bigger than a pencil eraser; plenty of opportunistic blue jays; a group of teens celebrating their junior high graduation with a camping trip; seals lolling around on rocks; chubby yellow birds that lived in the cliffs and flew like bumble bees; an old Russian fort (!); patches of California poppies; a million stars against a black moonless sky.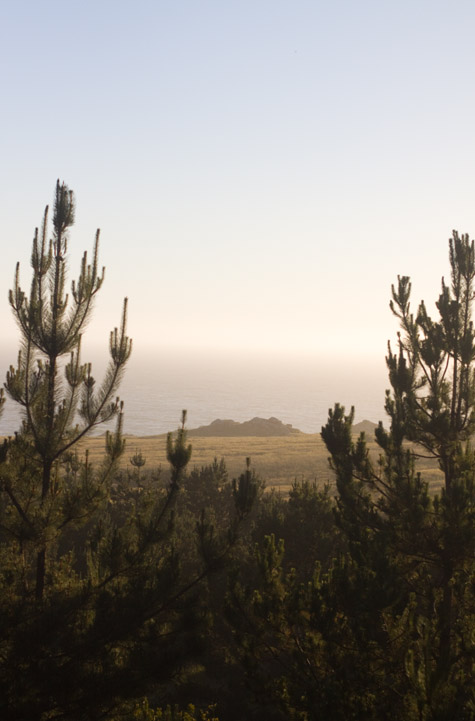 We pitched the tent so it would face this lovely meadow (below). This was at sunset on the first night we were there.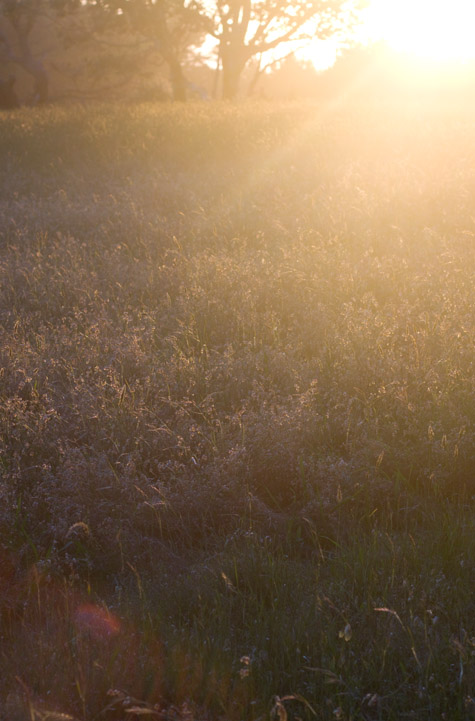 As a side note, I should mention, for the second night I pre-cooked a bunch of soba noodles, then made a cilantro-serrano dressing with the mortar and pestle. We grilled tofu at the campsite, and tossed it all together. This worked out nicely - let me know if you're interested, I can post that recipe (and more pics) if you want. It would make a nice mid-week lunch as well.
If you try the soup, I hope you enjoy it. It has a bit of an ingredient list, but you can tweak it based on what you have on hand. For example, if I had carrots, I probably would have used them. Later in the summer, I might use fresh tomatoes in place of canned. I based the pistou on Paula Wolfert's recipe. Well, her recipe and what I had on hand at the time. Her pistou calls for grated tomatoes, and grated Mimolette or aged Gouda, I riffed on it with canned tomatoes and aged Gouda. Either way, delicious. We've been enjoying the leftover spread on thick slabs of grilled bread.
Soup au Pistou Recipe
I made this soup in late spring/early summer. I'd encourage you to substitute vegetables based on whatever is seasonal at the time. Also, I had flageolet beans, but you could substitute other small white beans. Gluten-free readers can simply leave out the pasta, or use a GF pasta.
1 pound / 16 oz / 450 g dried flageolet beans, soaked for at least 4 hours, preferably overnight, then drained

1/4 cup / 60 ml olive oil
4 medium onions, chopped
2 medium leeks, trimmed and chopped
4 stalks celery, chopped
12 cups / 3 liters water
1 28-ounce can, whole tomatoes, well drained, chopped
4 medium yellow potatoes, chopped
1 bouillon cube, optional
1/4 pound / 4 oz. stellette (tiny star) pasta, or other small pasta
3 small zucchini, chopped
1/2 cup (a big handful) chard stems, finely chopped
2 teaspoons salt, or to taste


Pistou

1 tablespoon crushed garlic
scant 3/4 teaspoon fine grain sea salt
4 1/2 cups / 2 oz / 60 g basil leaves, torn into small pieces
1 tomato (from above), well chopped
1/4 cup / 60 ml extra-virgin olive oil
1 cup / 2 oz / 60 g grated aged Gruyere cheese
In your largest soup pot heat the oil, then add the onions, leeks, and celery. Saute for about 5 minutes, then stir in the soaked beans and 12 cups water. Bring to a boil, dial back to a simmer, then cook for about 15 minutes. Reserve one of the tomatoes for the pistou, then stir the remaining tomatoes into the pot, then the potatoes. Cook for another 15-20 minutes, or until the beans seem like they are nearly cooked. Add a bouillon cube if you like, then the pasta, and simmer for 5 minutes. Add the zucchini and the chard stems and cook for another 3 minutes. Stir in salt - perhaps less if you used a salty bouillon - essentially, you want to salt to taste. At this point the pasta should be cooked through, as well as all the beans and vegetables. For the soup to taste good, you really need to get the right amount of salt in it - just be mindful of this, and adjust if needed.
While the soup is cooking, you can make the pistou. I use a mortar and pestle, but you can use a food processor if you like. Pound the garlic with the salt into a paste. Add the basil a handful at a time and pound and grind until nearly smooth. Add the tomatoes, then gradually stir in the olive oil a bit at a time. Stir in the cheese, then chill until ready to use.
Ladle soup into bowls and top with a generous dollop of pistou.
Serves 8 - 12.
Prep time: 240 minutes - Cook time: 60 minutes