Soups Worth Making
A round-up of a my favorite soups from the archives - the ones that really stood out, the ones I love to revisit.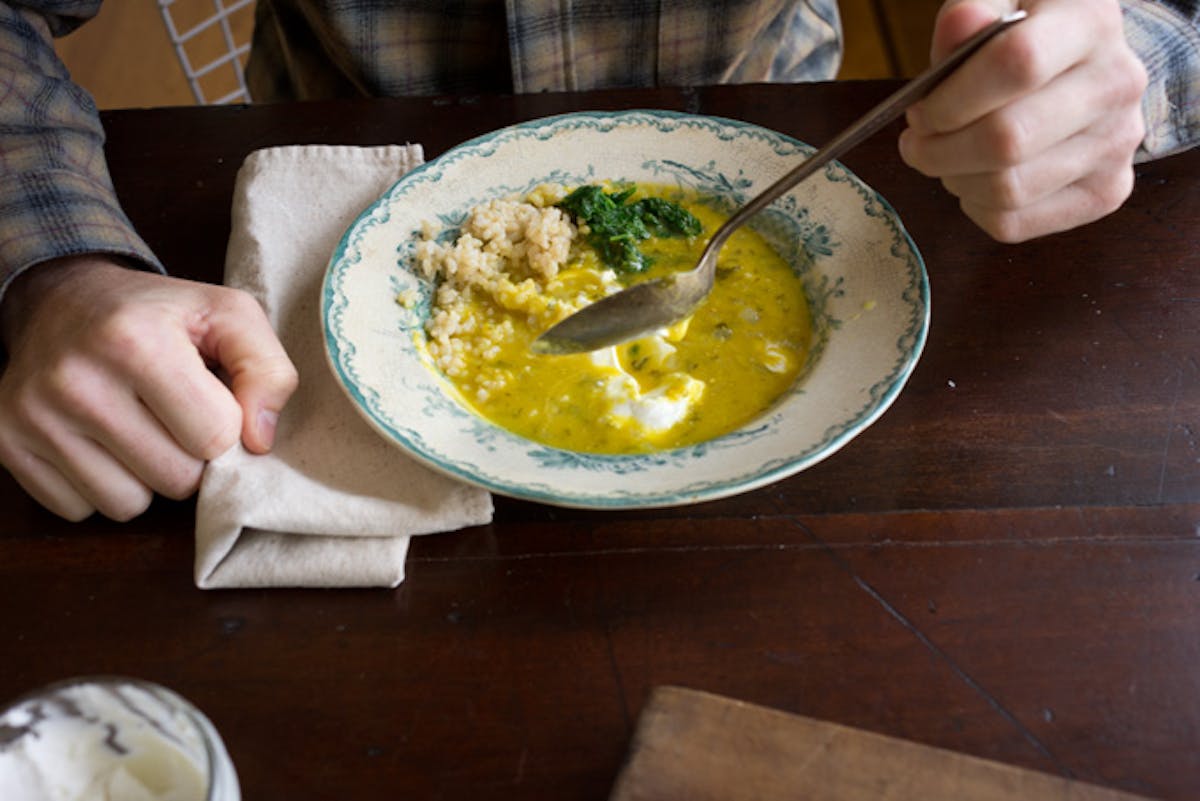 I'm just home from Japan - thanks to an efficient series of buses, trains, planes, and one fabulously upholstered ferry. The trip started in Tokyo, then on to Kyoto, eventually making our way to the incredibly special island of Naoshima. While I get unpacked and settled back in to my regular routine, I thought I'd do a quick round-up of a few of my favorite soups from the archives, the ones that really stood out, the ones I love to revisit. I love a good pot of soup, and (particularly) this time of year, make them a couple times a week. And while the following have become some of my stand-bys, let me know if you have a soup recipe you think I'm missing out on. I'm always on the look-out for new ideas to try. In the meantime, I'll try to pull together some pics and a write up of my plane lunch for later in the week! xo-h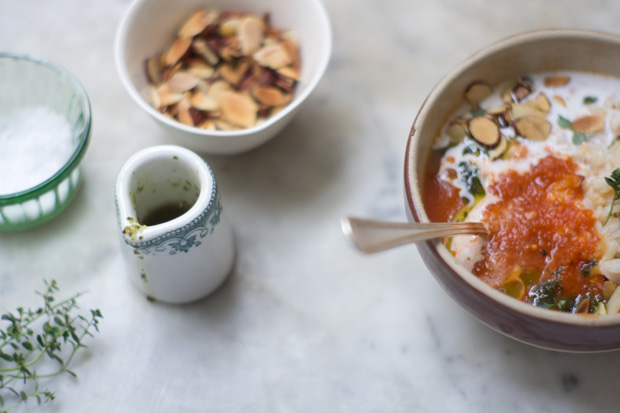 - A Simple Tomato Soup: Pictured here - A simple tomato soup recipe inspired by a Melissa Clark recipe - pureed, warmly spiced, and perfect topped with everything from toasted almonds and herbs, to coconut cream or a poached egg.
- Pumpkin and Rice Soup: This was the pumpkin soup I made first-thing after arriving home from India last October - it has an herby butter drizzle and lemon ginger pulp. I serve it over a good amount of brown rice with a dollop plain yogurt.
- Coconut Red Lentil Soup: If emails are any indication, this is certainly one of the more popular soup recipes with all of you. Inspired by an Ayurvedic dal recipe in the Esalen Cookbook, it is a light-bodied, curry-spiced coconut broth thickened with cooked red lentils and structured with yellow split peas. It has back notes of ginger, slivered green onions sauteed in butter, and curry-plumped raisins. It also relies on an interested cooking method to bring it all together.
- Posole in Broth: My style of posole. This version has a vegetable broth base, lots of blossoming corn kernels, avocado and mung beans. It's topped with plenty of chopped olives and toasted almonds.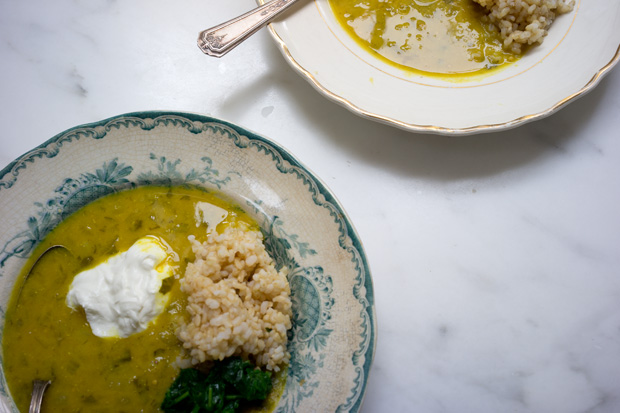 - Red Lentil Soup with Lemon: Pictured above here - An earthy, turmeric and mustard-spiked lentil soup served over brown rice with spinach and thick yogurt.
- New Year Noodle Soup Recipe: One of my very favorite soups, a bit of an effort, but well worth it if you have a lazy day at home. This is an amazing New Year Noodle Soup from Greg & Lucy Malouf's beautiful book, Saraban. A bean and noodle soup at its core, it features thin egg noodles swimming in a fragrant broth spiced with turmeric, cumin, chiles, and black pepper. You use a medley of lentils, chickpeas, and borlotti beans which makes the soup heart and filling without being heavy. You then add spinach, dill, and cilantro, and lime juice kicks in with a bit of sour at the end. Even beyond that, you also prep a number of toppings to serve with the soup - chopped walnuts, caramelized onions, and sour cream. Amazing.
- Dried Fava Soup with Mint and Guajillo Chiles: Easily one of the best and most interesting soups I've cooked in years. Adapted from a recipe in Rick Bayless's Mexican Kitchen - a dried fava bean and roasted tomato base is topped with a fascinating cider-kissed tangy/sweet quick-pickled chile topping. Don't skimp out on the topping!
- Green Curry Broth: A beautiful, thin green curry broth, fragrant with garlic, lemongrass, and ginger. It gets heat from serrano chiles, and a zing of tanginess from fresh lime juice. Cumin and coriander seeds keep things grounded, and a flurry of freshly chopped herbs make the sky open up.
- Richard Olney's Garlic Soup : In the realm of garlic soup recipes, this is a favorite of mine. From Richard Olney's The French Menu Cookbook, it is made by simmering a dozen or so cloves of garlic in water with a few herbs, then thickening it with a mixture of egg and shredded cheese. It's hard to beat a ladle poured over crusty day-old chunks of walnut baguette.